Carrot Pasta Sauce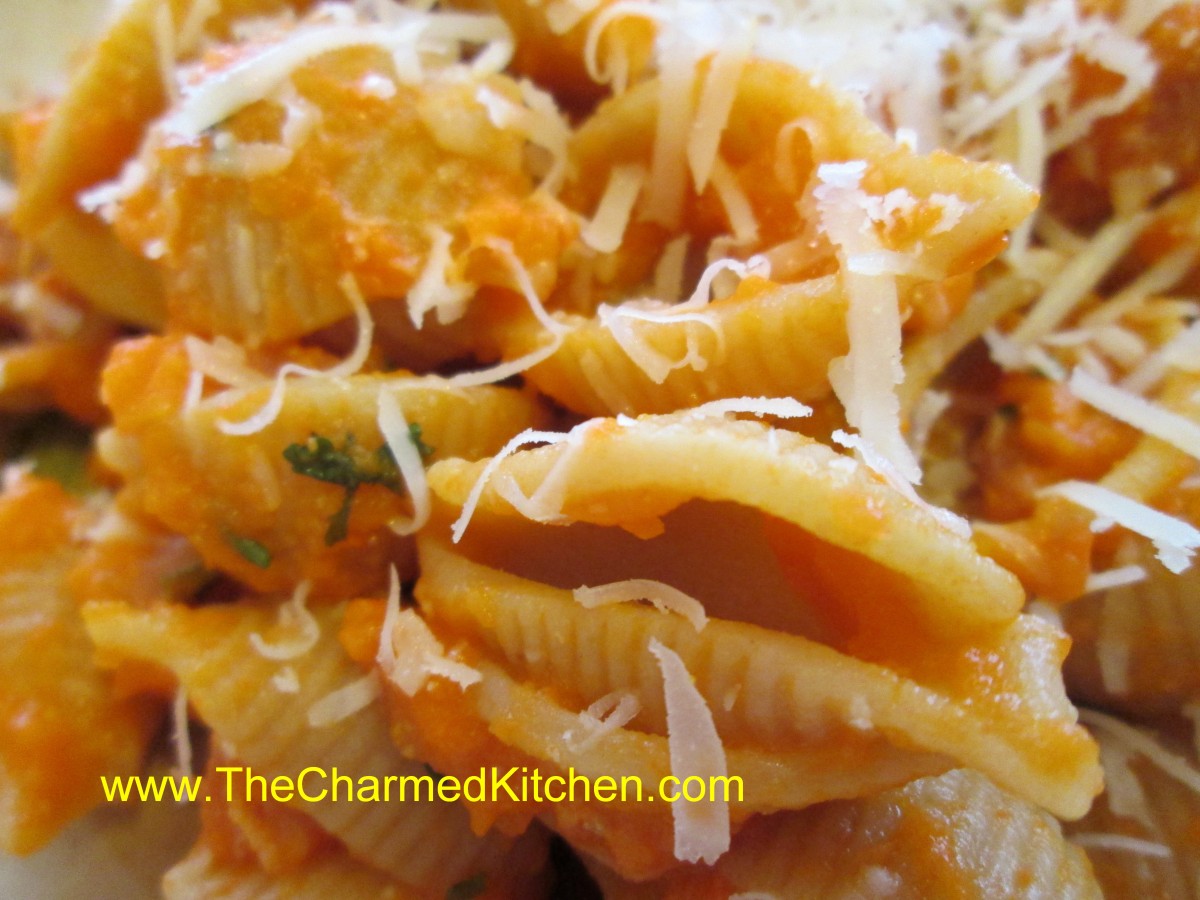 This pasta sauce is one of my favorites. Most people don't think of carrots, when they think of pasta sauce, but maybe they should. It tastes wonderful and looks pretty, too. It's a simple sauce that packs a lot of flavor.
We made this sauce in cooking camp this summer. The kids seemed to doubt that they would like it. Turned out, most of them loved it. I made it for a friend the other night. He enjoyed it, too.
The process is easy. Just cook carrots, with sauteed onions and garlic in stock, until the carrots are really tender. Most of the liquid cooks off. Puree, adding cream or half and half, and some dill. Adjust seasonings and you are done!
I used chicken stock, but you could use a vegetable stock for a vegetarian version of this dish. Toss the sauce with pasta, rice, or even with veggies or meats. You can add some fresh grated cheese, too, if you like. For the version we did in camp, I was going to have the kids sprinkle some cheddar cheese over the pasta once it was tossed with the carrot sauce. The cheese got dumped in the carrot sauce instead, so we just mixed it in until it melted. The carrot sauce tasted like mac and cheese.
Here is the recipe. I hope you try it.
Carrot Pasta Sauce
1 T. oil
1 onion, chopped
1 garlic clove, minced
1 lb. carrots, peeled and sliced
2 c. chicken or vegetable stock
Salt and pepper to taste
1/2 c. cream, half and half or evaporated milk
1T. fresh dill or 1 t. dried
Hot cooked pasta
Sauté onion in oil until tender. Add garlic, carrots and stock and cook until carrots are very tender. Much of the liquid should have evaporated by then. Place mixture in blender and add cream or milk, mixing until smooth. Add dill and adjust seasonings, tossing over hot pasta to serve. I sometimes top with some shredded Parmesan cheese, too.
Variations: Use sweet potatoes, pumpkin, winter squash or even peas for different tastes.