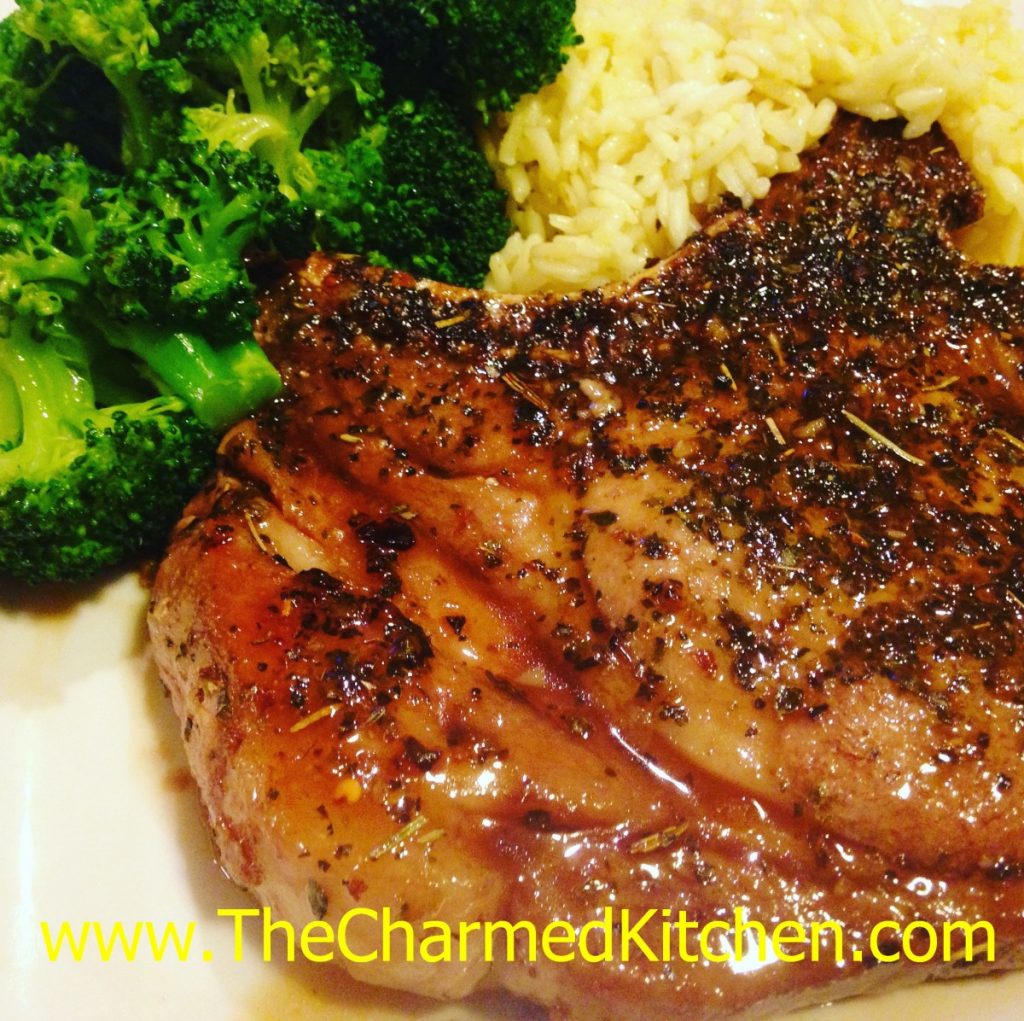 Since so many people are cooking pork for the New Year, I thought I would share this recipe for pork chops. I made this recipe the other night and was so happy with the way the pork chops tasted. It was really pretty simple. The key to cooking pork is not to overcook it. These were lean pork chops and they could have dried out easily.
You don't want pork to be raw, but it can be a little link in the middle. This one was juicy and very tender, too. I used pomegranate jelly to give it a sweetness. If you don't have pomegranate jelly, you could use cherry jelly instead. Either would work nicely.
The Tuscan Seasoning I used is my own blend. The recipe for that follows. You can use it in all sorts of dishes. I love adding it to soups, or combining it with olive oil and dipping bread into it.
Herb Crusted Pork Chops with Pomegranate Glaze
pork chops – allow 1 large chop per person
salt- I used pink salt
Tuscan seasoning- recipe follows
Pomegranate jelly- 2 Tablespoons for each pork chop
Heat skillet over medium high heat. While pan heats up, sprinkle each pork chop with salt and the Tuscan seasoning. Rub seasoning mix all over the chops to cover well. Place chops in skillet and cook until nice and golden on one side before turning. Continue cooking until chop is golden on both sides. The pork chops I was cooking were about an inch thick. I kept them over a medium heat- so it would cook through without burning. I prefer my pork just a little pink in the middle. Feel free to cook your chops longer, until meat gets to the doneness level you prefer.
Once the chops are close to done, spoon the jelly into the skillet. As the jelly melts, spoon it over the chops. Remove the chops to rest a few minutes before serving. Continue cooking the jelly in the pan until thickened and a little syrupy. Spoon over the chops before serving.
Tuscan Seasoning
½ c. dried basil
½ c. dried oregano
½ c. dried marjoram
3 T. dried minced onion
2 T. dried minced garlic
2 T. dried rosemary
2 T. dried parsley
1 t. crushed red pepper
Use this blend in tomato sauce or other Italian dishes. Also, you can add to vinegar and oil with a little salt, if desired, to make a quick salad dressing.
We made this is class last night. It's a wonderful and easy way to make your next pork roast special. The secret is a pretty simple glaze of orange juice, brown sugar and spices. The result is a roast with a slightly sweet flavor and lovely aroma. While the recipe calls for a pork loin I used a sirloin pork roast and it was really good.
Orange Glazed Roasted Pork Loin
 4½ to 5 lb. loin of pork (10 chops)
2 teaspoons salt
freshly ground pepper
1-cup orange juice
1/2 cup light brown sugar
1 tablespoon ginger
1/4 teaspoon cloves
Preheat oven to 325 degrees. Place pork, fat side up, in a roasting pan. Insert thermometer; do not let it touch bone. Rub in the salt and pepper Roast for 35 minutes to the pound, or until it reaches 145 degrees. In a small saucepan, mix the orange juice, sugar, ginger & cloves. Simmer for 30 minutes. Brush this glaze at least twice over the pork while it is roasting.