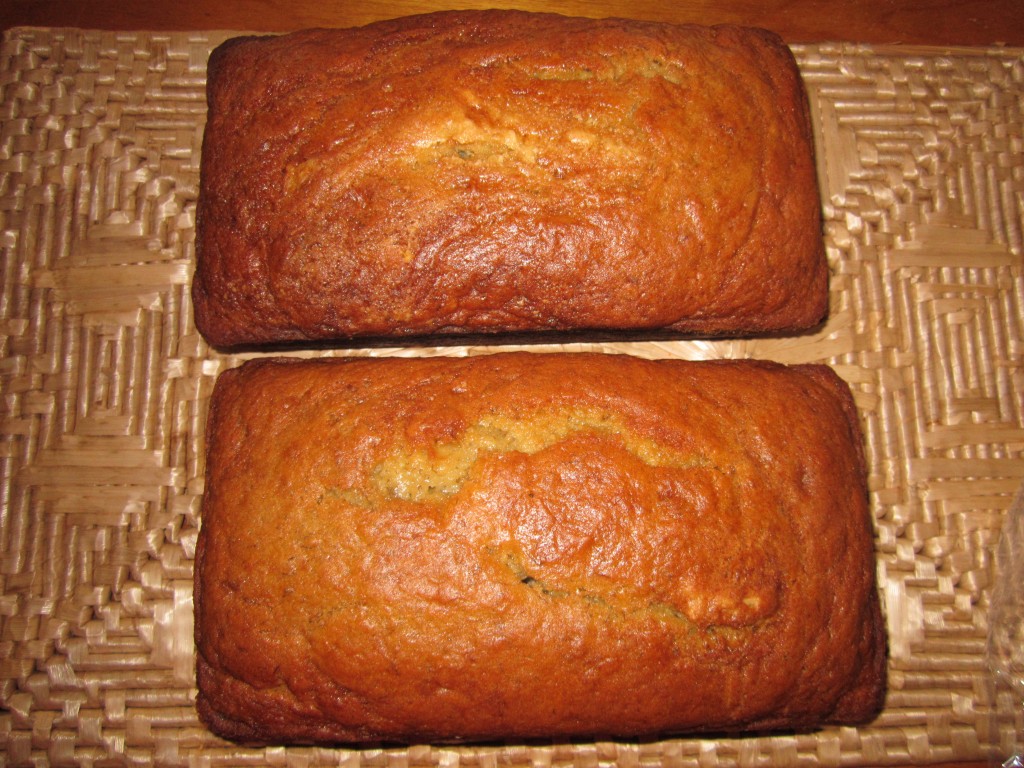 Checking the freezer, I found some frozen bananas so I opted to make banana bread. It's my favorite way to eat them, other than fresh. The recipe is simple and this bread freezes well so why not make a few and freeze some for later?  Also, a great thing to do with bananas that are overripe.
Banana Bread
1 ¾ c. flour
1½ t. baking powder
¾ t. salt
½ t. baking soda
2/3 c. sugar
1/3 c. butter, softened
2 eggs
2 T. milk
1 c. mashed ripe banana
¼ c. chopped nuts, optional
Combine dry ingredients and set aside. Combine sugar with butter and beat until fluffy. Beat in eggs. Beat in eggs until mixture is smooth. Beat in flour mixture alternately with bananas. Fold in nuts, if desired. Pour batter into greased 9×5 -inch loaf pan. Bake in a preheated 350-degree oven for 60-65 minutes. Use toothpick to test for doneness. Cool in pan 10 minutes before placing on rack to cool. Store in plastic wrap to preserve moisture. Makes 1 loaf.
I had a class with kids yesterday and we had made doughnuts. We also made fritters. We made several different fritters, including these banana fritters. These are a fun and easy dessert to make if you find yourself with some ripe bananas. Simple to make and a nice change from banana bread.
We started with a couple of bananas, which they peeled and chopped up. The recipe is basically the same one we used for the strawberry and apple fritters. You can experiment with other fruit, too. I think I may make these with peaches next.
The fritters puffed up beautifully when fried. They were just a little crisp on the outside, tender and light in the middle. There is almost no sugar in the batter. The sweetness comes from the bananas and the powdered sugar or cinnamon sugar they are rolled in. I think they would be great with a powdered sugar glaze, too.
So here is the recipe. A fun way to use ripe bananas.
Banana Fritters
2 large ripe bananas- you want 1 cup diced banana
2 eggs, beaten
1 c. milk or half and half
2 T. melted butter or oil
2 c. flour
2 T. baking powder
2 T. sugar
1 T. cinnamon
1/2 t. salt
Oil for frying
powdered sugar or cinnamon sugar
Peel bananas. Cut up into small pieces. You should end up with about a cup of mashed bananas. Combine in a small bowl with the eggs, milk and oil. Combine flour with the baking powder, cinnamon and salt. Stir into the banana mixture. Heat oil in a pot to 350 degrees. Oil should be at least a couple of inches deep. By rounded tablespoonfuls, drop batter into the hot oil to fry. Only do a few at a time, so you don't overcrowd them, or bring the temperature of the oil down too much. Fry until golden brown. It will take several minutes. Remove with slotted spoon and drain on paper towels. Repeat with all the batter. You will end up with 2-3 dozen fritters.
Once the fritters are cooled down, you can roll them in powdered sugar, cinnamon sugar or even make a powdered sugar glaze.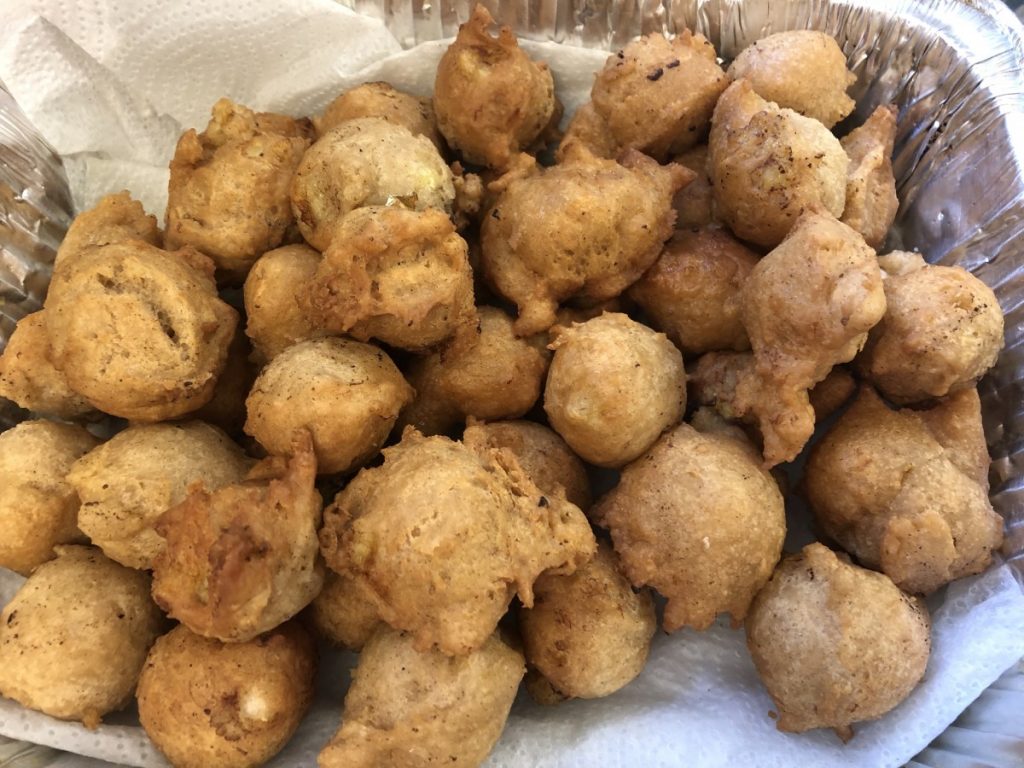 I found myself with some perfectly ripe bananas and I wanted to use them for a snack/dessert. I didn't have much time so I decided to just slice them and freeze them. I melted some chocolate and dipped each banana slice in the chocolate then placed the slices on a baking sheet lined with wax paper. I had some home made granola so I sprinkled a little over the bananas for texture. These are a great snack for kids to make. Super easy and fast. Just popped them in the freezer and let them freeze for at least a few hours before serving. That is the only hard part of the recipe – waiting for them to freeze. You could also leave off the granola and decorate the slices with sprinkles, coconut or even a little coarse salt.