Summer is the time for picnics, campfires and S'mores. Summer is also the time of year to eat lots of ice cream and other frozen treats.
This dessert combines the ingredients of S'mores in a frozen treat. How fun is that?
They aren't hard to make, but you need to allow time for ingredients to freeze. The mixture is frozen, then cut into squares and sandwiched between Graham crackers. They get returned to the freezer to harden up.
We made these in a cooking camp recently. The kids loved them. Of course the we skipped the step where the sandwiches are assembled and put back the freezer to harden. The kids just ate them right away. A little messy, but a LOT of fun.
So here is the recipe.
S'mores Ice Cream Sandwiches
1 (14 oz.) can sweetened condensed milk
2/3 c. chocolate syrup
1 c. coarsely crushed graham crackers
1 c. mini marshmallows
2 c. whipping cream, whipped
72 graham cracker square halves
In large mixing bowl combine sweetened condensed milk and syrup. Fold in crackers, marshmallows and whipping cream. Pour in foil lined 9×5-inch loaf pan and freeze until firm, about 6 hours, or longer. Remove from pan and peel off foil. Slice loaf in half lengthwise and then each half into 18 (½ inch) slices. Place one slice between two crackers and repeat with rest. Wrap and freeze until ready to eat. Makes 36. Note: You can slice the filling thicker. You'll have fewer "sandwiches", but they will have more filling.
I had a class with kids yesterday and we had made doughnuts. We also made fritters. We made several different fritters, including these banana fritters. These are a fun and easy dessert to make if you find yourself with some ripe bananas. Simple to make and a nice change from banana bread.
We started with a couple of bananas, which they peeled and chopped up. The recipe is basically the same one we used for the strawberry and apple fritters. You can experiment with other fruit, too. I think I may make these with peaches next.
The fritters puffed up beautifully when fried. They were just a little crisp on the outside, tender and light in the middle. There is almost no sugar in the batter. The sweetness comes from the bananas and the powdered sugar or cinnamon sugar they are rolled in. I think they would be great with a powdered sugar glaze, too.
So here is the recipe. A fun way to use ripe bananas.
Banana Fritters
2 large ripe bananas- you want 1 cup diced banana
2 eggs, beaten
1 c. milk or half and half
2 T. melted butter or oil
2 c. flour
2 T. baking powder
2 T. sugar
1 T. cinnamon
1/2 t. salt
Oil for frying
powdered sugar or cinnamon sugar
Peel bananas. Cut up into small pieces. You should end up with about a cup of mashed bananas. Combine in a small bowl with the eggs, milk and oil. Combine flour with the baking powder, cinnamon and salt. Stir into the banana mixture. Heat oil in a pot to 350 degrees. Oil should be at least a couple of inches deep. By rounded tablespoonfuls, drop batter into the hot oil to fry. Only do a few at a time, so you don't overcrowd them, or bring the temperature of the oil down too much. Fry until golden brown. It will take several minutes. Remove with slotted spoon and drain on paper towels. Repeat with all the batter. You will end up with 2-3 dozen fritters.
Once the fritters are cooled down, you can roll them in powdered sugar, cinnamon sugar or even make a powdered sugar glaze.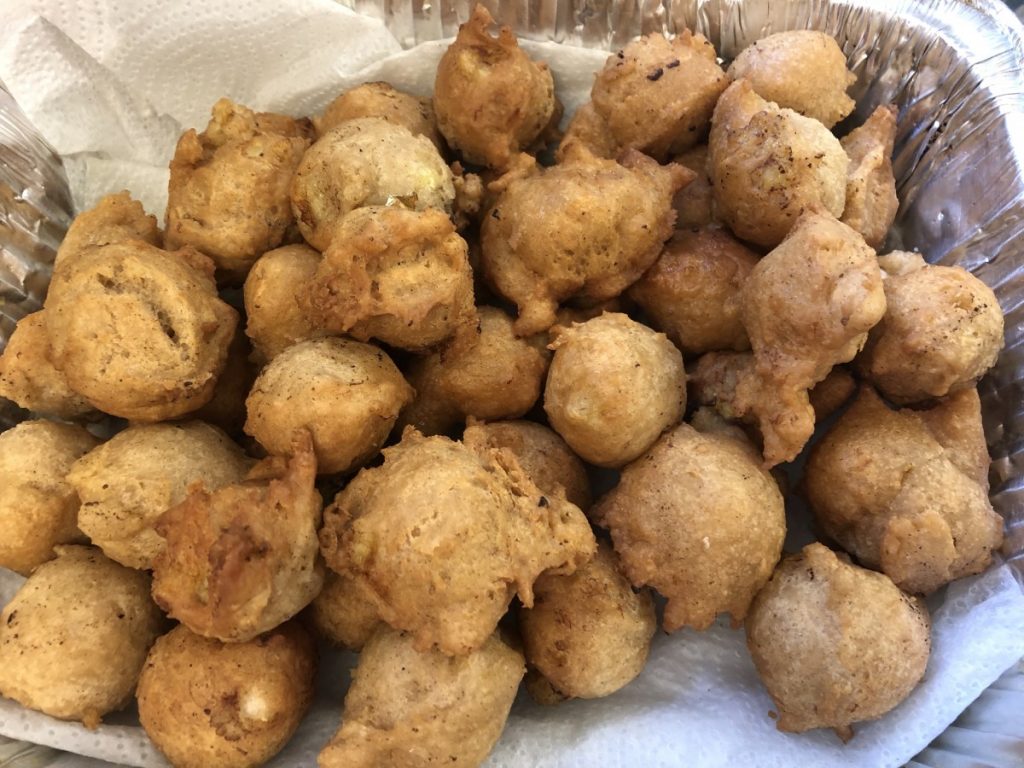 These little treats make a great addition to your 4th of July party. They are simple to make, with only three ingredients.  You can make them in no time at all. It is a fun treat for kids to make, too.
Think of the cherry bombs as a type of candy. A simple, sweet treat that can be served just as they are. They can also be used to top a cake or other dessert. You can even garnish a cocktail with them. I did the same thing with strawberries, but "strawberry bombs" did not have the same ring to it.
To make the cherry bombs, you will need cherries, white chocolate and blue sugar. If you don't have blue sugar, you can put granulated sugar in a bag, add a few drops of blue food coloring, seal the bag and shake it up. The sugar will turn blue. You could also use blue sprinkles.
Wash and dry off some large, sweet cherries. Melt white chocolate, stirring until smooth. Dip the cherries in the white chocolate, then the blue sugar. Place on wax paper to firm up. Store in fridge.
I am always looking for homemade gift ideas for the holidays. I really like gifts that both adults and kids can make. This one is just a simple way to package homemade hot cocoa mix to make it special. We made these in a holiday gift class the other night. People really enjoyed making them.
You start with hot cocoa mix- recipe follows. Then you get these cone shaped bags. I use a 12-inch size and a 17-inch size. I buy my online but they are available in some craft and candy making stores. Just put about 1 cup of the hot cocoa mix in the smaller cone shaped bag. Fold the top down and tape it shut. Now place the smaller bag inside the larger bag. Add about a cup of mini marshmallows mixed with some chocolate chips. The chips are optional. Tie shut with a ribbon. It ends up looking (sort of) like an ice cream cone.  I add a label that says "Hot Cocoa for Two" with directions that say, "Divide hot cocoa mix between two large mugs. Fill with a cup of boiling water in each. Stir and top with the marshmallows". You can make whatever label you like. A quick and simple gift. You could also include mugs with the gift. This is a great idea for kids to make for grandparents, teachers, etc.
Here is the recipe for the hot cocoa mix.
Hot Cocoa Mix
3 c. nonfat dry milk
1 c. cocoa
1 c. sugar
1/4 t. salt
1 c. mini marshmallows (optional)
In large bowl, mix all ingredients well. I like to sift the ingredients in because it powders the milk even finer than the way it comes. Store in an airtight jar and use within 6 months. To use add 5 tablespoonfuls to 8 ounces boiling water. Variation, flavor with cinnamon, instant coffee, cayenne pepper or even dried orange peel.
In keeping with my homemade gift theme this week, I wanted to share this simple, yet very tasty recipe, for Homemade Chocolate Truffles. These melt in your mouth, with a smooth, creamy texture and rich, chocolate flavor.
They can be a lovely hostess gift. Kids can make them, too.
The secret for making really good truffles is using the best quality chocolate you can. You can use chocolate chips, but get good ones.
They are very soft, and melt quickly when handled. When rolling them out, I prefer to wear plastic gloves. Make them without gloves, and you will understand why.
At candy making stores, get small papers cups and small boxes or tins for wrapping up your truffles.
Chocolate Truffles
1/3 c. Whipping cream
6 T. butter, cut into small pieces
2 c. chocolate chips- or 12 oz. dark chocolate, grated or chopped coarsely
Unsweetened cocoa
Heat cream to boiling in small saucepan. Stir in butter and cook until melted. Remove from heat and stir in chocolate until melted. Place in shallow bowl and chill until firm, at least a couple of hours. Roll mixture into 1-inch balls and roll in cocoa. Sometimes the mixture is quite firm and hard to roll into perfectly smooth balls. You can roll them out as smooth as you can, roll in cocoa and then roll again to smooth out. You might want to give them another roll in the cocoa after that.  Makes about 30.
I have fond memories of eating popcorn balls when I was a kid. One memory was during the summer. An amusement park near my home was famous for their popcorn balls. Every time we went there, we would end the day with popcorn balls.
The other memory was making our own, around Halloween. They seem to be a part of more than a few Halloween parties when I was younger.
I don't make them often, but popcorn balls are always a special treat for friends and family. This recipe is pretty easy. Kids, supervised, could help make them. You just have to make sure the mix cools down enough before you let them form the popcorn into balls.
I am a bit of a purist and enjoy them plain, but you can add Halloween themed candies to the mix, to dress them  up for a party. Candy corn or black and orange M&M's would both work.
The recipe calls for corn syrup. If you don't want to use corn syrup, my recipe for a corn syrup substitute, (sugar syrup) is listed below.
Homemade Popcorn Balls
9 c. popped popcorn
1 c. sugar
1 T. butter
1 T. vanilla
1 c. corn syrup*
Place popcorn in large bowl and set aside. Combine sugar, butter, vanilla and corn syrup in a saucepan. Heat and boil until thick, about 4 minutes. Pour over popcorn. Stir until well coated. Let cool until safe enough to handle. With buttered hands form mixture into balls. Store wrapped tightly in plastic wrap until ready to eat. Best eaten within a few days of making. Makes about 8.
*If you don't have corn syrup- or don't want to use it here is a way to make a substitute for it.
Sugar Syrup- corn syrup substitute
3  cups granulated sugar
1 cup Water
1/2  tsp. Cream of Tartar
1/4 t. salt
Combine ingredients in a large saucepan. Bring to a boil and cover the pot. Reduce to a simmer and cook covered for 5 minutes. Uncover and cook to soft-ball stage. Stir frequently.
Soft ball stage occurs at 235-245 degrees. This stage can be determined by dropping a spoonful of hot syrup into a bowl of very cold water. In the water, use your fingers to gather the cooled syrup into a ball. If it has reached soft-ball stage, the syrup easily forms a ball while in the cold water, but flattens once removed from the water.
Remove from heat. Cool and store at room temperature. It will keep well for a month or two.
This is the only kind of spider I want in my house. If you are looking for a quick spooky decoration/treat idea, you might want to make some candy spiders. These are about the size of a tarantula. Super simple and kids can make them, too. You only need a few ingredients. The body is made from marshmallows, the legs are chow mein noodles and the eyes are small candies. I used melting chocolate, but you can use any kind of chocolate you like.
To start, melt some chocolate. Dip the chow mein noodles in the chocolate and tap gently to remove excess. I leave one end un-dipped to make it easier to stick in the marshmallow later. Allow to harden up before going to the next step. I set them on a flexible cutting board, but wax paper is good, too. You have to peel them off later, a flexible surface is best. You'll need 8 for each spider- so be sure to make enough. Allow for breakage.  Set a marshmallow flat side down and poke 4 holes in each side, 8 total. I used a bamboo skewer. Stick a noodle "leg" in each hole. Spoon chocolate over the marshmallow until coated. Whatever drips off can be re-melted and used again. While the chocolate is still soft, press 2 candy eyes into place. Hold them for a minute to be sure they are secure. Now, you can decorate cakes with them, use them on a dessert tray- or just eat them.