Frozen Mocha Cheesecake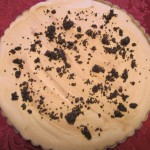 This is a great dessert when you don't want to cook. Usually think of it as a Summer dessert but with all the warm weather lately it seemed like a good idea. I am having friends for dinner tonight and needed a dessert. Since I haven't been going to the grocery store I have to use what I have. Back in January I froze whipping cream left over from the holidays. You aren't really supposed to do that and I don't recommend it but I thought it would be better then tossing it. For the recipe the cream has to be whipped. That's the problem with freezing whipping cream. It breaks apart and won't whip up.  I decided to try anyway. It did sort of whip. The flavor and texture were fine but the volume left a lot to be desired. So I decided to change the method for making the cheesecake. I whipped the cream as best I could then beat in the cream cheese and eventually the sweetened condensed milk. It worked! Since I assume you'll be using fresh whipping cream just follow the recipe as written.
Frozen Mocha Cheesecake
1 ¼ c. chocolate cookie crumbs
¼ c. sugar
¼ c. butter or margarine, softened
8 oz. cream cheese
1 (14oz.) can sweetened condensed milk
2/3 c. chocolate syrup
2 T. instant coffee crystals
1 t. hot water
1 c. whipping cream, whipped
Combine crumbs, sugar and butter and press into 9-inch springform pan. Chill. Beat cheese until fluffy and beat in milk. Stir in syrup and dissolve coffee in water. Add to cheese mixture and fold in whipped cream. Pour into prepared crust and freeze until solid, at least 6 hours. Garnish with additional cookie crumbs if you like or with shaved chocolate. Keep leftovers frozen and use within a week for best flavor.