The Challenge: What's for Lunch?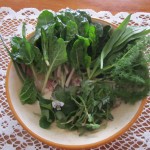 First day of Spring and 80 days into my challenge of not going to the grocery store means being creative and resourceful. I was out planting peas today and decided to see just what was ready for harvest. I have really been been missing fresh greens. Sure, I have been sprouting seeds for fresh greens- but in between harvests just now.
My harvest today consists of Swiss chard that has weathered our mild Winter, ramps, fennel greens, dandelion greens that are very tiny, but also less bitter at this stage, violet leaves, one violet flower and chives. Pretty decent haul for March in Cleveland! It will only get better.
I thought of what Dr. Peter Gail taught me years ago about Spring tonics. Not to be confused with gin and tonic, Spring tonics were made from the first edible greens in the Spring. Prized by people in cold climates they signaled the start of a new year and thus fresh vegetables. They were also full  of nutrients that had been lacking during the winter. Our ancestors would crave them and I understand why. I can't say that I have been lacking too much this winter but fresh greens sure sound good about now.
Makes me also think about how much of what I grow is not edible. Inspired by Mari Keating and her group Food, Not Lawns. Their goal is to plant completely, or nearly completely edible landscapes. Sounding better to me everyday. Happy Spring!!