Homemade Vegetable Pasta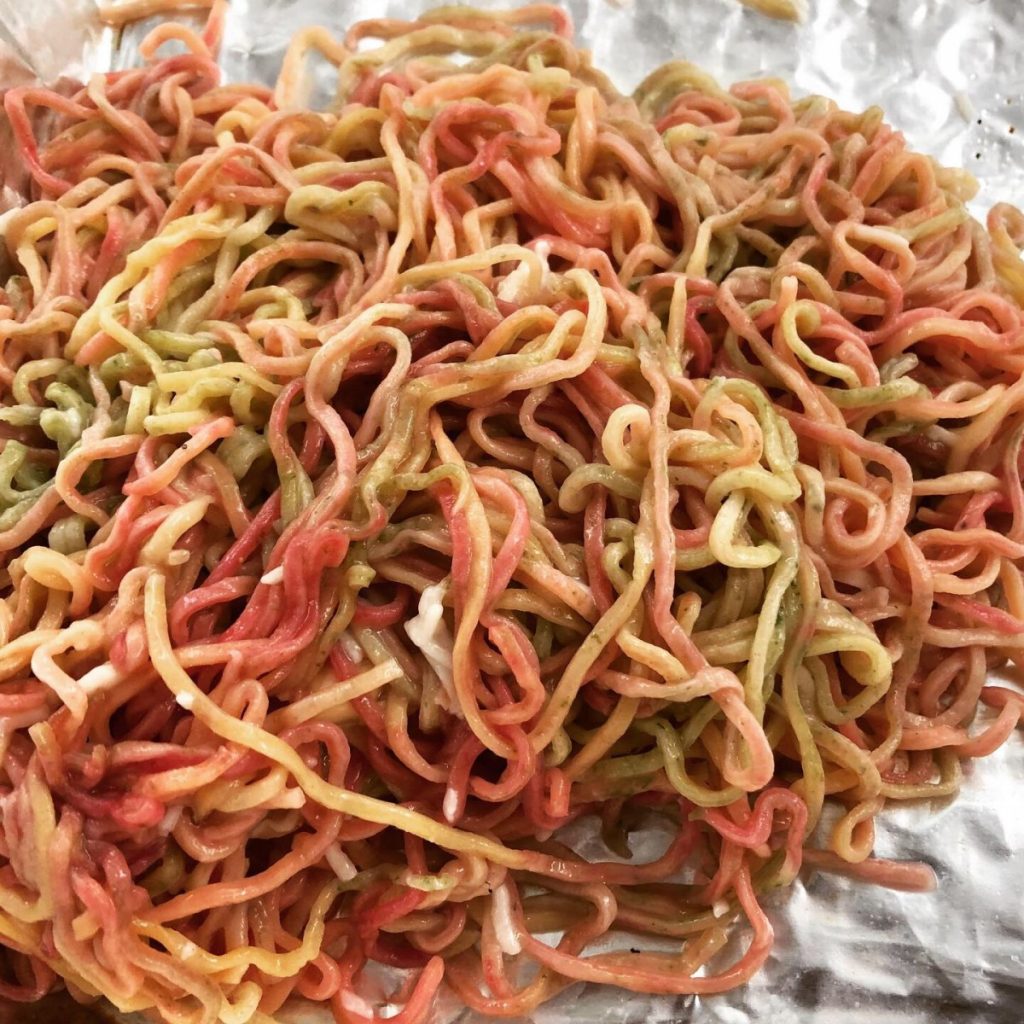 Homemade pasta is so much fun to make and the flavor is worth the extra effort. I taught a pasta making class last night. Everyone had a great time. We made several different veggie based pastas, including spinach, carrot and beet. The recipe is pretty simple. Cooked veggies and flour.
We combined the ingredients in a food processor, then let the dough rest before rolling. Once you are ready to roll out your pasta, the shape is up to you. You can hand roll the pasta, and cut into noodles. We used pasta makers to roll the dough, and then a cutting attachment for the angel hair pasta and linguine. Some dough was also used to make cheese stuffed ravioli, or combined with other pasta dough for more of a rainbow pasta.
We also had some egg based pasta dough and a parsley pasta dough.
Directions for mixing the dough is all the same- combine ingredients in a food processor and mix until dough forms into a ball. Allow to rest, covered, for 20 minutes, before rolling.
To cook fresh pasta, noodles are cooked in boiling, salted water for 1-2 minutes. Ravioli are cooked in boiling water for 3-5 minutes.
Mixed veggie pasta, ready to be cut
Spinach angel hair
Carrot and Spinach Ravioli
Parsley Linguine
Carrot Pasta
1 c. flour
1/3 c. cooked carrots
1-2 T. water, if needed
Beet Pasta
1 c. flour
1/3 c. cooked beets
1-2 T. water, if needed
Spinach Pasta
2 c. flour
1 10 oz. package frozen spinach, thawed, drained, reserving some of the liquid
Mix this dough as for other pastas, but don't be too quick to add reserved liquid. While processing, you'll get water out of the spinach. May require more kneading and rolling than other pasta dough. Be patient, it's worth the work.
Parsley Pasta
1 c. flour
3 t. chopped fresh parsley
1 egg
1 T. oil, (optional)
2-4 T. water, if needed
Basic Pasta Dough
1 c. flour
1 egg
1 T. olive oil
1 T. water, if needed
Four Cheese Ravioli Filling
3 c. shredded mozzarella cheese
15 oz. whole milk ricotta cheese
8 oz. cream cheese
5 oz. shredded Parmesan cheese
Combine all ingredients and mix well. Chill until ready to use. This will fill dozens and dozens of ravioli. Extra filling can be frozen and used another time.