Homemade English Muffins
If you haven't made them before, English muffins are pretty simple to make. They are not baked in the oven, like most other breads. Rather, they are "baked" in a skillet over medium heat. It is the same way crumpets are cooked. I really like the flavor of a freshly made English muffin.
I decided to make a multi-grain version this time. I used spelt flour, but you could use whole wheat flour instead. Here is the recipe. If you only have white flour, you could use it for all the flour in this recipe.
Multi-Grain English Muffins
2 packages yeast
2 ½ -3 cups bread flour
1 ½ c. spelt flour, or whole wheat flour
½ c. oat bran
¼ c. wheat germ
2 T. sugar
2 t. salt
2 c. milk
¼ c. oil
Cornmeal
In large bowl combine yeast, 1 cup of the bread flour and remaining dry ingredients. Warm milk and oil and add to flour mixture and beat 3-4 minutes. By hand, stir in enough flour to make a moderately stiff dough. Turn onto floured surface and knead until dough is smooth and elastic, about 8-10 minutes.
Place dough in greased bowl and turn to grease top. Cover and allow to rise until doubled, about 1 ¼ hour. Punch dough down and allow to rest 10 minutes. On lightly floured surface roll dough to just under ½ inch thick. With 4 inch biscuit cutter cut out rounds of dough, re-rolling and cutting scraps. Dip both sides in cornmeal and cover, allowing to rise about 30 minutes. In ungreased griddle pan or skillet cook muffins over medium heat, turning frequently, until they are golden on both sides and cooked through. This will take about 20-25 minutes. To serve, split and toast. Makes 12-15.
Note: I used a 3-inch biscuit cutter and ended up with over 20 muffins.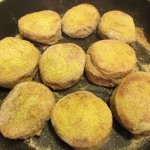 "Baking" the muffins