Old Fashioned Molasses Cookies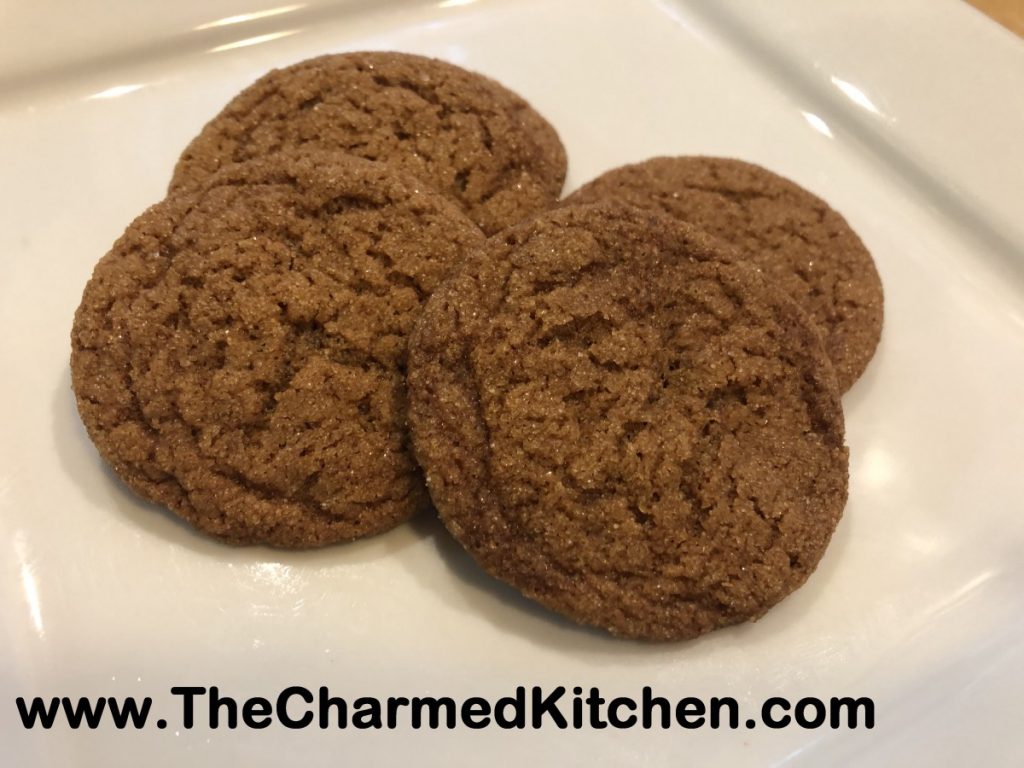 I really enjoy cookies made with molasses and spices. They have a unique flavor and texture that I like. A friend recently posted pictures of these molasses cookies. I wanted to try them, so I asked him for the recipe. Keith was kind enough to send me the recipe. Thanks Keith!!!
I made a batch yesterday. I can see why Keith says these are a family favorite. They are crispy on the edges, with just a touch of chewiness in the middle. The spices are a perfect balance. They remind me of the gingersnaps I make at the holidays, but with a more tender texture. I LOVE these cookies. I shared them with some friends yesterday and everyone agreed with just how good they are.
I am not sure where the recipe came from originally. Keith said the recipe came from a jar of molasses a long time ago. He has memories of making these with his grandmother.
One difference I found was that I got a lot more cookies from the recipe than I thought I would. The recipe said 5-6 dozen, based on cookies made from 1-inch balls of dough. I suspect Keith's balls were bigger than mine. I ended up with more like 8 dozen!
With dark cookie dough, people are often worried about how to tell when their cookies are done baking. These are also a soft cookie out of the oven, so you might be worried they aren't baked long enough. They firm up as they cool. I did 8 minutes on all but one of the batches, and they were perfect. I did a 10 minute batch, just to compare. They were also fine, if a bit darker on the bottom and crisper. If you are concerned, take one cookie off the baking sheet and flip it over. It should be a little darker than the top of the cookie. Don't worry if they are soft when you try to take them off the baking sheet. They firm up nicely after cooling down. If it is too hard to move them right away, you can leave them on the baking sheet for a minute, before removing them.
So here is the recipe. Enjoy!!
Keith's Molasses Cookies
1½ c. butter (3 sticks)
2 c. sugar
½ c. dark molasses
2 eggs
4 t. baking soda
4 c. sifted flour
1 t. ground cloves
1 t. powdered ginger – I used fresh grated ginger instead, adding 2 teaspoons to the dough
2 t. cinnamon
2 t. salt
Extra sugar for rolling
Melt butter. Set aside to cool. Beat sugar, eggs and molasses together until well mixed. Add cooled butter. Mix well. Sift dry ingredients together and stir into butter mixture. Dough will be on the soft side. Refrigerate dough for at least a few hours, or overnight. Preheat oven to 375. Grease baking sheets and set aside, or use silicone liners. Roll dough into approximately 1″ balls. Roll balls in granulated sugar. Place 2 inches apart on prepared baking sheets. Bake at 375 for 8-10 minutes. Re-grease sheets after each use.
Cool on flat surface covered with wax paper. I actually used a cooling rack. Cookies are very soft, but firm up a lot as they cool. Transfer carefully or allow to cool a few minutes on the baking sheet before removing. Makes approximately 5 to 6 dozen cookies.
Note: I got more like 8 or 9 dozen, but I think my balls were smaller.
If you like a softer cookie, remove at the 8 minute mark. 10 minutes will give you a crisper cookie. 
Subscriber to our Mailing List
Follow us on Social Media