Oatmeal Date Bars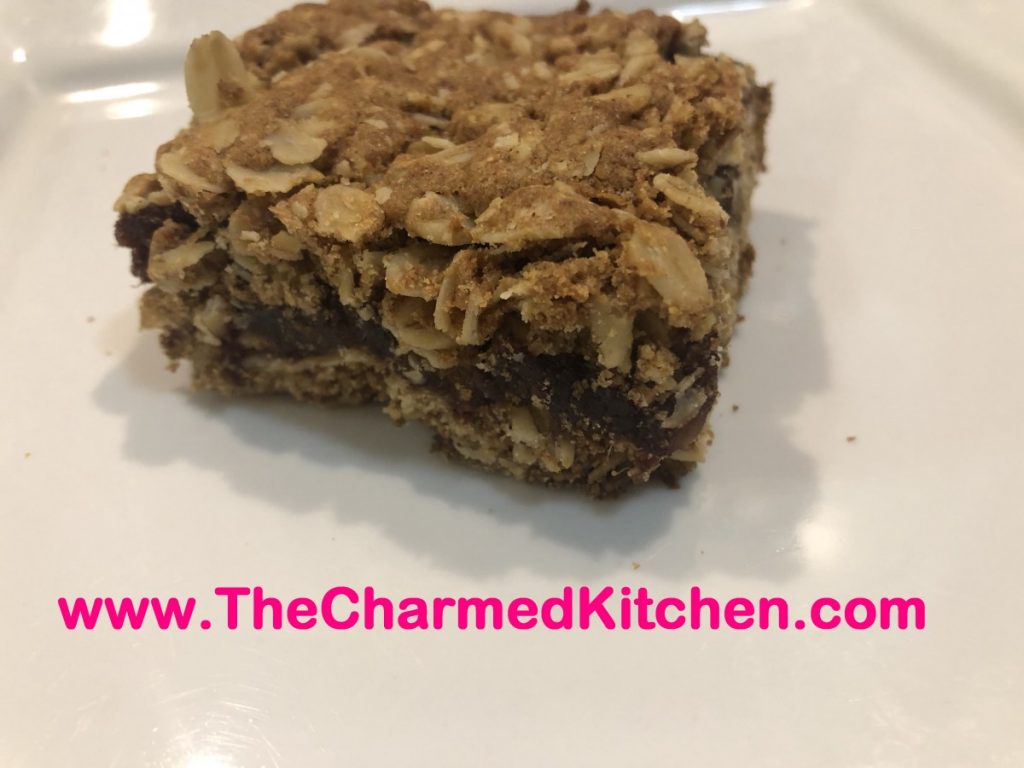 I wouldn't go so far as to call these granola bars, but they are pretty similar. The dough is made from oats, flour, nuts, brown sugar and butter. There is also the option of making a vegan version with applesauce and olive oil in place of the butter. Both variations are good.  Between the dough you add a layer of dates, although you can use any dried fruit you like or happen to have on hand. I have made these with fig jam, raisins and dried cranberries.  Once cooked and cooled, you cut them into squares. They keep for days, but can also be frozen. Great for road trips, picnics, boxed lunches, breakfast or just snacking.
Oatmeal Date Bars
4 c. rolled oats
2 c. flour (you can use whole wheat pastry flour, ap or spelt flour)
½ c. brown sugar  or ¼ c. honey
1 c. pecans, chopped
1 t. baking soda
1 t. salt
1 ½ c. butter, melted  or 1 c. applesauce and ½ c. olive oil
2 t. vanilla
½ c. water
2 c. pitted dates, chopped- or 2 c. any dried fruit
Zest of 1 lemon
1 t. cinnamon
Non-stick cooking spray
Heat oven to 350. Spray a 9×13-inch pan, set aside. Combine oats, flour, sugar, nuts, soda, salt. Pour in butter and vanilla, stir until well mixed and set aside. Heat together water with dates, zest and cinnamon and bring to a boil. Simmer two minutes and remove from heat to cool a little. Press half of the oatmeal mixture in bottom of prepared pan. Spread the date mixture over the oatmeal mix and then top with the remaining oat mix. Press down firmly. Bake until golden on the top, 35-45 minutes. Cut once cool. Makes 24 bars.