Mom's Corned Beef Hash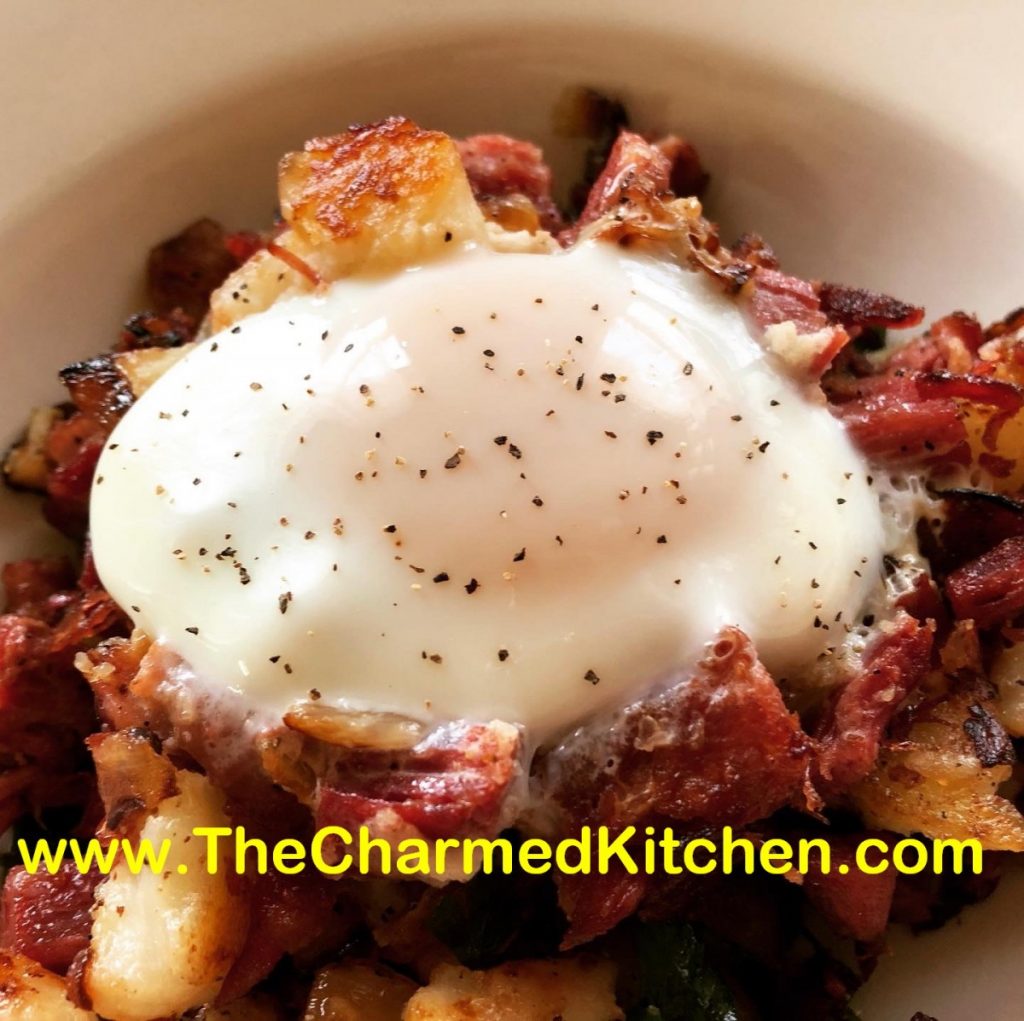 My mom used to make the best hash. Making hash for friends yesterday, gave me a chance to think about her. She taught me so much about cooking- and life.
I didn't have any specific recipe for hash, so I made a point of writing down what I did, and measuring ingredients, so I could share the recipe with you.
The hash tasted a lot like my mom's. That made me smile. Here is the recipe. Hope you give it a try.
Corned Beef Hash
4 T. oil, butter or bacon fat
2-3 medium onions, peeled and chopped
1-1½ lbs. potatoes, 4-5 medium, cut in cubes, peeling optional
1 lb. corned beef, cut into ½- inch cubes
Salt and pepper
Eggs, optional
In skillet, heat up your fat of choice. Cook onions over medium heat until translucent. Add cubed potatoes and cook until potatoes and onions are starting to brown. Rather than constantly stirring, I let the potato and onion mixture cook a few minutes, then turn over sections with a spatula. It seems to get them brown faster. Check a few random potatoes to make sure they are tender. Add the corned beef and continue cooking until everything is starting to get a little crispy. Season to taste with salt and pepper. At this point you can serve it. I like to add the eggs. To add the eggs, crack and add eggs, one at a time, to the pan. Keep some space between the eggs, if you can. Turn heat down to medium low and cover the pan. It should take about 5 minutes for the eggs to cook, with the whites firm and the yolks runny. Try not to keep peeking. I know you want to, but every time you remove the lid, the heat dissipates. Wait 3 minutes to check the first time, if you can. Don't set the heat too high, or you will burn the bottom of the hash while the eggs cook. I usually add one egg for each person I am serving. Feel free to allow more eggs per person, depending on your guests. Serves about 4.
Note: If you want to save yourself from dicing potatoes, you can use frozen hash browns. I prefer diced fresh potatoes, but the hash browns will save you time.