Jellied Pigs' Feet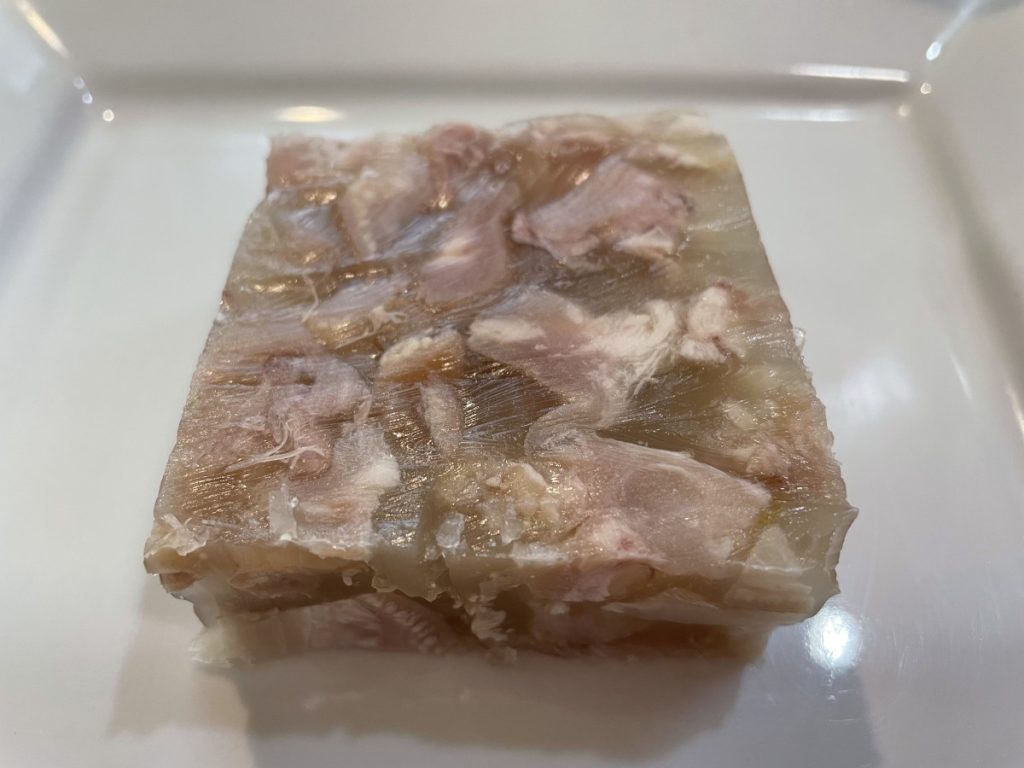 This is a dish you either love or hate. It is a dish a grew up with and I love it. My Polish grandmother made it and so did my mom. I can remember my father always adding a splash of vinegar to his.
The dish is pretty simple, really. Pigs' feet, sometimes called trotters, are cooked in water with salt and aromatic veggies until very tender. The stock is strained and then the pigs feet are returned to the stock and chilled until it sets up. The stock is very gelatinous and can easily be sliced to serve. Similar to head cheese found in some delis.
The difference from one cook to the other is whether the pigs feet are returned to the stock whole, or if the meat and skin are removed from the bones before they are added. I have had it both ways. It is much easier to eat when the bones are removed.
Jellied Pigs' Feet
4-5 lbs. Pigs' feet, washed well
Water
Salt and pepper
1 medium onion, peeled
1 carrot, peeled and chopped
1 rib celery, chopped
1 t. minced garlic
1/4 c. pickling spice, optional
Vinegar
Cover pigs' feet with cold water in soup pot. Add 1-2 t. salt and bring to a boil. Drain and repeat process. Return feet to pot and cover with cold water. Add salt, pepper, veggies and garlic. Simmer, skimming any foam off the top until meat is getting tender, about 2 hours. Fill tea ball with pickling spice, if using, and place in pot. Cook until meat is falling off the bone, at least 2 more hours. Remove all meat and bones from pot. Set aside. Remove tea ball and set aside. Strain  broth through fine strainer or cheesecloth. Add more salt, to taste, if needed. Remove meat  from bones and place meat in a loaf pan. Discard the bones. Pour over the stock and chill. Remove fat from top of dish after chilling. Serve with vinegar, if desired.