Matzo Ball Soup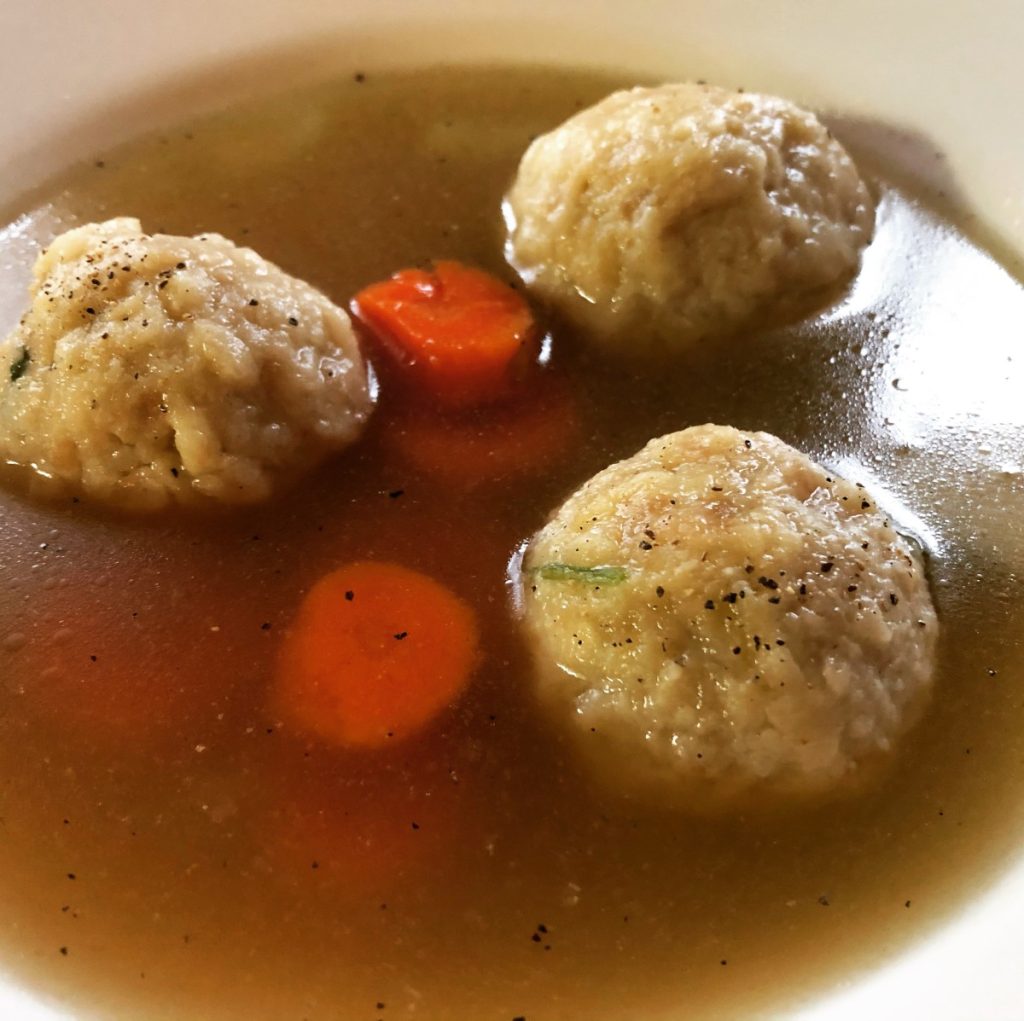 Matzo ball soup is a classic. The basic part is pretty much the same- a rich chicken stock, with or without a few vegetables, with the star of the show being the matzo balls. After that, there are a lot of subtle differences in the actual matzo balls. That is fine. If I asked 10 friends how they make chicken salad I would get 10 different recipes.
You start with matzo crackers or matzo meal, or both. Eggs are in pretty much every recipe along with chicken fat- or butter if you don't have chicken fat. You mix the crumbled matzo and eggs to form a dough. The dough will be formed into balls that will be simmered in the broth. You want a matzo ball that won't fall apart, but that is still tender. After you make them a few times, you can tell right away if you need to add broth, or matzo meal or an extra egg.
Matzo Ball Soup
1 (10 oz.) package matzo crackers
1/4 c. chicken fat, (preferred), or butter or oil
3 eggs
salt and pepper to taste
2 T. minced parsley
1 small onion, minced, optional
2-3 oz. matzo meal
6-8 cups chicken stock
Break matzo into small pieces and place in a large bowl and pour in cool water to cover. Allow to soften a few minutes then drain off extra water. Melt chicken fat or butter in large skillet and add matzo. Cook over medium heat, stirring often until matzo is dry and toasted. Remove from heat, cool, then stir in eggs, seasonings and onion. Mix in just enough of the matzo meal to hold the mixture together. If mixture is too dry, add some of the chicken stock, a tablespoon at a time. It really is best to mix with your hands at some point. Chill before forming into balls. Make a golf ball sized matzo ball and place it in a pot of salted boiling water. This is a test to see if the ball holds together and rises to the tops of the soup. If it will not rise in a few minutes, add an extra egg to remaining mixture. If it falls apart, add a little more matzo. Make mixture into golf ball sized matzo balls. Bring chicken stock to a simmer and add the matzo balls. Cook until heated through and floating. Serves 4-5.
Note: I like to add carrots and celery to the soup as well. I cook them in the stock until tender, before adding the matzo balls.