Lemon Poppy Seed Scones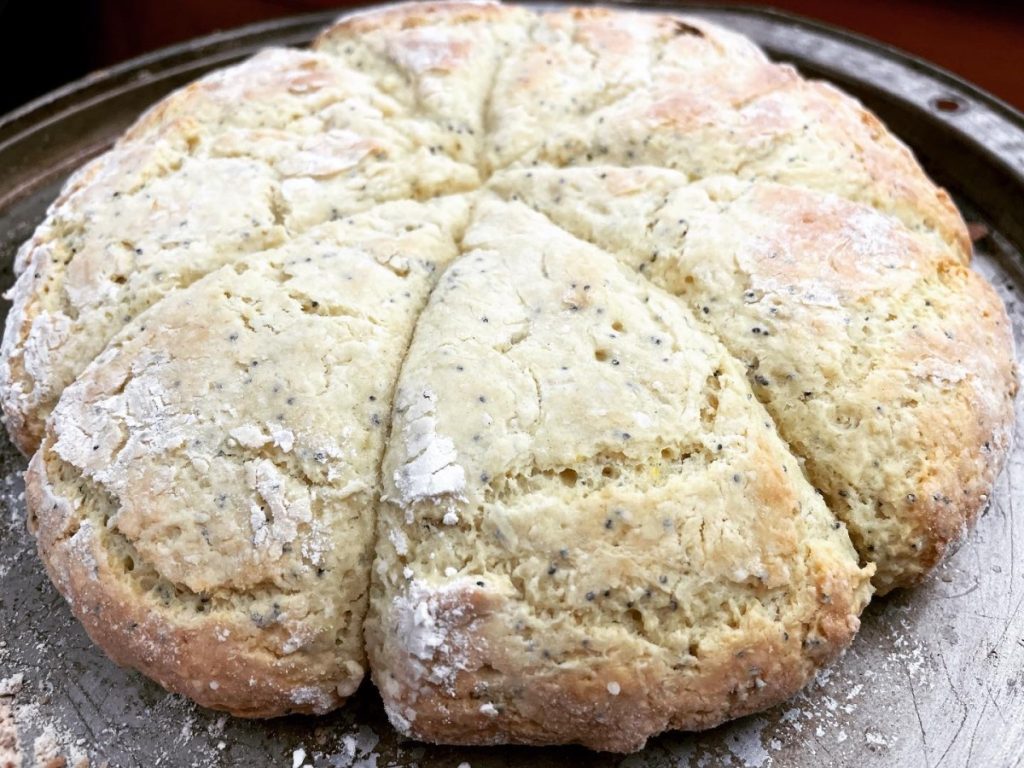 This recipe is a variation on a classic scone recipe that I bake often. The addition of poppy seeds and lemon add a nice flavor and texture to the scones. They rose beautifully and were crisp on the outside and tender in the middle. The secret to a good scone is not to over mix the dough. Handle the dough as little as possible once the dough comes together.
Lemon Poppy Seed Scones
2 c. flour
2 T. sugar
1 T. poppy seeds
2 t. baking powder
1 t. baking soda
½ -1 t. Lemon zest
½ t. salt
¼ c. butter, cut up
2/3 c. buttermilk
1 egg
Topping
2 T. sugar
1 T. lemon juice
Mix together sugar and lemon juice and brush on hot scones.
Preheat oven to 425 degrees and lightly grease a baking sheet or line with silicone baking mat. Combine dry ingredients in medium bowl and cut in butter to resemble coarse crumbs. Beat together milk and egg and add to flour mixture, stirring with fork until just coming together. Turn onto floured surface and knead 5-6 strokes or until ball of dough holds together. Transfer dough to prepared sheet and with floured hands, press dough into an eight-inch circle. To get a perfect circle, dust an 8-inch round cake pan with flour. Press dough into the pan, then quickly turn the pan over onto the prepared baking sheet. Remove cake pan. With a sharp, floured knife cut dough into 8 wedges. Bake 14-16 minutes. Makes 8.
Dough can also be patted out on work surface and cut into circles or pressed into a square and cut into smaller squares.