Spinach and Mushroom Quesadillas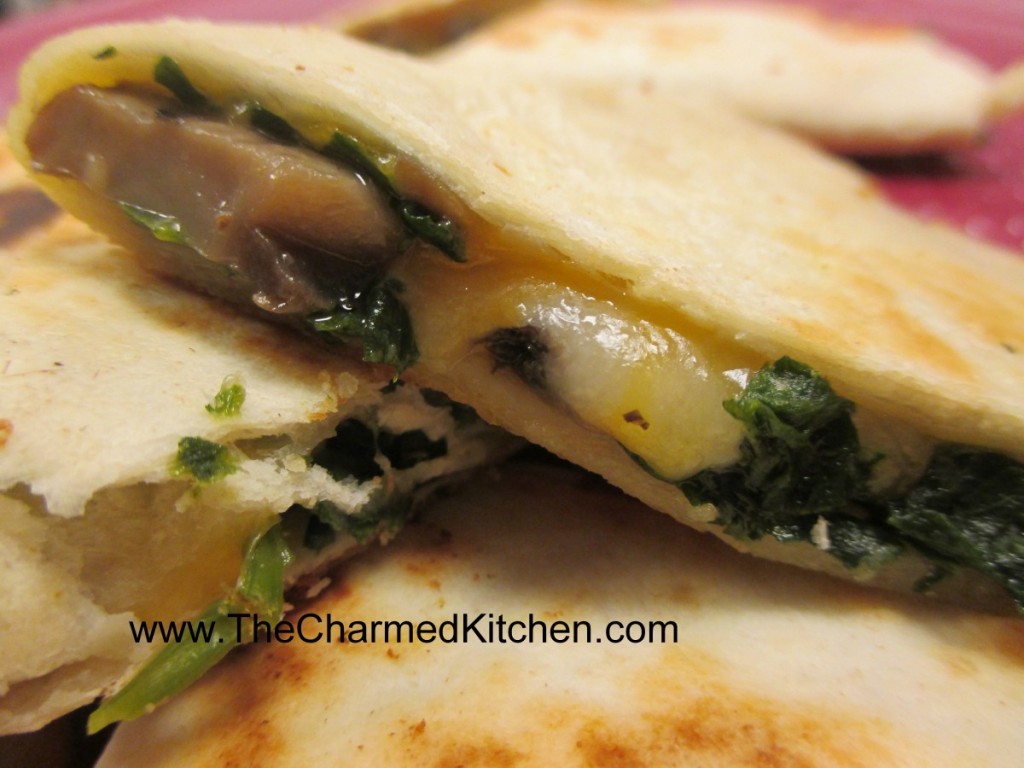 Quesadillas are a fun and easy appetizer for any party. They also are great for lunch, brunch or dinner. You can fill them with all sorts of fillings. I used frozen spinach, which had been thawed, but fresh spinach could also be used. I also used a combination of Portobello mushrooms and shitakes.
The spinach and mushrooms worked really nicely together. The ones in the picture have Swiss cheese in them. But you can use any number for different cheeses. I have made them with cheddar cheese and once with smoked Gouda. These were cooked in a skillet,  but you could also bake them in the oven, or brush with oil and cook them on the grill. You can serve them as is- or maybe top with some salsa or sour cream.
Mushroom and Spinach Quesadillas
1 (10 ounce) package fresh or frozen spinach, thawed and squeezed dry.
2 cups shredded cheese, I like cheddar or Swiss, but use what you like
2-3 tablespoons butter- you can use oil instead
2 cloves garlic, sliced
2 Portobello mushroom caps, sliced
Salt and pepper to taste
Hot sauce to taste
4 (10 inch) flour tortillas
1 tablespoon oil
Saute spinach in a little butter until wilted. Cool and chop. Set aside. Melt the remaining butter in a skillet over medium heat. Stir in garlic and mushrooms, and cook about 5 minutes. Mix in spinach, and continue cooking 5 minutes. Add seasonings to suit your taste. Place a quarter of the mixture on one side of each tortilla. Top with a quarter of cheese. Fold tortillas in half over the filling. Heat oil in a separate skillet over medium heat. Place quesadillas in the skillet, and cook 3 minutes on each side, until golden brown. Cut each quesadilla into 4 wedges to serve.