Fresh Peach Cake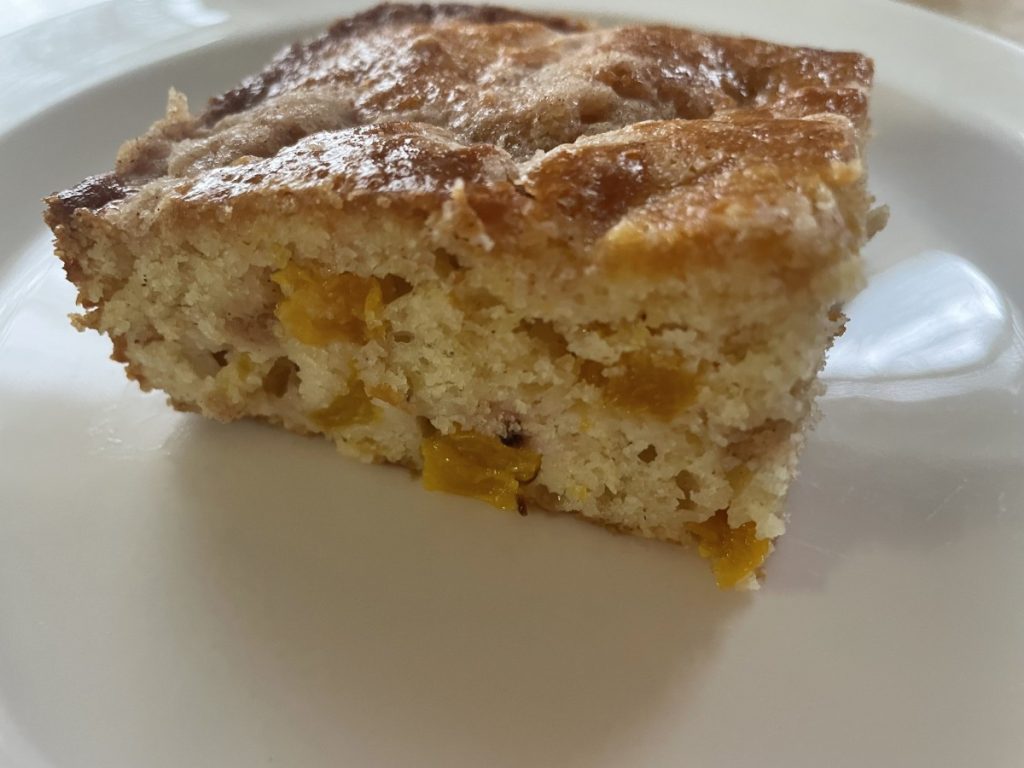 Fresh Peach Cake
If you need a quick dessert or even a nice addition for a brunch this cake is a great choice. It really is so easy to make. It can be served warm, but it's good at room temp, too. It's not too sweet, which I like.
This was a new recipe for me. I had tweaked an old recipe that used blueberries. I was very happy with how this worked out. I wanted about 1 1/2 cups of chopped fruit. I had 2 very large peaches and that worked out great. You might need a third or even fourth peach if yours are smaller.
Next, I want to try this recipe with plums!!
Fresh Peach Cake
Batter:
2 c. biscuit mix*
1/2 c. sugar
1/3 c. milk
2 T. oil
1 egg
1 1/2 c. chopped fresh pitted and peeled peaches
Topping:
1/2 stick ( 1/4 cup) cold butter, cut in small cubes
1/4 c. flour
1/4 c. sugar
2 t. cinnamon
Preheat oven to 350. Grease and flour a 9×9-inch pan. Beat all batter ingredients together, except peaches, for about 30 seconds. Fold in fruit and pour into prepared pan. Place topping ingredients in a bowl and mix together with your fingers or a fork until mixture looks like coarse crumbs. Sprinkle on the cake batter in the pan. Bake for about 35 minutes. Cake should be golden brown on top and test clean with a toothpick. Serve warm or at room temp. Great with ice cream or whipped cream.
*Like Bisquick or Jiffy mix. I make my own. Recipe follows.
Biscuit Mix
8 c. flour
1 c. powdered milk
1 c. powdered buttermilk (or 1 more cup powdered milk)
1/4 c. baking powder
1 T. salt
1 1/2 c. shortening*
Combine dry ingredients and cut in shortening until well mixed. Store in tightly covered container. Makes 10 cups.
* You can use butter instead, but keep mix in fridge and use in a couple of months. You can also use coconut oil- also best to keep this version in the fridge.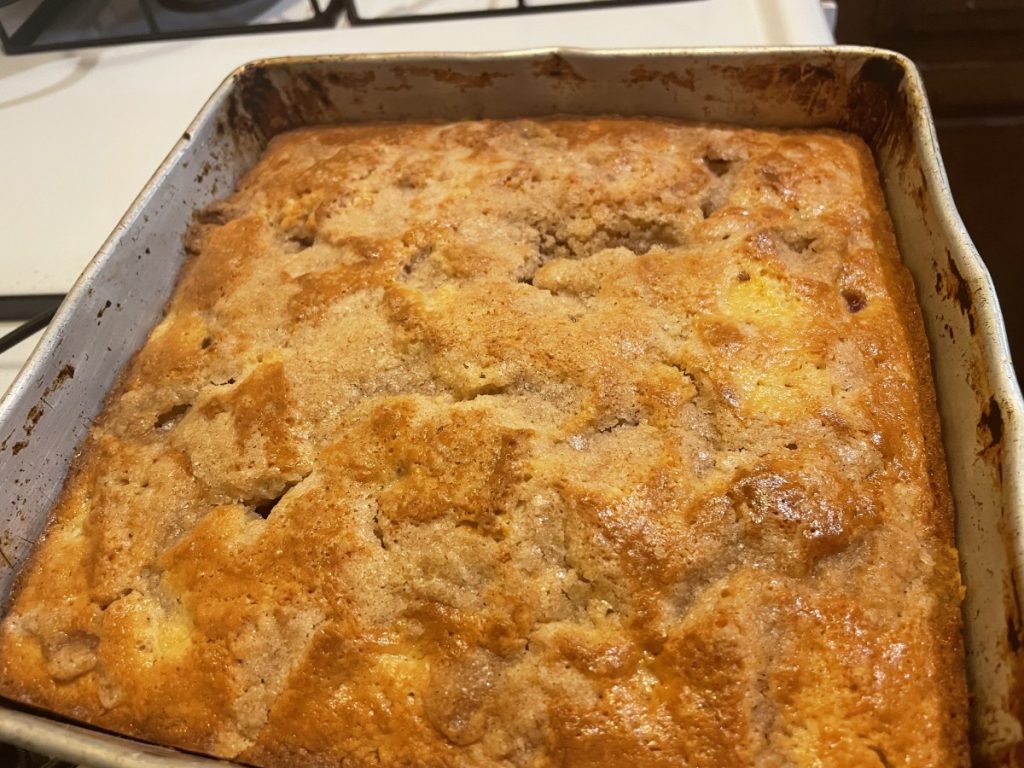 Right out of the oven.