Super Seedy Crackers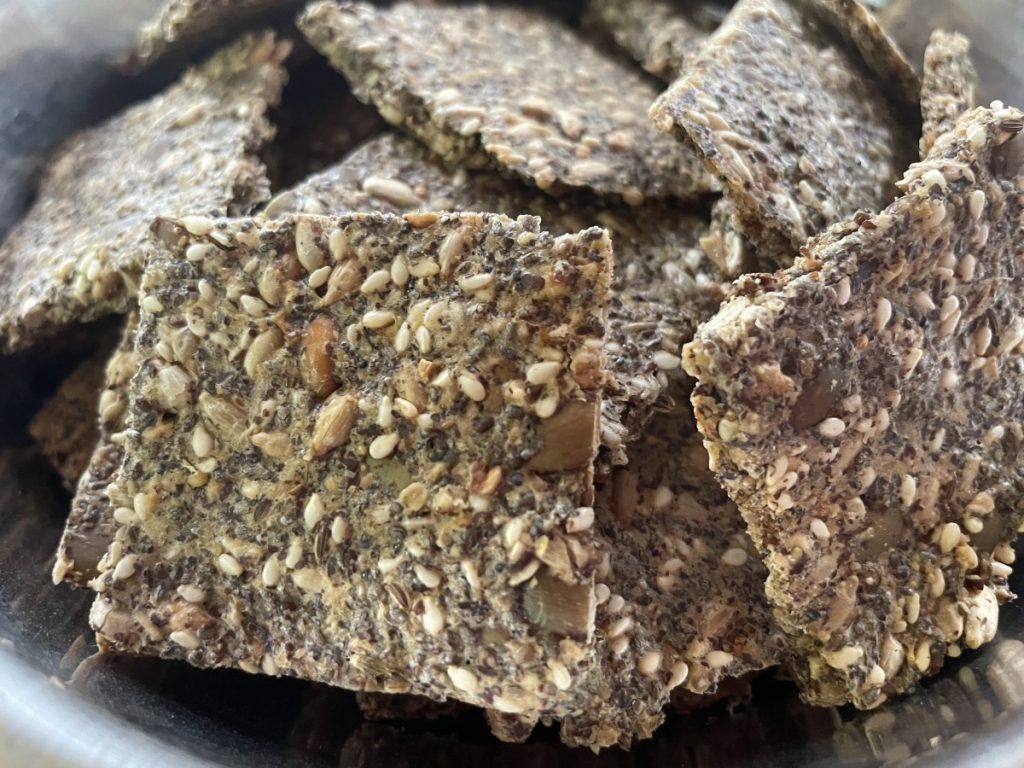 I saw these crackers online and knew I wanted to try them. They are very easy to make and taste wonderful. The ingredients also make them gluten free- see note in recipe.
The ingredients are mixed together and allowed to sit long enough to hydrate. Then you just spread out the batter on baking sheets and bake. Part way through the baking, you pull them from the oven and cut them into squares.
They were very crisp and flavorful. I could see making them often. We had them with hummus. They would go well with cheeses and other traditional cracker toppers.
Super Seedy Crackers
½ c. ground flax seed
½ c. quick oats*
½ c. sunflower seeds
¼ c. pumpkin seeds
¼ c. sesame seeds
¼ c. chia seeds
1 T. pizza seasoning – recipe follows
¾ t. salt
¼ t. cayenne pepper
1¼ c. water
Combine dry ingredients in a medium bowl. Add water and stir until combined. Let mixture sit 10 minutes. Preheat oven to 325 degrees F. On two baking sheets, place either a silicone baking sheet or parchment paper. Divide the cracker dough in half. Spread half of the cracker dough on the baking sheet as thin as you can. I tried to keep the dough into a neat rectangle. Make sure you don't leaves any holes in the dough. Repeat with the rest of the dough on the second baking sheet. Place in the oven and bake for 25 minutes. Remove from the oven and cut the crackers into small squares. Return to the oven, placing the sheets in reverse order of which baking racks they were on at first. Bake 25 minutes more. Remove from oven and allow the crackers to cool enough to handle. Break apart if they need to be separated. Makes about 70 crackers.
*If you want to be sure that these crackers are gluten free, be sure to use oats that are labeled as gluten free. Oats are gluten free, but are often grown near wheat fields. Cross contamination can happen during harvest. Oats labeled as gluten free are grown far away from wheat.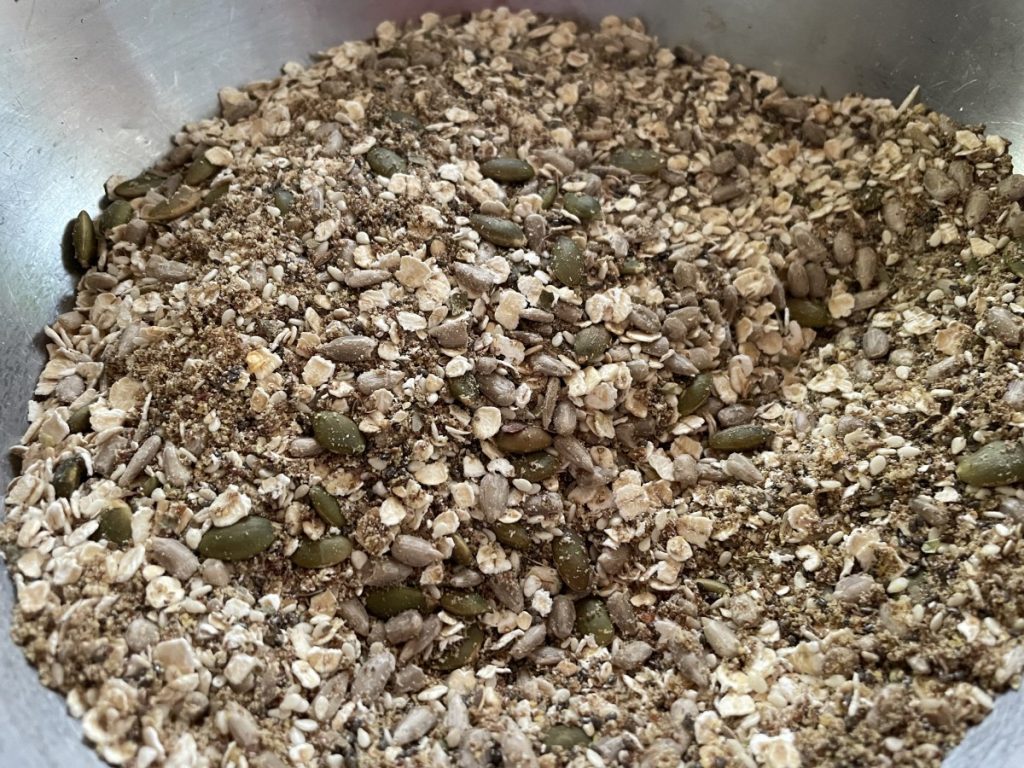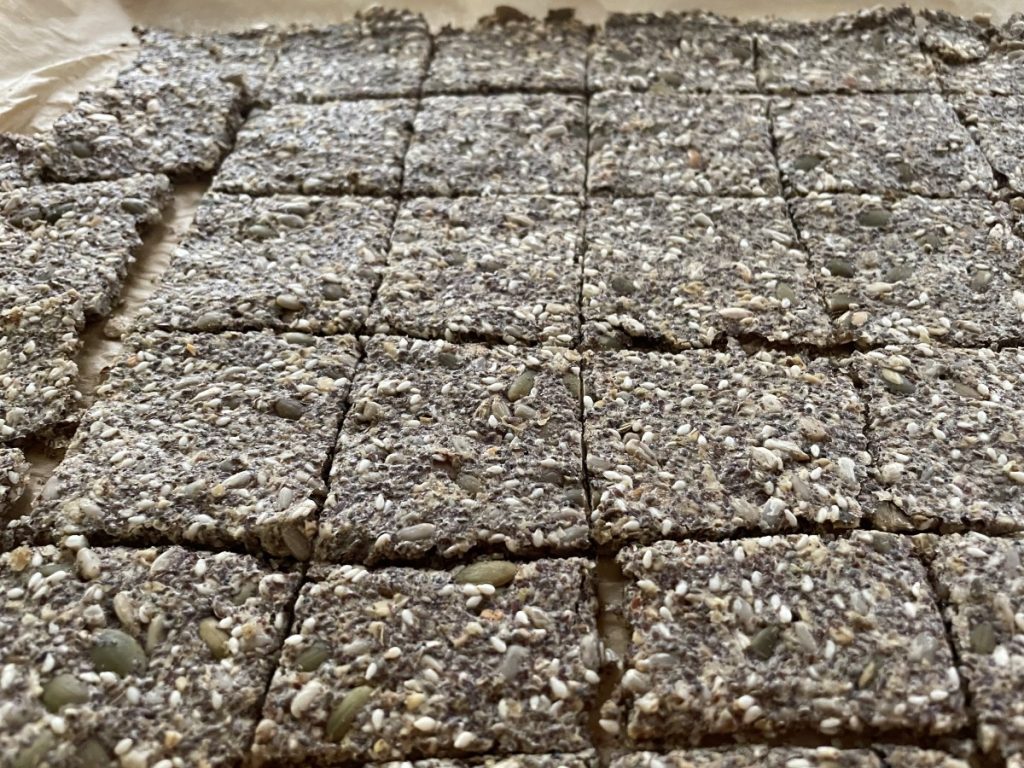 Pizza Seasoning
3 T. dried basil
2 T. dried oregano
1-T. red pepper flakes
1 T. dried minced onion
1-T. fennel seeds
1 t. garlic powder
Combine all ingredients and store in a cool, dark, dry place.
To use: Add 1-2 teaspoons per cup of tomato sauce to make pizza sauce. Also good sprinkled on bagels with sauce and cheese or added to any tomato or pepper dish. Also makes a great cheese ball. Add 1-2 teaspoons of the seasoning with a little diced sweet red pepper, a diced green onion and a few slices of cooked, crumbled bacon or turkey bacon with 8-oz. cream cheese.
I did tweak the original recipe, but it is close to the original. The original video came from tastythriftytimely. Nice website- check her out.