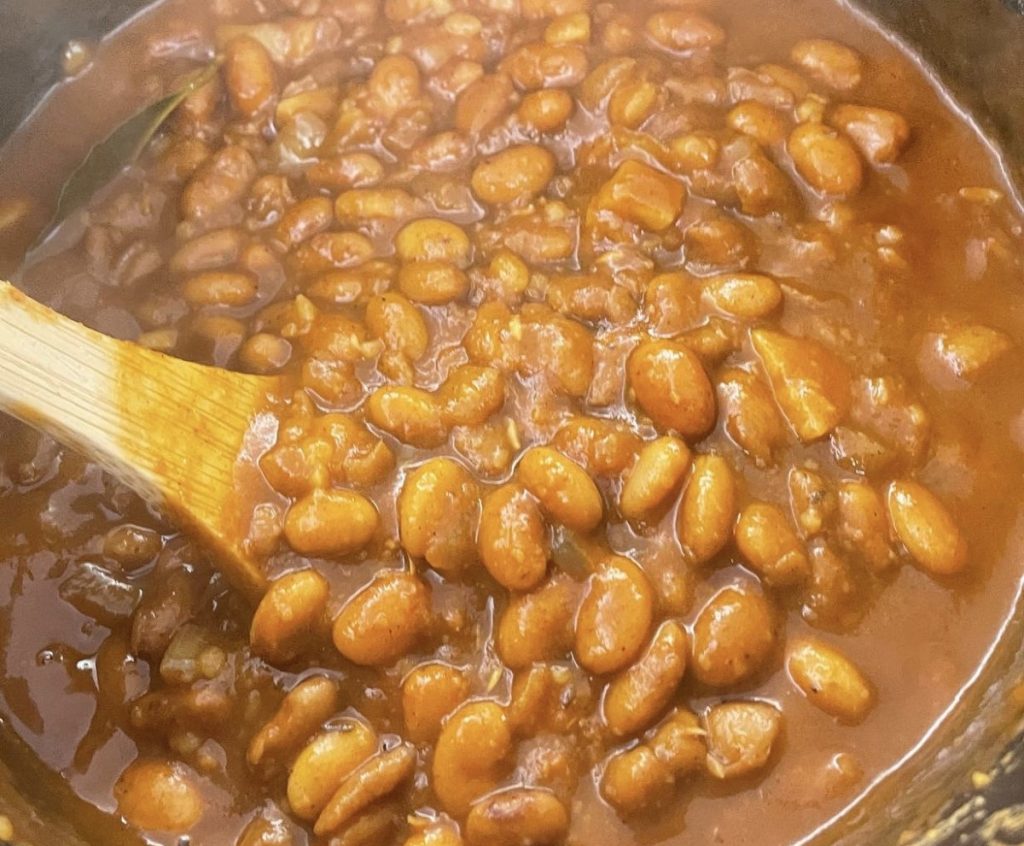 We made this recipe in class the other night. Everyone liked it. With the Labor Day weekend fast approaching, it would make a great side dish for your holiday meal. It really is simple. Once the pinto beans are cooked and tender, you add the rest of the ingredients and let them simmer together until the flavors blend. You could use a slow cooker, if you like.
This recipe doesn't call for any meat. You could certainly add some bacon, if you like. So here is the recipe. Enjoy!!
Barbecued Pinto Beans
1 lb. dried pinto beans
1 onion, chopped
5 cloves minced garlic
1 bay leaf
3/4 c. ketchup
1/3 c. packed brown sugar
1/4 c. spicy mustard
2 T. chili powder
2 T. Worcestershire sauce
1 T. paprika
2 t. hot pepper sauce
1 1/2 t. dried thyme
Rinse beans and place in a large pot. Cover with cold water and bring to a boil. Boil 5 minutes and remove from heat. Allow to stand 1 hour. Drain and return beans to pot. Cover with fresh cold salted water and bring to a simmer. Cook, covered, until beans are tender, about 1 hour. Drain and return to pot with remaining ingredients adding a cup of water. Bring mixture to a simmer and cook over low heat, covered 30 minutes or longer or until mixture is thickened and flavors have blended. Add more water if needed. Season with salt to taste. Serves 6-8.
Note: After the beans are tender you can throw the whole dish into a slow cooker and let it simmer for 1- 2 hours.
This recipe came about by accident. I was working on menu ideas for a dinner with friends. I had leftover spare ribs, but not really enough to serve on their own. I wanted to use them in something, and decided that the meat would be really good in baked beans. They already had barbecue sauce on them- and those flavors go well with beans. I didn't have time to start with uncooked beans, so I used canned beans. Even though I think of this dish as baked beans- they were never really baked. I did the whole dish on top of the stove in about an hour. They do taste great. I can't wait to serve them to the party tonight. We are having them as a side dish, but they could be a meal all on their own.
Spare Rib "Baked" Beans
1 c. sliced onion
2 T. oil or butter
1 qt. tomatoes – I used home canned- you can use 1 (28 oz.) can
1 can garbanzo beans, rinsed and drained
1 can black beans, rinsed and drained
1 can kidney beans, rinsed and drained
¾ c. apple cider vinegar
½ c. brown sugar
¼ c. maple syrup
2 T. molasses
4 c. cubed meat from cooked spare ribs
1 T. minced garlic
1 T. hot sauce, or to taste
1 T. Worcestershire sauce
1 t. ground cinnamon
1 t. ground turmeric
½ t. allspice
Salt and pepper to taste
In pot, add onions to oil or butter and cook over medium heat until tender. Add tomatoes, beans, vinegar, brown sugar, maple syrup and molasses. Cook over medium high heat, stirring occasionally, until mixture thickens. This will take about 30 minutes. Add meat with remaining ingredients and cook over medium low heat about 30 minutes longer. Stir from time to time to prevent sticking. Adjust seasonings and serve. Makes 6-8 servings.
I REALLY love homemade baked beans from scratch but rarely have the time to make them. Years ago I tasted my friend Amy's baked beans and I knew they would always be a favorite of mine. Whenever she makes them people go back for seconds. It's a simple recipe with relatively few ingredients.  Because you start with canned beans the cooking time is shortened. These can be baked in the oven or done in a crock pot. Super easy and very tasty.
Amy's Baked Beans*
6 c. chopped onion
1 lb. ground meat
1 lb. bacon, cut into 1-inch pieces
1/2 c. brown sugar
2 cans tomato soup
3 can butter beans, rinsed and drained
Mix onion, meat and bacon in skillet and cook until onions are translucent. Drain off excess fat. Place in Dutch oven with remaining ingredients and cook, covered, in a 350 degree oven for 90 minutes.
Note: You can also cook in a crock pot on high for 4 hours or longer. Uncover, for awhile, if you like, for thicker sauce.
*This recipe has been in the McWilliam family for several generations. They are also called Grandma McWilliam's Beans and before that Aunt Eilizabeth's Beans.