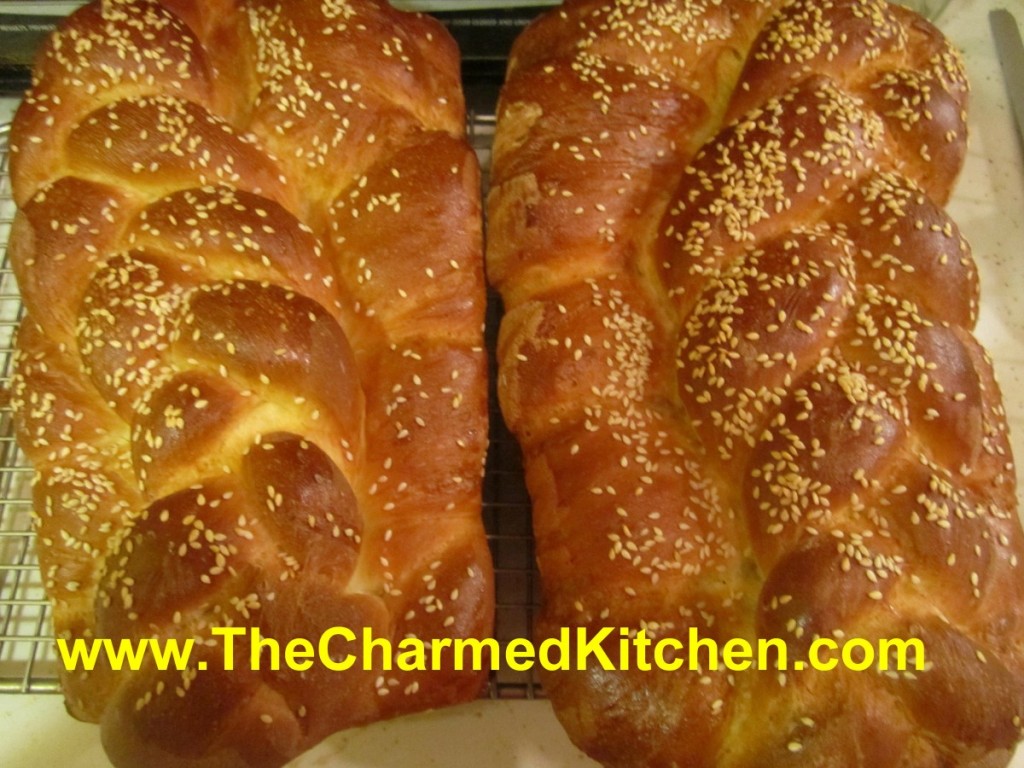 I have wonderful memories of my mother making this bread. Whenever I make it, I think of her. It is a simple egg bread, in many ways, but the braiding makes it look so pretty. You can bake the bread in loaf pans, or on baking sheets. Both look great.
This is one of my favorite sandwich breads, but I also like it for French toast. Challah makes great bread pudding.
Challah
2 c. hot water
1 T. each sugar, salt and oil
1 package active dry yeast
¼ c. warm water
About 8 cups flour
2 beaten eggs
Poppy or sesame seeds, optional
In large bowl combine hot water, salt, sugar and oil. Dissolve yeast in warm water in small bowl and add to oil/water mix. Stir in 1 cup of the flour and eggs, reserving 2 tablespoons of the eggs for later. Gradually stir in enough of the flour to make soft dough. When dough pulls away from sides of bowl remove to floured surface. Knead dough, adding flour as necessary about 8-10 minutes. Dough should be smooth and elastic. Place dough in a lightly greased bowl, turning to grease top, cover with a towel and allow to rise in a warm, draft free place until doubled, about 1 hour.
Punch dough down and divide into 8 equal pieces. Roll three of the pieces into 12- inch ropes. Place in a greased 9×5-inch loaf pan. Take one of the remaining pieces of dough and divide into thirds. Roll the pieces into 3-nine inch ropes and place on top of the braid already in the pan. Repeat with remaining dough and cover. Allow to rise until doubled in bulk, about 1 hour. Preheat oven to 400 degrees. Brush loaves with reserved eggs and sprinkle with sesame or poppy seeds, if desired. Bake 40-45 minutes. When done loaves will be nicely browned and sound hollow when tapped. Makes 2 loaves.
Note: Bread dough can also be placed on greased baking sheets instead of in loaf pans. The result will be longer and flatter loaves. I think they are very pretty.