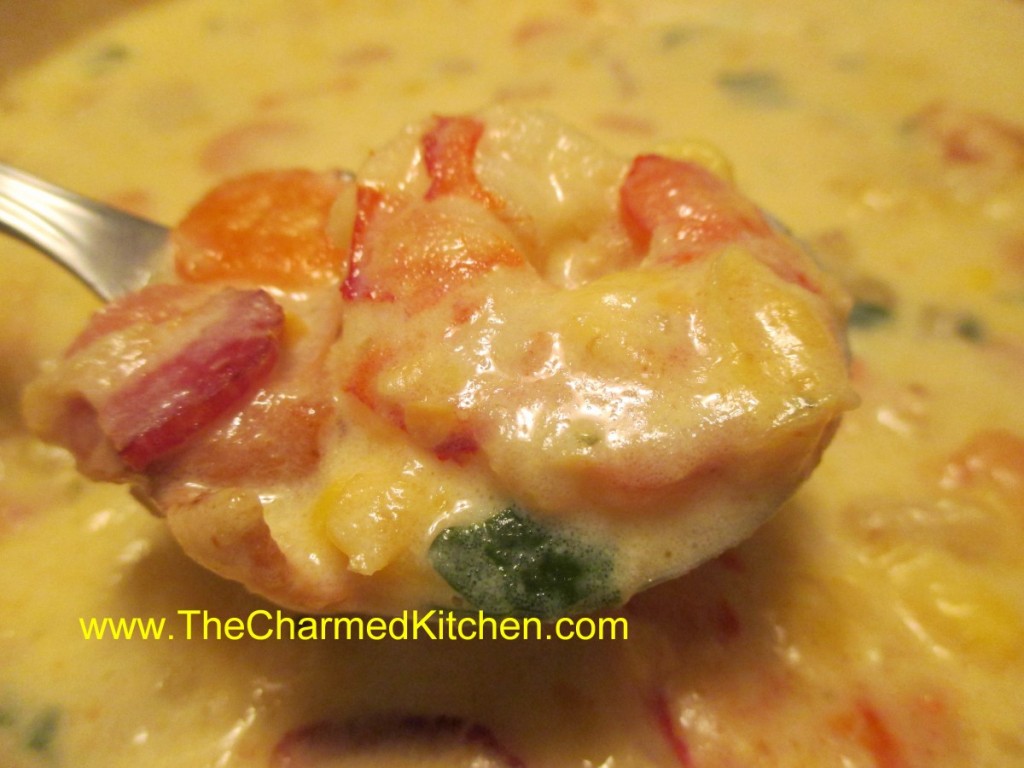 I love the combination of shrimp and bacon. When I was looking for a quick lunch for today, I knew I would be using them together. It is a chilly rainy day, so I decided to go with a chowder.
I rooted around my fridge and pantry for the ingredients and ended up with a very satisfying meal.
Some of my favorite dinners have happened by accident. Just looking at what I have on hand, and creating something tasty with it.
Bacon, Corn and Shrimp Chowder
6 thick slices bacon, cut into 1-inch pieces
1 onion, sliced
2 carrots, peeled and sliced
2 medium potatoes, peeled and cubed
1½ c. chicken stock
1 can cream corn*
½ c. corn- fresh or frozen_ I had sweet corn frozen from last summer
1½ c. half and half
½ c. chopped fresh parsley
12 oz. raw shrimp, peeled and deveined
Salt and fresh ground pepper to taste
Dash of hot sauce
In soup pot, cook bacon until almost done. Add onion and continue cooking until onion is cooked. Spoon out most of the bacon fat. Add the carrots, potatoes and stock and simmer, covered, until the veggies are tender. Add cream corn, corn and half and half and bring up to a simmer. Add parsley and simmer, covered, 10 minutes. Add shrimp and cook another 5 minutes or until shrimp is just cooked. Adjust seasonings and serve. Serves 3-4.
*I decided to use a can of cream corn as the base. When I was a kid my Mother would make me something she called cream corn soup. She rarely used prepackaged foods and made wonderful homemade soups all the time. I think it was on one of those days when she was just really busy. To make her cream corn soup she would empty the can of corn into a saucepan. Then she filled the can with milk and added that, too. A little salt and pepper and the soup was done. Just before serving she'd put a small pat of butter in the soup. As a kid I just loved it. I must admit I don't eat cream corn soup anymore, but as a base, the cream corn can really make a nice chowder.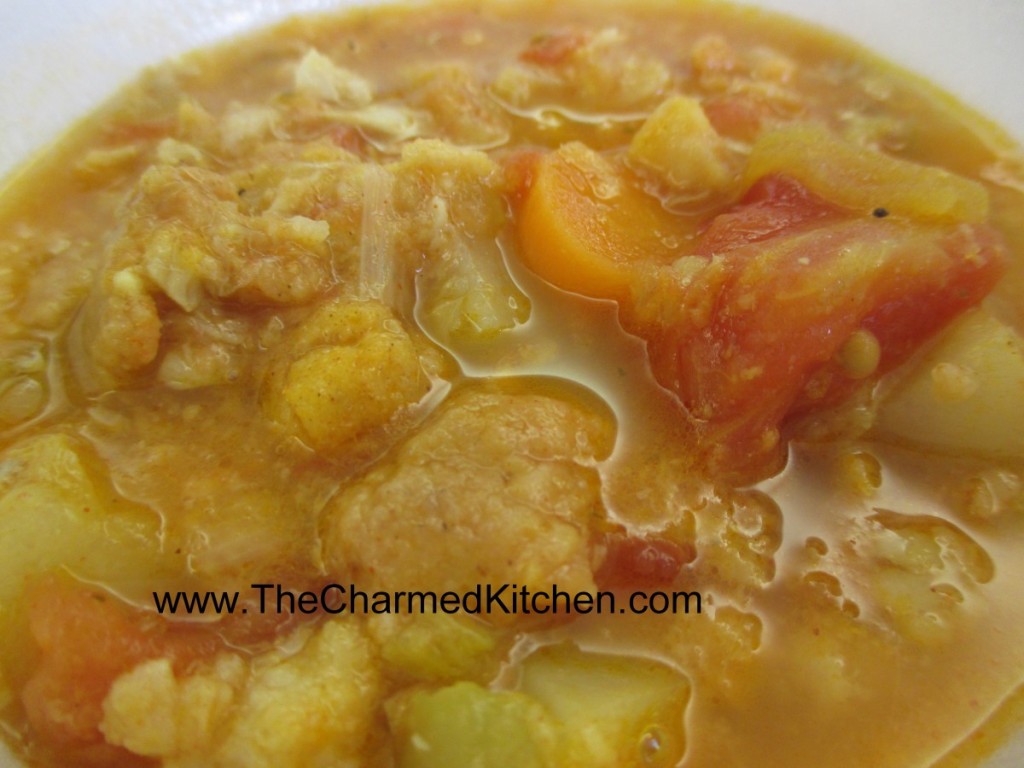 When I think of seafood chowder, I usually think about a creamy mix of some sort of shellfish, like clams or shrimp, with assorted veggies.
This chowder is a little different. It is a mix of fish and veggies, but there is no dairy or shellfish. Almost like a Manhattan style clam chowder, minus the clams!!
It is a nice alternative to those who can't eat shellfish, but still want to enjoy a bowl of chowder. The chowder is both hearty and light at the same time, if that makes sense.
You can use any mild fish you happen to like. I have used salmon, catfish, cod and flounder in the past, and liked the way all of them tasted in the chowder. I used catfish this time.
The recipe calls for Roma tomatoes, but any tomatoes would work. I used bottled salsa because I had an open jar I wanted to use. It added a nice little bit of extra flavor. The tomatoes at the market were just too anemic.
Fresh Fish Chowder
1 medium carrot, sliced
2 ribs celery, diced
2 medium potatoes, peeled and sliced
1 large leek, white part only, cleaned and chopped
5 c. chicken, vegetable or fish stock
2 c. plum tomatoes, chopped- I used salsa in class
Salt and pepper to taste
1 1/2 lb. firm white fish cut into 1/2 inch cubes – I used flounder
1/4 c. flour
1/2 t. paprika
2 T. oil
In broth cook the carrot, celery and leeks 10 minutes. Add tomatoes and potatoes and simmer, covered, for 15 minutes longer. Season to taste. Meanwhile mix the flour and paprika together and dredge the fish in it. Heat oil in a skillet over medium high heat and cook the fish until lightly browned on both sides. Drain on paper towels. Before serving add fish pieces to the soup and simmer 5 minutes. Serve with crusty bread. Serves 6.
 I was defrosting my freezer and found local sweet corn I had frozen last summer. I had forgotten all about it. I wanted to make soup for a dinner with friends, so I decided to use the frozen corn to make this chowder. I also had a pound of bacon, which gave the soup a wonderful smoky flavor. I cooked the bacon in the soup pot, allowing it to get pretty crisp. I removed as much of the fat as I could, but left the bacon in the pot. Then, when I cooked the onions and added the stock, all the little brown bits of bacon in the pot added even more flavor. It was a big hit. A perfect dish for a snowy evening.
Smoky Corn Chowder
1 lb. bacon
1 onion, chopped
2 carrots, peeled and sliced
6 c. chicken stock
2 potatoes, peeled and cubed
6 c. corn – I used frozen corn
2 cups half and half or milk
¼ c. flour
Salt and pepper to taste
Hot sauce to taste
Fresh chopped parsley
Cut bacon in 1-inch pieces and fry in a Dutch oven until crisp. Tip pot and spoon out most of the fat. Add the onion and sauté until translucent. Add carrots and stock. Cover and simmer 10 minutes, then add the potatoes and corn. Cover and simmer 15-20 minutes, or until potatoes are tender. In jar with a tight fitting lid, combine 1 cup of the half and half or milk with the flour. Put on the lid and shake until mixture is smooth.  Stir into the pot along with the remaining half and half or milk and cook, stirring often until mixture thickens up. Adjust seasoning to taste. Stir in parsley and serve.  Serves 6.