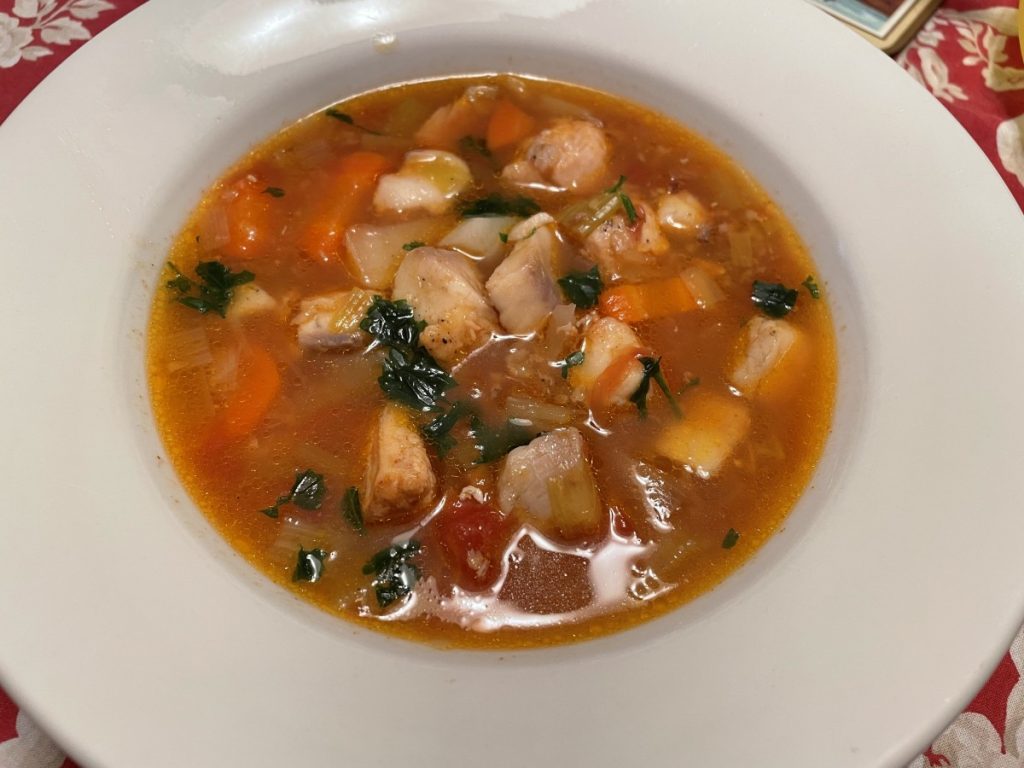 When you think of homemade soup, I am guessing you don't think of fish. Perhaps a clam chowder, but not fish. Maybe you should. This soup is really quite wonderful. It is full of great flavors and it cooks up in no time. It is both light and satisfying. It sort of reminded me of a Manhattan style chowder, but with fish instead of clams.
You can use any mild fish you happen to like. I have used salmon, catfish, cod, tilapia and flounder in the past, and liked the way all of them tasted in the soup. You can also use a mix of more than one fish.
The recipe calls for canned tomatoes, but fresh tomatoes would work. I have used bottled salsa a few times. It added a nice little bit of extra flavor. You would add a pound of diced fresh tomatoes, if using fresh.
So here is the recipe. Hope you give it a try.
Fresh Fish and Vegetable Soup
1 medium carrot, sliced
2 ribs celery, diced
2 medium potatoes, peeled and sliced
1 large leek, white part only, cleaned and chopped
5 c. chicken, vegetable or fish stock
1 (14 oz.) can of stewed tomatoes, I used a pint of home canned tomatoes
Salt, pepper and cayenne pepper to taste to taste
1 1/2 lb. firm white fish cut into 1/2 inch cubes
1/4 c. flour
2 t. paprika
2 T. oil 1/4 c. fresh parsley
In broth cook the carrot, celery and leeks 10 minutes. Add tomatoes and potatoes and simmer, covered, for 15 minutes longer. Season to taste. Meanwhile mix the flour and paprika together and dredge the fish in it. Heat oil in a skillet over medium high heat and cook the fish until lightly browned on both sides. Drain on paper towels. Before serving add fish pieces and parsley to the soup and simmer 5 minutes. Serve with crusty bread. Serves 6.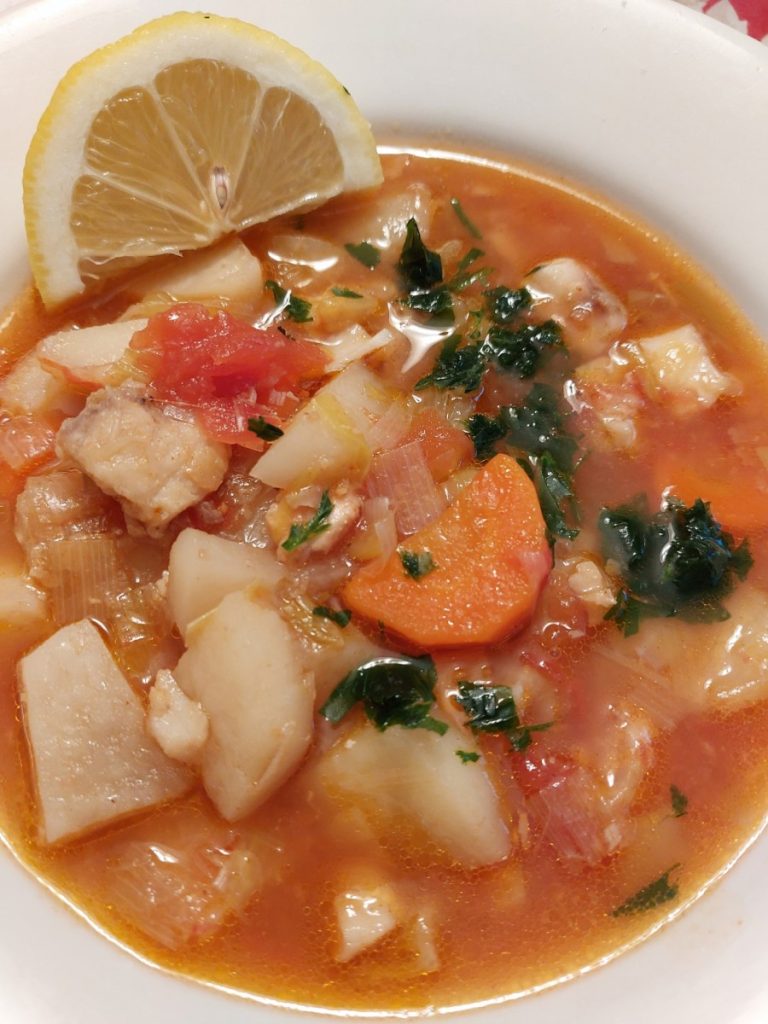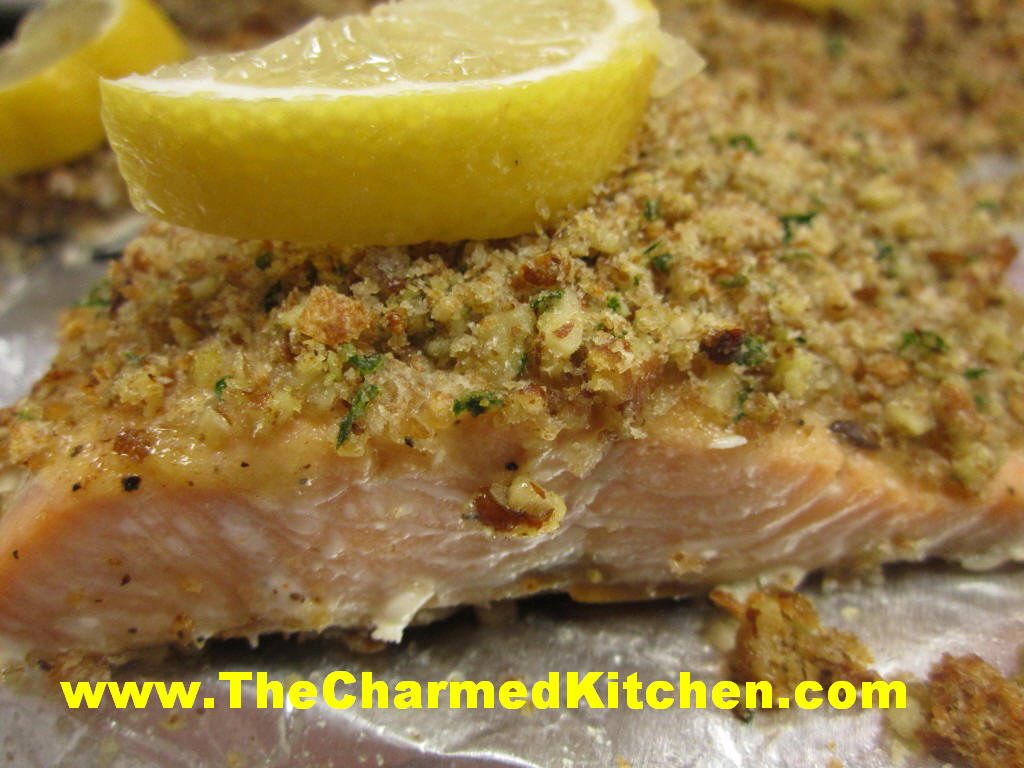 If you love salmon like I do, this is a fun way to prepare it. The crunch from the nuts adds a nice contrast to the texture of the fish. The flavors work well together, too. You don't have to use pecans. I prefer them, but finely chopped walnuts, hazelnuts, almonds or even pumpkin seeds might be fun.
A combination of Dijon mustard, butter and honey helps the nuts to stick to the fish. There are a few fresh bread crumbs in there as well.
This dish is simple enough to prepare any night of the week, but special enough to make for company.
I used salmon fillets. You could use a whole side of salmon. You just have to increase the baking time to about 20-25 minutes and reduce the oven to 425 degrees. Depending on the size of the piece of salmon, it might take a few more minutes.
You could use other fish, but you need a sturdy fish that will stand up to the topping. I have made it with Steel Head Trout and it worked out beautifully.
Pecan Crusted Salmon
2 T. Dijon Mustard
2 T. melted butter
4 t. honey
1/4 c. fresh bread crumbs
1/4 c. finely chopped pecans or walnuts
2 t. chopped parsley
4 salmon fillets
Salt and pepper
Lemon wedges
Mix together mustard, butter and honey and set aside. Mix together bread crumbs, nuts and parsley and set aside. Season each fillet with salt and pepper. Place on lightly greased baking or broiling pan. Brush each fillet with mustard mixture. Divide crumb mixture among fillets, patting to hold. Bake in 450 degree oven for 10 minutes per inch thickness of fillets. Serve with lemon wedges. Serves 4.
I love fried fish. I don't make it at home that often. It is more of a treat around here than an every day meal. Note to self; Make fried fish more often. To thank two of my dear friends, who shoveled my sidewalk more than a few times this winter, I decided to have them over for dinner.  I made fried catfish with cole slaw, cabbage and noodles, homemade fries and tiramisu for dessert. I knew I wanted to make the fish. My friends and I often go to Friday fish fries this time of year and this was a Friday night, after all. I had some catfish and the big decision was going to be how to cook it. I toyed with the idea of baking it, but frying won out. Nothing quite as good as fried catfish in my mind.
This is going to be one of those recipes that is more narrative that exact amounts.  I really am good about writing stuff out. I just can't seem to locate my notes for this one- so I'll share what I did as best I can remember. It is also so easy to fry fish. Don't be scared to try. Fresh fried fish is such a treat.
I started with catfish fillets that were cut down into smaller pieces. I wanted smaller pieces to serve, since we had so many side dishes. I made a mixture of eggs, a little buttermilk, salt, pepper, garlic powder, parsley and hot sauce. I dipped the fish in this mixture and let it soak in there while I got the breadcrumbs ready. I had some bread crumbs made from plain bread, so I added a little paprika, dry parsley flakes and lemon peel to the crumbs.
I took the fish out of the egg wash a few pieces at a time and dropped them in the bread crumbs. I had the crumbs in a good sized bowl- but only filled about a quarter of the way with crumbs. I added the fish and sort of tossed it in the crumbs by shaking and tossing the bowl. Placed fish on a baking sheet. Once the fish were all coated in bread crumbs I put the oil on to heat up.
I was using an electric pot with a thermometer so I knew when the oil reached 350. I wanted to fry the fish between 350 and 375 degrees. If you don't have a pot with a thermometer you can tell if your oil has reached 350 degrees with the use of popcorn. Yes, popcorn. Just put in a kernel of popcorn when you start heating up the oil. Popcorn pops at 350 degrees. When the popcorn pops, you know the oil is ready.
I had a pan, lined with paper towels ready as I started to drop the pieces of fish, several at a time, into the hot oil. They were cooked in just a few minutes. I pulled them when they were golden brown. Allowed them to drain on paper towels in a warm oven while I cooked the rest of the fish.
I served the fish with lemon wedges and homemade tartar sauce- which is just sweet pickle relish and mayo. I sometimes  add capers and a little mustard, too.
The fish was a bit hit and I was happy to thank my very thoughtful friends.
As to the oil. You'll have plenty left over. I let it cool and strain it out and pour it in the bottle it came from. You can save it for your next frying project, but don't use it again and again. Just a few times, then toss the rest.  The flavor get funky after a while.