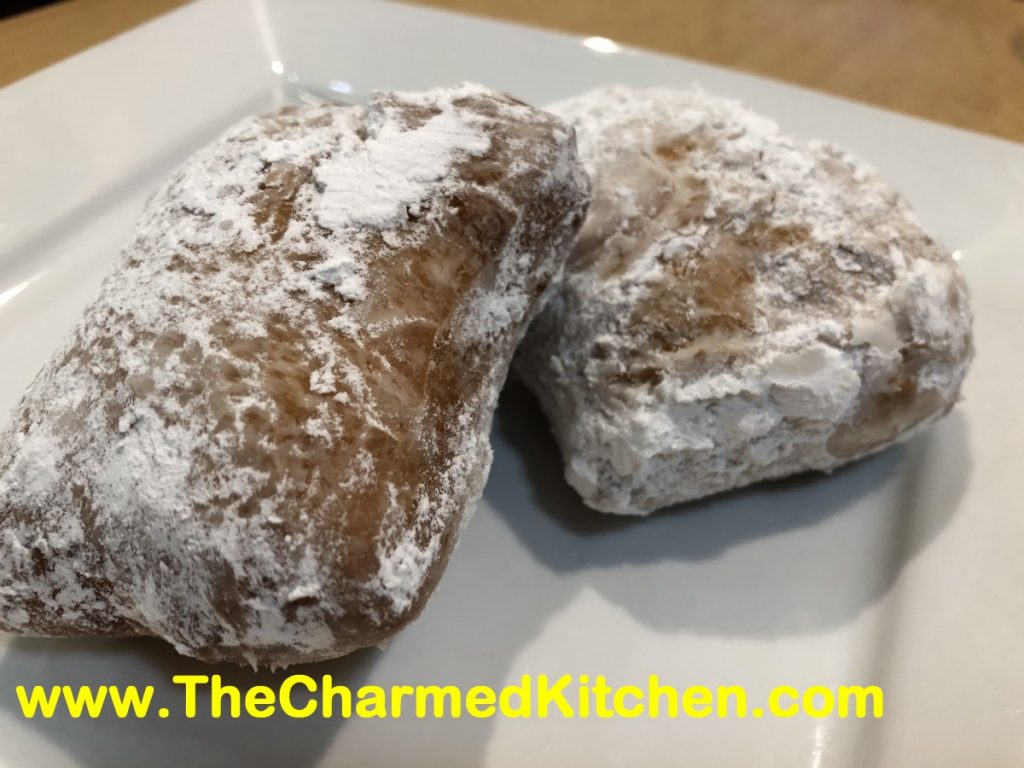 Beignets are a fun addition to any Fat Tuesday/ Mardi Gras celebration. Beignets are the official fried dough of New Orleans. These squares of fried dough are often referred to as a fritter or doughnut.
Beignets can be made with a choux pastry- like the type of dough used for cream puffs. They can also be made from a yeast raised dough. I made mine with a yeast dough.
Once fried, beignets are drained on paper towels and then tossed in a bag with powdered sugar. They are served hot, or at least warm. The fresher the better.
They really aren't that difficult to make. The dough is soft and pliable. Very easy to handle. When you roll the dough into a rectangle to cut into squares, do your best to get the corners squared off. But don't get too concerned. I always end up with the four corners a little misshapen. They still taste good. I use a pizza cutter to cut the dough into squares.
Beignets
1½ c. lukewarm water
½ c. granulated sugar
1 envelope active dry yeast
2 eggs, room temp, slightly beaten
1 c. half and half, warmed a little
¼ c. oil
7 -7½ c. flour
2 t. salt
Oil, for deep-frying
2-3 c. powdered sugar
Mix water, sugar, and yeast in a large bowl and let sit for 10 minutes. In another bowl, beat the eggs, half and half and oil together. Mix egg mixture to the yeast mixture. Add 3 cups of the flour and the salt to the yeast mixture and stir to combine. Add more flour, a little at a time until soft dough forms. Remove dough from the bowl, place onto a lightly floured surface and knead until smooth. Return dough into the bowl and cover with plastic wrap or a towel. Let rise in a warm place for at least 2 hours. Roll the dough out to about ½-inch thickness and cut into 2-inch squares Heat oil in a deep-fryer to 350 degrees. Add the confectioners' sugar to a paper or plastic bag and set aside. Deep-fry, flipping every 30 seconds or so, until they become a golden color. After beignets are fried, drain them on paper towels. Once you are done frying them, toss them into the bag of confectioners' sugar. Hold bag closed and shake to coat evenly. Makes about 4 dozen.
Note: This recipe makes a lot. I cut the recipe in half when I don't need so many. You can cut them a little smaller, if you prefer. They puff up a lot when fried.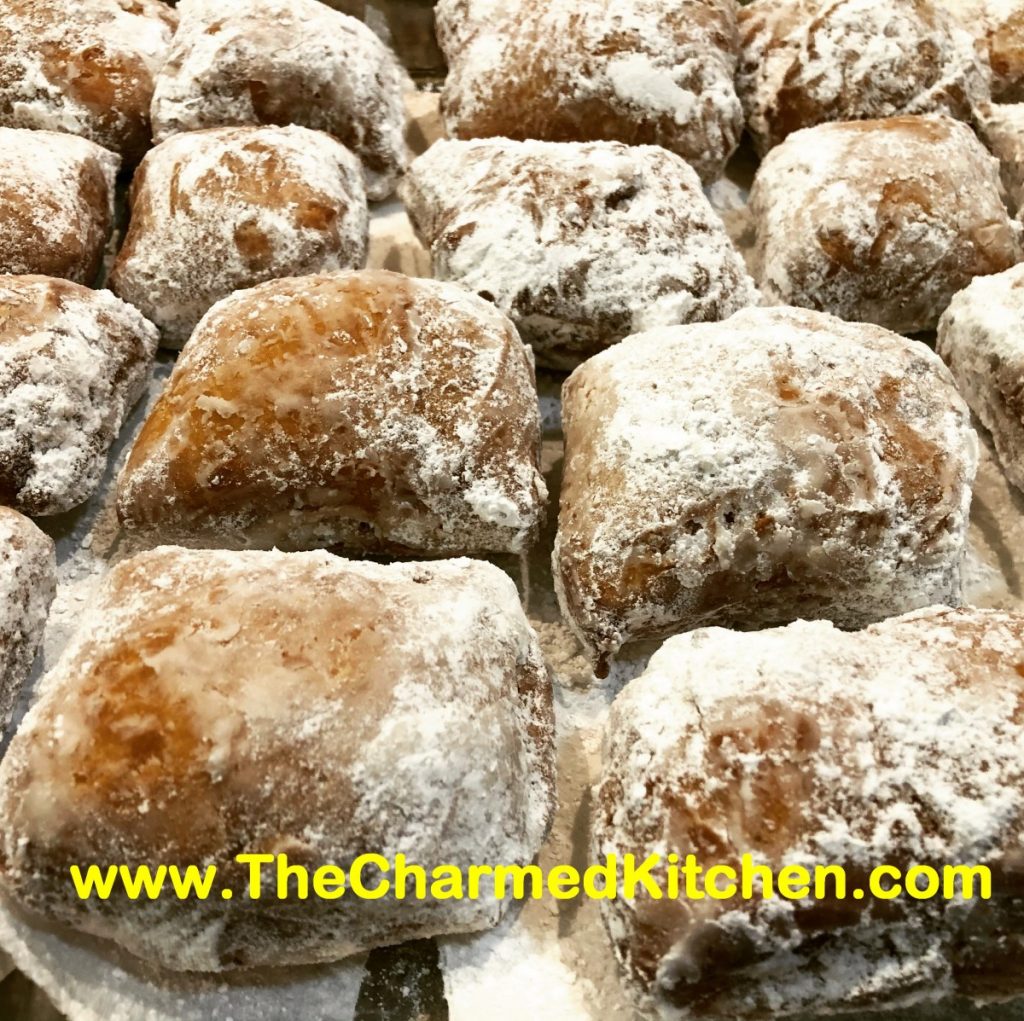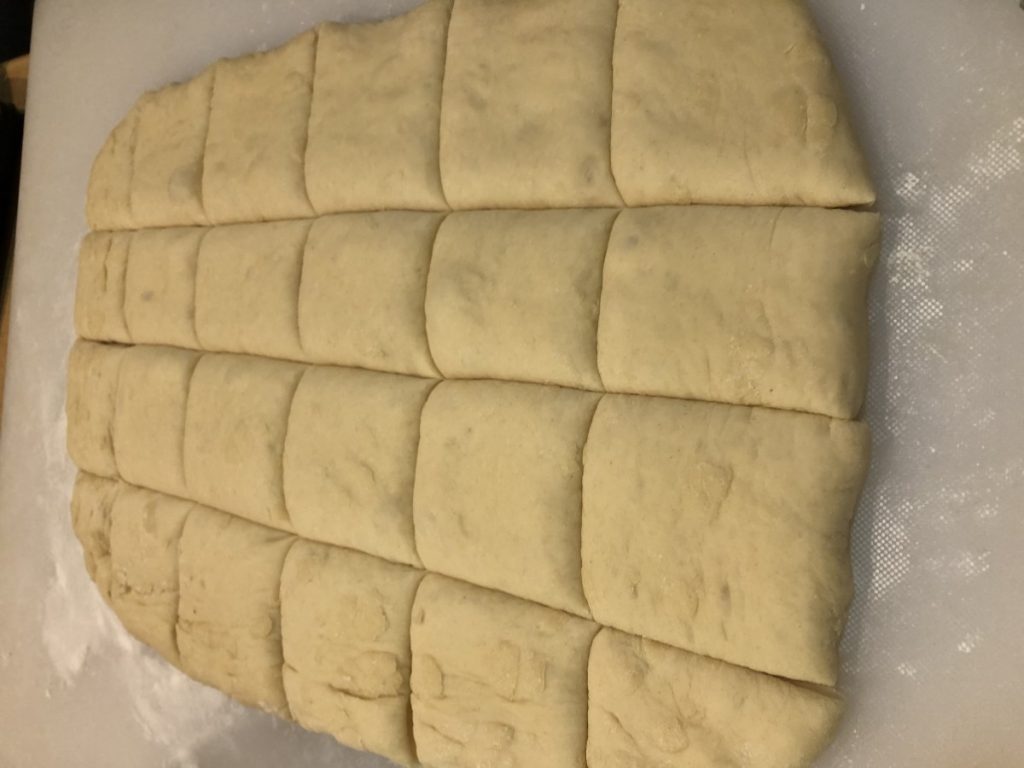 If you are planning a Mardi Gras party, you will want a King Cake. King Cakes are a long-standing tradition in New Orleans at Mardi Gras. A small plastic baby is often hidden in the cake, although you can use a bean or even a whole pecan or almond.
Tradition has it that the guest who finds the "surprise" in their piece will host next year's party. Be careful to warn guest so they don't break a tooth or swallow the "prize".  You can also use the whole nuts inside the cake and just set the baby on top of the cake when serving.
The "cake" is really a sweet cinnamon swirl bread.  The yeast dough is rolled out, spread with butter and cinnamon sugar, and rolled up. Then the dough is shaped into an oval shape.
After it is baked, the king cake is decorated with colorful frostings, sugars or both. Traditionally the colors used are yellow, green and purple, but, hey it's your cake have fun with it.
If you want just the sugars, and no frosting, then brush the king cake with a beaten egg before baking and sprinkle with the sugar then. Otherwise, you'll decorate the cake once baked and cooled.
King Cake
1/4 c. butter
16 oz. container sour cream
1/3 c. sugar
1 t. salt
2 packages active dry yeast
1 T. sugar
1/2 c. warm water
2 eggs
6 /2 c. flour
1/2 c. white sugar
1 1/2 t. cinnamon
1/3 c. butter, softened
Colored sugars and frostings (recipes follow)
Heat together the first 4 ingredient to about 100 degrees. Dissolve yeast and sugar in warm water in large bowl and let stand 5 minutes. Add butter mixture, eggs and 2 cups of the flour. Beat 2 minutes at medium speed and gradually work in enough flour to form a soft dough. Knead until smooth and elastic, about ten minutes. Place dough in a greased bowl, turning to grease top and cover. Allow to rise in a warm place until doubled, about 1 hour. Stir together 1/2 c. sugar with cinnamon and set aside. Punch dough down and divide in half. Roll out one piece of dough into a 28×10-inch rectangle. Spread dough with half of the butter and sprinkle with half of the sugar mixture. Starting at long end roll up jelly roll fashion and pinch seam to seal. Shape dough into an oval shape and pinch ends together. Place seam side down on a greased baking sheet. Repeat with remaining piece of dough except remember to add the toy baby, nut or bean if you want the "surprise". Cover and let rise about 20 minutes. Bake in a preheated 375-degree oven for 15-20 minutes, or until golden brown. Cool before decorating with tinted frostings and colored sugars. Makes 2, serving 24.
Frostings
3 c. powdered sugar
3 T. melted butter
3 t. milk
1/2 t. vanilla
Green, yellow, red and blue food coloring
Combine sugar and butter and add enough milk to make the glaze a drizzling consistency. Add vanilla and divide mixture in three small bowls. Tint one bowl yellow, one green and one purple, using both the red and blue food coloring. I often don't bother to tint the frostings, but rely on the tinted sugars for color.
Tinted sugars
1 1/2 c. granulated sugar
Food coloring
Place 1/2 c. sugar in each of three small bags and add a couple of drops of food coloring to each. One use yellow, one green and one both the red and blue for purple. Shake the bags to distribute the color. You should only need a couple of drops of each.
Decorate the cake by making bands of the colored frostings and then sprinkling on the sugars.