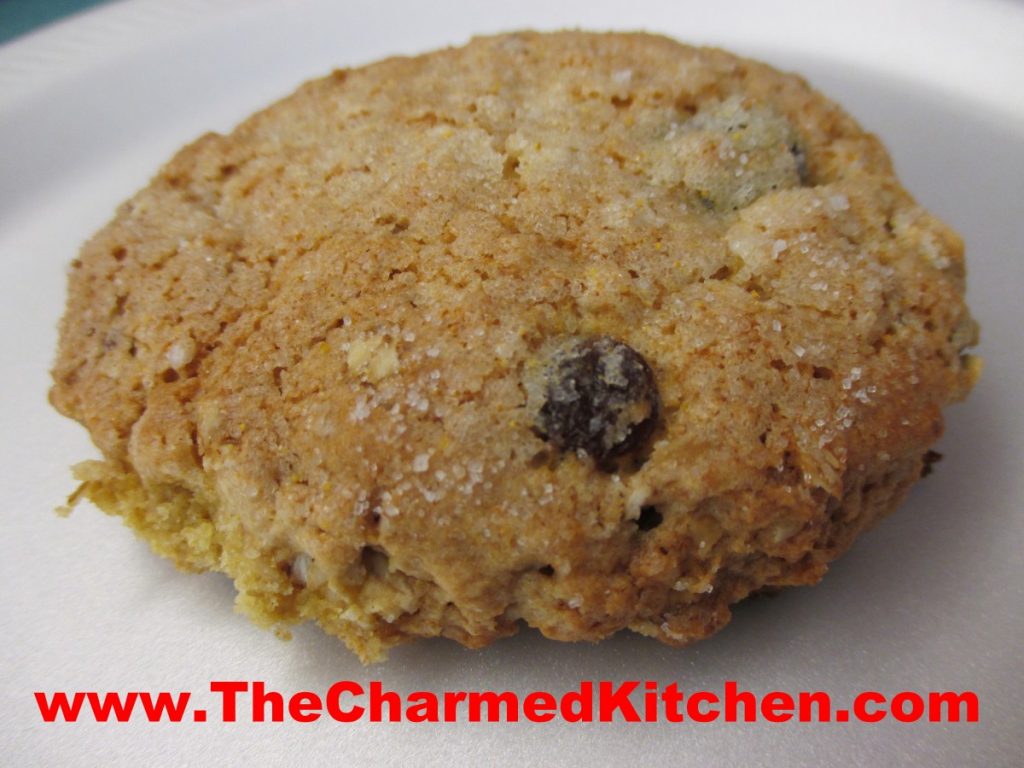 I love fresh scones, still warm from the oven. Since it is citrus season, I decided to make scones with some seasonal orange flavor. These scones have a nice, crunchy outside and crumbly, tender middle.
The orange juice and orange zest gives them a wonderful flavor. The oatmeal gives them a lovely texture and the raisins add just a bit if sweetness. A very nice combination.
These are great served warm, topped with sweet butter and jam. They are perfect for breakfast or brunch.
You can also use these scones as the base for a berry shortcake. Split, topped with sweetened berries and some whipped cream, they turn into a simple and tasty dessert.
Orange and Oatmeal Scones
2 1/2 cups flour
2 cups rolled oats
1 cup sugar
1 teaspoon salt
1 tablespoon baking powder
1/2 teaspoon baking soda
1/2 cup very cold, unsalted butter – cut into chunks
1 egg
1/2 cup orange juice
2 t. grated orange peel
1 cup raisins – plumped and well dried
Glaze
milk, sugar, orange zest
Line a large baking sheet with parchment paper (double two sheets if you have them – one inside the other). Preheat oven to 425 F. In a large bowl, place flour, oatmeal, sugar, salt, baking powder, baking soda and mix together. Cut or rub in butter to make a mealy mixture. Stir in egg and orange juice. Add orange peel and raisins. Mix to make a soft dough. Turn out onto a lightly floured board and knead for a few minutes. Roll or pat out into a thickness of 1/2 inch. Using a serrated cookie cutter cut into disks or rounds. Brush with milk and sprinkle with sugar and orange zest. Bake until nicely browned – about 14 minutes. Makes about 24.
I had been cleaning out the freezer and found some berries from last summer. I decided to use some of them to make these scones. Even when the weather is chilly- berry scones make me think of warm summer days.
I used a combination of blueberries and blackberries, but raspberries would work nicely, too. I was so pleased with how they came out. They were a little crisp on the outside, but crumbly and tender on the inside.
These scones aren't too sweet. With scones, I think you can always sweeten them up by serving them with jam, if you like. I had one for breakfast this morning, and it was wonderful. Still warm from the oven.
They could also be used as a dessert- as the base for a shortcake. Split the scones, add some sweetened berries, sweetened whipped cream or ice cream as a filling. Top with whipped cream or more berries. A simple, classic dessert.
The secret to a tender scone is to be gentle with the dough. Do not mix it too much. As soon as the dough holds together, you are good to go. I used an ice cream scoop to portion them out. If you are rolling out scones, try to cut as many out at one time as possible. Each time you re-roll scraps of dough- the scones become a little tougher.
Here is the recipe.
Mixed Berry Scones 
2 c. flour
1/4 c. sugar
1 T. baking powder
¾ t. salt
6 T. chilled butter
1 ½ c. berries, fresh or frozen- do not thaw berries – I used blackberries and blueberries
1 t. lemon or orange zest
2 large eggs
1/3 c. heavy cream
Mix dry ingredients together in bowl and cut in butter to resemble coarse crumbs. Toss in blueberries and zest. Beat together eggs and cream and stir into flour mixture. Mix very gently to avoid bruising berries. Use a small ice cream scoop to scoop out batter and place on baking sheet. Place scoops about an inch apart. Press down slightly. Brush with a little cream and sprinkle with a little extra sugar. Bake in a preheated 400-degree oven for 20-22 minutes. Makes 15-18.