You can never have too many zucchini recipes. Especially this time of year. This simple recipe uses zucchini to make tender and flavorful pancakes.
They aren't the type of pancake you would pour maple syrup over. They are wonderful topped with some fresh salsa, though. I would- and have- eaten them for breakfast. These pancakes make a nice lunch or main dish meal. They can also be served as a side dish. Similar to potato pancakes.
I think they taste best when golden on the outside, a little crisp. They will still be tender inside.
So if you have more zucchini than you know what to do with, and you don't want to bake zucchini bread, here is a recipe you might want to try.
Zucchini Pancakes
2 c. shredded zucchini
1 medium onion, diced
2 eggs
1/2 c. flour- you made need a little more or less depending on how moist your zucchini is
2 t. hot pepper sauce, or to taste
1 t. baking soda
salt to taste
oil for cooking
Combine all ingredients, except the oil, in a medium bowl. Heat oil in skillet and spoon batter in. I used a little over 1/4 cup for each. Cook over medium heat until lightly browned around the edges. Flip and cook until golden on both sides and pancake springs back when touched lightly. Remove to platter and keep warm. Repeat with remaining batter. Serve with salsa or sour cream. Makes 8.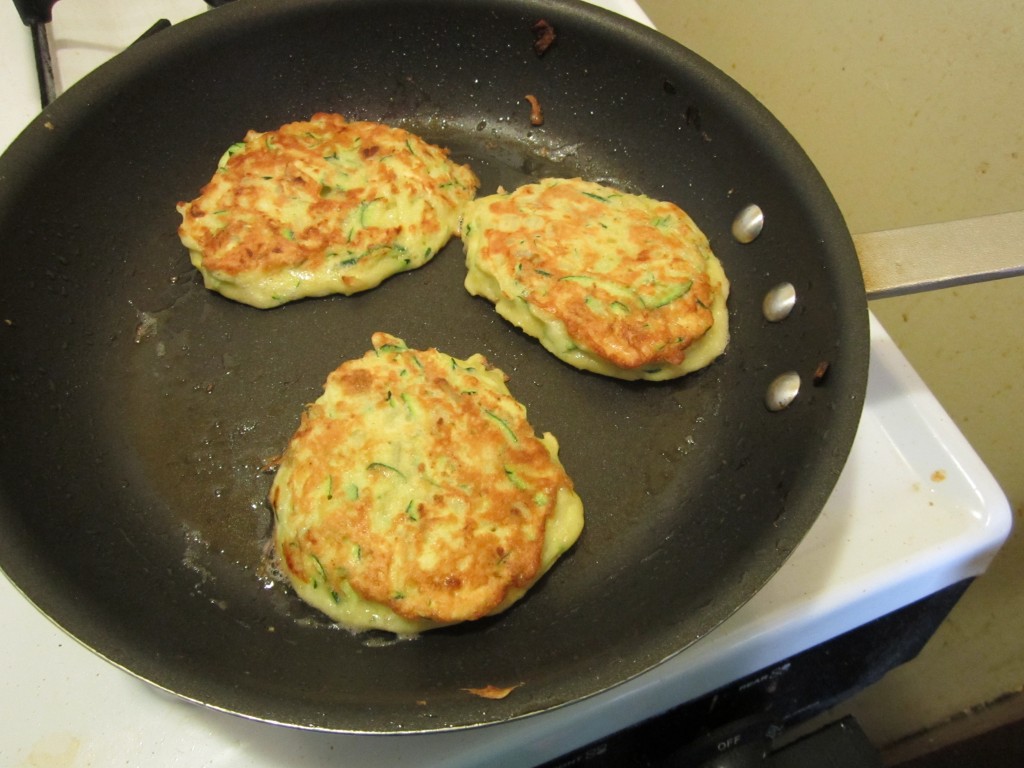 For those of you looking for another way to use some of those zucchini this dish is really fun and easy. The flavors of the zucchini, corn and peppers work really well together and makes a tasty side dish in just a few minutes. I served mine in pita bread. I sometimes add a little cheese, too.
Quick Zucchini and Corn Sauté
2 sweet peppers, seeded and cut into strips
2 medium zucchini, sliced
Oil
2 c. corn kernels cut from cobs, about 3 ears
2-3 cloves garlic, minced
1 t. salt
2 t. Italian seasoning
In oil, cook peppers and zucchini until crisp tender, about 5 minutes. Add remaining ingredients and cook 4 more minutes, or until heated through. Serves 6-8.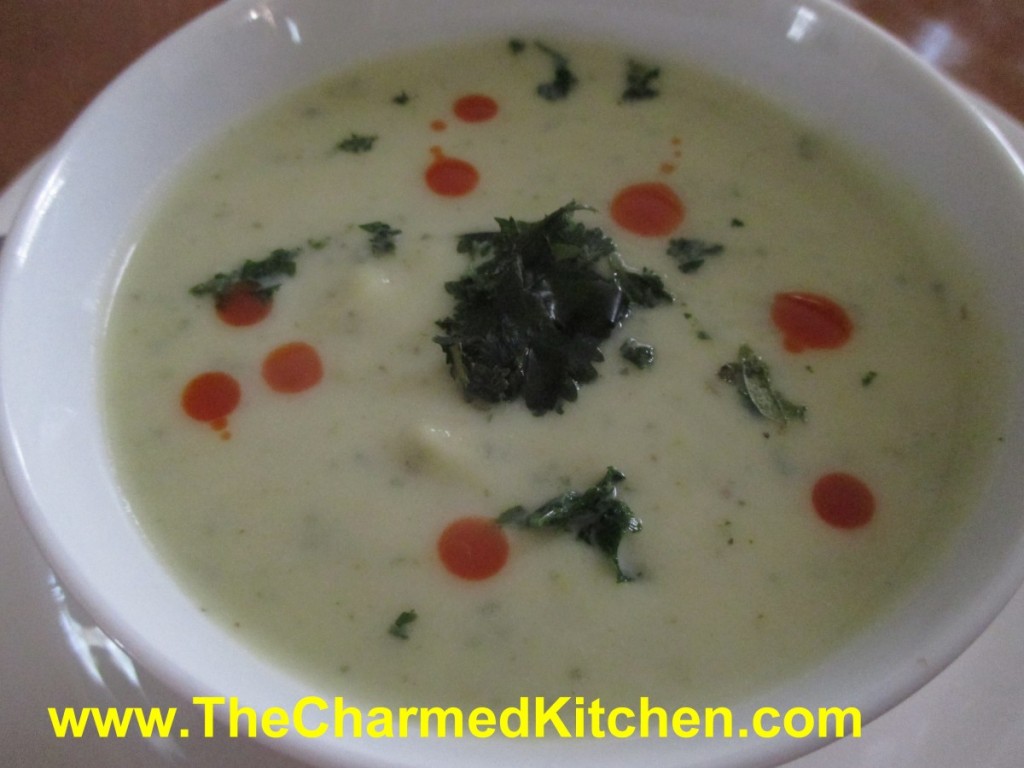 You can never have enough recipes for zucchini. If you have ever planted zucchini, you know what I mean.
This is a recipe I've had for ages, but had not made in a while. I forgot how much I liked it. As an added bonus, it can be served hot or cold.
I leave the skins on my zucchini, I like the way the little green flecks look in the soup, but you can peel, if you prefer. You can also use a combo of green and yellow summer squash.
Here is the recipe.
Creamy Zucchini Soup
1 medium onion, chopped
2 T. butter
4-6 medium zucchini, sliced
1 large potato, peeled and diced
1 T. chopped parsley
½ t. each basil, marjoram and thyme
1 t. hot sauce, or to taste
salt and pepper to taste
6 c. chicken or veggie broth
1 c. milk or half and half- I prefer the half and half
In Dutch oven cook onions in butter until tender. Add vegetables and seasonings and cook until hot. Add broth, heat to a simmer and cook 15 minutes. Puree mixture in blender in batches and return to pot. Add milk and heat through. Adjust seasonings. Serve hot or cold. I topped mine with some fresh chopped parsley and a little hot sauce. Serves 6-8.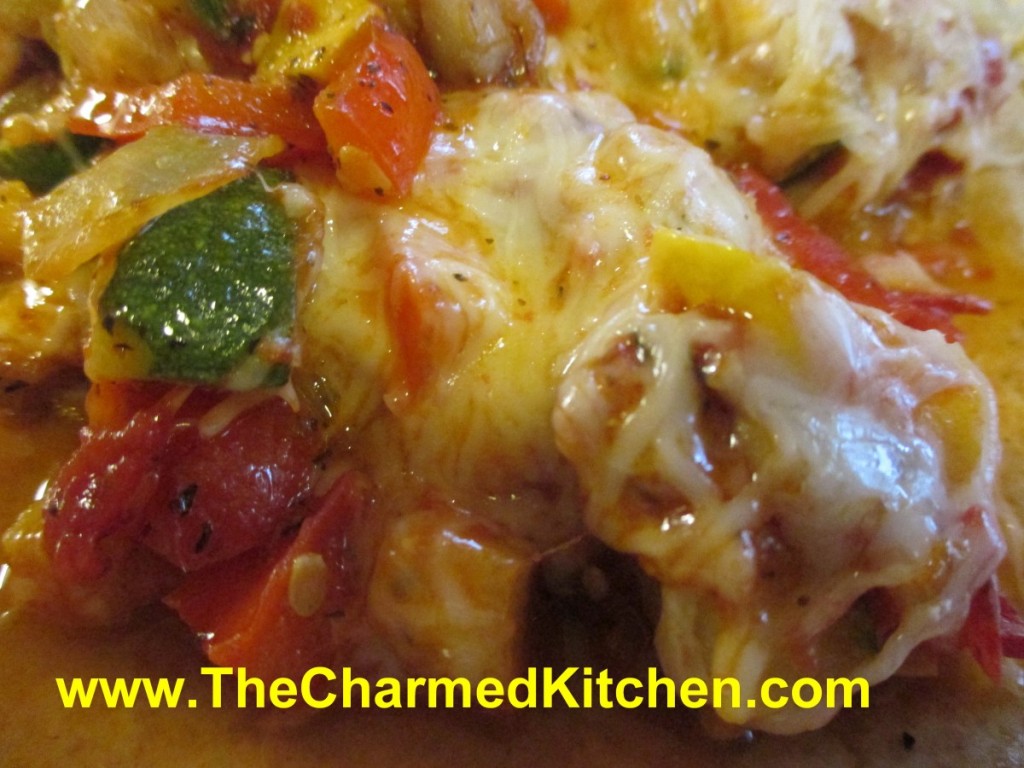 I started making this dish out of necessity. I was fresh out of college and never seemed to have much money. I did have a big garden, though. It was August and the garden was full of zucchini, tomatoes and peppers. I had to find a tasty way to combine them. Pizza Zucchini was born.
The name is a little misleading. It isn't really a pizza at all. Rather, it is a saute of several veggies, seasoned with pizza seasoning. I top it off with cheese, and often serve it over pasta or rice or stuffed in a pita bread. Last night, I served it on a whole wheat tortilla, so it did sort of have a pizza feel to it.
Not much work, but this dish packs a lot of flavor. You can use other veggies, depending on what you have around. So if you have a few extra zucchini laying around, this is a fun and tasty way to enjoy them. You might even get your family to eat more veggies.
"Pizza" Zucchini
1 T. oil
½ c. chopped onion
1 sweet pepper, seeded and chopped
1 c. sliced mushrooms, optional
3-4 c. sliced zucchini or other summer squash, trimmed and sliced
3 c. diced fresh tomatoes, or use canned or 1 c. tomato sauce
1-2 t. pizza seasoning, or to taste*
8 oz. Mozzarella cheese
Sauté onion in oil until tender add pepper and mushrooms and sauté 2 minutes more. Add squash and cook until tender. Add tomatoes or sauce, seasonings and salt, if desired. Heat through, turn down heat and add cheese. Cover and allow to cook on low until cheese melts. Serve as is, over rice or pasta or in pita bread. Serves 3-4.
*Pizza Seasoning
3 T. dried basil
2 T. dried oregano
1-T. red pepper flakes
1 T. dried minced onion
1-T. fennel seeds
1 t. garlic powder
Combine all ingredients and store in a cool, dark, dry place.
To use: Add 1-2 teaspoons per cup of tomato sauce to make pizza sauce. Also good sprinkled on bagels with sauce and cheese or added to any tomato or pepper dish.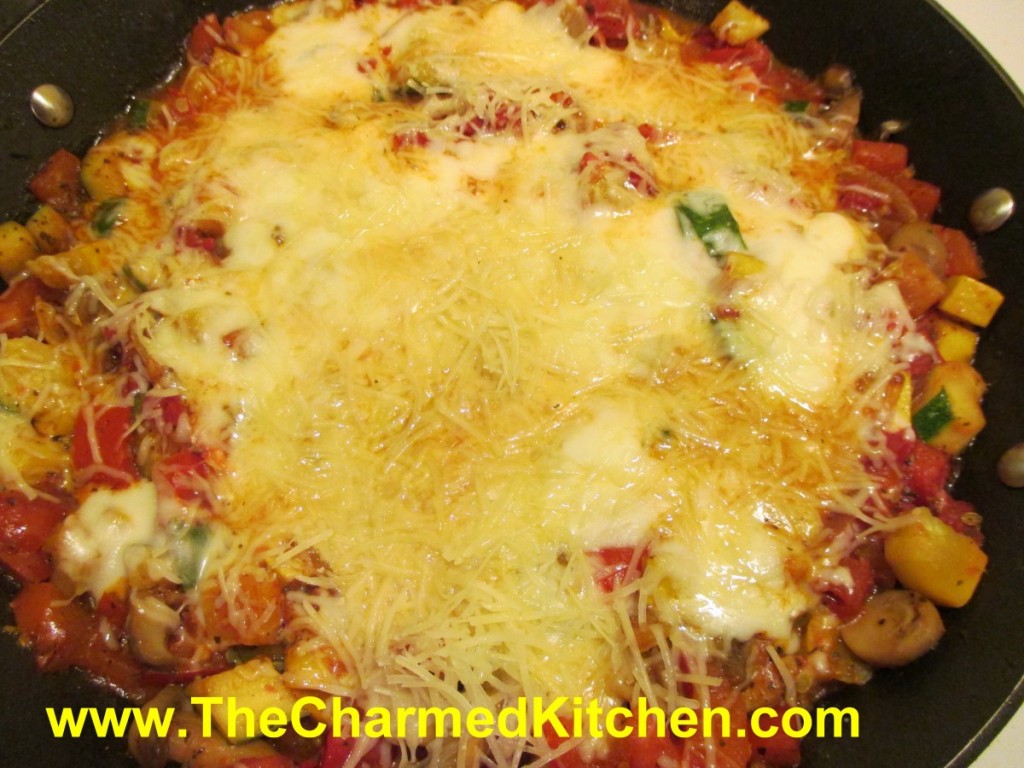 Zucchini Quesadilla
If you are looking for a fast and easy new way to prepare zucchini this dish really works well. Somewhere between a quesadilla and a frittata it can be a main dish, side dish, brunch dish or even a great breakfast. The hardest part is getting it turned over once it starts to set.
Don't worry if it isn't perfect. Once you sandwich it between two tortillas any mistakes are covered up. All cheesy and gooey in the middle, with crisp tortillas on the top and bottom, it might even get your kids to eat their veggies. You just cut it in wedges to serve.
Zucchini Quesadilla
2-3 c. shredded zucchini
2 eggs
1 medium onion, minced or grated
1 carrot, shredded
1/2 c. flour
2 t. dried basil or 2 T. fresh
2 t. dried parsley
1/2 t. salt, or to taste
1/2 t. chili powder
Oil
2 (10- inch) tortillas – I used whole wheat
1 c. shredded cheese, cheddar or Monterey Jack work well, but use what you like or have on hand.
Pepper confetti (finely minced sweet peppers, mixed colors if you can)
Salsa, optional
Combine first nine ingredients in bowl and set aside. Heat 10-inch skillet and add a small amount of oil. Pour in zucchini mixture and spread out evenly. Turn down heat to medium-low and cook until edges start to firm up and brown. With spatula turn over zucchini pancake and cook 3 minutes longer. It should be set. Place 1 tortilla on top of "pancake" and turn over again, so tortilla is in bottom of pan. Place cheese on top of pancake and place second tortilla on top of the cheese. Press down lightly. Cook a couple of minutes before turning again. Tortilla should be lightly browned. Cook long enough for the second tortilla to also brown. You can flip them back if to want to make them crispier. Remove to serving dish and sprinkle with the peppers. Cut into wedges and serve. Serve with salsa, if desired. You can also add a dollop or sour cream or some sliced ripe olives if you like.
Makes 2 luncheon servings or 4 appetizers. You can also make them ahead of time and keep them warm or reheat them in a 350-degree oven for about 15 minutes.
Variations: You can use 1-2 cups cooked mashed beans (kidney, black, chickpeas etc. in place of the zucchini, or even use cooked lentils.
Let me be clear. The bread is normal size- the zucchini are giant. Even the most diligent of gardeners will have a few zucchini get away from them.
Zucchini seem to go from too small to gigantic in the blink of an eye. A friend just brought me a bag of really big zucchini.
This time of year I get a lot of questions about overgrown zucchini.  People seem to think there is nothing you can do with them. That's not true. Even older squash can be eaten in all sorts of ways.
You can determine if the skin is too tough to eat by trying to pierce it with a fingernail. If you can easily poke the skin- it is tender enough to eat. If it isn't, just peel before using.
Cut the zucchini in half lengthwise and look at the seed cavity. If the middle looks spongy, hollow or if the seeds are developing scoop out the middle and discard. The remaining zucchini can be cubed or sliced and added to stews, soups, stir fries and all sorts of dishes.
One of my favorite things to make with the bigger zucchini, is zucchini bread. I shred up a whole zucchini and portion it out in amounts I will need for my bread. I freeze what I won't be using that day. It is really nice in the dead of winter to be able to make zucchini bread. Here is the recipe I use. It is a favorite and makes 2 loaves, which is a bonus.
Zucchini Bread
3 c. flour
3 eggs
2 c. sugar, I use less
2 c. shredded zucchini
1 c. oil
1 c. chopped nuts or raisins, optional
½ c. sour cream or Greek yogurt
1 t. each vanilla, cinnamon, salt and baking soda
Preheat oven to 350 degrees and grease 2 (9×5 inch) loaf pans. Set aside. Place flour in large bowl. Beat eggs and add with remaining ingredients to flour, mixing well and scraping bowl. Pour batter into prepared pans and bake 1 hour , or until browned and toothpick in center emerges clean. Cool in pans on wire rack. Freezes well. Makes 2 .
These are really good cupcakes. They are moist and not too sweet with a slightly dense texture. Sort of a cross between carrot cake and zucchini bread they have more texture than a traditional cupcake and plenty of flavor. I made these for a group of kids yesterday and they loved them.  I got 24 cupcakes out of the recipe but they were a little small. Perhaps 18 would be a better way to go. I used a simple vanilla buttercream to finish them off. I whipped the frosting a long time so it was extra fluffy. Here are the recipes for both the cupcakes and the frosting.
Zucchini Carrot Cupcakes
2 eggs
1 c. sugar
2/3 c. oil
1¼ c. flour
1 t. baking powder
1 t. baking soda
1 t. cinnamon- I think I would use a little more next time
½ t. salt
1 c. grated carrot
1 c. grated zucchini, squeezed dry and packed tightly
½ c. chopped nuts, optional
Beat eggs with sugar until frothy. Beat in oil then add dry ingredients. Beat on high for 4 minutes. Stir in veggies and nuts. Pour batter into 18- 24 paper lined muffin tins, filling them 2/3 full. Bake in a 350-degree oven for about 15 minutes or until top springs back when lightly touched. Cool and frost. Makes 24.
Note: These cupcakes deflate a little while cooling.
Classic Vanilla Frosting
3/4 cup butter
6 cups confectioners' sugar
1/3 cup milk
1 1/2 teaspoons vanilla extract
1/4 teaspoon salt
2 tablespoons milk
Beat butter in a large bowl until fluffy. Gradually add 3 cups of the sifted confectioners' sugar, beating well. Slowly beat in the vanilla, salt, and 1/3 cup of the milk. Gradually beat in the 3 remaining cups of confectioner's sugar. Beat in additional milk (1 to 2 tablespoons) if needed, to make frosting of spreading consistency. If desired tint the frosting with 6 to 8 drops of food coloring.
It seems when zucchini are abundant I can never find enough ways to use them all. That means I end up shredding and freezing a LOT of zucchini. It comes in handy throughout the year. I decided to make these cupcakes for an event I have later today. I like the recipe because the zucchini makes the cakes nice and moist. They aren't that sweet, either. I used a simple vanilla frosting but you could just dust them with powdered sugar or perhaps use a cream cheese frosting.  I have a friend who likes me to leave them plain. She prefers them unfrosted. Frosted or not these are a simple and tasty recipe that can make a dessert even the zucchini haters should love.
Chocolate Zucchini Cupcakes
½ c. butter
½ c. oil
1 ¼ c. sugar
2 eggs
½ c. buttermilk
1 t. vanilla
2 ½ c. flour
1/3 c. cocoa
2 t. cinnamon
1 t. baking soda
1 t. baking powder
2 c. shredded zucchini
Heat oven to 350 degrees. Line 30 muffin pans with paper liners and set aside. In mixing bowl combine butter, oil, sugar and eggs and beat until light and fluffy. Beat in milk and vanilla. Combine dry ingredients and add to egg mixture- beating until smooth. Stir in zucchini. Scoop batter into cupcake paper lined pans, filling about 2/3 full. You will get about 30, I sometimes get more. Bake 15-20 minutes or until toothpick inserted comes out clean. Cool and frost. Makes 30-36.
I used the Classic Vanilla Frosting recipe below, but doubled the recipe.
Classic Vanilla Frosting
3/4 cup butter
6 cups confectioners' sugar
1/3 cup milk
1 1/2 teaspoons vanilla extract
1/4 teaspoon salt
2 tablespoons milk
Beat butter in a large bowl until fluffy. Gradually add 3 cups of the sifted confectioners' sugar, beating well. Slowly beat in the vanilla, salt, and 1/3 cup of the milk. Gradually beat in the 3 remaining cups of confectioner's sugar. Beat in additional milk (1 to 2 tablespoons) if needed, to make frosting of spreading consistency. If desired tint the frosting with 6 to 8 drops of food coloring.
I got this over sized zucchini from my friend Carl. It was a round zucchini that had gotten to the size of a small pumpkin. I wanted to use it for dinner so I decided to hollow it out and stuff it. My friend Kat was coming over for dinner and I knew she'd be open to trying out my experiment. She's pretty open to trying things out. I hollowed it out and lightly salted in the inside. I was wary to put uncooked meat in there because I wasn't sure if it would get cooked through. Same thing for the rice.  I ended up cooking ground turkey and seasoning it with cumin, oregano, paprika, salt  and a little cayenne. I cooked the rice in a mixture of beef stock with some butter and fresh parsley. Tossed that mixture together and put it in the zucchini. I also added some mozzarella cheese after every few scoops of the filling.  I had some marinara sauce so I added a bit of that for moisture and a chopped onion that I had sauteed in oil.
I had no idea on how long it would take so I set in in at 350 and covered the top with foil. It was done in about 90 minutes. The zucchini was still firm but tender enough to eat.
I had some extra filling so I made some stuffed peppers, too. I split the peppers and boiled them a couple of minutes to soften. I filled them and baked them, also covered in foil for about 45 minutes- then removed the foil and baked 15 minutes longer.
The meal was a big hit. I could have used any over sized zucchini. It was a great way to use something that at first might have been thought of as unusable, except perhaps shredded for zucchini bread.
I really like putting potatoes and zucchini together in this dish. They work so well together to produce a  pancake that is crispy on the outside and tender inside. I've made this dish with just potatoes and with just zucchini- and I like them. For some reason the pairing up really works well, though. We made this dish is class last night and everyone liked it a lot. Rather than make a bunch of smaller pancakes we did them as a sort of large pancake. Worked out really nicely.
Zucchini Potato Pancakes
4 medium potatoes, I used red skinned
2 medium zucchini
2 eggs, lightly beaten
2 T. flour
¼ t. baking powder
1 t. salt or to taste
Pepper to taste
2 T. grated onion, I used dried chopped onion
½ c. oil
Peel *and grate potatoes. Place them in cold water and set aside. Trim zucchini and grate coarsely. Place in large bowl. Drain potatoes and squeeze dry. Place between towels to get out excess moisture and place in bowl with the zucchini. Add the rest of the ingredients, except the oil and stir to combine. Heat oil in a skillet. Drop rounded tablespoonfuls of the potato batter into the skillet. Cook several minutes per side or until golden and crispy. Drain on paper towels and serve. Serves 6-8.
* Peeling is really optional. I chose not to and I think they worked out fine. Personal choice.