With unseasonably warm weather, a sorbet was in order. If you are looking for a versatile dessert, sorbets are a great option. Almost any fruit can be used, and you can sweeten, or not, to suit your own taste. If you start with frozen fruit, you can blend up your sorbet and serve it right away. Even better if you can process and freeze it a couple of times.
Sorbets can be served on their own, with cake, or drizzled with chocolate sauce. I sometimes add a scoop of sorbet to a glass of lemonade or ice tea on a hot day. So refreshing. I sometimes  combine a couple of fruits in one sorbet.
I made this strawberry sorbet the other day. I had some strawberries in the freezer and I needed a quick dessert. It came out just wonderful.
You can make the sorbet in an ice cream machine, if you have one, but you don't need to. I don't. It really is simple. As an added bonus, once your sorbet is made, you have it on hand whenever you need a dessert. The secret is to blend the sorbet a couple of times after it is frozen, if you can. Each time, the sorbet gets smoother and creamier. I use my food processor.
So here is the recipe for my strawberry sorbet. You can substitute any number of different fruits.
Strawberry Sorbet
1 1/2 lbs strawberries, fresh or frozen
1/2 c. sugar, or to taste – you could also sweeten with honey, if you prefer, or use no sweetener
1 T. lime or lemon juice
Wash and stem berries. Place in food processor with juice and blend until smooth. Sweeten to taste, stirring until sugar is dissolved. Place in a container with a lid and freeze. Once frozen, remove strawberry mix from freezer and sit it on the counter to soften a little bit. This is really the important part. You don't want it to thaw, but you do want it soft just enough to break into chunks. Place chunks in food processor and blend it again. It will actually start to look a little creamy and lighter in color. You can serve it right away- or put it back in the freezer to serve later. At this point the sorbet is ready- but you can repeat the soften/process step once more, if you like, for even creamier sorbet. Makes 3-4 cups.
What else would you call a white cake, studded with berries, but Berry White? While this red, white and blue cake would be lovely for a 4th of July party, it would be great anytime. You can use fresh, or even frozen berries. They really make a simple white cake special.
I topped it off with a lemon butter cream frosting and since it was for the 4th of July I added a few star sprinkles.
To make the cake, start by making a white cake batter. I used homemade -recipe follows- but you could use a box mix if that is what you prefer. After you pour the batter into your pan, or pans, sprinkle with some blueberries and raspberries- or whatever berries you happen to have. Don't fold the berries into the batter. Fresh or frozen berries could be used. I used about 2 cups of berries in all. Once cooled, frost the cake. I used a lemon butter cream- recipe follows.
Classic White Cake
2 c. sugar
1 c. butter
4 egg whites or whole eggs
4 teaspoons vanilla extract
3 c. all-purpose flour
3 ½ teaspoons baking powder
1 c. milk
Preheat oven to 350 degrees. Lightly grease a 13×9-inch pan. In a medium bowl, cream together the sugar and butter. Beat in the eggs, one at a time, then stir in the vanilla. Combine flour and baking powder, add to the creamed mixture and mix well. Finally stir in the milk until batter is smooth. Pour or spoon batter into the prepared pan. Sprinkle berries over the surface of the cake. Bake 35-40 minutes. Cake is done when it springs back to the touch. Makes 1.
Note: I actually made 3 smaller cakes from this recipe- reduced baking time to 20- 25 minutes.
Lemon Butter Cream
½ cup butter
4 1/2 cups sifted confectioners' sugar
3 T. milk
1 T. lemon juice
1 1/2 teaspoons vanilla extract
In a bowl beat butter until fluffy. Gradually add 2 cups of the confectioners' sugar, beating well. Slowly beat in the milk, juice and vanilla. Slowly beat in remaining sugar. Beat in additional milk, if needed, to make of spreading consistency.
Ready for the oven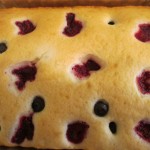 Freshly baked