This oatmeal bread is one of my favorites. With the addition of molasses, the bread has an earthy sweetness that works well with the oatmeal. It makes a great sandwich bread and I love it for French toast.
This is a very versatile recipe.  You can make 2 round loaves, or bake it in 2 loaf pans (8×4) or even make dinner rolls out of it. I sometimes make hamburger buns out of it.
When making dinner rolls, instead of loaves, reduce baking time to about 15 minutes- but check on rolls at 12 minutes. Baking temperature remains the same.
There is something about the smell of baking bread that always makes me remember my childhood and going to the movies. I know that sounds odd, but there is an explanation. When I was a kid there was a neighborhood movie theater. It was close by, and we would walk there to see movies. On the walk home we walked past a local bakery. Late at night they would be baking bread and other goodies for the next day. The air would be filled with the aroma of baking bread.
Oatmeal Bread
5-5 ½ c. flour
1 package active dry yeast – or 2 1/2 teaspoons yeast
1 ½ t. salt
1 1/3 c. water
¼ c. milk
¼ c. molasses
¼ c. butter
1 egg
1 c. old fashioned rolled oats
In large bowl mix 1 cup of the flour with yeast and salt. In small pan heat together next 4 ingredients until warm. Pour into bowl with flour mixture and beat 2 minutes. Stir in 1 cup additional flour and egg and beat 2 minutes longer. Stir in oatmeal and 1 cup more flour and stir, adding enough flour to form soft dough. Turn onto lightly floured surface and knead, adding flour as needed until dough is smooth and elastic. Place dough on a greased bowl, turning to grease top and cover, allowing to rise in warm place until doubled in bulk, about 1 hour.
Grease a large baking sheet and set aside. Punch dough down and divide in half. Shape each half into a ball and place on prepared sheet. Cover with towel and allow to rise until doubled, about 1 hour. Bake in a preheated 375 degree oven for 30 minutes or until done. Loaves are done when they sound hollow when tapped lightly. Makes 2 loaves.
This versatile dough can also be shaped into loaves and places in 8×4-inch greased loaf pans. Baking time will remain the same. Dough can also be divided into 24 equal pieces and shaped into dinner rolls. Bake rolls at 375 for 15 minutes.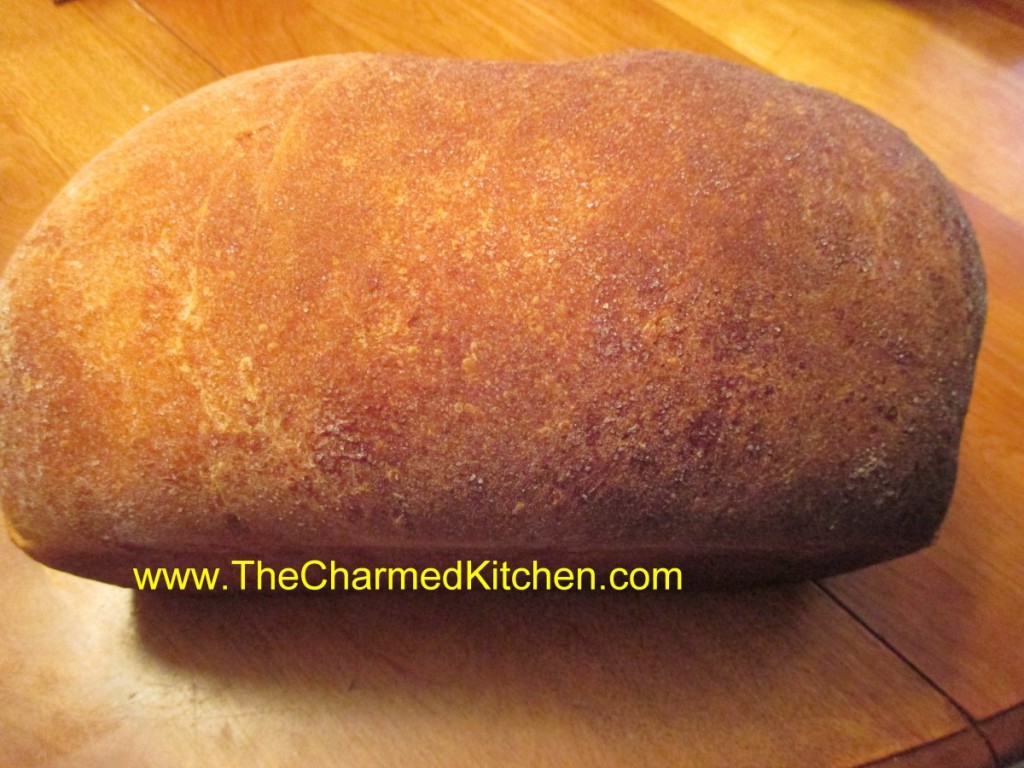 There is just something about homemade bread. I love the way the house smells when bread is baking. I decided to bake some spelt bread last night. It is one of my favorites. Besides, since I have challenged myself not to go to the grocery store for a month, if I didn't bake it, I wouldn't have it.
I always have at least a few people who ask me what spelt is.
Spelt flour is a close relative to wheat. I love cooking with it because it is so easy to work with. It doesn't require much, if any, kneading when you make yeast bread out of it.
Spelt has a texture much closer to white flour in baking other things, like muffins or biscuits. It does contain gluten, so it's not an answer for people with gluten issues.
For those who do cook with wheat, spelt provides whole grain nutrition in a delicate, less heavy package. The bread I baked was so easy to make and gives me all the taste and fiber of whole wheat bread with less work.
Spelt flour is still tricky to find. Some larger grocery stores carry it, but you might have to go to specialty markets. Bob's Red Mill is my usual source, so if your store carries their products, you should be able to locate it.
Spelt Bread
3 ¼ c. spelt flour
1 pkt. Active dry yeast
1 c. water
1/3 c. honey
¼ c. oil
1 t. salt
1 egg
Place 2 c. flour, yeast and salt in a medium bowl. Heat together water, honey and oil until warm (120-130 degrees) Add water mixture to spelt mixture and beat on low speed of electric mixer for 30 seconds, or until moistened. Add egg and beat on high 3 minutes. Stir in enough spelt to make a soft dough. Cover bowl with towel and allow to rise until doubled, about 1 hour. Grease a 9×5 inch loaf pan and use a rubber scraper to transfer dough into prepared pan. Cover and let rise until doubled, another hour. Bake in a pre-heated 375 degree oven for 25-30 minutes. Cover top with foil during last 10 minutes of baking. Bread is done when it sounds hollow when lightly tapped. Remove from pan and cool on wire rack. Makes 1 loaf.
After tasting fresh homemade pita bread it's nearly impossible for me to eat the stuff I find in stores here. It is fun to make and pretty easy. Although the recipe calls for placing the rolled out dough directly on the oven rack I place mine on baking sheets in the oven. Just a little easier and neater. I also used about half whole wheat flour in this batch.
Pita Bread
 4 ½- 4 ¾ c. flour
1 pkt. Active dry yeast
1 ½ t. sugar
1 ½ t. salt
1 ¾ c. water
2 T. oil
In large bowl combine 2 cups of the flour with other dry ingredients. Heat water and oil to 120-130 degrees (warm) and add to flour mixture in bowl beating until smooth. Beat three minutes then begin stirring in enough flour to make a soft dough. Knead on floured surface until smooth and elastic, about 10 minutes. Cover dough with plastic wrap and then a towel and let rest on board 20 minutes. Punch dough down and divide into 12 pieces. Shape each into a smooth ball and place on board, allowing space in between. Cover and let rise 30 minutes. Pre-heat oven to 500 degrees. Roll dough balls into circles. Place 3 circles at a time directly on oven rack. They will puff up and brown in about three minutes. Remove to rack to cool and repeat with remaining dough. Makes 12.