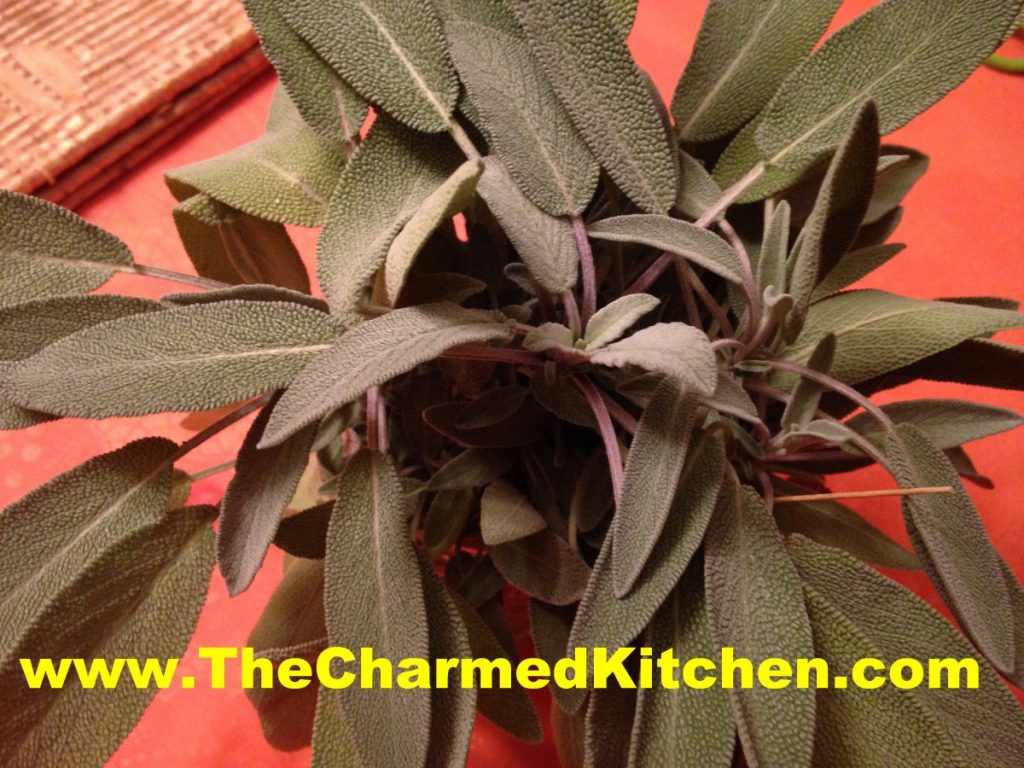 Sage deserves better. It is a wonderful herb, but I think it doesn't get used enough. Like rosemary, sage has strong flavor, and can overpower a dish if used too liberally. The secret is to use a light hand with sage. Dried sage has a more concentrated flavor than fresh. If you haven't cooked with sage lately, maybe you should.
Traditionally used in poultry stuffing, sage is wonderful with meats, stews, and soups. It can also be used with shellfish and other seafood. Sage pairs nicely with cheese, and in dips, in poultry seasoning, sausages, and with any wild game, especially venison. I love to add sage to winter squash soup and pumpkin dishes, too.
A fun addition to any plate is fried sage leaves. Just drop a few leaves in a pan with a small amount of hot oil. They crisp right up.
Sage is also one of the easiest herbs you can grow. It is a hardy perennial that thrives in a sunny location, although it will tolerate some shade. Deer seem to leave it alone, too. The reward is fresh sage leaves all season long. You can freeze or dry sage leaves for use year round.
So here are some recipes for using sage. Enjoy!!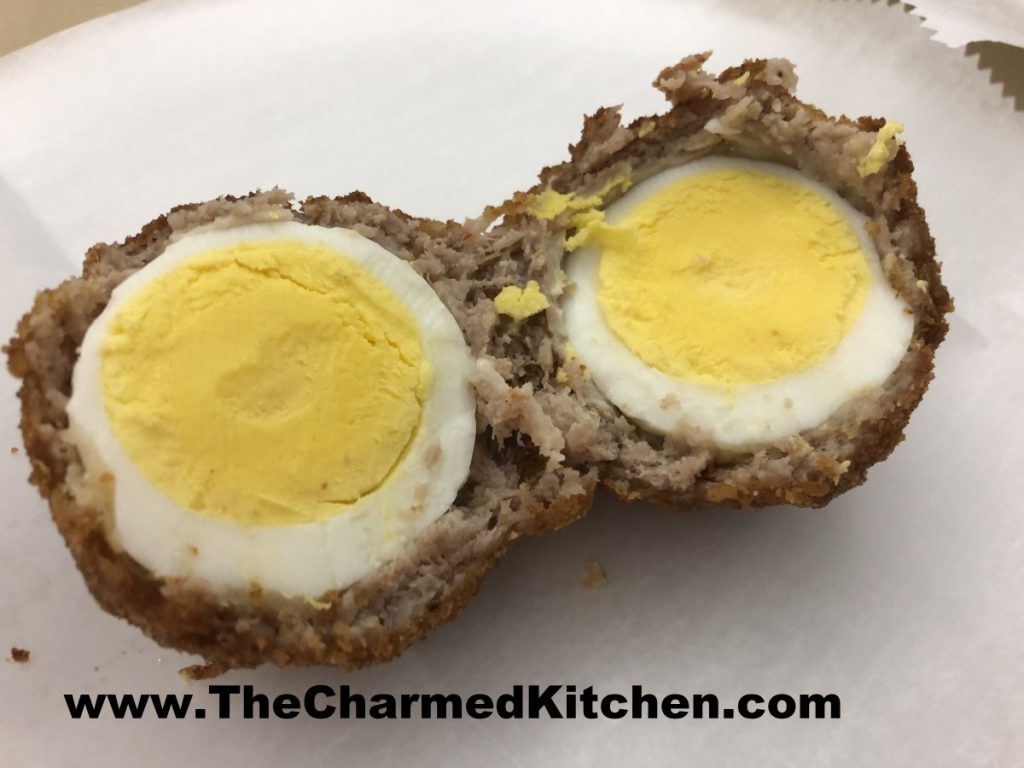 Scotch Eggs
1 1/4 lbs. bulk country style or herb sausage
1 t. sage
1/2 t. thyme
1/4 t. cayenne pepper
4 hard cooked eggs, peeled
1/2 c. flour
2 raw eggs, beaten
1-c. fresh bread crumbs
vegetable oil for deep frying
Combine sausage and flavorings and mix well. Divide into 4 equal portions and flatten. Place an egg on each flattened sausage piece and press sausage to completely cover each egg. Dredge eggs in the flour, and then dip in the eggs. Roll in the breadcrumbs and fry in 2 1/2 inches of oil (heated to 350 degrees until well browned. This will take about 10 minutes. Drain. Keep warm until served. Makes 4.
Breakfast Sausage
2½ lbs. ground pork or turkey (leave on a little fat)
1 T. dried sage
2 t. salt
2 t. pepper
1 t. dried marjoram
½ t. dried thyme
¼ t. allspice
¼ t. nutmeg
¼ t. dry mustard
⅛ t. cloves
pinch of cayenne pepper
⅓ c. warm water
Mix  herbs and spices with water  and let stand  10 minutes. Add the water and spice mixture to the meat and blend thoroughly. Form into patties, and chill or cook immediately. Patties can be fried or baked. This sausage can also be frozen for later use. Makes almost 3 pounds.
Dressing/Stuffing
1 c. sliced mushrooms
¾ c. diced celery
3 T. minced onions
2 T. chopped parsley
4 T. butter
4-5 c. bread cubes
salt and pepper to taste
¼ – ½ c. turkey or chicken broth if making dressing
Sauté vegetables in butter until tender. Add bread and seasonings and toss to coat. Stuff into turkey just before cooking or add broth and place in covered casserole, cooking for 45 minutes to an hour at 350 degrees. When making stuffing allow ¾ c. per pound of turkey. You may want to stuff the bird and still make extra dressing for the next day. When making dressing be sure to cover the pan well to keep the dressing from drying out.
Amy's Skillet Chicken Pot Pie
¼ c. olive oil
2 T. butter
1 sweet onion, chopped
4 parsnips, peeled and sliced
4 cloves garlic, minced
1 tablespoon chopped fresh sage
1 small bunch kale, center ribs and stems removed, leaves chopped
Kosher salt
freshly ground pepper
¼ cup all-purpose flour
3 cups low-sodium chicken broth
2 T. sherry
½ small butternut squash, peeled, cut into 1/2-inch pieces (about 1½ cups)
½ of a roasted chicken- meat removed from bones, torn onto bite sized pieces – about 1½ cups of meat
1 sheet frozen puff pastry, thawed
1 large egg
Place a rack in upper third of oven; preheat to 425°. Heat oil in a deep 12-inch cast-iron or other heavy ovenproof skillet over medium-high heat. Add onions; cook, stirring occasionally, until beginning to brown, about 4 minutes. Reduce heat to medium-low. Add parsnips, garlic and sage to skillet and cook, stirring occasionally, until garlic begins to brown, about 2 minutes. Add kale and season with salt and pepper. Cook, tossing often, until wilted, about 4 minutes. Sprinkle flour over. Cook, stirring constantly, for 4 minutes. Stir in broth, 1/2-cupful at a time, then add squash. Bring to a boil, reduce heat, and simmer until squash is just softened and broth is thickened, 8-10 minutes. Add chicken to skillet, stir, and season with salt and pepper. Unfold pastry and smooth any creases; place over skillet, allowing corners to hang over sides. Whisk egg and 1 teaspoon water in a small bowl. Brush pastry with egg wash; cut four 1-inch slits in top to vent. Bake pot pie until pastry is beginning to brown, 15-20 minutes. Reduce oven temperature to 375° and bake until pastry is deep golden brown and crisp, 15-20 minutes longer. Let cool for 10 minutes before serving.
Spiced Yellow Split Pea Soup
1 lb. yellow split peas, rinsed
8 c. stock or water
2 c. chopped onion
2 carrots, peeled and sliced
3 potatoes, peeled and cubed
½ lb. sliced green beans
1 T. parsley
2-3 t. hot pepper sauce
1 t. chopped fresh sage- or ½ t. dried sage
1 t. dried thyme
1 t. ginger
1 t. cumin
1 t. turmeric
½ t. white pepper
2 cups diced ham
Salt to taste
Note: you can use 1 teaspoon liquid smoke if omitting meat.
Combine peas, water or stock and simmer, covered, about an hour, stirring occasionally. Add remaining ingredients, except salt, and cook, covered, over low heat for about 60 minutes. Add salt to taste. Freezes well. Serves 6-8.
Poultry Seasoning
¼ c. dried parsley
3 T. dried marjoram
3 T. dried rosemary
3 T. dried thyme
2 T. dried savory
1 T. celery seed
1 T. dried sage
2 t. dried oregano
2 t. dried basil
1 t. ground allspice
1 t. fresh ground pepper
Combine all ingredients in a blender. Store in a cool, dry place to maintain freshness.
Sage Rolls
¾ c. milk
½ c. sugar
1/3 c. butter
1 t. salt
2 packages active dry yeast
½ c. warm water
4½.-5 c. bread flour
½ c. chopped green onion or chives
1 T. dried sage
2 eggs, lightly beaten
Heat milk to almost simmering, being careful not to bum. Stir in sugar, butter, and salt. Cool milk to lukewarm. Dissolve yeast in warm water. Set aside. Place 2 cups of flour in a large bowl. Add the milk mixture, and beat together. Stir in yeast mixture, sage, and eggs. Beat with an electric mixer for 4 minutes. Gradually stir in enough of the flour to make a soft dough that leaves the sides of the bowl. Tum dough onto a floured surface and knead until the dough is smooth and elastic, about 8 – 10 minutes. Place the dough in oiled bowl, turning to grease the top. Cover, and allow dough to rise until doubled in bulk, about 45- 55 minutes. Punch dough down, tum onto a floured surface, and cover with the bowl. Allow the dough to rest 15 minutes. Divide dough into 24 – 32 pieces, depending on the size you like. Shape dinner rolls as desired. I like to roll pieces into 6 inch ropes, and then tie them into a loose knot. Place the rolls onto greased baking sheets, allowing them room to grow. Cover, and let rise until doubled in bulk, about 45 minutes. Bake rolls in a 350 degree oven until golden brown, 15- 18 minutes.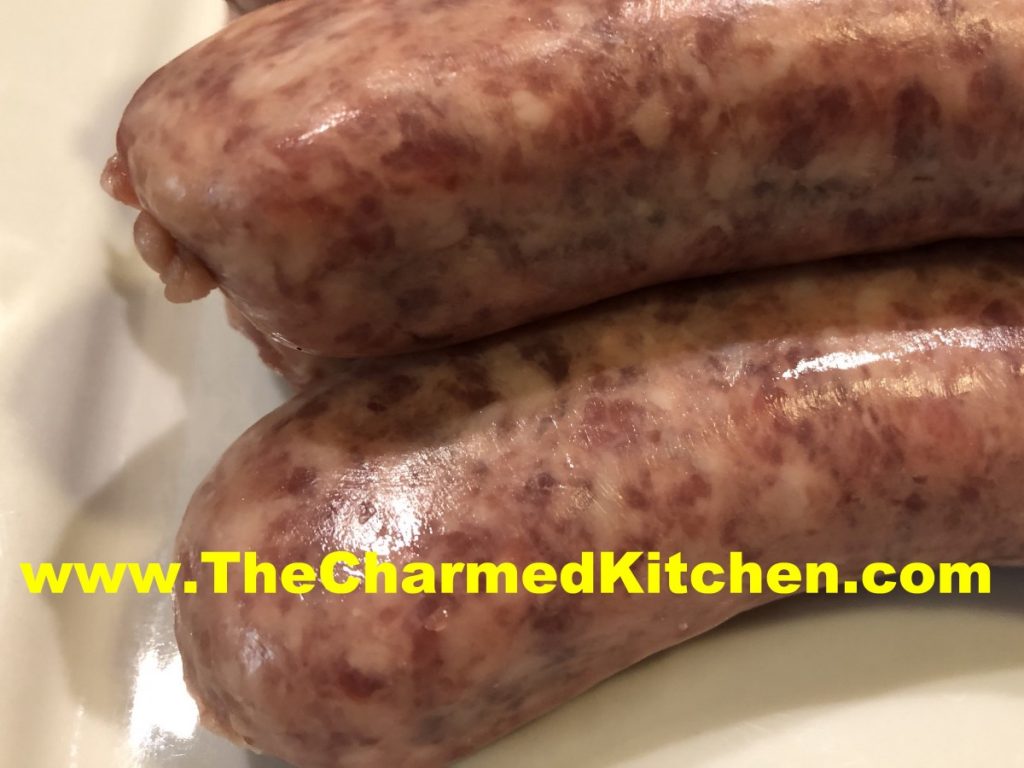 I can remember my parents making homemade sausage. As a kid, I thought a lot of parents did that. I don't think I really appreciated how special that was. When my parents got older, one of my cousins ( Jim) started making the sausage.
The sausage they made was kielbasa. Kielbasa is a Polish sausage. It was something we ate every Easter, Thanksgiving, Christmas. Well, you name a holiday, we would be eating kielbasa. Somewhere, there is even a film of my mom making kielbasa for Christmas. My dad was filming as my sister and brother watched. I wasn't born yet.
Since I shared a lot of my Mom's recipes this week, I thought it was time to share this one. I don't know how many people would go to the bother of making their own sausage, but I am hoping even a few people will make the kielbasa. It is a way of her kind of living on.
So here is her recipe. Enjoy!!
A bit of work, but the end result is divine. Make and freeze or share with friends and family.
Irene's Polish Sausage/ Kielbasa
10 lbs. Pork butts
5 T. salt
1 T. pepper
1 T. marjoram
1 t. thyme
2 cloves garlic or more to taste, minced
1 ½ c. water
Grind pork then combine with seasonings and water. The water helps the ingredients to blend. If you have a sausage maker, you can stuff the sausage into casings. Sausage can also be formed into patties or links. To cook sausages in casings, boil until cooked through. You can then serve them as is, on buns with bread or on a plate with mustard or ketchup and horseradish. You can also take boiled sausages and brown them in a skillet or under the broiler.
Patties and links made without casings can be pan fried until cooked through. You can add a little water and cover the pan allowing them to cook through without getting too brown. Without casings, they will fall apart in a big pot of boiling water. Sausages can be frozen cooked or uncooked, but uncooked is preferred.