In camp yesterday, we made pizza. The kids ranged in age from 6-12 years old. They made their own dough, rolled it out, and added the toppings they liked. It was a great experience for them.
Homemade pizza is not difficult to make. We didn't do anything fancy. We didn't have a pizza oven or a pizza stone. I will admit that pizza from a pizza oven or even better, a wood burning oven, is hard to beat. But for home cooks, and families with kids, this is a great way to get them started in making pizza.
I gave them a quick lesson in rolling out the dough. They rolled it out themselves. I kept a hands-off approach and only assisted when a few used too little flour and their dough was sticky. It was very warm and humid in the kitchen.
While they all got about the same amount of dough, pizzas ranged in size from a dinner plate, to the size of a baking sheet. Some only wanted sauce and cheese, others added a lot of toppings. Some were heart shaped, most were fairly round.
Were they perfect? Or the best pizza they ever had? I doubt it. But they made them on their own. Most wouldn't even taste them – because they wanted to share their pizzas with their families. To me, that was the best part of the day. As parents and family came to pick them up – the kids all showed off their "pies".
So here is the recipe we used. If you never made pizza at home- I encourage you to give it a try. Even better, find a kid to make the pizza with you.
Homemade Pizza
1 packet active dry yeast
1 t. sugar
1 2/3 c. warm water
4-4½ c. flour
2 t. salt
3 c. pizza sauce
16 oz. shredded mozzarella cheese
Cornmeal, optional
Assorted toppings. We had pepperoni, sausage, ham, mushrooms, sweet peppers, olives and pineapple
Combine yeast, sugar, salt and 3 cups of flour in mixing bowl. Add warm water and stir until smooth. Slowly start adding enough of the remaining flour to form a soft dough. The dough should start to come away from the sides of the bowl. Place dough on floured surface and knead until stretchy and smooth, about 10 minutes. Add more flour, if needed. Place in oiled bowl or plastic bag and cover. Let rise until doubled in bulk, about 45 minutes.
Punch dough down. Divide dough in half and roll each half into a 12-inch circle. Grease baking sheet and dust with a little cornmeal, if desired.  Place half of the remaining ingredients on the dough and repeat with remaining half of dough. Add more toppings, if you like and bake in a preheated 450-degree oven for 13-15 minutes. Cool a few minutes before cutting. Makes 2 pizzas.
Mini Pizzas: You can also divide the dough into 8 equal pieces and roll them out into 6-inch rounds. Then let each person make their own pizza. Bake a few minutes less than the big pizzas.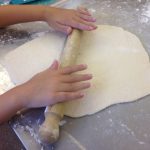 Focaccia is a tasty Italian flatbread that can be enjoyed as is, or can be topped with cheese, meats and vegetables, like pizza. I made this one with my own pizza seasoning blend of herbs but you can play around with other flavors.
Herbed Focaccia
4-4 1/2 c. flour
1 packet quick-rising yeast
1 T. sugar
1 t. salt
1 3/4 c. hot water
2 T. olive oil
1½ T. Pizza Seasoning*
2 cloves garlic, minced
1/3 c. minced shallots
In a medium bowl combine 2 cups of the flour, yeast, sugar and salt. Add hot water and stir until a smooth batter forms. Stir in the remaining ingredients and enough flour to form a sticky, soft dough. Place dough in a greased bowl, cover with a towel and allow to rise for about 30 minutes. Dough should double. Punch dough down and place on work surface. Cover with the bowl and allow to rest 10 minutes. Grease a jellyroll pan. With oiled fingers press dough into the pan. Dough will have imprints from your fingers. Cover and let rest 10 minutes. Bake in a preheated 400-degree oven for 25-30 minutes. Allow to cool slightly before cutting. Makes 1 loaf.
Pizza Seasoning
3 T. basil
2 T. oregano
1 T. fennel seeds
1 T. crushed red pepper flakes
1 T. dried minced onion
Combine all ingredients and store in a cool, dry place. Use to flavor sauces, breads and more.
1 t. minced garlic
I like to use pita bread as a crust for pizza sometimes. I normally go with traditional toppings. This morning I decided to use one of my homemade pita breads for a hearty breakfast style pizza. I started with the pita bread- topped it with a scrambled egg and a drizzle of barbecue sauce. Then I added a cooked sausage patty cubed up. Finished with a little shredded cheddar cheese and then popped it in the toaster oven to heat through. Hearty breakfast for a chilly day.