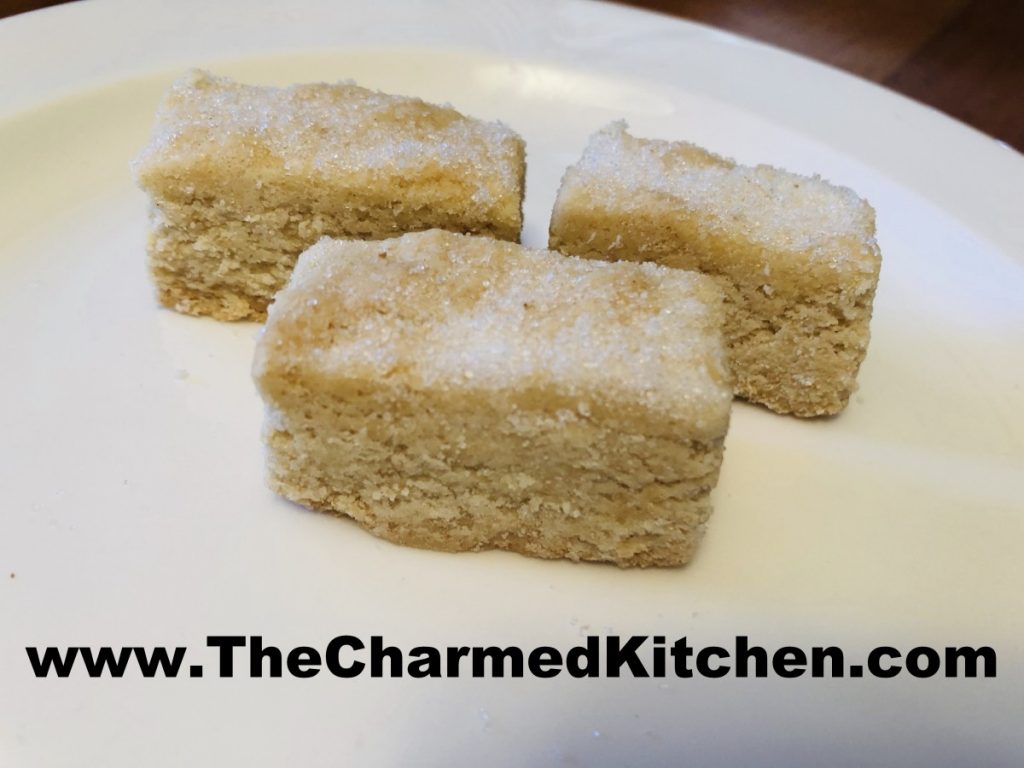 If you are looking for an Irish dessert for St. Patrick's Day, you might want to make these shortbread cookies. They are everything a shortbread should be. They have the classic shortbread crumbly, tender texture that is buttery at the same time. I think the phrase is melt in your mouth.
These are a little different than other shortbread, though. For starters, you add cornstarch to the dough. The cornstarch helps the cookie to be extra tender. You also melt the butter before adding it to the rest of the ingredients.
It could not get any easier. I pressed the dough into a 9×9-inch pan to bake. Once in the pan, I score the dough before baking, then cut the shortbread again once baked and cooled.
I will say that shortbread aren't the prettiest cookies on the plate- but they are wonderfully tasty.
So here is the recipe. They also call for self-rising flour. If you don't have self-rising flour- the recipe for making your own follows the shortbread recipe.
Irish Shortbread
1 c. butter
2 1/4 c. self- rising flour (see note)
3/4 c. cornstarch
1/3 c. sugar, plus extra for sprinkling on top
Melt butter and allow to cool slightly. In medium bowl combine remaining ingredients. Stir in butter and mix until dry ingredients are thoroughly coated. Press into 7×11-inch glass pan (8×8 or 9×9-inch pans are OK). Sprinkle with extra sugar and score with a knife into 1×1-inch pieces. Bake in a preheated 325-degree oven for 30-40 minutes, until edges begin to brown. Cool in pan and cut on score marks. Makes about 6 dozen squares, depending in pan size used.
Note: If you don't want to buy self-rising flour here is an easy recipe to make your own. It works in any recipe that calls for self-rising flour.
Self-Rising Flour
8 c. flour
5 T. Baking powder
2 T. sugar
1 T. salt
Combine all ingredients and store in an airtight container. Keeps for several months.
Right out of the oven
Published
December 17, 2017
There are so many cookies I bake this time of year, I could never pick a favorite. There are some cookies that are a MUST bake, however.
These cookie-candies are one of them. They get their name because, once decorated, they look like little pieces of candy.
Under the sprinkles are rich and tasty oatmeal shortbread cookies. The dough is easy to handle. You just shape small amounts into shapes like circles, squares and ovals. They hold their shape.
After they are shaped and baked, the cookies are dipped in chocolate and then in assorted toppings. You can dip them in sprinkles, finely chopped nuts and coconut. Pretty and tasty.
Cookie-Candies
1 c. butter
¾ c. powdered sugar
1 T. vanilla
2 c. flour
½ c. rolled oats
½ c. chocolate chips
¼ c. milk
finely chopped nuts
assorted sprinkles
shredded coconut
Cream together butter, sugar and vanilla. Stir in flour and oats. Shape teaspoonfuls of the dough into different shapes like rounds, ovals, cones cubes etc. Try to make them look like little candies. They will hold their shape very well while baking. Bake in a 325- degree oven for 20-25 minutes on an ungreased baking sheet. Cool. In microwave safe dish combine chocolate and milk and melt. Dip tops of cookies in chocolate mixture and then in one of the toppings you have. Chocolate topping will harden up after a while. Makes about 4 dozen.
Published
February 8, 2014
I have always been a big fan of shortbread cookies. This Chocolate Shortbread Cookie ranks up there with one of my favorite cookies of all time. Not too sweet and that wonderful crumbly texture found in all really good shortbread cookies. I finish them of by either brushing them or dipping them in melted chocolate or making a sandwich cookie by holding 2 cookies together with melted bittersweet chocolate. Fun dessert anytime. Extra nice for Valentine's Day. 
Chocolate Shortbread
1 c. butter, room temperature
3/4 c. sugar
2 c. flour
1/3 c. cocoa
1/4 t. salt
8 oz. semi-sweet chocolate
Beat together butter and sugar until well blended. Mix together dry ingredients and slowly beat into butter mixture, stirring it in at the end. Roll out dough about 1/4 inch thick and cut out with cookie cutters. Re-roll scraps and cut out the remaining dough. Place on an un-greased baking sheet and bake at 325 degrees until cookies are firm around the edges, about 20 minutes. Cool on baking sheet 5 minutes before transferring to a rack to cool.  Melt chocolate and dip cookies in it or use chocolate to hold 2 cookies together. Makes 2-3 dozen, depending on the size.
Subscriber to our Mailing List
Follow us on Social Media