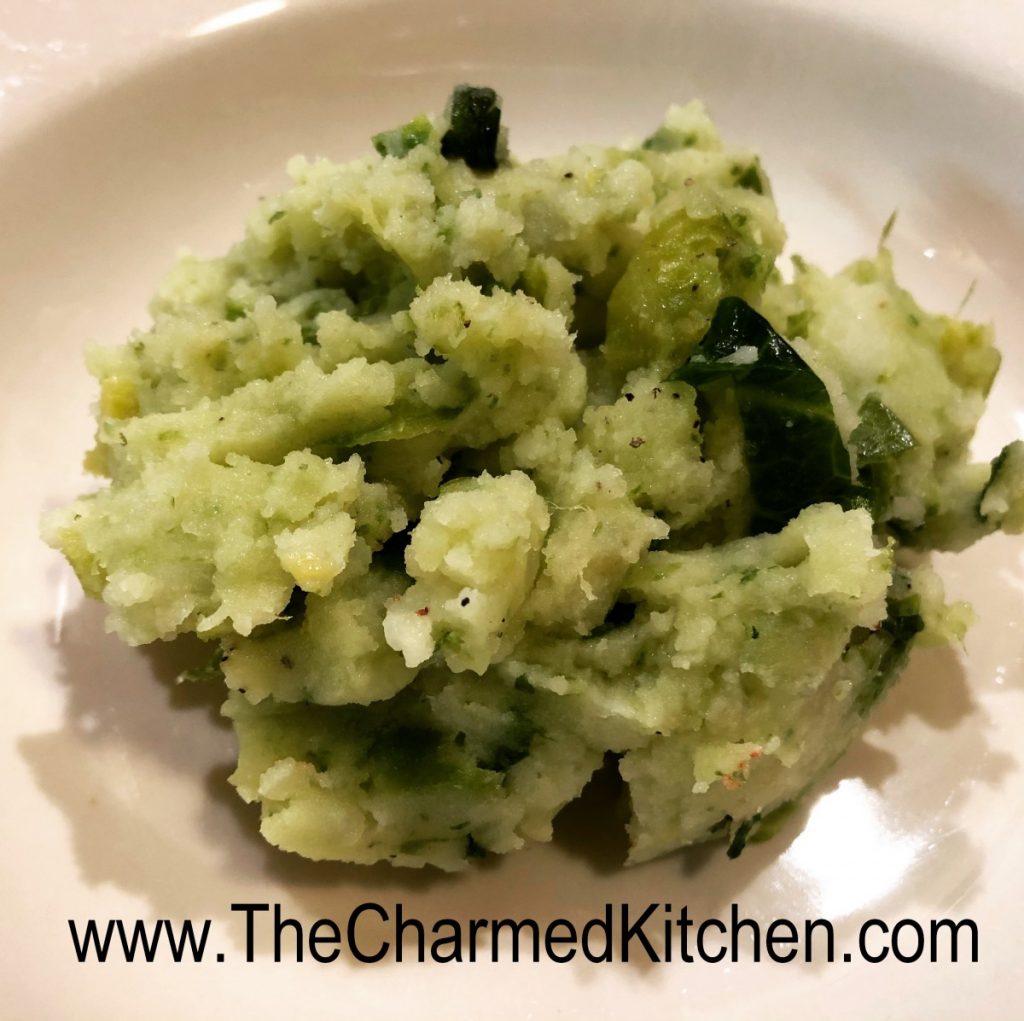 Colcannon is perhaps the ultimate comfort food. This traditional Irish dish is made with potatoes, kale, green onions, parsley and butter. There are variations made with cabbage or Brussels sprouts. All of those versions are pretty good. This is a great side dish for your St. Patrick's Day dinner. It's pretty, too.
I have made colcannon with Brussels sprouts, chives and even used ramps one time. For the version I made last night I used kale. I wonder why I don't colcannon more often. It is so good- and simple to make.
Here is the version I made last night.
Colcannon
1 1/2 lbs. potatoes
1/4 lb. kale, or a bit more
3/4 c. finely chopped green onions or chives
1/2 c. chopped parsley
4 oz. butter
salt and fresh ground pepper
Peel the potatoes and cut them into chunks. Boil in salted water until very tender. Meanwhile, trim the stems out of the kale and blanch in boiling water for a few minutes. Remove kale and drain. Rinse with cold water to cool down. Squeeze out excess water and chop the kale finely. Set aside. Once the potatoes are tender, drain well and place in a mixing bowl. Add the butter and mash the potatoes until pretty smooth. A few lumps are not a problem. Stir in the kale, green onions and parsley. Mix well, adding salt and pepper to taste. Serves 4.
If you are in the mood for Irish Soda Bread- you can get the same wonderful experience in a scone. We made a batch of these scones in a Spring Baking class last week. They came out great.
Scones don't take a lot of time or effort to make. These would be a wonderful addition to your St. Patrick's Day meal.
While traditionally served for breakfast or tea time, scones are really good any time of the day. They certainly can be served with dinner.
I used golden raisins, but you could use regular raisins, currants or cranberries.
Irish Soda Bread Scones
2 c. flour
3 T. sugar
2 t. baking powder
1 t. baking soda
½ t. salt
1/3 c. butter
½ c. golden raisins
1 t. caraway seeds
2/3 c. buttermilk
1 egg
Milk
Extra sugar for sprinkling
Preheat oven to 425 degrees and lightly grease a baking sheet. Combine dry ingredients in medium bowl and cut in butter to resemble coarse crumbs. Stir in raisins and caraway seeds. Beat together buttermilk and egg and add to flour mixture, stirring with fork until mixture just coming together. Turn onto floured surface and knead 5-6 strokes or until ball of dough holds together. Dust an 8-inch round cake with  flour. Press dough into cake pan. Invert pan over onto prepared baking sheet. I find if I do this quickly the dough comes out more easily. Remove cake pan. This will give you a perfect 8-inch circle of dough. With a sharp, floured knife cut dough into 8 wedges. Brush top with milk and sprinkle with extra sugar. Bake 14-16 minutes. Makes 8.
It's that time of year. Irish food in on the mind. This soda bread is a classic. Simple and fast to make, it can be served with breakfast, lunch or dinner.
The soda bread is  like a big scone or biscuit. It has a crisp, outer crust, with a crumbly, soft center. I like to serve soda bread with butter and jam.
I used raisins, but you can substitute currants, golden raisins, or just leave them out, if you prefer.
I make Irish soda bread all through the year, not just for St. Patrick's Day.  Right from the oven with some butter and jam. Yum.
Irish Soda Bread
2 c. flour
½ t. each baking powder and baking soda
¼ t. salt
2 T. butter
¾ c. raisins, currants or golden raisins
2 t. caraway seeds
1 egg. Beaten
1 c. buttermilk
Preheat oven to 400 degrees. Dust a baking sheet with a little flour. Combine dry ingredients in bowl and cut in butter to resemble coarse crumbs. Add raisins and caraway seeds. Combine egg and milk and set 2 tablespoons of this mixture aside. Add remaining milk mixture to flour mixture and combine just until dough forms into a ball. Place on baking sheet, brush with reserved egg mixture and cut a crisscross on top of loaf. Bake about 25 minutes or until bread sounds hollow. Makes 1.