If you are in the mood for the flavor of Irish Soda Bread- you can get the same wonderful experience in a scone. I made a batch of these scones this morning. I had one with a cup of hot tea. It was the perfect breakfast.
I will admit that most mornings, breakfast is a bowl of oat bran. Scones are so much more fun. They don't take a lot of time to make, either. These would be a great addition to your St. Patrick's Day meal.
While traditionally served for breakfast or tea time, scones are really good any time of the day. They certainly can also be served with dinner.
I used golden raisins, but you could use regular raisins, currants, or even leave them out.
  Irish Soda Bread Scones
2 c. flour
3 T. sugar
2 t. baking powder
1 t. baking soda
½ t. salt
1/3 c. butter
½ c. golden raisins
1 t. caraway seeds
2/3 c. buttermilk
1 egg
Milk
Extra sugar for sprinkling
Preheat oven to 425 degrees and lightly grease a baking sheet. Combine dry ingredients in medium bowl and cut in butter to resemble coarse crumbs. Stir in raisins and caraway seeds. Beat together buttermilk and egg and add to flour mixture, stirring with fork until mixture just coming together. Turn onto floured surface and knead 5-6 strokes or until ball of dough holds together. Dust an 8-inch round cake with  flour. Press dough into cake pan. Invert pan over onto prepared baking sheet. I find if I do this quickly the dough comes out more easily. Remove cake pan. This will give you a perfect 8-inch circle of dough. With a sharp, floured knife cut dough into 8 wedges. Brush top with milk and sprinkle with extra sugar. Bake 14-16 minutes. Makes 8.
This is one of my favorite recipes. I'll be making it for St. Patrick's day, but truth is, I make it often throughout the year. It is studded with raisins and goes great with butter and jam. It is also very easy to make. Like any other biscuit or quick bread be careful to handle the dough  just enough to hold it together. Over working the dough will cause it to be tough. The soda bread should be crusty on the outside and tender and crumbly inside.
Irish Soda Bread
2 c. flour
½ t. each baking powder and baking soda
¼ t. salt
2 T. butter or margarine
¾ c. raisins
1 egg. Beaten
1 c. buttermilk*
Preheat oven to 400 degrees. Dust a baking sheet with a little flour. Combine dry ingredients in bowl and cut in butter to resemble coarse crumbs. Add raisins. Combine egg and milk and set 2 tablespoons of this mixture aside. Add remaining milk mixture to flour mixture and combine just until dough forms into a ball. Place on baking sheet, brush with reserved egg mixture and cut a crisscross on top of loaf. Bake about 25 minutes or until bread sounds hollow. Makes 1.
* If you don't have buttermilk just combine 7 oz. of milk with 1 oz. of lemon juice to equal 1 cup of buttermilk.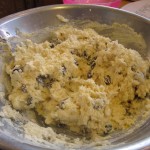 Stir in buttermilk and egg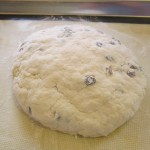 Form into round loaf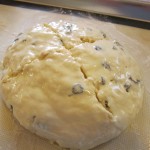 Cut an "x" on the top.