I know it sounds odd but these are some of the lightest biscuits I ever made- and easy, too. They aren't sweet, as you might imagine, but do have a slight lemon flavor. Great with almost any savory dish I could see using these as the base for strawberry shortcake, too.
Lemonade Biscuits
3 c. flour
4 t. baking powder
1 t. salt
1 c. heavy whipping cream
1 c. prepared lemonade
Preheat oven to 425 degrees. Combine dry ingredients in a bowl and mix well. Add cream and lemonade and stir gently until dough just holds together. Using flour on a board, gently knead the dough using gentle pressure until it just holds together. Dough will be sticky. Press or roll out about 1/2 inch thick and cut out with 2 inch biscuit cutter. Re-roll scraps. You should get 20-24  biscuits. Place on baking sheet and bake for 10 minutes or until golden brown on the bottom and light brown on the top. Cool on wire rack.
I have a couple of dogs that have been pestering me for homemade dog biscuits. They pointed out, and rightly so, that I always seem to be baking goodies for my human friends. Both Bob and Parker are bacon fiends so I thought I'd incorporate real bacon into the recipes – as opposed to whatever they put in some dog treats. Since I made them with fresh bacon I would not suggest leaving them at room temperature for extended periods. Keep a few in the fridge and place the rest in the freezer- like some premium dog foods. Remember there are no preservatives in these. Also – they are meant to be a treat and not a substitute for  your dog's normal pet food. Woof Woof!!
Bob's Bacon Biscuits (dog biscuits)
4-5 thick slices of bacon, cut up
3 1/2 c. flour- I use whole wheat
1 c.  rye flour
2 c. cracked wheat or wheat germ
2 T. brewer's yeast or nutritional yeast
2 c. chicken or beef broth- be sure broth was made without onions- they are bad for dogs
Cook bacon in skillet until crisp. Remove from pan and cool. Reserve 2 Tablespoons of the fat. Place bacon in small food processor and process until pretty ground up. You should end up with 1/3 cup of finely chopped bacon.  Combine dry ingredients then add bacon, reserved bacon fat and broth stirring until well blended.  If the dough is too wet add a little more flour or a little more stock if too dry. Dough should feel like very heavy cookie dough. Harder to roll out- but that is normal. Roll out on lightly floured surface and cut into canine-friendly shapes. I use bones, cats, squirrels, hearts and rabbits.  Since I was making bacon biscuits I even made some piggy-shaped. Place on ungreased baking sheet and bake in a preheated 300-degree oven until hard, about 40-45 minutes depending on thickness. Store in fridge for treats being eaten within a few days- store the rest in the freezer. Woof!
This is one of my favorite recipes. I'll be making it for St. Patrick's day, but truth is, I make it often throughout the year. It is studded with raisins and goes great with butter and jam. It is also very easy to make. Like any other biscuit or quick bread be careful to handle the dough  just enough to hold it together. Over working the dough will cause it to be tough. The soda bread should be crusty on the outside and tender and crumbly inside.
Irish Soda Bread
2 c. flour
½ t. each baking powder and baking soda
¼ t. salt
2 T. butter or margarine
¾ c. raisins
1 egg. Beaten
1 c. buttermilk*
Preheat oven to 400 degrees. Dust a baking sheet with a little flour. Combine dry ingredients in bowl and cut in butter to resemble coarse crumbs. Add raisins. Combine egg and milk and set 2 tablespoons of this mixture aside. Add remaining milk mixture to flour mixture and combine just until dough forms into a ball. Place on baking sheet, brush with reserved egg mixture and cut a crisscross on top of loaf. Bake about 25 minutes or until bread sounds hollow. Makes 1.
* If you don't have buttermilk just combine 7 oz. of milk with 1 oz. of lemon juice to equal 1 cup of buttermilk.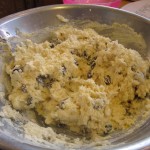 Stir in buttermilk and egg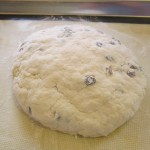 Form into round loaf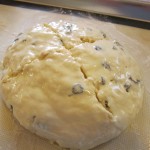 Cut an "x" on the top.