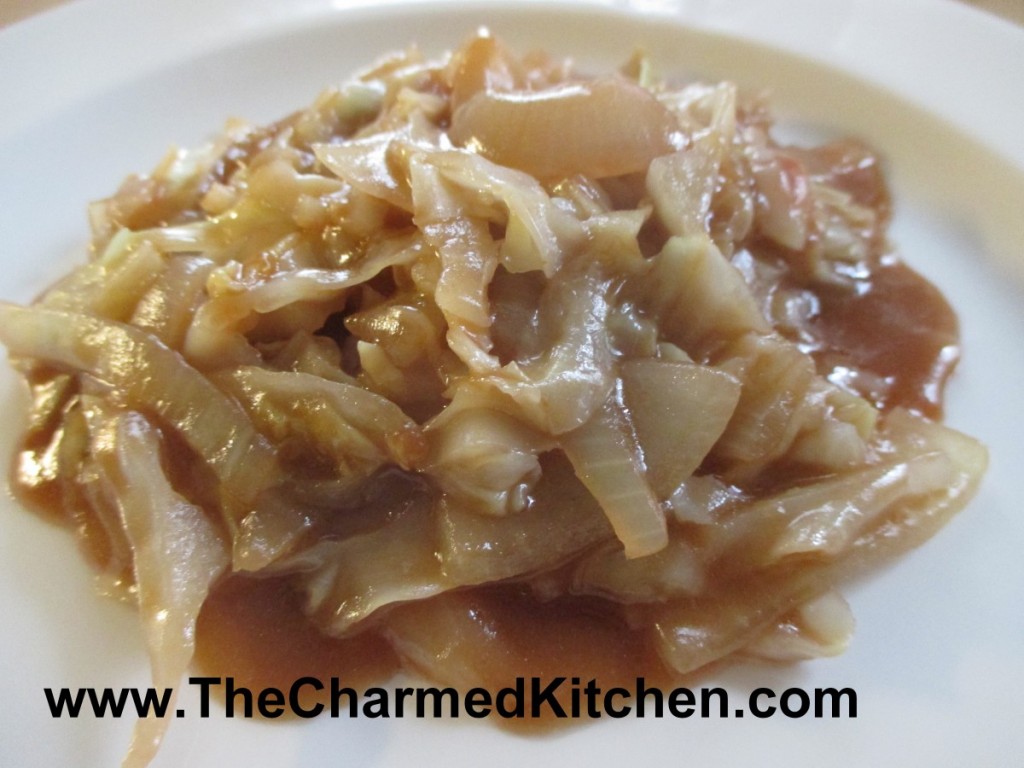 This cabbage dish is great served with pierogi, roast chicken or pork chops. Sometimes I just serve it over noodles. If you cut the cabbage into small pieces, you can also use it as a filling for pierogi.
The recipe calls for using a paste-type soup base for flavoring. This was a little change from how my Mom made it, but it was hard to explain what she really did. Using the soup base is a way anyone could make this cabbage dish. Every time my mom roasted a chicken or maybe a pork roast, she would save all the drippings from the pan. She'd strain them and chill it to remove the fat. She would take the drippings and pop them in a container in the freezer. Once she had a "nice amount", she would use it to flavor the cabbage. You can see why I used the alternative soup base directions. You could also use chicken or vegetable stock, in place of the water, for more flavor.
Here is the recipe. Hope you enjoy it as much as I do.
Sweet and Sour Cabbage
3 lbs. sliced cabbage, about a 3 ½ lb. head or 3 lbs. Cole slaw mix
1 onion, sliced
1 T. oil, butter, margarine or even bacon fat
3 c. water
1 T. paste type soup base or to taste
½ t. thyme
1 t. dillweed
1 t. marjoram
1 T. soy sauce
1 T. Worcestershire sauce
¼ c. balsamic vinegar
2 T. sugar
½ c. catsup
1 c. water
¼ c. flour
Sauté onion in oil until wilted. Bring water to boil in large pot. Add soup base and add cabbage. Stir in onions and remaining ingredients, except for the 1 cup of water and flour and cook, uncovered until cabbage is tender. This can take from 15-25 minutes, depending on the age of the cabbage and the size of the pieces. In jar with a tight- fitting lid combine remaining water and flour and shake until smooth. Add to cabbage mixture and cook, stirring until thickened, about 2 minutes. Adjust seasonings. This dish is great served alone, or with pork or chicken dishes or with potatoes