Autumn Sugar Cookies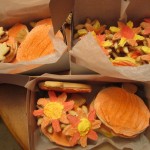 I made these cookies for a friend who has been sick. Inspired by the season for the shapes and colors.The recipe is very easy to make. The royal icing hardens so the cookies are easier to stack and transport.
 Sugar Cookies
1 c. butter
1 c. sugar
1 egg
1 t. vanilla
3 c. flour
2 t. baking powder
3 T. milk
Beat butter and sugar until fluffy. Beat in egg and vanilla. Combine dry ingredients and add to butter mixture. Beat in milk.  Heat oven to 375-degrees. Roll dough on lightly floured surface to about 1/3- inch thickness. Cut out with lightly floured cutters and bake on ungreased baking sheet for 10-12 minutes. Cool on baking sheet 3 minutes before placing on wire rack to cool completely. Frost when cooled. Makes about 4 dozen.
For tinted dough you can add food coloring to butter mixture before adding flour. For chocolate sugar cookies you can add ½ c. cocoa to flour mixture before adding to shortening and reduce flour by ¼ cup.
Decorating your cookies:
You can use tube of pre-made frosting or you can tint canned frosting, however the best way is to use royal icing. Because royal icing contains egg whites it gets hard. Cookies have a smooth appearance and can be stacked. When making royal icing ALWAYS USE PASTUERIZED EGG WHITES OR POWDERED EGGS WHITES TO PREVENT SAMONELLA.
You can also use colored sugar and sprinkles and mini chocolate chips for eyes.
Royal Icing
1 lb. powdered sugar
½ t. cream of tartar
5¼ t. egg white powder
6 T. water
½ t. vanilla, optional
Assorted food colorings
In large mixing bowl combine dry ingredients and mix well. Add water and vanilla and beat until light and fluffy, about 10 minutes. Divide into small bowls and tint each batch as needed. Keep bowl covered with a damp towel while waiting to use so frosting will not dry out.