Busha's Tomato Bisque Soup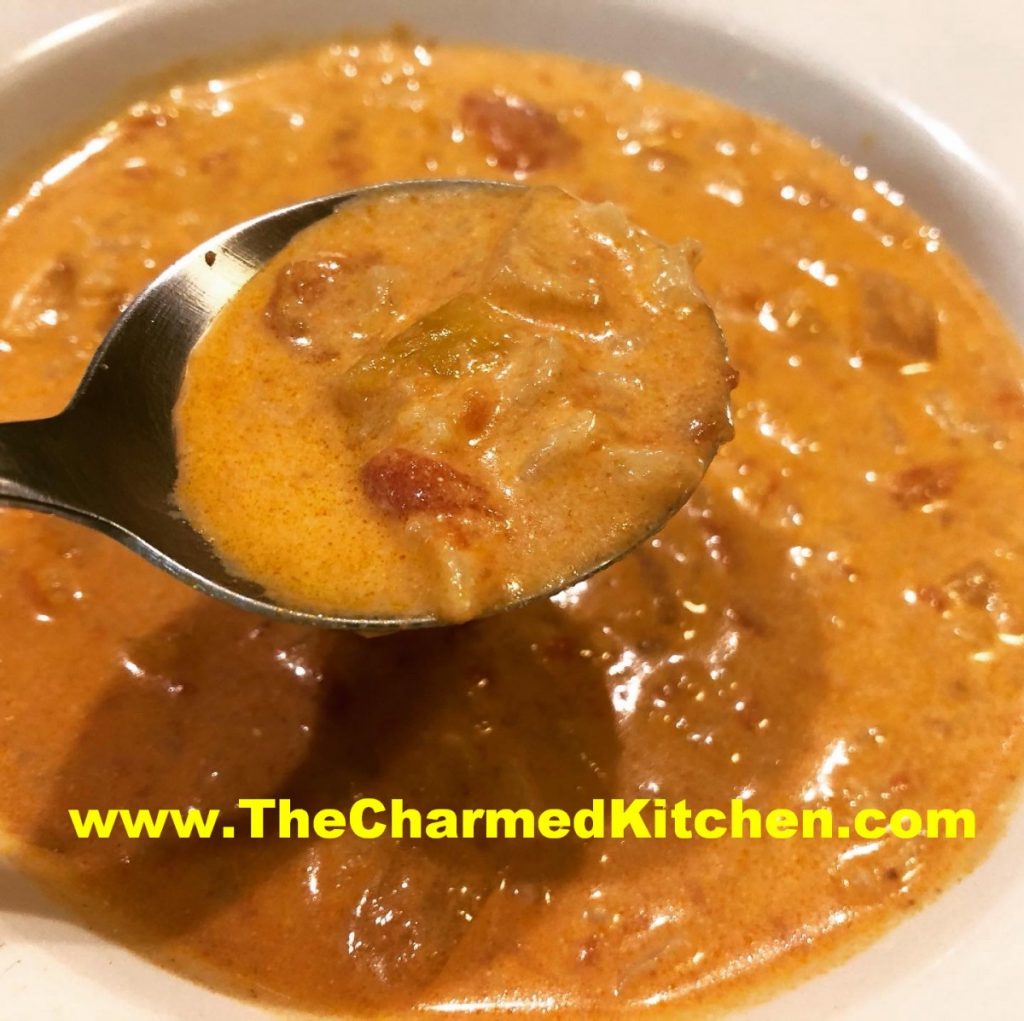 I have such fond memories of this soup. My Polish grandmother used to make it every year in late summer. She would use the beefsteak tomatoes my Uncle John grew.
The soup is a tomato rice soup, with a healthy amount of sour cream in it. Simple and very good.
When my Busha made it, she just added everything to the pot, without measuring, as far I as could tell, and it came out perfect every time. It was magic. The first time I tried to duplicate it, I used way too much rice and it was closer to Spanish rice, than a soup. I played with it a few more times, reduced the rice and now I can make a soup pretty close to hers.
In the winter, when I don't have access to garden tomatoes, I use a quart jar of my home canned. I love the smell of a freshly opened jar of tomatoes. Any canned tomatoes you like will work in this recipe. You can use fresh tomatoes, too, when they are in season.
Technically, it should have seafood in it to be called a bisque, but since my Busha called it a bisque, I call it a bisque. I do sometimes add seafood to it. Suggestions are listed at the end of the recipe.
Busha's Tomato Bisque Soup
2 T. oil or butter
1 c. chopped onion
28-29 oz. can whole tomatoes, cut up or diced tomatoes, undrained
1 qt. beef or chicken or vegetable stock- Busha used beef stock
½ c. raw rice
1 c. sour cream
Cook onions in oil until tender. Add tomatoes and stock and bring to the boil. Add rice, cover and simmer until rice is tender, about 20 minutes. Place sour cream in bowl and stir in a cup of the hot soup, stirring until smooth. Add another cup of the soup and then add this mixture to the pot. Heat through, but do not boil. Makes 6-8 servings.
Variations: Brown or wild rice can be added instead, but cooking times will be longer, about 45-50 minutes. Barley can also be added instead of the rice, but allow 45 minutes to cook.
Seafood variation: Once rice is tender, but before adding sour cream you can add any one of the following; ½ -1 pound raw diced fish (mild white fish are good or even salmon for a special treat), ½ -3/4 pound raw shrimp, 2 cans crab meat, 2 (10 oz.) cans clams, drained.