Italian Wedding Soup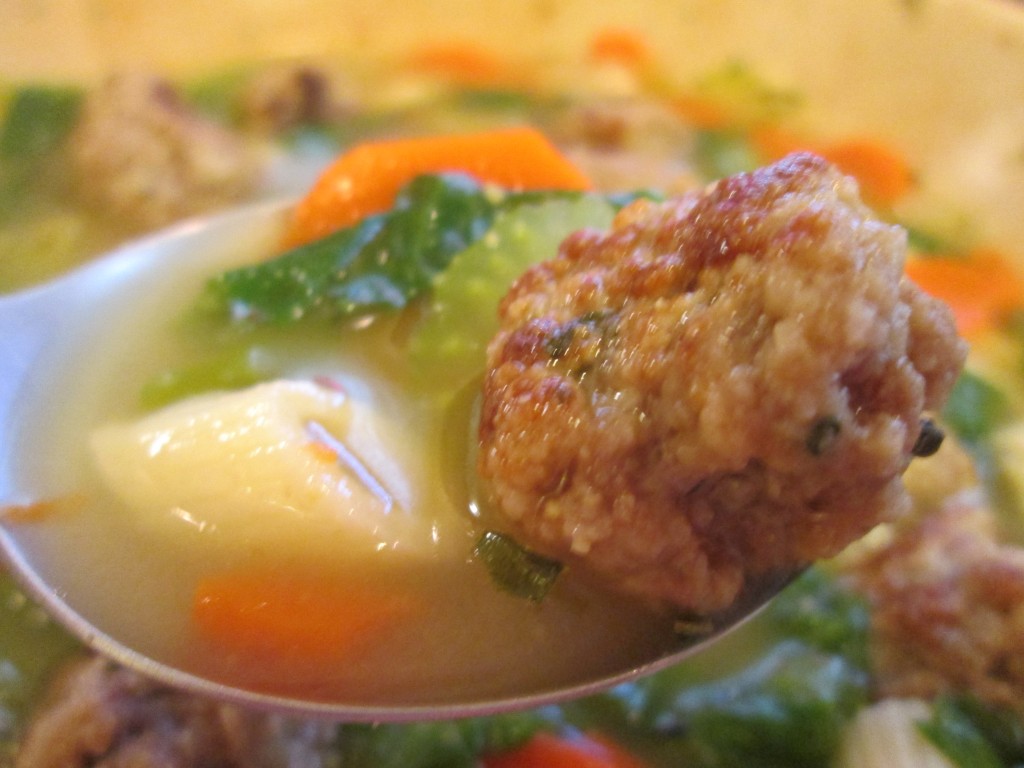 I love this soup. I've had different versions over the years, but they all have those wonderful little meatballs in common. This recipe came from the mother of a dear friend. I still have her handwritten copy in a file. Every time I make this soup I think of her.
Italian Wedding Soup
Meatballs:
3/4 lb. ground beef or a mixture of beef, pork and veal or turkey
1 egg, beaten
1/4 c. dry bread crumbs
2 T. grated Parmesan cheese
1 T. dried parsley or 3 Tablespoons fresh chopped parsley
1/4 t. salt
1/4 t. garlic powder or 2 cloves of minced garlic
1/4 t. each pepper and dried oregano
1 T. oil
Soup:
8 c. chicken stock, not too salty
1 c. thin sliced carrots
1 c. thin sliced celery
1/2 c. thin sliced green onions, optional
1/2 t. dried basil or 1 1/2 t. fresh chopped
1/2 c. uncooked small pasta, I like orzo
1/2 lb. escarole or kale, cut in thin strips
To make meatballs combine all ingredients except the oil and form into 50 tiny balls. Sauté in oil until browned on all sides. Drain. In large saucepan combine broth with vegetables. Bring to a boil and simmer, covered 10 minutes. Add basil, pasta, meatballs and escarole or kale and simmer 10 minutes longer. Serves 6-8.
Note: you can use spinach instead, but add for last 5 minutes of cooking.