Making Macarons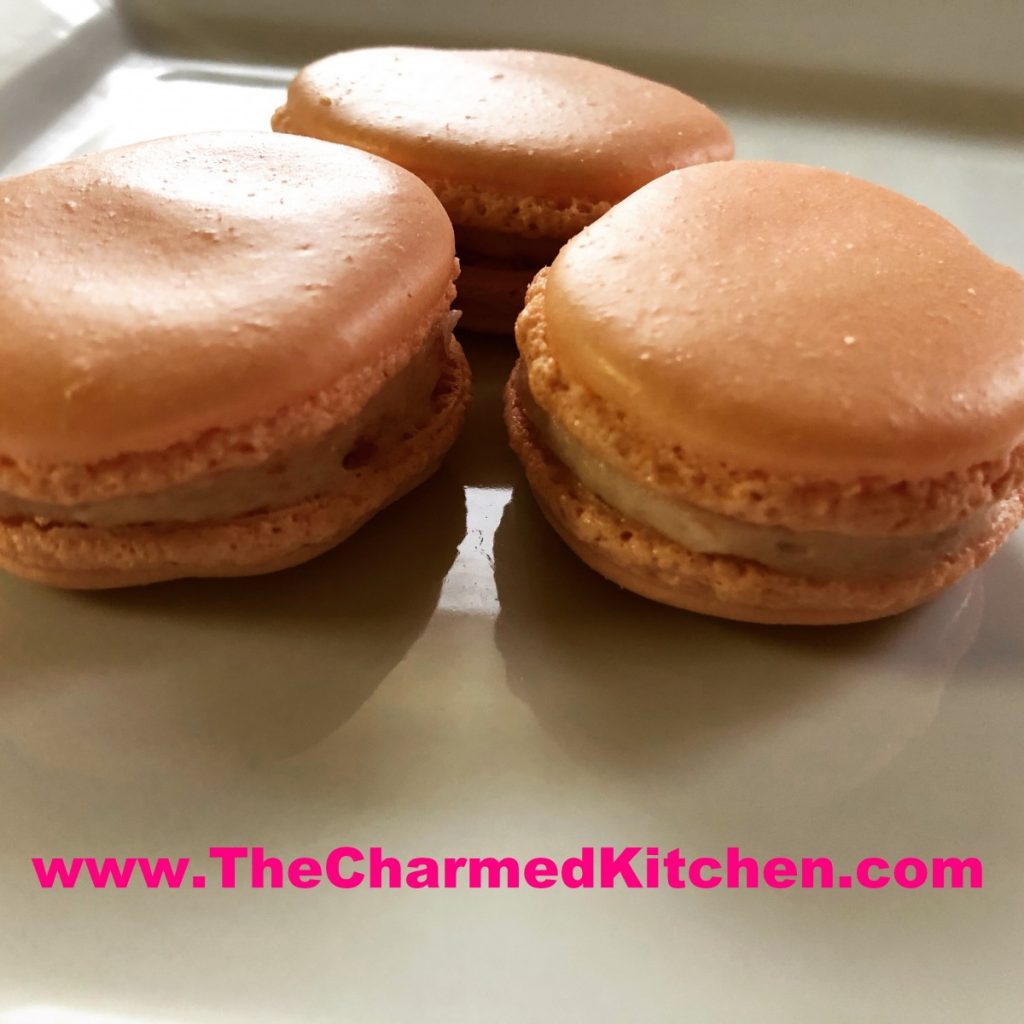 Macarons are French cookies, made from almond flour, egg whites and sugar. Simple ingredients, with an elegant end result. They are similar to meringues, which I have made often in the past.
I remember the first time I tried to make macarons. They can be tricky, so I decided to do some research before trying to bake them myself. I watched videos, searched recipes, and then decided it was time to go for it.  My first batch did not go according to plan. They got over- baked and the dough was too stiff. I went back and tried again.
Sometimes failure can teach us more than success.
I had clearly not mixed the dough long enough. Not the stage where you beat the egg whites. They were mixed to perfection in very stiff peaks. Where I messed up the first time, was not mixing the egg whites with the almond flour mixture long enough. I was so focused on the folding in directions, I was afraid to over mix it. Big mistake.
When you get to the "folding in" part, don't be afraid to mix the batter. The more you mix, the softer the batter gets. The second time around, I folded and stirred long enough for the batter to get a little runny. Think of a bowl of oatmeal.
After that, the rest was pretty easy. I piped the dough into circles on the baking sheet. They weren't perfect, but so much better than the first batch. I expect them to look even better with more practice.
When they baked, they got their "feet". When done the right way, macarons rise a bit, forming a ring below the original circle of batter.
Once baked, I let them cool before filling with a strawberry buttercream frosting. For the buttercream, I just mixed a few tablespoons of softened butter with half a cup of powdered sugar and a tablespoon of strawberry jam. I had added a little pink food coloring to the batter, so I thought the pink frosting would look pretty.
You can tint them any color you like and use all sorts of jams and frostings to fill them.
So here is the recipe I used.
Macarons
¾ c. almond flour
1 c. powdered sugar
2 egg whites
3 T. granulated sugar
Food coloring, optional
½ -¾ c. jam or frosting for filling the cookies
Sift almond flour and powdered sugar together. Mix well and set aside. In mixing bowl, beat egg whites for 3 minutes on medium. Egg whites should be foamy. With mixer running, sprinkle in the sugar. Beat another 3 or 4 minutes, or until soft peaks form. Add food coloring at this point, if using, and increase speed on mixer to high. Continue to beat egg whites until stiff peaks form, another 3 minutes, or so. Take about a third of the egg whites and mix into the almond flour mixture. Mixture will be sort of dry- don't worry. Fold in the rest of the egg whites and stir/fold until mixture has the consistency of a thick batter. Think of cooked oatmeal. You don't want to over or under mix at this point. Just stir until it gets to the "oatmeal" stage. Probably 50 strokes or so. Line a baking sheet with parchment- or use a silicone liner. Place batter in a piping bag with a round tip. Squeeze the batter into circles on the baking sheet, trying to keep them even in size. I did circles just under 2 inches across. They don't spread during baking. Batter should settle, but if there are any little peaks, use a wet finger to press them down. Tap baking sheet on the counter 4 or 5 times to remove any air bubbles. Set aside for about 15 minutes. You need to let the dough form a kind of dry skin on the top. The way to test is to lightly touch the dough. If it sticks your finger, wait a few more minutes. Once the dough had dried enough- bake them in a preheated 350 degree oven for 12-15 minutes, depending on the size of your macarons. Remove from oven and allow to cool on baking sheet before removing. Use frosting or jam to sandwich cookies together.