Growing and Cooking with Dill
On appearance alone, dill is a welcome addition to any garden. It is a feathery, delicate looking plant that can reach a height of 3′ or more. It is an annual, so it has to be replanted every year. The good news is that dill is easy to grow. A lot of friends have told me that their dill reseeds itself and comes back every year.
When dill gets tall, it should be given some support to keep it from falling over in high winds. If you plant your dill in a clump, rather than in rows, you can put a few stakes around the plants, and run twine around it for support. I use tomato cages. I put them around the dill plants when they are small, so they grow up in the cages.
Dill does not transplant well, and seed should be sown where it is to grow or in peat pots, so you can transplant them without disturbing the roots too much. Dill is tolerant of cold, and can be planted fairly early in the spring. The only problem with planting dill early is that the plants are past their prime when the cucumbers are coming into season. I plant small amounts of dill every couple of weeks from Spring into Summer, so I know I will have dill when I need it.
Dill grows best in full sun and well-drained soil. While both the leaves and seeds are edible, some types of dill go to seed rather quickly, making the leaves less tasty. A cultivar of dill called Dukat, does not grow as tall as most types, and delays flowering by several weeks over other cultivars. For more leaves and a longer growing season, Fernleaf dill is another nice cultivar to plant. It is more compact, so less support is needed. Its bushy growth habit produces lots of fresh dill leaves.
Dill seed heads are used in pickle making. The mature seeds are used in salad dressings and potato salads. The dill leaves, also called dill weed are used in carrot, potato, and other vegetable dishes. Dill is a must if you are growing cucumbers for homemade pickles.
If your dill heads mature before you need them, all is not lost. Just freeze them to use later. Dill leaves freeze great, too. You can place dill in freezer containers or freezer bags and freeze. I chop up the leaves a little to save space. To freeze dill seed heads, I just place in plastic freezer bags, squeeze out as much air as possible, seal, and pop in the freezer.
My Mom loved dill. She made wonderful crock pickles and used them in cucumber salads. She would also add dill to carrot dishes and potatoes. I have included some of her favorite dill recipes, and a few of mine. Enjoy!!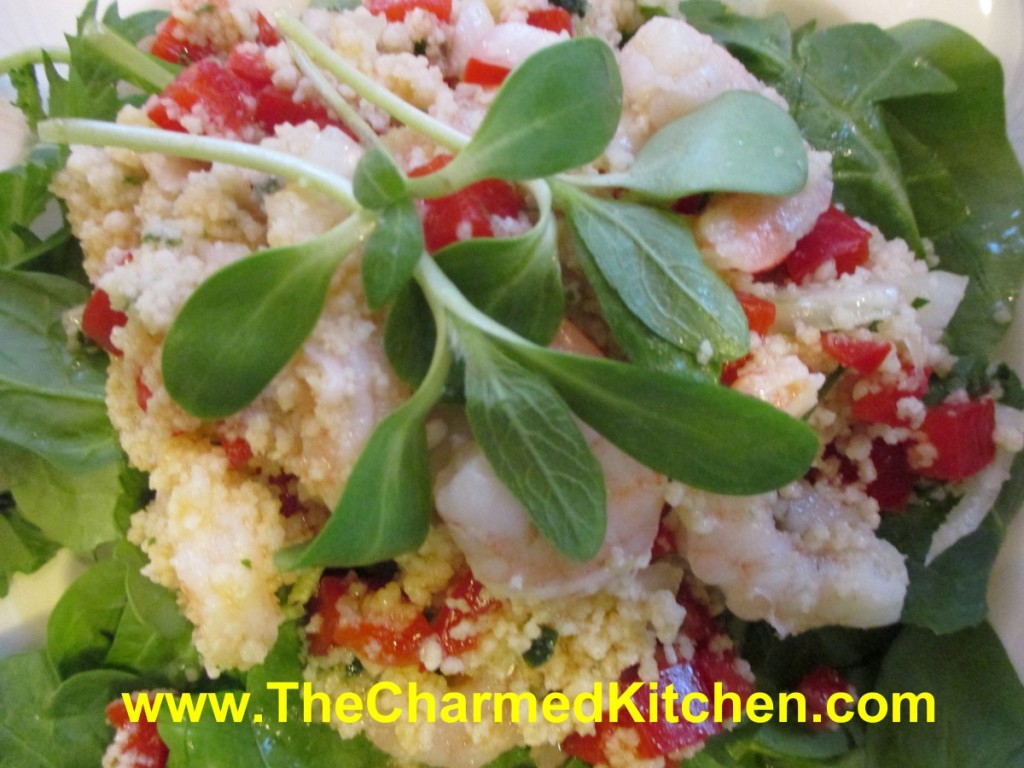 Couscous Salad with Shrimp and Dill
½ c. olive oil
¼ c. fresh lemon juice
1 clove minced garlic
1 t. celery seed
2 c. couscous, about 10 oz.
2 ¼ c. boiling water or vegetable broth
1 lb. peeled cooked shrimp
1 c. diced sweet red pepper
½ c. chopped green onions
2 T. fresh dill weed or 2 t. dried
Whisk first 4 ingredients together for dressing. Place couscous in heat proof bowl and pour over the boiling water. Let stand until water is absorbed, about 10 minutes. Fluff with a fork and add remaining ingredients, stirring to mix well. Pour over dressing and toss to coat. Chill at least 30 minutes or up to 2 hours. 6 Servings.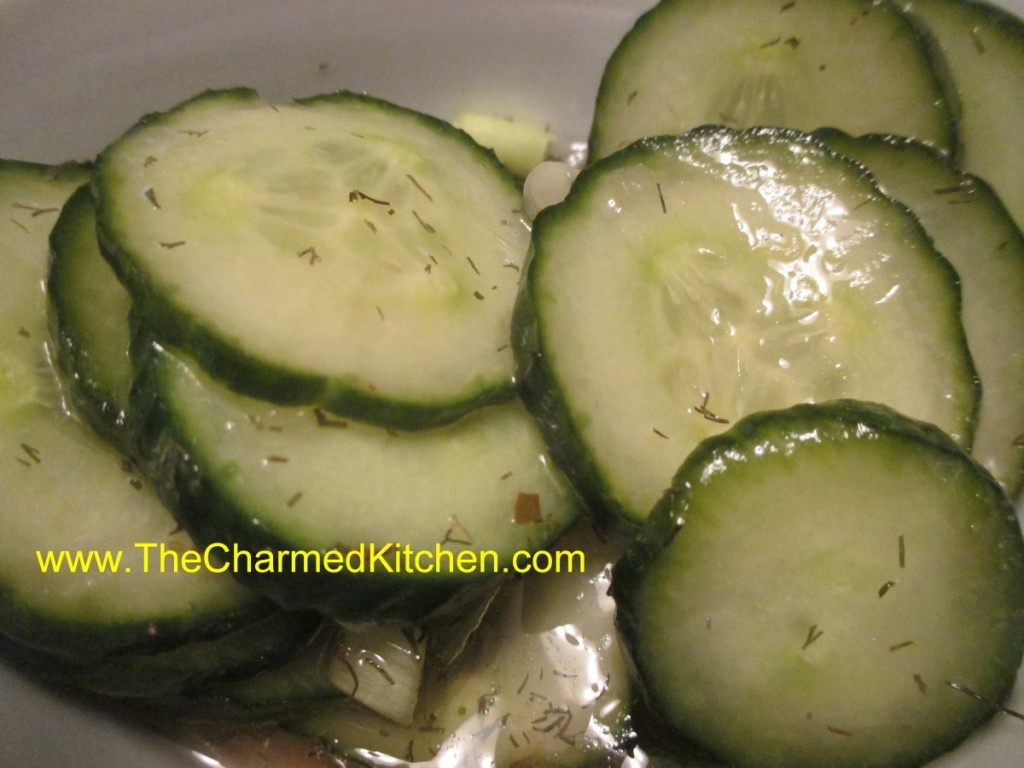 Dill Cucumber Salad
2 English cucumbers, sliced thin
2/3 c. cider vinegar
1/3 c. oil
2 T. sugar
2 t. salt
1 t. dill weed- I used dried- use about 1 tablespoon if using fresh
1 t. parsley
Fresh ground pepper and hot sauce to taste
Place cucumbers in a bowl and set aside. Combine remaining ingredients in another bowl and mix well. Pour over the cucumbers and mix together. Chill salad several hours before serving. Serves 6.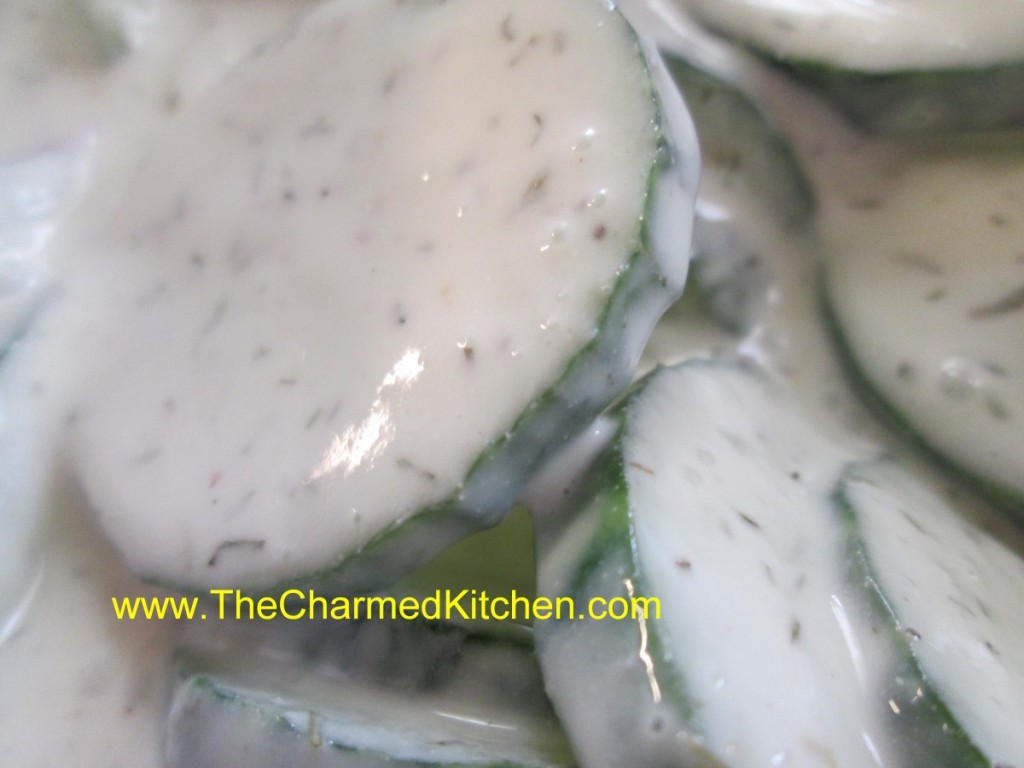 Mom's Cucumbers and Sour Cream
2-3 medium cukes, sliced
1 c. sour cream or strained yogurt
¼ c. sugar
¼ c. vinegar
2 green onions, chopped
1 –2 T. chopped fresh dill or 1-2 t. dried
Combine all ingredients and chill at least 10 minutes. Serves 4-6.
Easy Dill Pickles
30-40 pickling cucumbers, 5 inches long, scrubbed and ends trimmed off
¾ c. sugar
¾ c. canning or pickling salt (non-iodized)
1 quart vinegar
1 quart water
7 fresh dill heads
3 T. pickling spice
7 garlic cloves, peeled, optional
Mix together the sugar, salt, vinegar, water and pickling spices and bring to a boil. Cook 10 minutes. Place a dill head in the bottom of seven clean, hot pint jars. Add the garlic, if using. Meanwhile cut trimmed and washed cucumbers into halves or quarters lengthwise and pack upright into the jars. Trim the length, if needed to fit no higher than to the shoulder of the jar. Pour over the hot brine leaving ½ -inch of headspace. Wipe rims and screw on lids. Place in a simmering water bath and bring to a boil. Process for 10 minutes. Remove and cool. Makes 7 pints.
Dilly Green Beans
4 lbs. table‑perfect whole green beans
1 3/4 t. crushed dried hot red pepper
3 1/2 t. dried dill seed or seven fresh dill heads
7 cloves of fresh garlic, peeled
5 c. vinegar
5 c. water
1/2 c. less 1 T. pickling salt
Wash beans thoroughly. Remove stems and tips, and cut them as much as possible in uniform lengths to allow them to stand upright in canning jar, coming to the shoulder of the jar. have jars clean and very hot, and lids and sealers ready in scalding water. In each jar place one dill head or 1/2 t. dill seed, add one garlic clove, and 1/4 t. crushed hot red pepper. Pack beans upright in jars, leaving 1 inch of head room. Heat together the water, vinegar and salt. When the mixture boils, pour it over the beans, filling each jar to 1/2 inch from the top. Run a plastic knife down and around to remove trapped air. Adjust lids, and process in a boiling water bath for 10 minutes, start timing after the water in the canner returns to a boil. Remove jars. …Wait at least 2 weeks for these beans to develop their flavor. Yield: 7 pints
Aunt Tillie's Crock Pickles
1 gallon water (use spring or distilled if your water is hard)
1 c. vinegar
1/2 c. canning salt
1 T. pickling spice
garlic and fresh dill
fresh pickling cucumbers, washed and ends trimmed
Boil together the water, vinegar, salt and pickling spice. Cool completely. In large, straight sided crock, stainless steel or food safe plastic container alternate layers of cukes with dill and garlic according to your taste. You can also eliminate garlic if you choose.
Pour over brine to completely cover cucumbers and dill. Place plate or lid on container and weigh down to keep "pickles" submerged. Allow fermentation to take place in a reasonably cool place like a basement, but do not refrigerate. Every couple of days you should skim any scum or foam that forms on the surface. When no scum forms any more, fermentation is complete. The process can take weeks. You can also add more cucumbers as you harvest them, but try to stick the newer ones on the bottom. Pickles can then be placed in sterile jars, covered with fresh brine, sealed and refrigerated. They will keep several months this way. You can also cover with fresh, hot brine, seal and place in a boiling water bath and process at a simmer for 15 minutes to store outside of the fridge.
Green Tomato Dill Pickles- Kosher style
Green tomatoes
Stalk celery
Sweet green peppers
Garlic
2 quarts water
1 quart vinegar
1 cup salt
2-3 T. fresh dill, I sometimes add a little more
Use small firm green tomatoes. Pack into sterilized canning jars. Add to each quart jar a bud of garlic, 1 stalk of celery, and 1 green pepper cut into fourths. Make a brine of the water, vinegar, and the salt. Boil with the dill for 5 minutes. Pour the hot brine over the pickles to within 1/2 inch of the top of the jar. Put on cap, screw band firmly tight. Process in a boiling water bath for 15 minutes. These pickles will be ready for use in 4 6 weeks. Yield: About 6 quarts.
Dilled Cucumber Soup – Serve Chilled
2 cucumbers, peeled and seeded
2 c. yogurt, or sour cream
salt to taste
cayenne pepper to taste
¼ – ½ c. fresh snipped dill
1 T. fresh chopped parsley or cilantro
1½ c. milk
2 ribs celery, diced
1 sweet red pepper, seeded and diced
lemon wedges and dill sprigs for garnish
Finely chop one of the cucumbers and place in a bowl. Coarsely chop the second cucumber and place in a food processor. Add yogurt and seasonings and blend until smooth. Add the pureed mixture to the cucumber in the bowl and add remaining ingredients, except the lemon wedges and dill sprigs. Chill soup, covered, for several hours or overnight. To serve ladle into chilled bowls and garnish, if desired with lemon and dill. Serves 4.
Dill Gravy
1 T. oil
2 T. flour
1/2-1 c. fresh chopped dill
2 T. vinegar
1 t. sugar
salt and pepper to taste
about 1/2 c. water
In small skillet heat oil and brown the flour. Stir in all ingredients until dill wilts. Start adding the water, over medium high heat, stirring constantly. Add the water slowly, allowing the gravy to come to the boil and thicken as you go. You may need a little more or less water according to you taste. You can use stock in place of water if you prefer. Serve with meat and potatoes. Makes 1/2 c.
Dill Marinade
1/4 c. white wine
juice of half a lemon or lime
1/3 c. olive oil
2 T. balsamic vinegar
2 T. chopped fresh dill
2 T. Dijon- style mustard
salt and pepper to taste
Combine all ingredients in a blender until smooth. Use with chicken, swordfish, tuna or shark steaks.
Beet and Carrot Salad
1 large or 2 medium beets
2 large carrots
4 T. olive oil
4 T. cider vinegar
2 T. honey, or to taste
1 T. fresh dill weed or about 1 t. dried
Dash of hot sauce
Salt and pepper to taste
Peel beets and shred or grate them using a hand grater or food processor. Place in a mixing bowl and set aside. Peel and shred the carrots and add to the beets. Combine remaining ingredients and pour over the beet mixture. Stir to coat and chill until ready to serve. Makes about 3 cups.