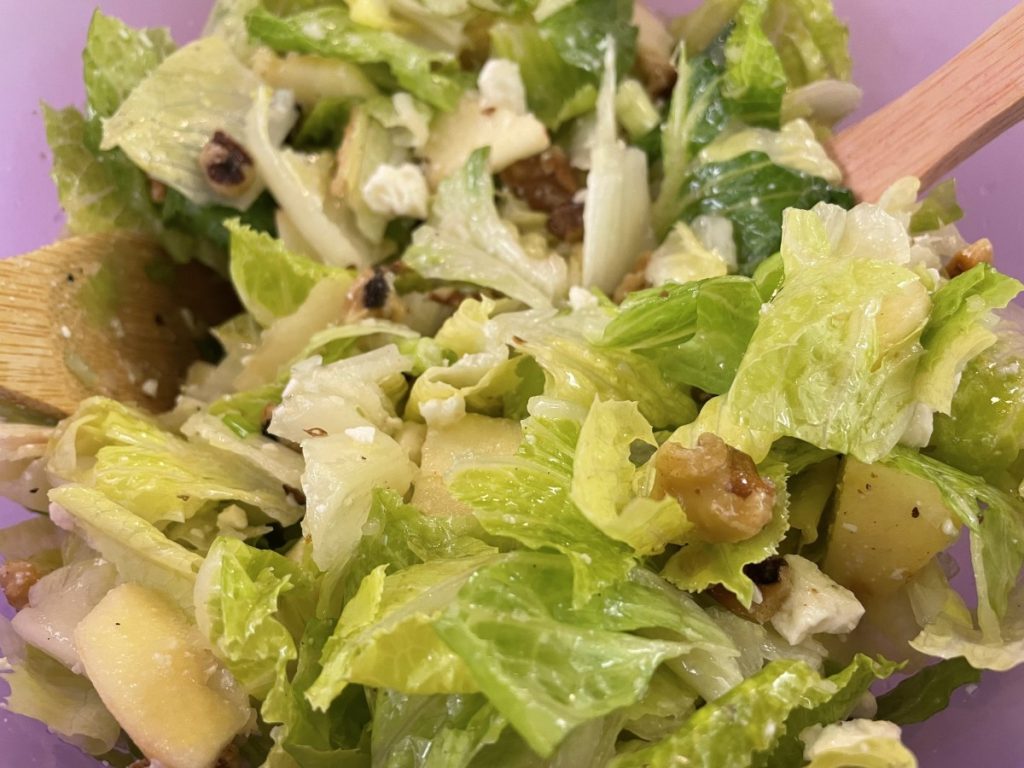 This is one of those recipes where the combination of ingredients seems simple, but the final dish is really special. The texture is nice and crunchy, with richness coming from the cheese and nuts. The dressing is simple, but also has plenty of flavor.
We made this salad in class the the other night using feta cheese and toasted walnuts. I enjoyed that combination a lot. You can switch around the nuts and cheese that you use. If salad isn't the first thing that comes to mind when you think of apples, maybe it should.
Apple and Cheese Salad
Dressing:
3 T. white wine vinegar
2 T. lemon juice
2 t. sugar
¼ c. olive oil
3 T. dried minced onion
2 T. water
salt and pepper to taste
1 c. walnuts or pecans, toasted
4-6 cups salad greens, washed and spun dry
1 c. shredded cheddar cheese or ½ c. crumbled feta or bleu cheese
2 Granny Smith or other tart apples
1 T. chopped fresh mint or parsley
1 T. snipped chives or green onions, optional
In container with tight fitting lid shake dressing ingredients together and chill until ready to use. To toast nuts place on a baking sheet in a 350 degree oven for 15 minutes. Cool. When ready to serve the salads divide the greens among 4 plates or arrange greens on a platter. Core the apples and cut in slices. Toss apples with the dressing. Place apples on greens, then top with remaining ingredients. Serves 4.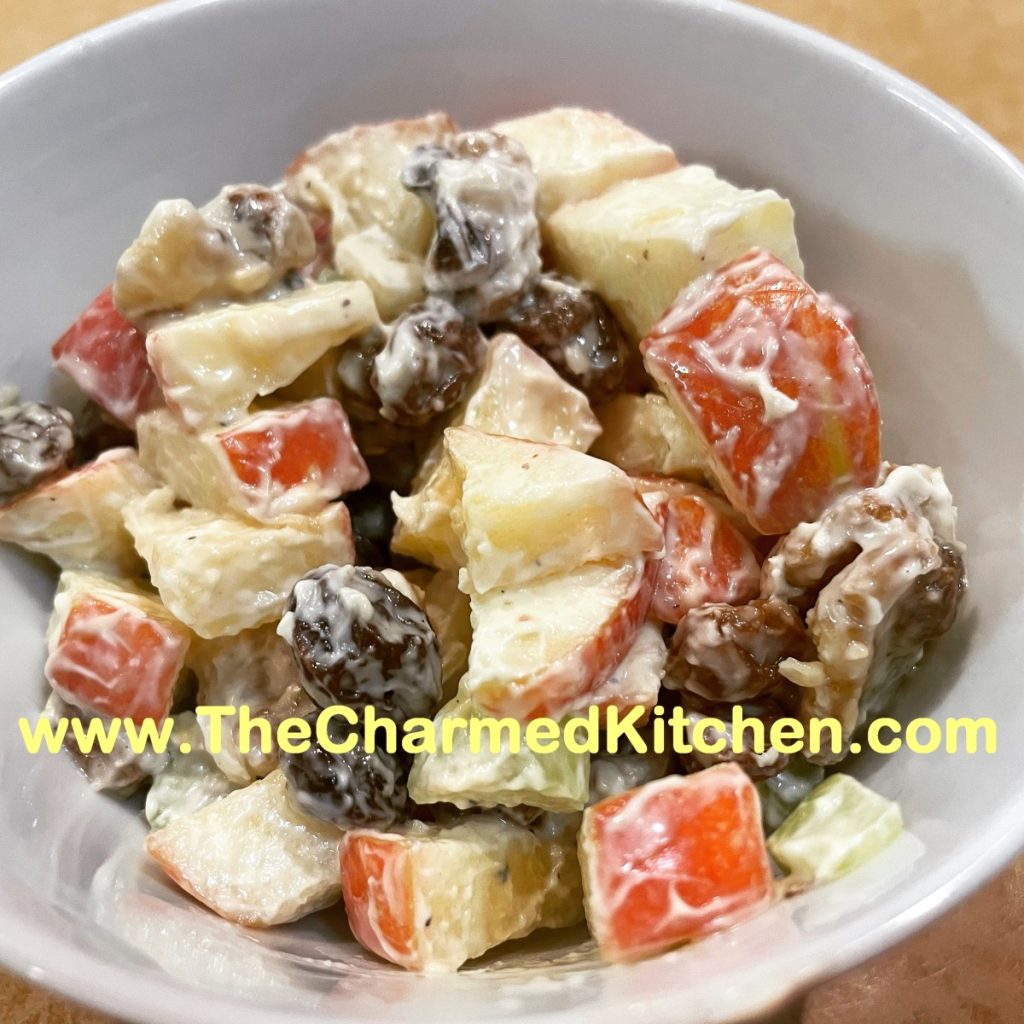 I can't remember the last time I made a Waldorf Salad. Don't know why it took me so long. The combination of sweet/tart apples with crunchy celery, nuts and raisins is such a classic. I remember my mom when making it. She made such a nice Waldorf salad. It always felt like a special occasion when she did.
The salad could not be simpler. Just a few ingredients, tossed together and seasoned. I went pretty basic this time, but you can add all sorts of extras like proteins (chicken, turkey, ham etc.). You can add different dried fruits, too. Dried cranberries or cherries would be wonderful.
I didn't peel the apples. I like the peel, but you can peel them, if you prefer. I also used toasted walnuts, but feel free to play around with using other nuts or seeds. This time of year, toasted pepitas, (pumpkin seeds, hulled) would be a nice, seasonal addition.
So hear is the recipe.
Mom's Waldorf Salad
4 apples, cored and diced, peeling is optional
1 c. diced celery
1 c. raisins or other dried fruit like cranberries or cherries
½-1 c. mayonnaise
1 c. toasted walnuts or pecans*
Salt and pepper to taste
Combine apples with celery and raisins. Stir to combine and add mayo to your liking. Stir in nuts and season to taste. Nice served on a bed of greens. Serves 4.
Variations: Mom sometimes added grapes instead of raisins. She would cut them in half. The grapes will make the salad wetter over time, where the raisins plump and absorb moisture, so add grapes right before serving or leave them whole. Another classic addition is chicken. In this recipe, a couple of cups of cooked, diced chicken make it a different, but still tasty salad. Diced turkey is also fun and a nice way to use after Thanksgiving turkey. Same for ham. Diced ham adds a smokiness that pairs great with the apples. Just use less salt if adding ham.
* To toast nuts, place on a baking sheet and bake in a 325 degree oven for 10-15 minutes, or until nuts are toasted, but not burned.