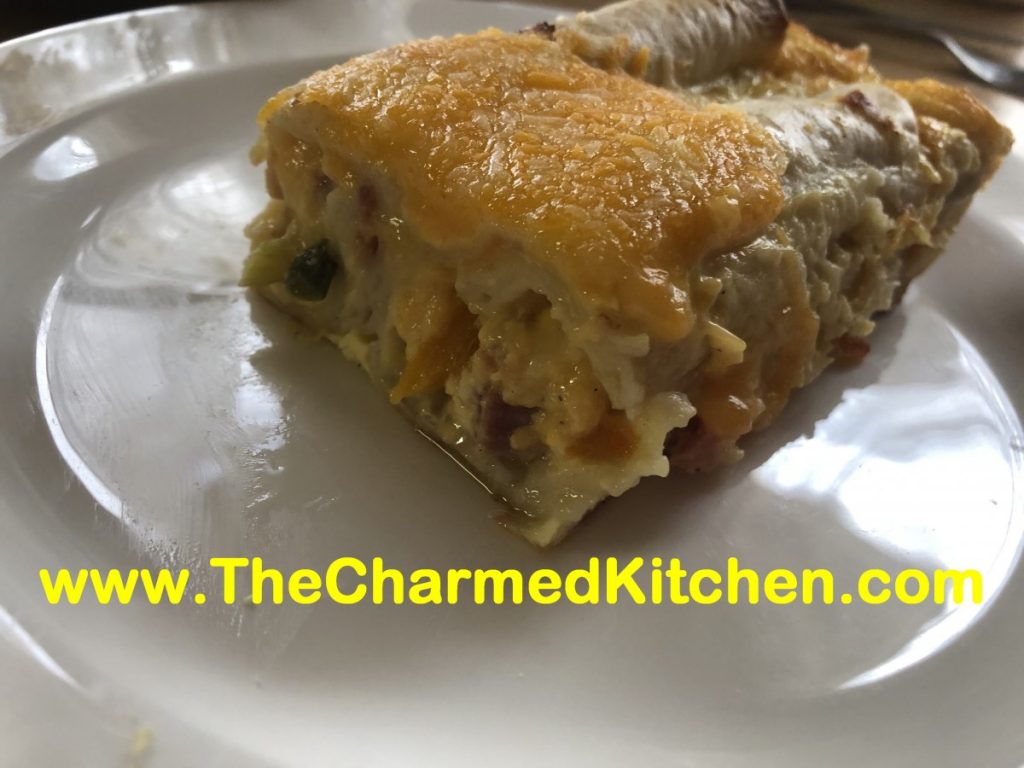 These are not traditional enchiladas, and I am OK with that. Made with a ham and cheese filling, then topped with an egg-based custard, they are a wonderful addition to any brunch menu. They would be fine served for breakfast or lunch, too. The prep in all done the day before, so you just have to pop them in the oven when ready to bake and serve.  
The recipe can be easily tweaked, to work with other ingredients. Maybe a corned beef and Swiss cheese version or chicken with broccoli. You could also go vegetarian with a combination of beans and veggies. You can cut the recipe in half, or freeze leftovers. I love a versatile recipe.   
I started calling them Tara's Enchiladas for my friend Tara, who needed a recipe for a Mother's day brunch last year.   
We made these in class the other night. It was a class on Sunday Brunch. Everyone enjoyed them.
So here is the recipe. Hope you give it a try.       
Brunch Enchiladas
12 oz. fully cooked ham, chopped fine or ground
½ c. sliced green onions
½ c. chopped sweet pepper
2½ c. shredded cheddar cheese
8 (8-inch) flour tortillas
4 beaten eggs
2 c. half and half or milk
1 T. flour
salt, pepper, and garlic powder to taste- ham is salty- so go light on salt
In bowl, combine ham with vegetables. Place 1/3 c. of ham mixture and 3 tablespoons of cheese in each tortilla and roll up. Place tortillas, seam side down, in greased 9×13-inch pan. Combine remaining ingredients and mix well. Pour over tortillas. Refrigerate several hours or overnight. Uncover and bake in a 350-degree oven for 45-50 minutes or until set. To check for doneness, insert a knife off center. Knife should come out clean. Sprinkle with remaining cheese and return to oven for 3-5 minutes to melt cheese. Serves 8.
Note: Let enchiladas sit a few minutes before serving to make cutting easier. I cut them down the middle, then into squares to serve.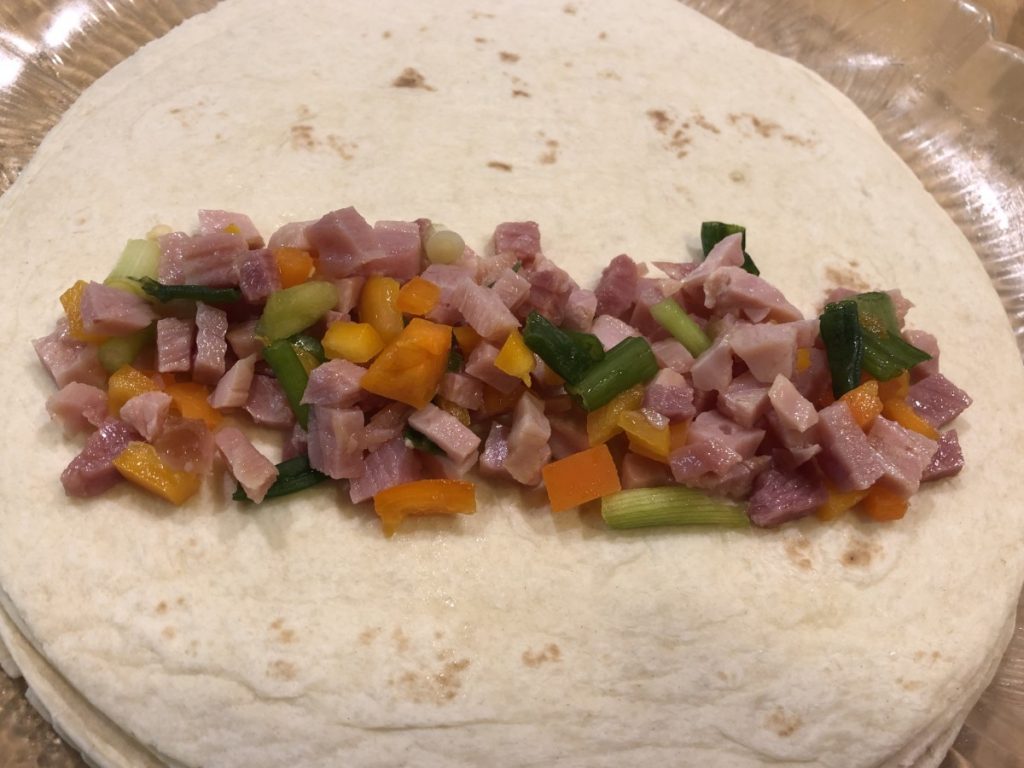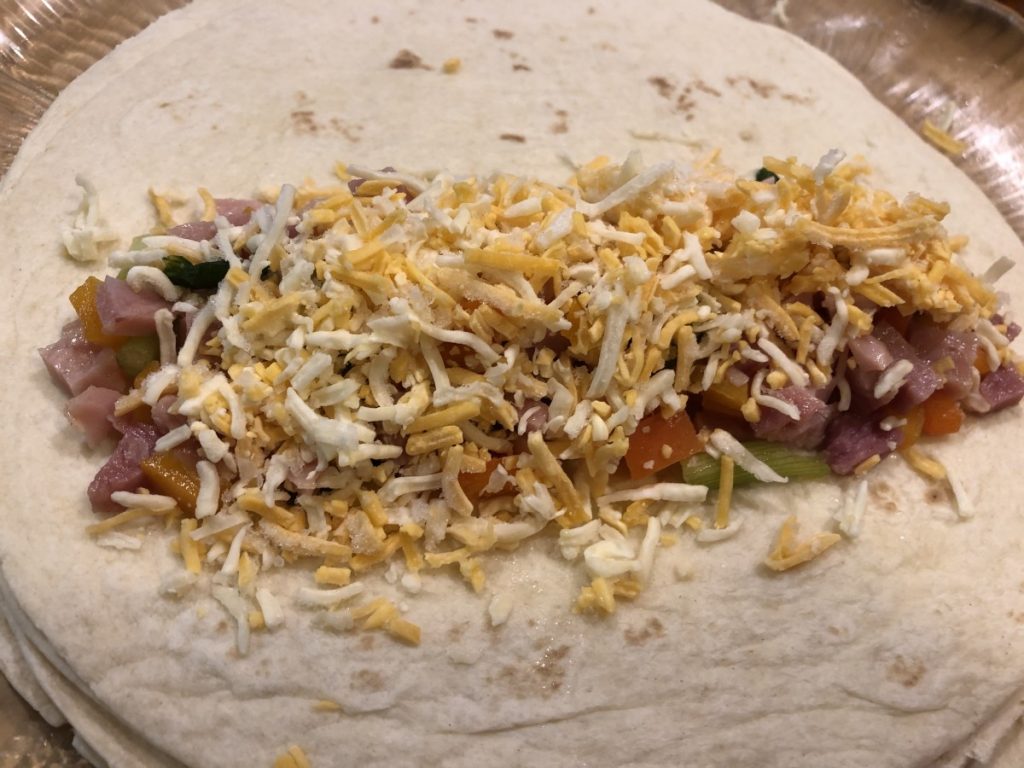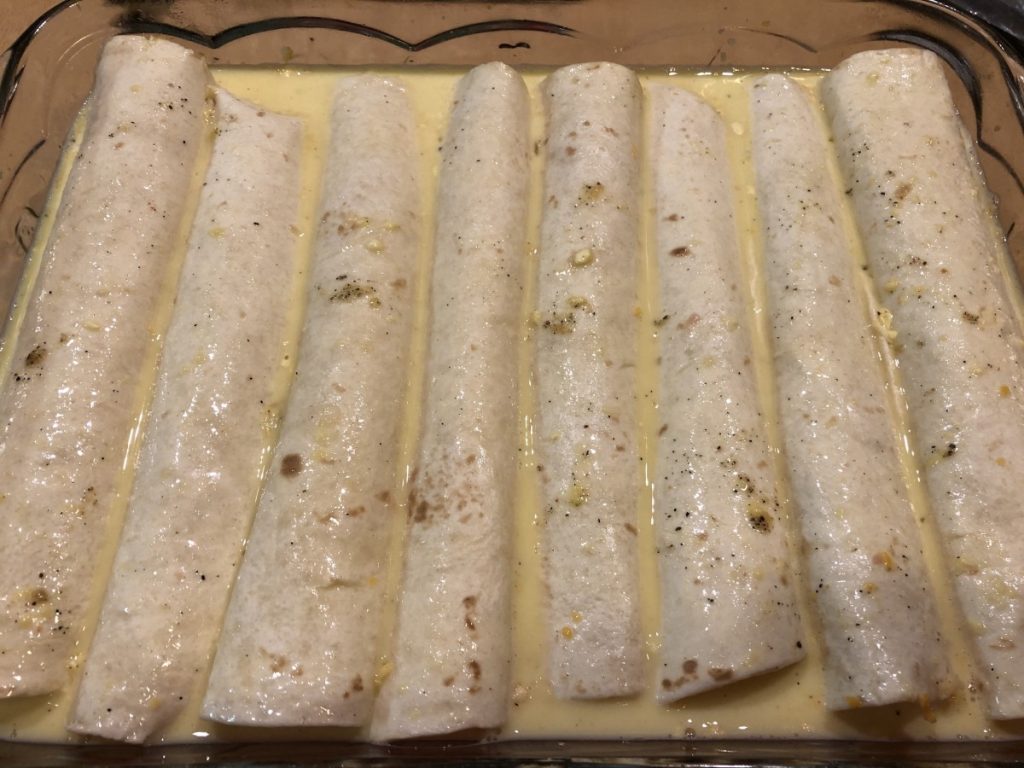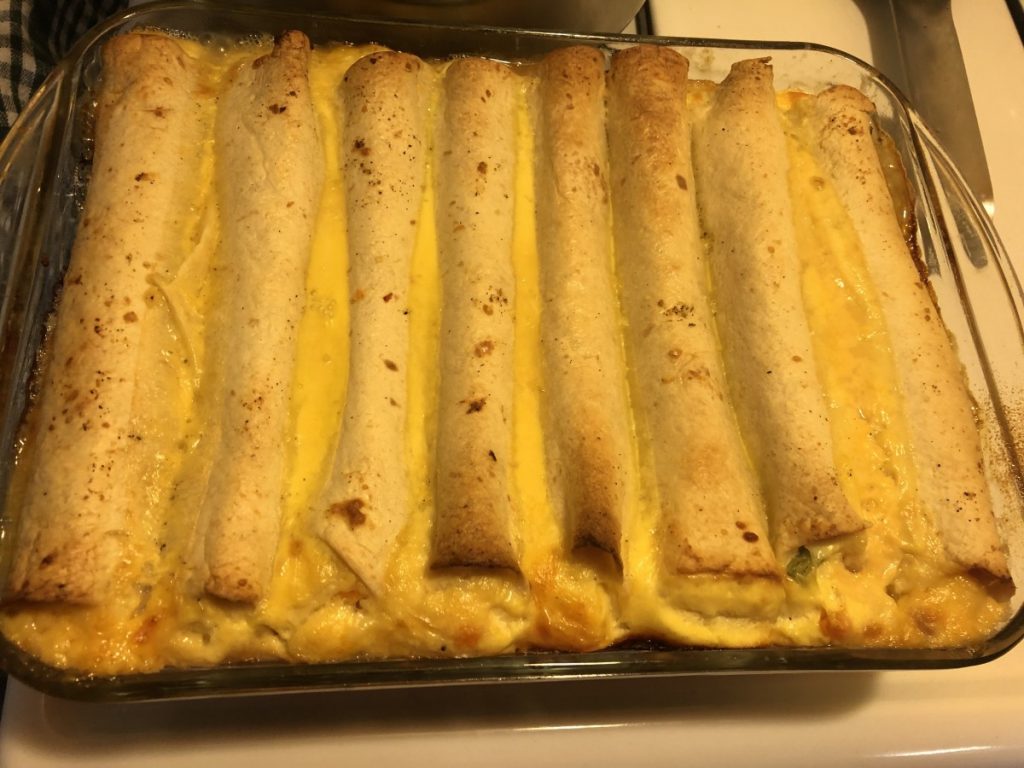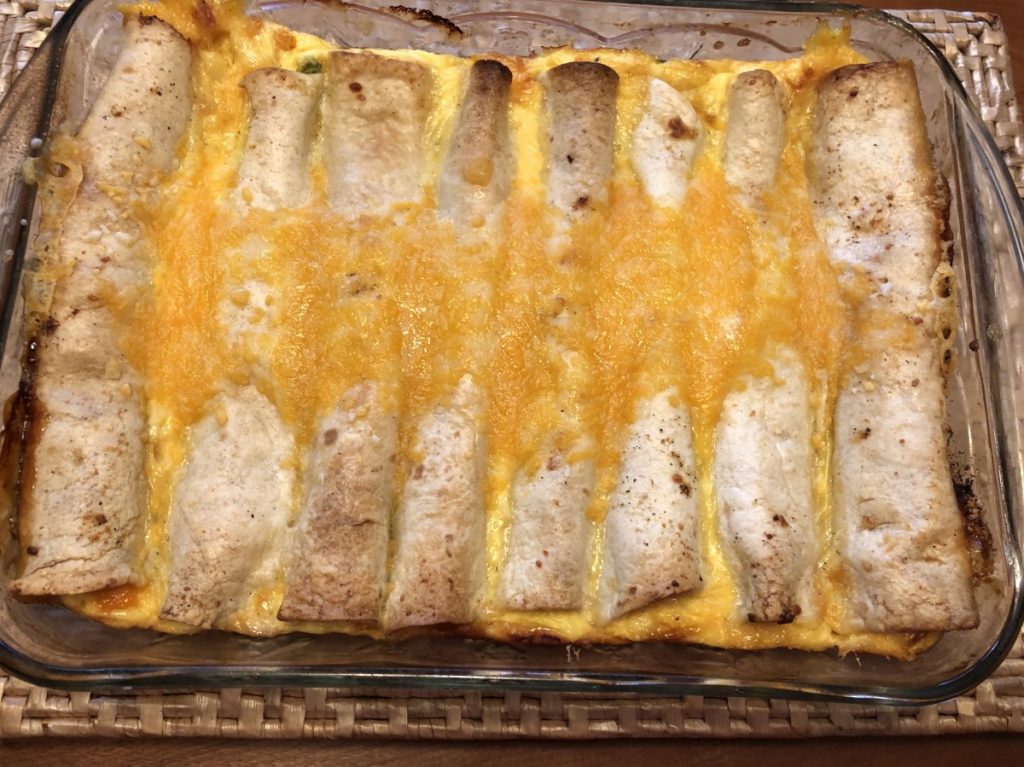 On a recent visit to Michigan I got to do one of my favorite things- spend time with my family. My niece Sarah is always so much fun to be around and the visits are always too short. She is a great hostess and I enjoy her cooking almost as much as I enjoy seeing her. For breakfast on the morning I was leaving, Sarah made this great baked French toast dish that we topped with warm blueberry syrup. It was so flavorful, not too sweet and a special dish to serve for company.  This is a great dish for when you are pressed for time. You assemble it the night before and then just bake it when needed. She said it was really easy to make and promised me the recipe. She also included the recipe for the warm blueberry syrup she served with it. So here is Sarah's recipe. I loved it and I think you will, too.
Sarah's Overnight French Toast Bake
10 cups cubed white bread (Sarah used Texas Toast)
8oz. cream cheese
8 large eggs
2/3 c. half and half
1½ c. milk
½ tsp. vanilla
Cream all together, except the bread. Put bread in 9×13 pan. Pour egg mixture over cubed bread. Cover and put in fridge overnight. Let stand at room temp for 1/2 an hour, put in 375 oven for 50 minutes. My lazy version ……take out of fridge, put in cold oven, turn oven on, set timer for one hour, go back to bed while breakfast cooks.
Blueberry Syrup
1 pint blueberries
1/2c sugar
2 -3 tbs corn starch
dash of lemon Juice
pinch of salt
Combine, cook, stirring often, until boiling.