I really love this soup. On a hot day, it makes a great first course. I love salads, but sometimes I just want something else. It couldn't be easier. You just blend up equal parts of watermelon and beets. Thin the mixture down with some stock. Add a bit of mint, and you are good to go.
I got this recipe from a friend of a friend. I tweaked it a little from the original, but it is pretty much the same. It is so simple and a great soup for a hot day. The sweetness of the watermelon pairs nicely with the earthy flavor of the beets. The mint also adds a nice little pop of flavor. The color is pretty cool, too.
I shared this recipe with a friend and she said she just drinks it like a smoothie. I find it a refreshing start to any meal, especially on a hot day.
Cold Beet and Watermelon Soup
1 part diced beet (cooked)
1 part diced seedless watermelon
a spring of mint
Put in blender
Add Chicken or Vegetable stock to taste/consistency
Add salt if desired
Dollop with Creme Fraiche or Sour Cream or even Greek Yogurt, if desired.
Garnish with fresh mint.
With any cold soup- chill well after you make it. You might even want to chill the bowls and spoons.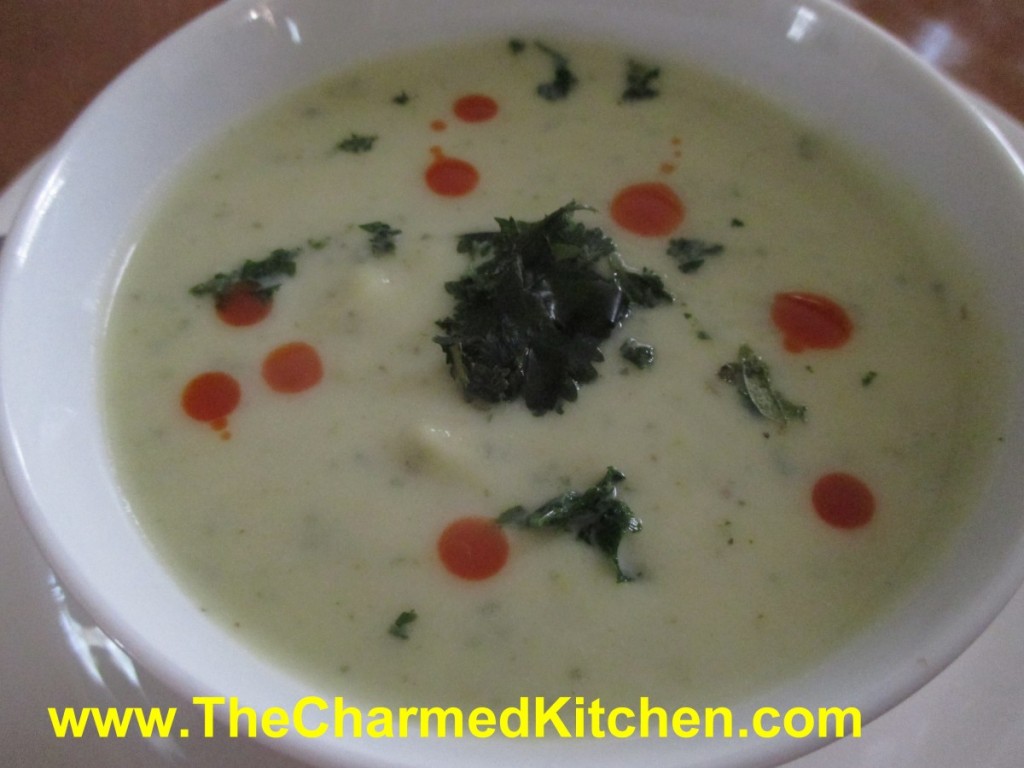 You can never have enough recipes for zucchini. If you have ever planted zucchini, you know what I mean. 
This is a recipe I've had for ages, but had not made in awhile. I forgot how much I liked it. It tastes really good. As an added bonus, it can be served hot or cold.
I leave the skins on my zucchini, I like the way the little green flecks look in the soup, but you can peel, if you prefer. You can also use a combo of green and yellow summer squash.
Here is the recipe.
Creamy Zucchini Soup
1 medium onion, chopped
2 T. butter
4-6 medium zucchini, sliced
1 large potato, peeled and diced
1 T. chopped parsley
½ t. each basil, marjoram and thyme
1 t. hot sauce, or to taste
salt and pepper to taste
6 c. chicken or veggie broth
1 c. milk or half and half- I prefer the half and half
In Dutch oven cook onions in butter until tender. Add vegetables and seasonings and cook until hot. Add broth, heat to a simmer and cook 15 minutes. Puree mixture in blender in batches and return to pot. Add milk and heat through. Adjust seasonings. Serve hot or cold. I topped mine with some fresh chopped parsley and a little hot sauce. Serves 6-8.