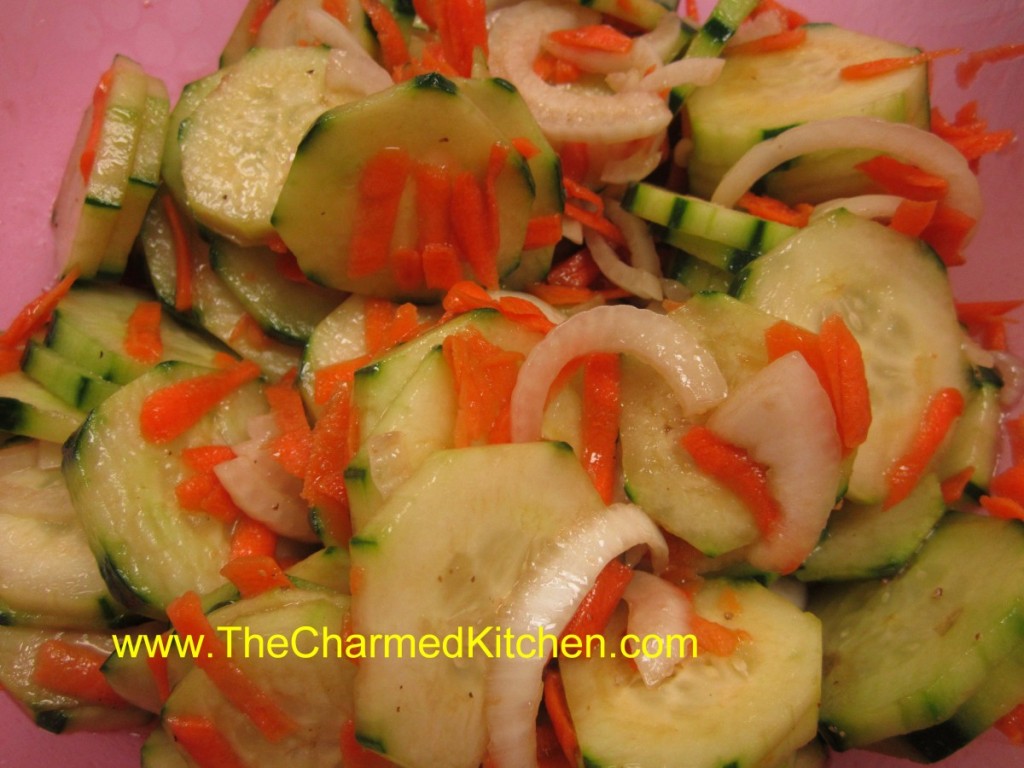 With summer approaching I am always thinking about salads and outdoor dining. I love a dish that is easy to take along to picnics, barbecues and cook outs. This refreshing salad combines carrots and cucumbers in a simple dressing. So easy and fast. Perfect side for your picnic or barbecue.
Cucumber and Carrot Salad
4 cucumbers, peeled, leaving strips of skin
1 c. coarsely shredded carrots
1 c. thin sliced sweet onion
1/3 c. vinegar- I like cider vinegar in this dish
2 T. Balsamic vinegar
¼ c. oil
1 T. sugar
1 ½ t. salt
Fresh ground pepper
Slice cucumbers. Combine vegetables in bowl. Combine dressing ingredients and pour over the vegetables, tossing to coat well. Chill at least 1 hour before serving, Spoon over lettuce, if desired. Serves 4-6.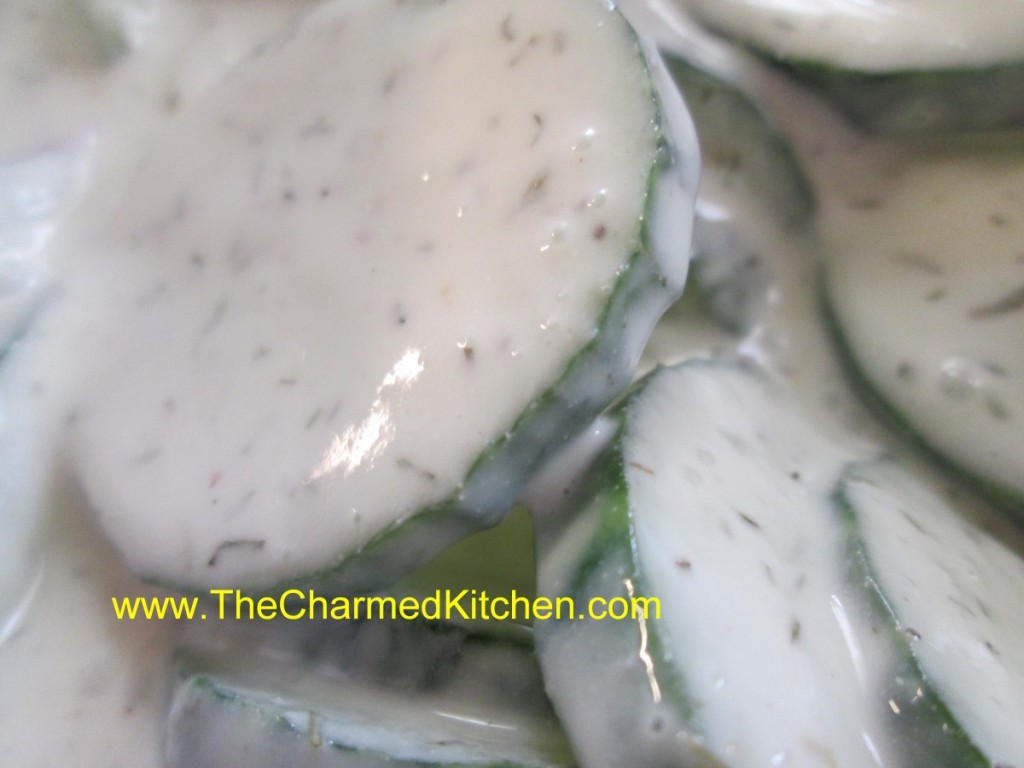 This is one of the recipes we made in salad class last night. This salad was such a summer tradition in my family. Sliced cucumbers in a creamy, sour cream based dressing, flavored with fresh dill. It always gives me a nostalgic feeling.
It was one of the first dishes I can remember helping my Mother make. She let me slice the cucumbers and mix the dressing. It seemed we often had it on the weekends when my Father was grilling. I can't make this salad without thinking of the wonderful smells wafting into the kitchen from that grill.
You can use any type of cucumber you like in this recipe. English cucumbers don't have to be peeled. You might want to peel cukes with tougher skins.
Cucumbers and Sour Cream
2-3 medium cukes, sliced
1 c. sour cream or strained yogurt
¼ c. sugar
¼ c. vinegar
2 green onions, chopped
1 –2 T. chopped fresh dill or 1-2 t. dried
Combine all ingredients and chill at least 10 minutes. Serves 6-8.
I love cucumbers and find myself eating more of them in the summer. There is something about a cucumber salad that feels like summer to me. It was hot last night, and I was in the mood for a salad. I had a couple of cucumbers, so I decided to make this to have with dinner last night. It was perfect.
I used a mix of vinegar, oil, salt, sugar and dill. By mixing the salad a couple of hours before dinner, the cucumbers become a sort of fresh pickle.
You don't have to wait, though. The salad tastes good when freshly made. I just prefer the way it tastes after the flavors have a chance to blend a bit.
The nice thing about a salad like this, is that it keeps fresh and tasty for days. I even like to drain the cucumbers and add them to a sandwich, like you would add a pickle.
Cucumber Dill Salad 
2 English cucumbers, sliced thin – any cuke would work, though
2/3 c. cider vinegar
1/3 c. oil
2 T. sugar
2 t. salt
1 t. dill weed- I used dried- use about 1 tablespoon if using fresh
1 t. parsley
Fresh ground pepper and hot sauce to taste
Place cucumbers in a bowl and set aside. Combine remaining ingredients in another bowl and mix well. Pour over the cucumbers and mix together. Chill salad several hours before serving. Serves 6.