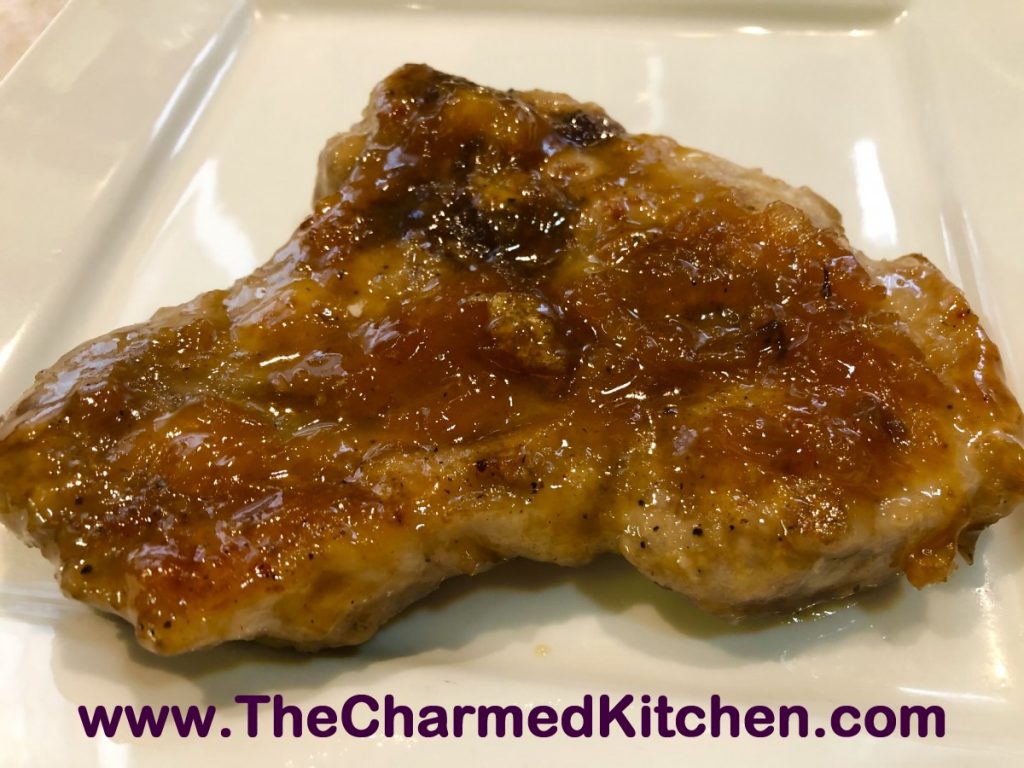 I found myself with some very ripe peaches. Since I was having pork chops for dinner I decided to use the peaches as a glaze for the pork. The combination was wonderful. The sauce added sweetness and some tang. I have some sauce left over. Thinking of using it on duck the next time.
Peachy Pork Chops
4 pork chops
Salt and pepper
Oil*
About 1 cup of the peach glaze- recipe follows
Season the pork chops with salt and pepper. Heat a little oil in a skillet and brown the chops on both sides over high heat. Add the peach sauce and turn the heat down to medium. Cook until chops are just cooked through and glaze has thickened a bit. Watch so glaze does not burn. Serves 4.  
* I actually used bacon fat
Fresh Peach Glaze/Sauce
5 medium peaches, peeled, pitted and diced
1 small onion, peeled and chopped fine
½ c. cider vinegar
½ c. sugar
2 T. honey
2 T. lime juice
2 T. minced garlic
1 t. salt, or a little more to suit your taste
½ t. smoked paprika
½ t. red pepper flakes, or more for a spicier chutney
Combine all ingredients in a saucepan, and cook over medium heat until peaches are tender and onion is translucent, about 15 minutes. Stir occasionally to avoid burning. Cook over low heat, stirring occasionally until sauce thickens. It should cook down to about 2 cups. Adjust seasonings. Will keep in fridge a couple of weeks- can be frozen.
I was looking for something fun to put on chicken we were grilling this weekend. I looked at what I already had and discovered some very ripe peaches. I used them for my inspiration for this sauce/glaze. I started with caramelizing some onions and then adding the peaches, peeled and cut up. Kept adding ingredients until I got the flavor I wanted. We added some of the sauce to the chicken ahead of time so it would absorb into the meat. While grilling extra sauce was brushed on. There was an extra container of the sauce  so we served that on the side.
Peach Sauce/ Glaze
2 T. oil
1 onion, minced
salt to taste
2 cloves garlic, minced
6-7 ripe peaches, peeled and diced
1/2 c. apple cider vinegar
1/2 c. maple syrup
2 t. hot sauce
2 t. cinnamon
Saute onions in oil until tender. Sprinkle generously with salt and add the garlic and cook a couple of minutes longer. Add remaining ingredients and cook until peaches are tender and sauce has thickened. Adjust seasonings and add a little sugar, if you like. Makes 4 cups. Use as a marinade, barbecue sauce or as a side sauce with chicken, pork or other meats. Any marinade must be discarded after use as it will have raw meat juices in it.