Published
December 15, 2021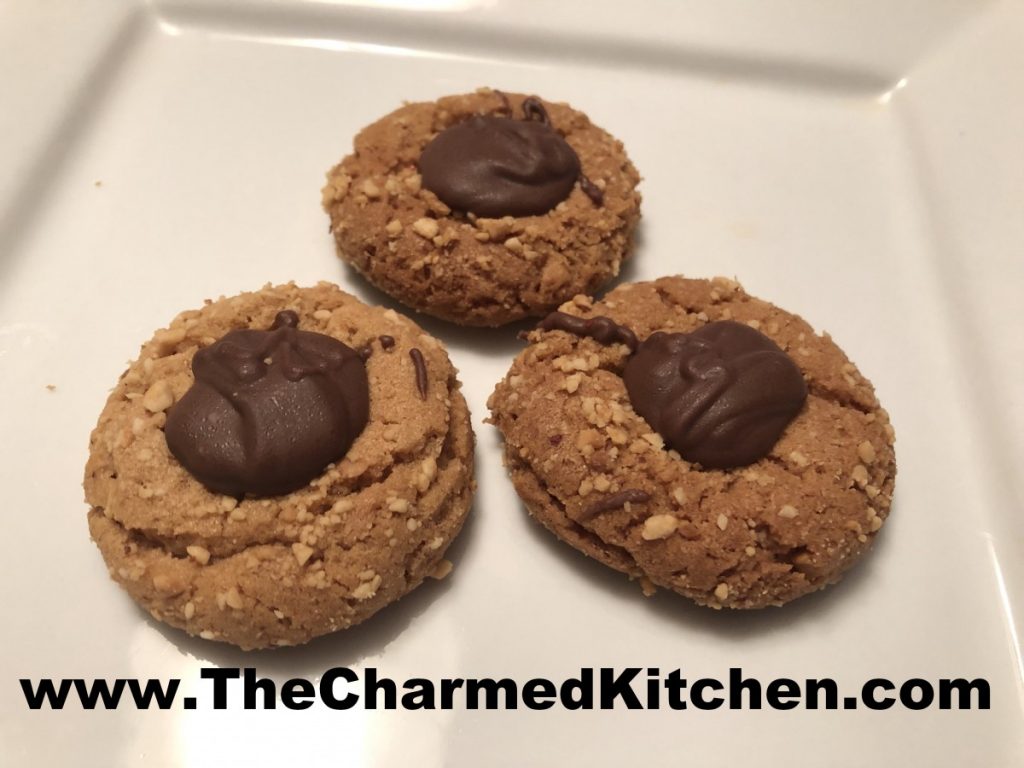 The combination of peanut butter and chocolate is a classic. This cookie brings those two flavors together perfectly. The cookie itself has a wonderful outer crunch, but is also tender and melts in your mouth. The addition of a dollop of chocolate finishes the cookie just right.
While making cookies for this holiday season I came upon this recipe. I couldn't remember the last time I had made them, so I decided to bake up a batch.
I forgot just how much I loved these cookies. I am definitely going to be making them more often.
Of course, you could also use a spoonful of jam or jelly to fill in the cookies. Peanut butter and jelly are also a classic combo. No matter what filling you use, these thumbprint cookies are going to be a big hit.
Peanut Butter Thumbprints
1 c. butter, softened
2 c. packed light brown sugar
1 1/2 c. peanut butter (smooth or crunchy)
2 eggs
1 t. vanilla
2 1/2 c. flour
1 t. baking powder
1/2 t. baking soda
1 3/4 c. finely chopped unsalted, dry roasted peanuts
Melted chocolate, about 2 cups
In mixing bowl, cream together butter, sugar and peanut butter. Beat in eggs and vanilla. Combine flour with dry ingredients and mix into butter mixture. Stir in peanuts. Shape dough into 1-inch balls and place on ungreased baking sheets. Bake in a 350-degree oven for 8-10 minutes or until cookies are just set. Press thumb gently into the middle of each cookie and cool on rack. Spoon about a teaspoon of melted chocolate into each cookie. Makes about 8 dozen.
Since so many of us are confined home, ingredients for baking might be in short supply. These shortbread cookies don't require eggs or butter.
The original recipe called for a pound of butter. I swapped out the butter with a cup each of peanut butter and coconut oil. It worked out great.
The cookies had that same wonderful crumbly texture and rich flavor you expect in a good shortbread cookie. I used crunchy peanut butter- it was what I had. I like the bits of peanuts in the cookies. I could see adding a few more chopped peanuts the next time I make these cookies.
You could also use other nut butters, like almond or cashew, if that is what you have.
Peanut Butter-Coconut Shortbread
1 c. sugar, plus 1/4 cup extra for sprinkling
1 c. peanut butter
1 c. coconut oil
4 c. flour
2 t. vanilla
Cream together sugar, peanut butter, coconut oil and vanilla. Stir in flour until mixture forms into a dough. Press into 9×13-inch baking dish. Sprinkle extra sugar over the cookies dough, and cut into squares. Bake in a 300 degree oven for an hour or until light brown around edges. Re-cut while warm. Makes 4 dozen. They can be frozen.
Subscriber to our Mailing List
Follow us on Social Media