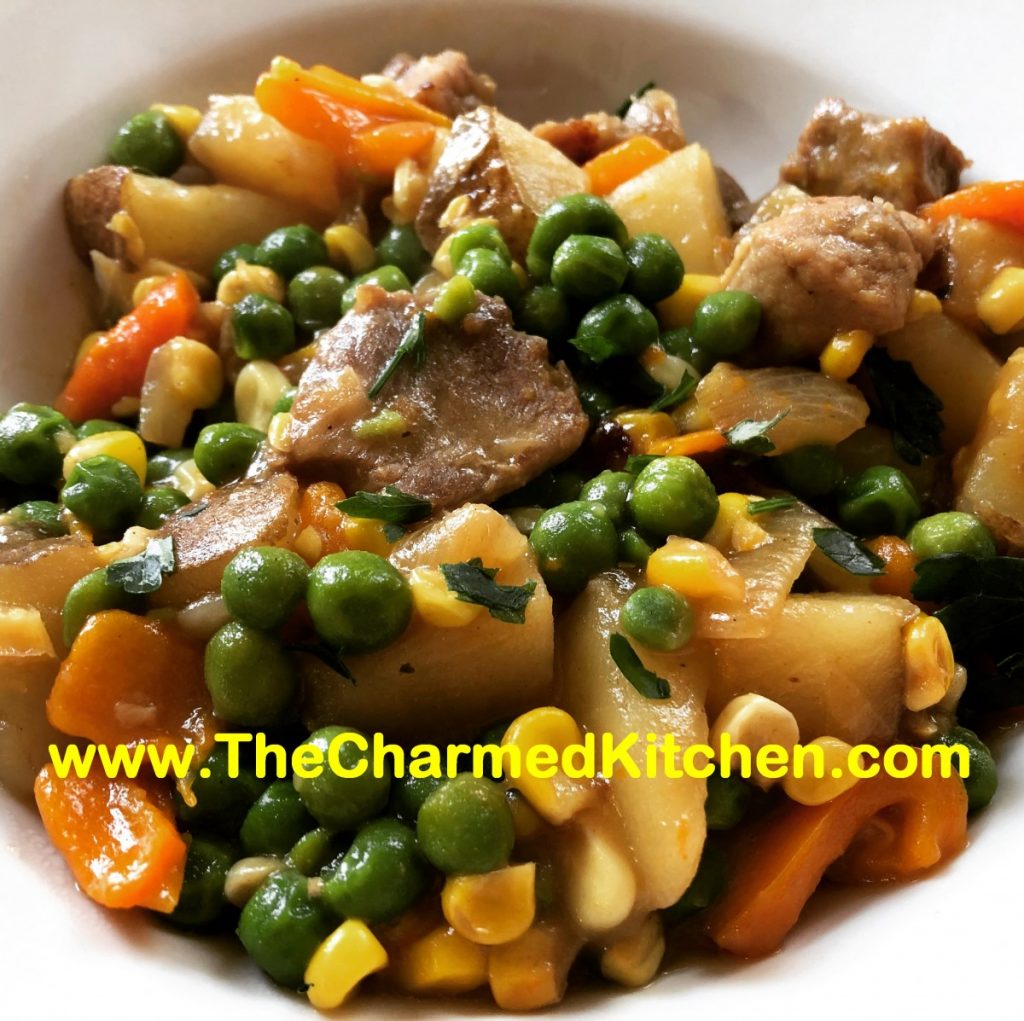 I wanted something for dinner last night using ingredients I had on hand. I decided to make a ragout. Ragouts are almost like a stew, but with less gravy. A traditional ragout is an assortment of meat with veggies cooked together in some liquid. They can be simmered for hours, or cooked fairly quickly, depending on your preference and the protein you pick. Not the same as a Ragu, which is an Italian tomato-based sauce.
If you use a cut of beef or pork that needs longer cooking to become tender, then allow more time to cook. I marinated the pork in sherry for a few hours, which made it more tender- and added flavor to the final dish. You can also make a ragout using chicken, on or off the bone, lamb, veal or even turkey. Ragouts are fun because they are so versatile.
I used water for my liquid. You can use stock, if you prefer. I just didn't this time- and the ragout had plenty of flavor from both the pork and the veggies. Plus, I cooked mine until much of the liquid had cooked off. I wanted some sauce, but not a stew or soup.
Ragouts can be pretty spicy. I used sriracha. Mine had a little kick. Go with a spice level that works for you. You can always serve extra hot sauce on the side, for those who like their food a little spicier.
So here is the recipe I made last night.
Pork Ragout
1-1½ pounds pork, cubed- I used pork shoulder
½ c. dry sherry
½ t. salt
2 T. oil
2 medium onions, peeled and chopped
2 medium carrots, peeled and sliced
3-4 medium potatoes, cubed- peeling is optional
1 sweet pepper, seeded and chopped
3-4 cloves minced garlic
¼ c. flour- I used rice flour, but wheat flour would also work
1-2 c. water- you could use chicken or veggie stock, if you have it
2 c. peas
2 c. corn
Salt and pepper to taste
Hot sauce to taste
Parsley
Earlier in day, or even the night before, place pork in a bowl and add the sherry and salt. Cover and allow to marinade in fridge until ready to use. In large skillet or soup pot, heat oil and sauté onions and carrots until tender and a little golden. Stir occasionally. Add the potatoes and reduce heat to medium. Cook about 5 minutes, stirring often. Add the peppers and pork (undrained) and cook another 10 minutes, stirring often. The more you are willing to stir, the higher the heat you can use. If you want to just stir now and then, cook at a lower heat, but cook longer. Add the garlic and cook a few more minutes. Sprinkle on the flour and stir until you don't see any dry flour. Add one cup of water and the remaining ingredients, and cook, stirring until mixture starts to bubble. The liquid will thicken. I started by just adding a cup of the water, then adding more as the mixture thickened up. Add more water so the sauce is thickened to your liking. Cook, uncovered, until everything is heated through. I was using frozen peas and corn, so I cooked long enough for them to thaw and heat up. I let the ragout simmer, over low heat for about 5 more minutes. I also adjusted the seasonings before serving and added more fresh parsley. Serves 4-5.
Note: I made this using veggies I had on hand. Feel free to use what you have around or prefer. I made an effort to pick veggies with different colors and flavors, which I thought made for a better finished dish.