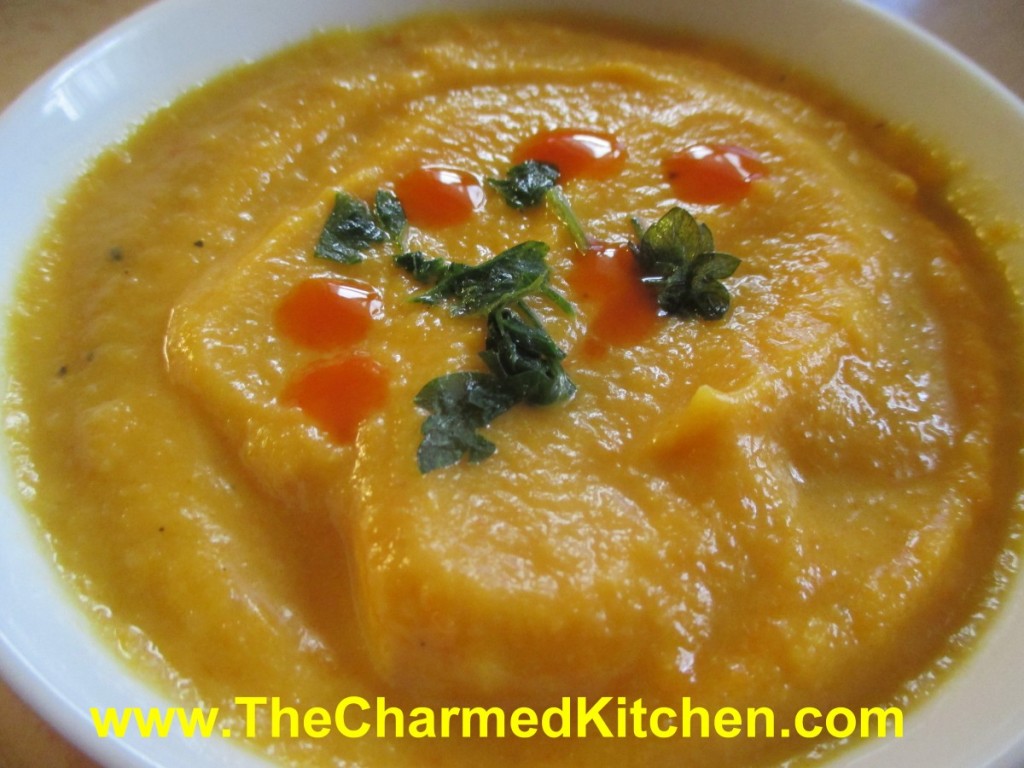 I love to cook with what I have on hand. Some of my best meals have come out of a forage in my fridge, freezer and pantry. This is one of those recipes.
I had been to a favorite produce market and they had the most beautiful fresh cauliflower. I couldn't resist. I had also picked up some other produce. I had picked up a lot of other produce.
I can't help myself. I see the bounty of fruits and veggies and I buy more than I should. Not a surprise, the cauliflower got pushed to the back of the fridge.
A few days later, I was looking for inspiration- and there it was- this lovely head of cauliflower.
I thought of soup right away. I often use cauliflower in soup. I also had a bunch of carrots, so I decided to use them together. The combination, paired up with some of my favorite seasonings, made for an excellent meal.
I served it with a drizzle of hot sauce, and a little fresh parsley from the garden. This soup freezes well, so I may save some for another day.
While I ate it hot, this soup could be served cold.
Spiced Cauliflower and Carrot Soup
3 T. oil
1 large onion, chopped
3 cloves garlic, minced
1 small to medium head of cauliflower, cut into florets
1 lb. carrots, peeled and chopped
1 sweet potato, peeled and sliced
2 c. diced fresh tomatoes or canned tomatoes, I used a pint of home canned tomatoes.
4 c. chicken or veggie stock*
2 T. curry powder
1 T. ground cumin
2 t. smoked paprika
2 t. ginger
Hot pepper sauce, to taste, plus extra for topping the soup
Salt and pepper to taste
Fresh chopped basil, cilantro or parsley for garnish, optional
Heat oil in soup pot and cook onions until golden brown. Add garlic and cauliflower and cook another couple of minutes, being careful not to burn the garlic. Add the rest of the veggies, the stock and spices and bring to a boil. Reduce heat to a simmer and cook soup, covered, until veggies are tender. I like the soup to cook at least an hour so the veggies are really tender. Puree soup until smooth. I use an immersion blender. If you are using a standard blender, and the soup is hot, puree in small batches and remove the middle piece from the blender lid. Place the lid on the blender and cover with a towel. Hot soup will splash up, and you need to be careful not to get burned. Adjust seasonings. Can be served hot or cold and freezes well. Drizzle some hot sauce on soup when serving and some chopped fresh herbs, if you like.
* You might need a little more stock, depending on how thick you like your soup. I often add extra stock at the end.
For all the soups I make, this is one of my favorites. The blend of vegetables and seasonings work so well together. The soup is creamy and full of flavor. I eat the soup hot, most of the time, but in hot weather, I eat it cold.  It is an easy way to eat more veggies.
I have a friend who is trying to eat more veggies, so I shared some of this soup with her. She really liked it. The soup freezes well, so you can make a big batch and freeze some for later. While I have the recipe below- you can add other veggies and play around with the soup. For texture, you can serve it with croutons on top. This is also nice served with a grilled cheese sandwich.
Creamy Veggie Soup
3 T. oil
2 onions, chopped
3 carrots, peeled and sliced
2 ribs celery, sliced
3-4 sweet potatoes, peeled and cubed
1 medium cauliflower, chopped
6 c. stock- I used chicken, but you could use vegetable
1 qt. tomatoes- I used home canned but you could use 1 (28 oz.) can
2 T. Tuscan seasoning* recipe follows
¼ c. hot sauce- or to taste
Salt and pepper to taste
In large pot, heat oil and cook onions until tender. Add carrots and celery and cook a few minutes longer. Add remaining vegetables, stock, and seasonings and simmer, covered for an hour or longer. Puree soup in blender in batches until smooth or use an immersion blender to puree the soup. Warm up soup before serving. Adjust seasonings and serve. Makes a lot of soup – but freezes well.
*Tuscan Seasoning
½ c. dried basil
½ c. dried oregano
½ c. dried marjoram
3 T. dried minced onion
2 T. dried minced garlic
2 T. dried rosemary
2 T. dried parsley
1 t. crushed red pepper
Combine all ingredients and store in an air tight container. Use this blend in tomato sauce or other Italian dishes. Also, you can add to vinegar and oil with a little salt, if desired, to make a quick salad dressing.
I had planned on just calling this recipe beet soup or maybe pureed beet soup. Then a friend came over and I offered her a bowl. When I set it down in front of her she said, "Wow, this is really pink soup." After that I couldn't name it anything else.  People seem to have strong opinions about beets. They either love them or hate them. I love them and I enjoy them in soups, salads, relishes,  casseroles and more. The earthy flavor really appeals to me and the color is a delightful bonus. I made this soup using a large bunch of beets I picked up at a produce market. I used the beets in the soup and I used the greens in the little dumplings. The result is a very tasty dish that is also sort of striking to look at.
Very Pink Soup
1 bunch beets- mine had 3 large beets
2 T. olive oil
1 large onion, chopped
2 carrots, peeled and chopped
1 rib celery, chopped
3 medium potatoes, peeled and chopped
6 cups stock- I used chicken but vegetable stock or beef stock would also work
2 t. dill weed
salt and pepper to taste
1 c. sour cream- or a little more if you like
Cut beets off of their stems- leaving about 2 inches attached- this will reduce bleeding and retain more color in the beets. Reserve greens for the dumplings. Place beets in a pot of water deep enough to cover them and cook until the beets are just getting tender, about 30 minutes. Remove and place in cold water. Once the beets are cool enough to handle trim off the stems and slip off the skins. Cut the beets into chunks and set aside. In soup pot heat the oil and cook the onion until tender. Add the carrots and beets and cook a few minutes longer. Add the rest of the vegetables, stock, dill and simmer, covered, until vegetables are very tender. This will take at least 30 minutes- but cooking longer is better- around an hour.  Puree the soup. To add the sour cream place sour cream in a bowl and add a ladle full of the hot soup to the sour cream, whisking until smooth. Add another ladle or two of the soup and whisk again. Return sour cream mixture to the soup. By warming the sour cream gently you prevent it curdling. Adjust seasonings and serve as is or with the beet green dumplings.  Serves 6-8. Freezes well.
While the soup is cooking prepare dumplings.
Beet Green Dumplings
1 bunch of beet greens
2 eggs
1/4 c. milk, cream or half and half
2 t. baking powder
1 t. salt
1 t. hot sauce
1/2 t. nutmeg
1 1/2 c. flour- may need a little more or less depending on how many greens you start with.
Rinse greens and chop off the stems. Place stems in a pot of boiling water for 3-4 minutes. add the greens and cook 3 minutes longer.. Drain greens and stems let them cool down. I didn't squeeze all the liquid out of them, I just let them drain well. Place greens and stems in a food processor and process until very fine. Add the eggs and the rest of the ingredients, except the flour and process until pretty smooth. Add the flour and pulse until blended. Mixture should be a thick batter. It will be a pretty pink color with flecks of green in it- but it cooks to a paler lilac sort of color.
To cook the dumplings- bring a large pot of water to a boil. I wanted small dumplings so I placed the batter in a sturdy plastic bag and cut the tip off one corner. The hole was the diameter of a pencil. Holding the bag over the pot of boiling water I squeezed the batter into the boiling water. I did it in batches- only cooking about a third of the batter at a time. They will come to the surface and need about 3 minutes to cook in all. Remove with a slotted spoon and continue to cook the rest of the batter. So they wouldn't get sticky I put them in a colander and rinsed them in cool water. If I were going to use them right away I would just have drizzled a little olive oil over them.