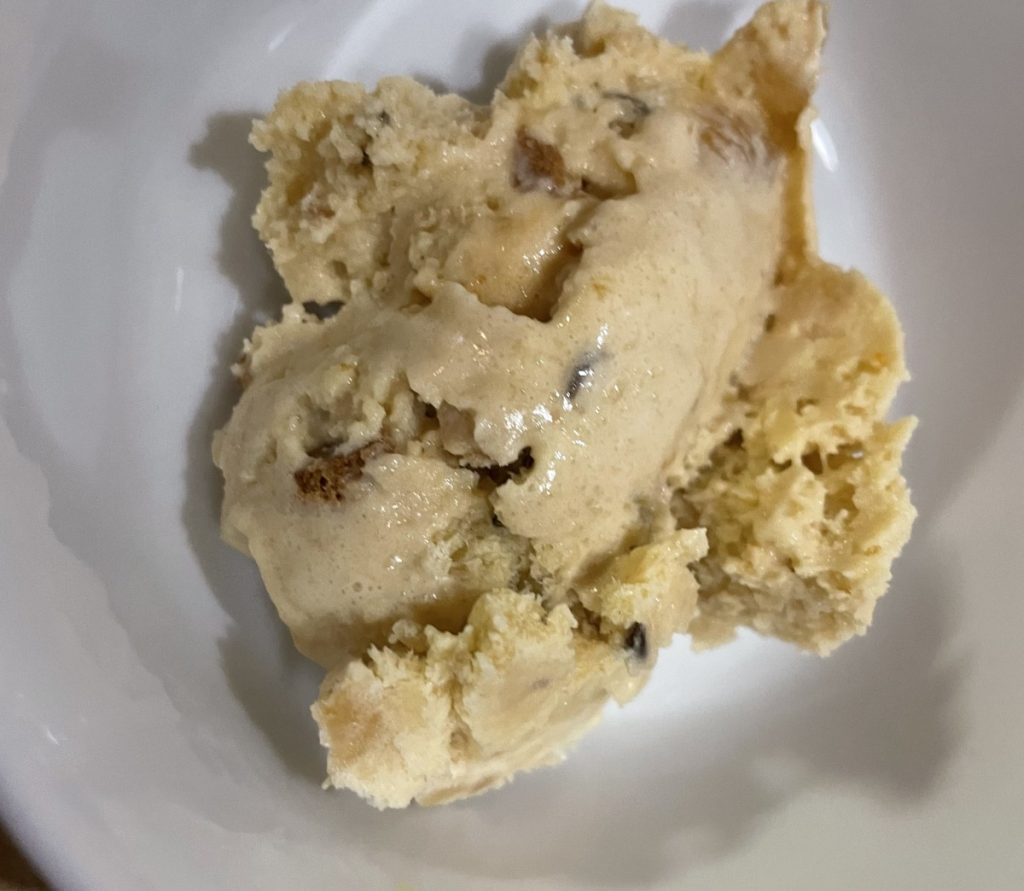 This ice cream happened because friend saw a recipe for an ice cream made with brown bread. He thought it might be fun to make it with Irish soda bread, for St. Patrick's Day. It worked out really well. When I first added the bread to the ice cream, I tasted it and thought it was good, but needed something more. I had already made the butterscotch sauce to serve with it, so I added a little and the end result was a really fun and different ice cream. The ice cream actually tasted a lot like butter pecan. I served it to a group of friends and family the other night and they loved it.
This would be a fun dessert for St. Patrick's day, or any day really, and it was super easy to make. Thanks, Joe, for the inspiration.
So here is the recipe. I have also included the recipes for the bread and the butterscotch sauce, although, you can buy them already made.
Joe's Soda Bread Ice Cream
1 ½ qts. Vanilla ice cream
4 cups crumbled soda bread*
½ cup butterscotch sauce**
Soften ice cream and fold in the soda bread and butterscotch sauce. Return to freezer to firm up before serving.
* You can just buy a soda bread or use the recipe below
** I made my own butterscotch sauce, then had extra for serving. Feel free to just buy a jar if you don't want to make your own. Serve some sauce, warmed with the ice cream to drizzle over.
Irish Soda Bread
2 c. flour
½ t. each baking powder and baking soda
¼ t. salt
2 T. butter
¾ c. raisins, currants or golden raisins, optional, I used golden raisins
2 t. caraway seeds
1 egg, beaten
1 c. buttermilk
Preheat oven to 400 degrees. Dust a baking sheet with a little flour. Combine dry ingredients in bowl and cut in butter to resemble coarse crumbs. Add raisins and caraway seeds. Combine egg and milk and set 2 tablespoons of this mixture aside. Add remaining milk mixture to flour mixture and combine just until dough forms into a ball. Place on baking sheet, brush with reserved egg mixture and cut a crisscross on top of loaf. Bake about 25 minutes or until bread sounds hollow. Makes 1.
Butterscotch Sauce
6 T. butter
½ c. half and half
½ c. brown sugar
1 t. molasses*
½ -1 teaspoon salt
1 t. vanilla
Melt butter in a heavy bottomed pan. Add remaining ingredients, except vanilla, to the pan. Stir to mix well, then bring to a boil over medium heat. Boil 5 minutes. After 5 minutes, remove from the heat and stir in the vanilla. Sauce will thicken as it cools. Store in fridge and warm a little before using. Makes about a cup of sauce. Keeps for weeks in the fridge, but you'll eat it long before that.
*The addition of a little molasses was because my original recipe called for dark brown sugar. I only had light brown sugar. I liked the flavor that extra molasses added to the finished sauce. Feel free to omit the extra molasses, or add a pinch more, depending on how dark you want your finished sauce.