I always stock up on blueberries when they are in season. I end up with a lot of frozen berries to enjoy throughout the year. I was cleaning out the freezer awhile ago, and decided to use some of my frozen berries to make blueberry liqueur.
After steeping for several months, I strained out the blueberries last night.
I ended up with two different liqueurs. One is unsweetened- just blueberries, vodka, lemon zest and a clove. It is sometimes called an eau de vie- French for water of life- or just blueberry vodka.
The other was sweetened a little with a sugar syrup- but you could use honey. That is blueberry liqueur or blueberry cordial. It will be allowed to mature for a couple of weeks.
Both are wonderful.
The color is so pretty and they can be sipped, as is, or used in cocktails. You can use other berries, if you prefer.
I look forward to summer parties and enjoying these with friends and family.
Blueberry Liqueur
4-c. fresh or frozen blueberries
Sliced and scraped peel of one lemon, optional
1 clove, optional
3-c. vodka or 2 c. vodka and 1 c. brandy
1 c. sugar syrup, optional, recipe follows
Lightly crush berries with a fork. Combine with peels and clove and vodka and steep 3 months. Strain and filter and add sugar syrup. Mature 4-6 weeks.
Sugar Syrup
Simple syrup is made from 1 cup of sugar and ½ cup of water. Bring to a boil, then cool. You will have 1 cup of syrup. Some recipes call for plain sugar and others for honey. Watch when you substitute honey for sugar, as it is sweeter and stronger flavored. Better to use orange or clover honey.
I love this ice cream. Smooth, creamy and full of chocolate flavor. What's not to love? This is also the simplest ice cream recipe I have ever made. Seriously – the easiest.
For starters, you don't need an ice cream maker. And the recipe is only two ingredients. You really can't get easier than that.
This recipe came about because I hate to waste anything. I had a carton of heavy whipping cream that was getting close to it's expiration date. I didn't need it for anything, but didn't want to waste it. I decided I could use it to make ice cream.
It was late and I was tired, so I wanted a quick fix. I put the whipping cream in my mixer and whipped it up. Once it got to stiff peaks, I started adding chocolate syrup. With the mixer still running, I kept adding syrup until the mixture was the color I wanted. I figured when it was the color of chocolate ice cream, I had added enough syrup.
I put the mixture in a quart container, put on the lid, and popped it in the freezer. It was a couple of days before I remembered it was in there. I gave it a taste. I was so pleased. It was very creamy and smooth.
So here is the recipe, although I guess I sort of already told you what to do.
Super Easy Homemade Chocolate Ice Cream
1 pint whipping cream
1/2 c. chocolate syrup or to taste
Place whipping cream in a bowl and whip until stiff peaks form. With mixer running, add the syrup. Add until mixture is the color of chocolate ice cream. You can also give it a taste, to be sure. Place mixture in a container with a tight fitting lid and place in freezer. Freeze several hours before trying it. Makes 1 quart.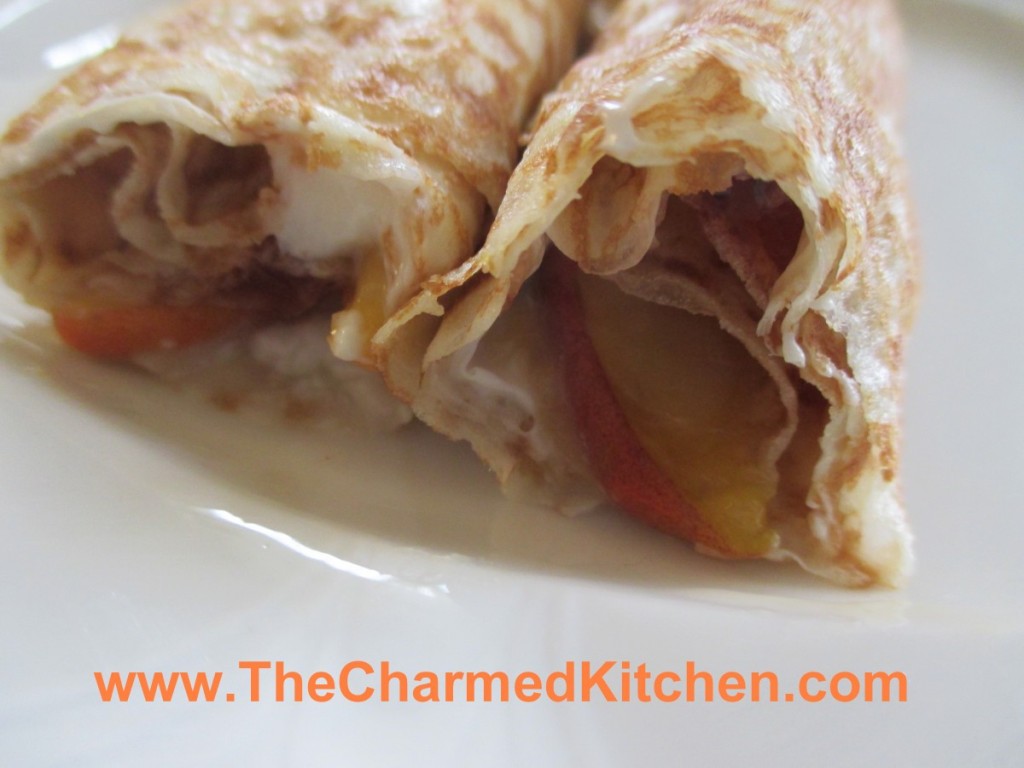 Peaches are such a natural addition to any summer dessert. I decided to use some of my fresh peaches in crepes. Crepes are a nice dessert any time of the year. I think especially nice in summer, using fresh, seasonal fruit.
The crepes were filled with peeled, sliced peaches that had been tossed with sugar ahead of time. The sugar softens the peaches a little. I also added some sweetened cream cheese and a little strawberry jam to the filling. We loved them.
They can be assembled ahead of time, and just kept chilled until ready to serve. Serve as is, with a dusting of powdered sugar or even a vanilla caramel drizzle- recipe follows.
Peaches and Cream Crepes
1 recipe basic crepes- recipe follows
2-3 peaches, pitted and sliced thin
¼ c. sugar
1 t. vanilla
1 t. cinnamon
8 oz. cream cheese, softened
¼ c. powdered sugar
Strawberry jam, optional
Make a batch of basic crepes and set aside until ready to use. Place sliced peaches in a bowl with sugar, vanilla and cinnamon and stir until sugar is dissolved. Best to do this at least a couple of hours before you want to use them. This softens the peaches and allows juices to come out of the peaches. You need the juices for the cream cheese. You can do this the day before, then just finish the cream cheese and assemble.
Place cream cheese in a bowl and start beating with an electric mixer. Drain juices off the peaches and add the juice to the cream cheese. Add the powdered sugar, too. Beat until cream cheese is fluffy.
To assemble the crepes: Place a crepe on work surface. Spread with some of the cream cheese. Along one side of the crepe place a small amount of strawberry jam, like a stripe. Place several slices of peach in a row, on top of the strawberry jam. Starting on the side of the crepe with the peaches gently roll up the crepe. Repeat with remaining ingredients. You will have 12. Serve as is, or you can top with powdered sugar, peach slices, warm jam, whipped or caramel sauce – recipe follows.
Basic Crepes
3/4 c. flour
1/8 t. salt
3 eggs, beaten
2 T. melted butter
3/4 c. milk, approximately
Butter or oil for pan
Beat together flour, salt and eggs until smooth. Stir in melted butter and then stir in milk until batter consistency is that of cream. Let stand for 30 minutes before using, or can be refrigerated, covered, overnight. Beat again, just before using.
Heat 6 or 7 inch skillet. Brush with butter or oil and pour in about 2 teaspoons of batter, tipping pan to cover bottom of pan completely with batter. Cook until edges start to brown, turn over and cook until lightly browned (about 2 minutes per side.)
Crepes can be made day ahead or even frozen between sheets of waxed paper and frozen. Makes 12.
Vanilla Caramel
I made a light caramel sauce for the crepes. I just put 1/4 cup of water in a small saucepan with a cup of sugar. Boiled it all together for about 3 minutes. Removed from the heat and added a teaspoon of vanilla, 4 tablespoons of butter and a 1/4 cup of half and half. Stirred until smooth, then added a pinch of salt, for extra flavor.
Crepes with a vanilla caramel drizzle
I wanted to make dessert for a lunch I had planned with friends. Since they both love blueberries, I thought I might try making blueberry cupcakes. I started by making my classic vanilla cupcakes, then topping them with blueberries just before baking. The berries fell into the batter during baking, just as I had hoped.
The result was moist, tender cupcakes with a pop of fresh blueberries. I also used a simple vanilla buttercream and dressed them up with a few berries on top. I was really pleased at how they came out. My guests were, too.
Blueberry Cupcakes
1 cup sugar
1/2 cup butter
2 eggs
2 teaspoons vanilla extract
1 1/2 cups all-purpose flour
1 3/4 teaspoons baking powder
1/2 cup milk
About 1 cup of blueberries
Preheat oven to 350 degrees. Line a muffin pan with 12paper liners. In a medium bowl, cream together the sugar and butter. Beat in the eggs, one at a time, then stir in the vanilla. Combine flour and baking powder, add to the creamed mixture and mix well. Finally stir in the milk until batter is smooth. Pour or spoon batter into the prepared pan. Top each cupcake with 5 blueberries. Fewer if the berries are really big. Bake 20 to 25 minutes. Cupcakes are done when they springs back to the touch. Cool before frosting. Frost with the buttercream- recipe follows- and top with a few extra fresh blueberries. Makes 12.
Vanilla Butter Cream
½ c. butter
4 1/2 cups sifted confectioners' sugar
1 T. vanilla extract
In a bowl beat butter until fluffy. Gradually add 2 cups of the confectioners' sugar, beating well. Slowly beat in the vanilla. Slowly beat in remaining sugar. Beat in a little milk, if needed, to make of spreading consistency. Tint with food color, if desired.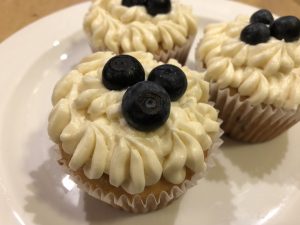 Fresh out of the oven
I love all sorts of sorbets. I make them all year long, but seem to make more when summer arrives. The basic recipe is simple –  just pureed fruit, some sweetener and usually, some flavoring or herb, to add interest. They are so light and refreshing. The perfect dessert for summer.
So far I have make sorbet from pineapples, mangoes, strawberries, blueberries (with red grapes), peaches, cranberries and coconut. I am sure I have forgotten some of them.
I picked up fresh cherries at the market, so I could make cherry sorbet.
Fresh cherries are one of my favorite fruits of all time. I love both sweet and sour cherries. For the sorbet, I just pitted a pound of cherries, added sugar and some lemon juice. It needed a little something more- so I added almond extract. Really worked well with the cherries.
So here is the recipe. Simple and sweet.
Cherry Almond Sorbet
1 lb. cherries, pitted
3/4 c. sugar, or to taste*
3 T. lemon juice – it helps the cherries retain their color
1 t. almond extract
Place cherries in blender or food processor, with the sugar and extract. Blend until smooth. Adjust sweetener to suit your taste. Place in a container with a lid and freeze. Once mixture is frozen, remove from the freezer, break into chunks and place in food processor. Process until mixture looks creamy and smooth. You might have to do this in batches, depending on the size of your food processor. Eat or return to freezer until ready to use. Makes just over a quart of sorbet.
*Feel free to use other sweeteners you like in place of the sugar. Honey or maple syrup would both work nicely.
So what is clafoutis? Clafoutis is a sort of pancake, sort of custard, sort of quiche. It is a lovely dessert for fresh fruit, for sure.
You can serve it plain, or topped with powdered sugar or whipped cream. On a hot day, I like to serve it with a scoop of ice cream.
Clafoutis is really simple to make, too. You start by putting the fruit in a prepared pan. The batter is made in a blender, and takes just a couple of minutes to prepare. You pour the batter over the fruit- and bake.
I used cherries and blueberries in this one, but you can use all sorts of fruits- peaches, plums, raspberries…..
Most people enjoy it as a dessert, but it is also nice with that morning cup of coffee.
I used a combination I thought would make a nice dessert for summer. Blueberries and cherries are in season and so fresh.
Cherry and Blueberry Clafoutis
2 c. pitted cherries, I cut them in half, but you can leave whole
1 c. blueberries
3 eggs
1 c. sugar
3 T. melted butter
½ c. flour
2 t. vanilla extract
1 t. almond extract
pinch of salt
1 c. half and half
powdered sugar, optional
Grease a 9×9-inch baking dish or pie pan. Preheat oven to 350 degrees. Place cherries and blueberries in the prepared pan. In blender, combine eggs, sugar, butter, flour, flavorings and salt.* Blend until smooth. Add half and half and blend again until smooth. Pour batter over the cherries and blueberries. Bake for 45-50 minutes or until clafoutis is browned around edges and puffed up. Allow to cool and dust with powdered sugar, if you like. It will deflate as it cools. Serves 6.
* You can whisk the ingredients together by hand, if you prefer.
With cherries in season, I have been using them in all sorts of dishes. I think these blintzes are one of my favorites. They make a great dessert. I just dusted them with powdered sugar, but you can also top them with ice cream or whipped cream. They remind me a warm cherry pie.
Blintzes also make a great breakfast or brunch dish.
I didn't use a lot of sugar in my pie filling because I was using sweet cherries. I also think with the powdered sugar on top, they are sweet enough. Adjust the sugar in the recipe to suit your own taste. If using tart cherries, you might want to add a little more sugar.
They are easy to make, too. We made them in cooking camp this week and the kids loved them.
These are not traditional blintzes. The secret is that the blintzes are made with flour tortillas instead of traditional crepes. I love the texture flour tortillas take on when softened in milk. They really work well, and with a fraction of the work of making crepes.
So here is the recipe. I think you will love them as much as I do.
Cherry Pie Blintzes
Cherry Pie Filling
4 c. pitted sweet cherries- sour cherries can also be used
1½ c. water
½ c. sugar- use a little more if using tart cherries
Pinch of salt
¼ c. cornstarch
Place cherries in a saucepan with 1 cup of the water, sugar and the salt. Bring to a simmer. Mix cornstarch with the ½ cup of water and add to the cherry mixture, cooking until just thickened. Cool. Makes about 4 cups.
Blintzes
8-10 Flour tortillas
½ c. Milk
4 T. Butter
Powdered sugar
Make the pie filling ahead of time, so it is cooled down. Place the tortillas in a shallow pan and pour milk over them. Turn them to make sure they all get covered in the milk. Let the tortillas soften for 5-10 minutes. Place a tortilla on a flat surface and spoon about ½ cup of the pie filling in the middle. Fold sides in until they almost touch in the middle. Roll up from the bottom to form a little bundle. Repeat with remaining tortillas and filling. Heat butter in saucepan over medium heat and brown the blintzes, turning over as needed to brown on both sides. Start them off seam side down, to keep them from popping open. Place on serving dish and dust with powdered sugar. Serve warm. Makes 8-10.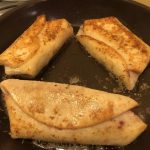 Browning in the skillet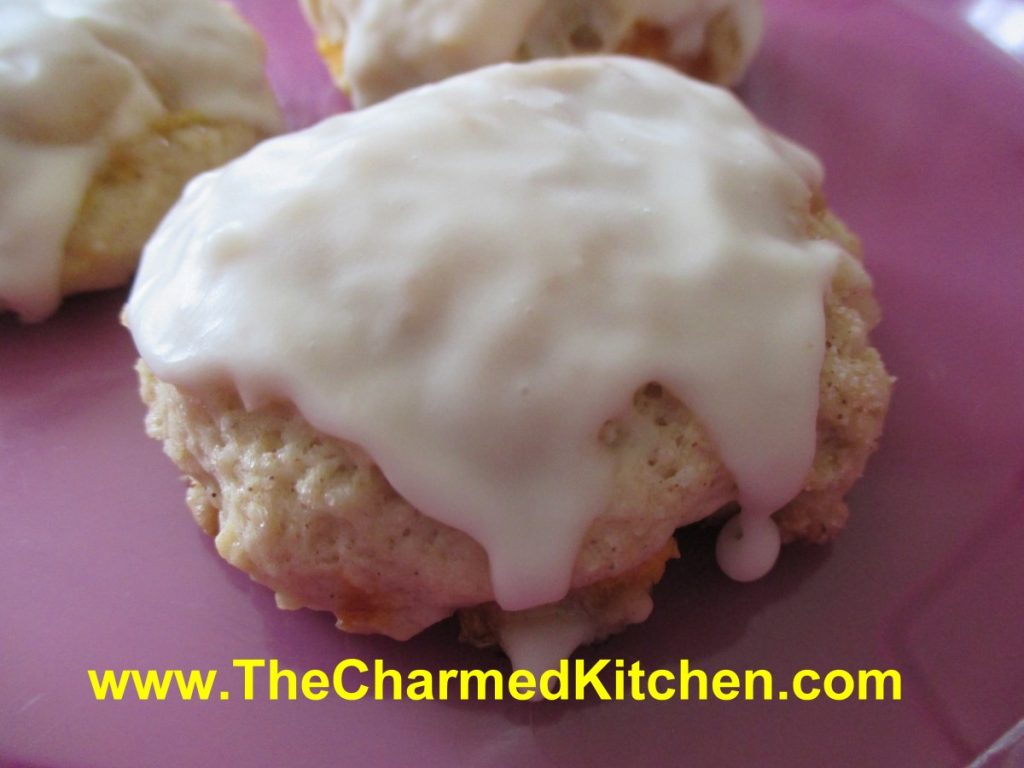 I've really been in the mood to make scones lately. It has been hot, so I haven't been baking as much. Scones bake pretty quickly, though. These were well worth heating up the kitchen for a little while. Since I had some beautiful peaches, I decided to use them in the batter.
They worked out even better than I had hoped. I added cinnamon, nutmeg and cloves into the dough, for a little extra flavor. Nicely complimented the sweetness of the peaches.
These are wonderful for breakfast, brunch or with tea or coffee. They would also make a nice base for shortcake. I could see them with berries and whipped cream for a perfect summer dessert.
I used a 2 oz. cookie scoop and got 25 scones. You could make them bigger, just increase the baking time a couple of minutes. I also placed only one baking sheet in the oven at a time. You could put both in at once, but reverse the rack you have them on- half way through baking- so they bake more evenly. Also, if both trays are in the oven at once, increase baking time a couple of minutes.
Fresh Peach Scones
3 cups flour
½ c. sugar
1 tablespoon baking powder
1 t. cinnamon
1 t. nutmeg
Pinch of cloves
½ t. salt
10 T. cold butter (1 stick plus two tablespoons)
¾ c. half and half or milk
1 egg
1½ t. vanilla
1½ c. peeled, chopped peaches – about 3-4 peaches
Glaze:
2 c. powdered sugar
About 2-3 T. half and half
1 t. vanilla
Preheat oven to 425. Line 2 baking sheets with parchment paper, or use silicone liners. In a bowl, place the dry ingredients and stir to mix. Cut in butter to resemble coarse crumbs. Make a well in the center and stir in half and half, vanilla and egg. Stir to make a soft dough. Fold in peaches. Use ice cream scoop to make scones, placing scoops of dough onto baking sheets. Bake until browned – 14-16 minutes. Cool on a rack. Make glaze and dip tops of scones in glaze or drizzle it over them. Makes 22-25 depending on size.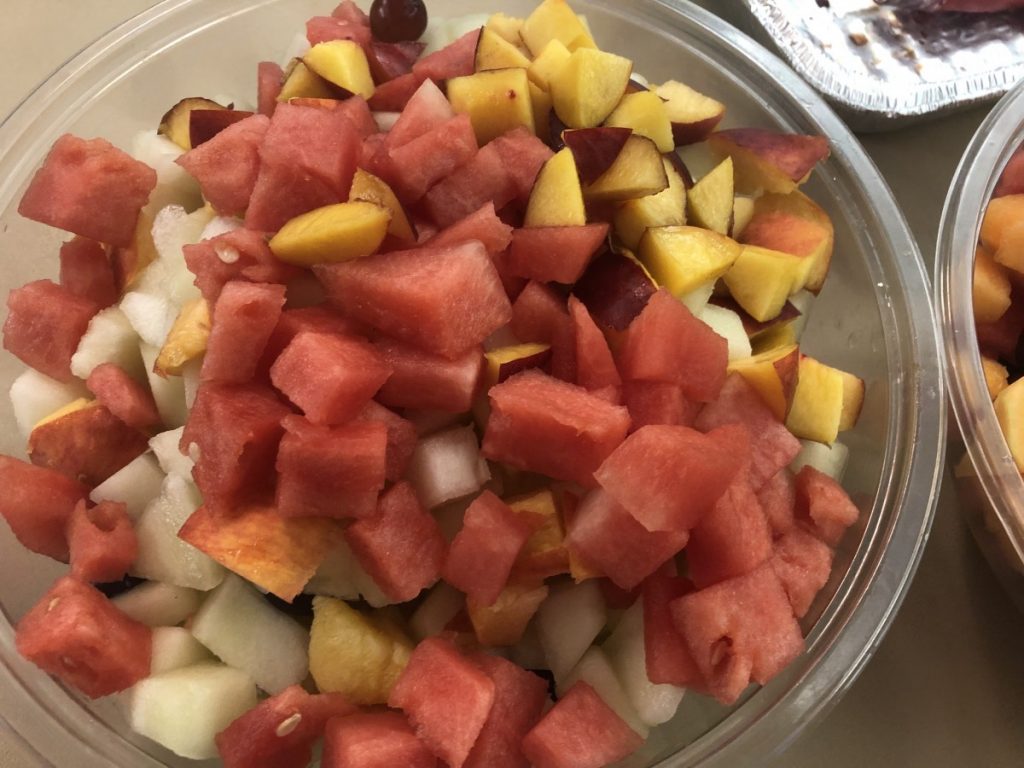 It was so hot today, so we decided to make salads in camp. The kids worked so well together to create four different salads. I think they liked the fruit salad best, but the pasta salad, purple potato salad and taco salad were also big hits.
Lucky we weren't cooking today. Besides the heat (our kitchen has no air conditioning), we had a power outage for part of the class. the kids just kept on chopping and combining and measuring to make their beautiful and tasty creations.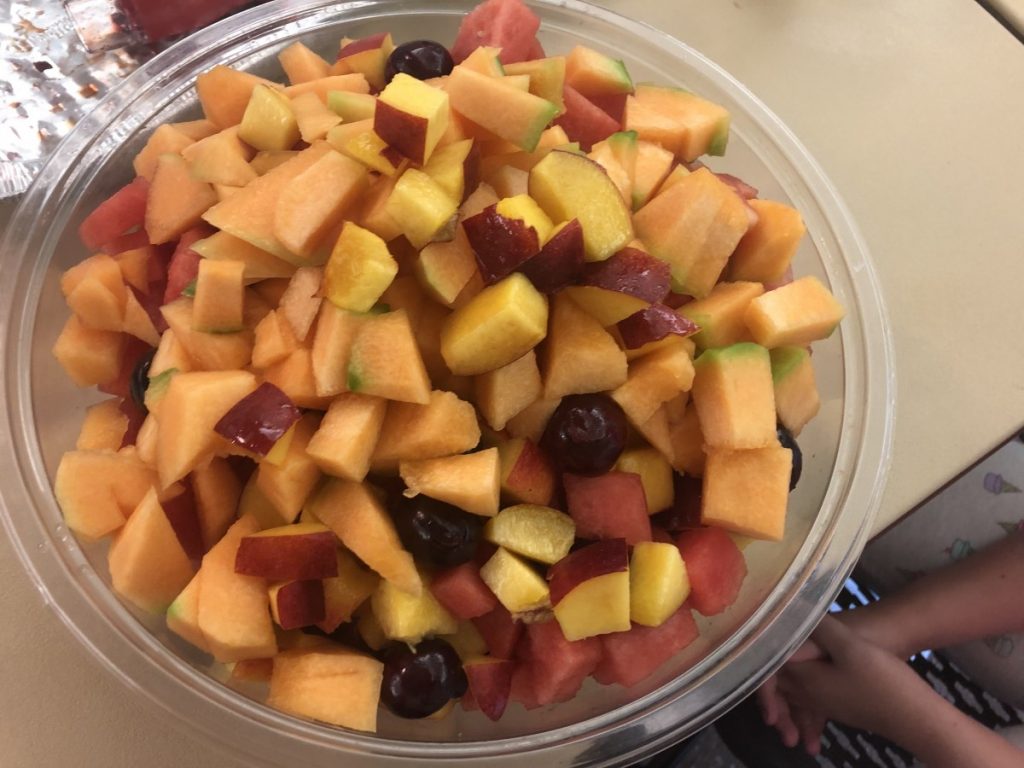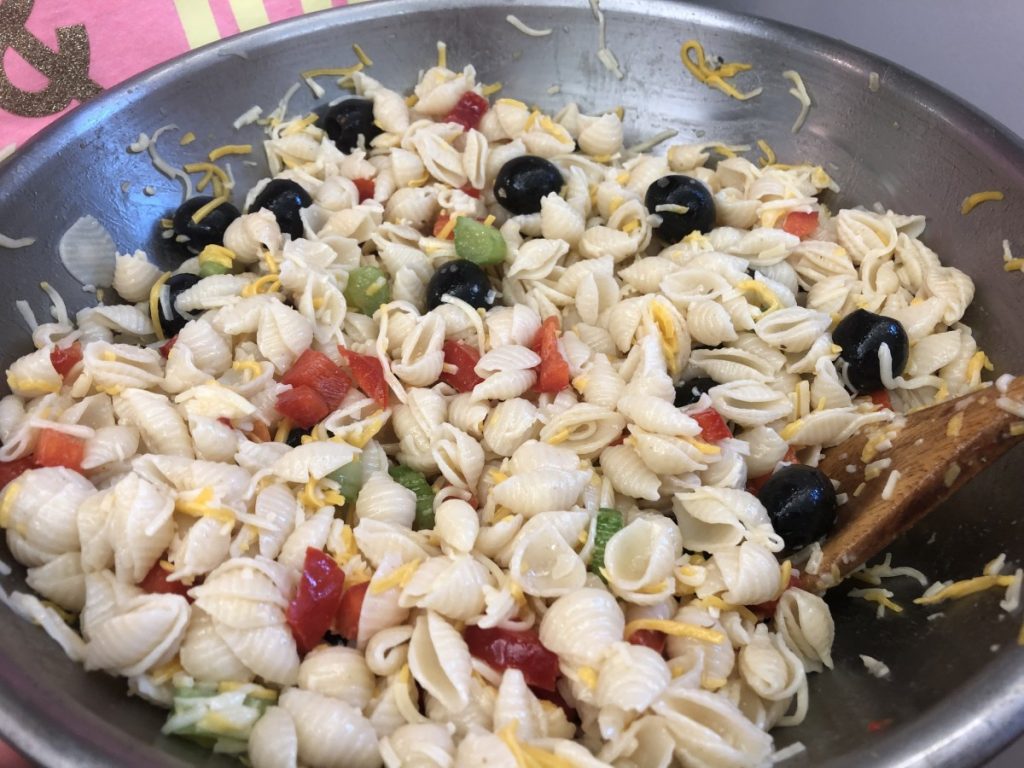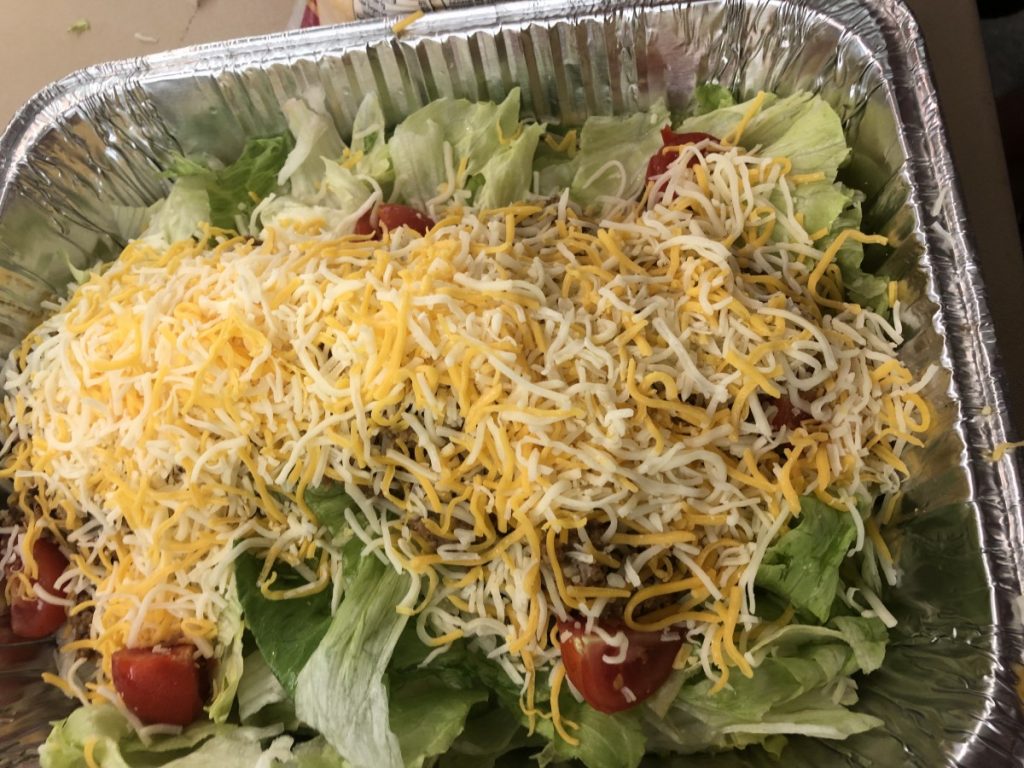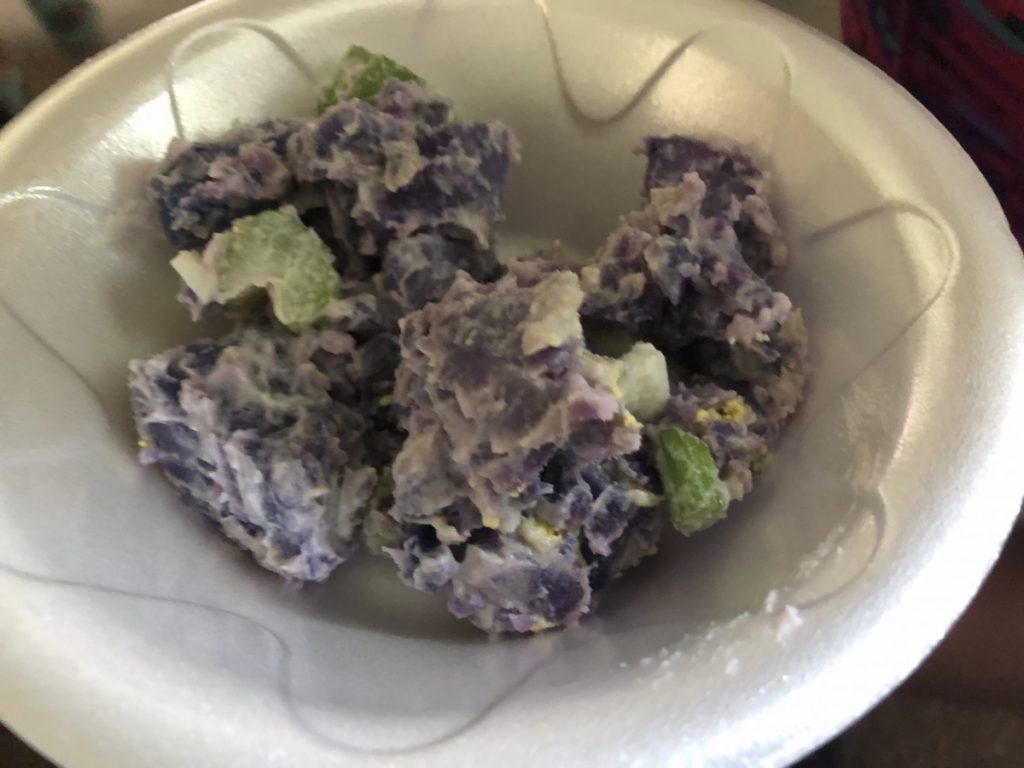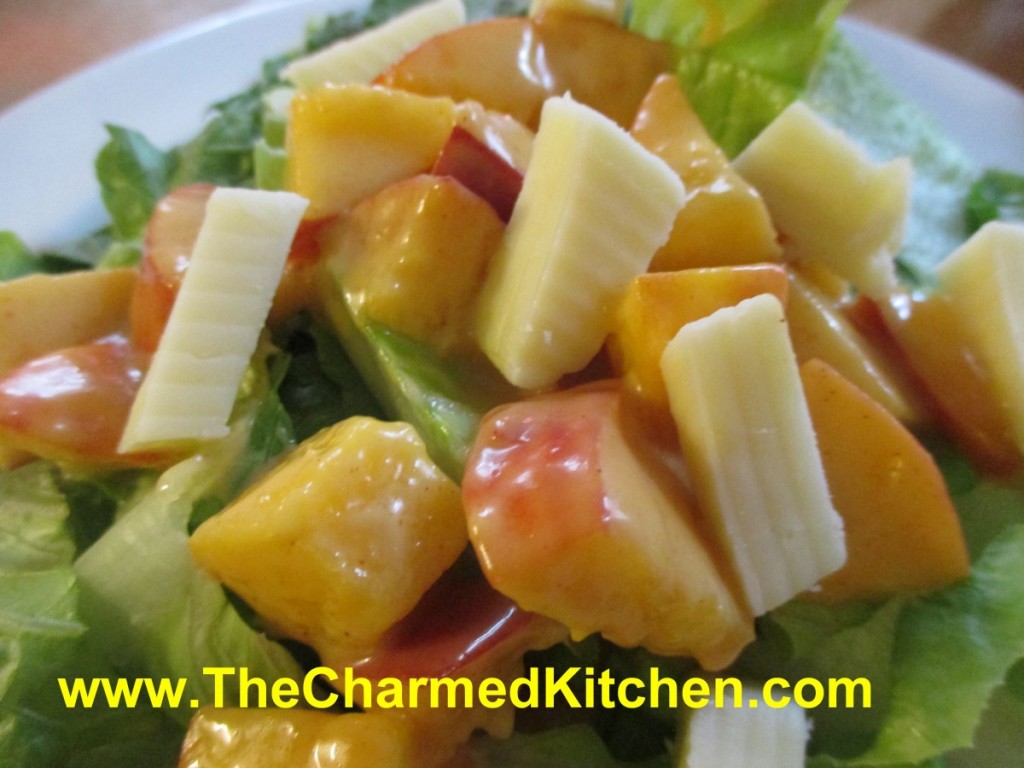 When you think about cooking with peaches, don't limit yourself to desserts and jam. Peaches can pair well with savory dishes, too. I often use peaches for glazes and sauces for meats.
In this dish, I paired peaches with traditional chef salad ingredients. I tossed the peaches in a homemade honey French dressing, then spooned them over the salad. The result was wonderful- and a great lunch or dinner option for hot weather.
You can top the salad with cheese, meats or both. I like to add some nuts, too. I made it for lunch yesterday and topped the salad with sharp cheddar cheese and bacon. I really liked the combination of the sweet fruit with the smoky bacon. Use what you like- and what you have on hand.
A chef salad is a great way to use up that leftover grilled chicken or that open package of cheese. Add extra veggies, too, if you like. It also makes a wonderful meal when you don't want to cook. Lovely, cool meal for a hot day.
Peach Chef Salad
Honey French Dressing:
1/3 c. honey
1/4 c. white wine vinegar or cider vinegar
1 t. paprika
1 t. dry mustard
1/4 t. salt
1/2 c. olive oil
3 cups chopped peaches
Salad:
6 c. torn salad greens
12 oz. cooked chicken, turkey, ham etc, cut into strips
1 c. cubed cheese
1/2 c. cashews, optional
To make the dressing, in blender, combine first five ingredients and start running machine on high. Add oil in a slow stream until mixture becomes thickened. Pour into bowl and stir in peaches and chill, several hours if you can. When ready to serve arrange greens on one large platter or on smaller salad plates. Arrange meat and cheese on platter or plates. Spoon over the peach/dressing mixture, add cashews, then serve. Serves 4-6.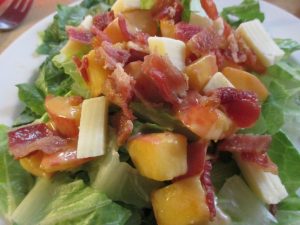 Salad topped with bacon and cheese