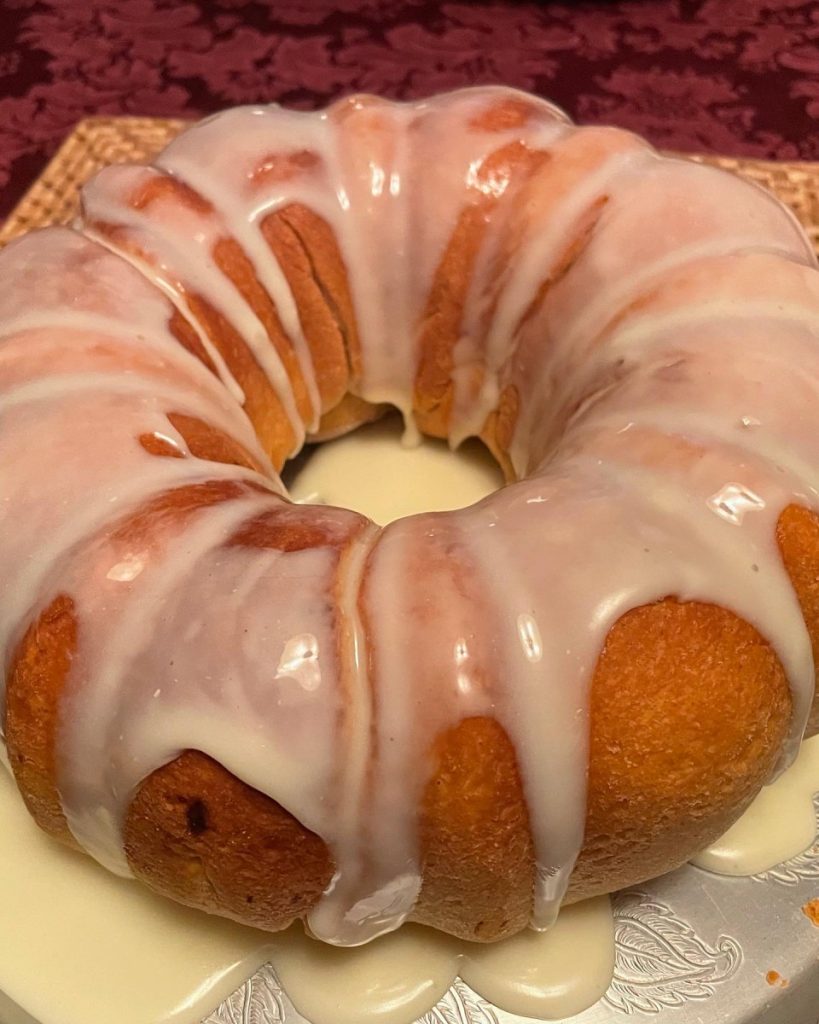 Last year, for April Fools' Day and a friend's birthday, a group of friends created a dinner made of food imposters. This may look like a Bundt cake, but it is actually a pizza bread. I made dough, rolled it out into a rectangle and added cheese, sauce and sausage. Then I sealed it up and put the dough in a greased Bundt pan. I let it rise and baked it.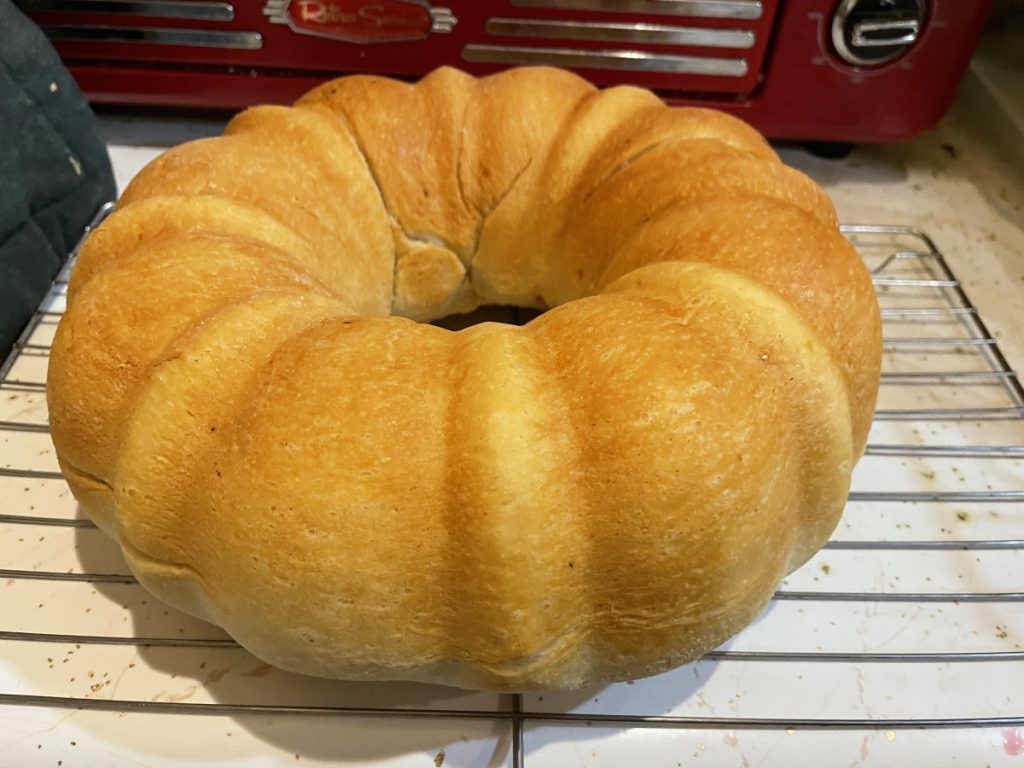 When it came time to serve it, I warmed it in the oven and made a mozzarella "frosting". To make it nice and smooth I combined hot water, milk and sodium citrate. I then added the cheese. I simmered it until the cheese melted. Sodium citrate helps to make cheese extra melty and smooth. I poured it over the "cake" and served it. It really was a lot of fun.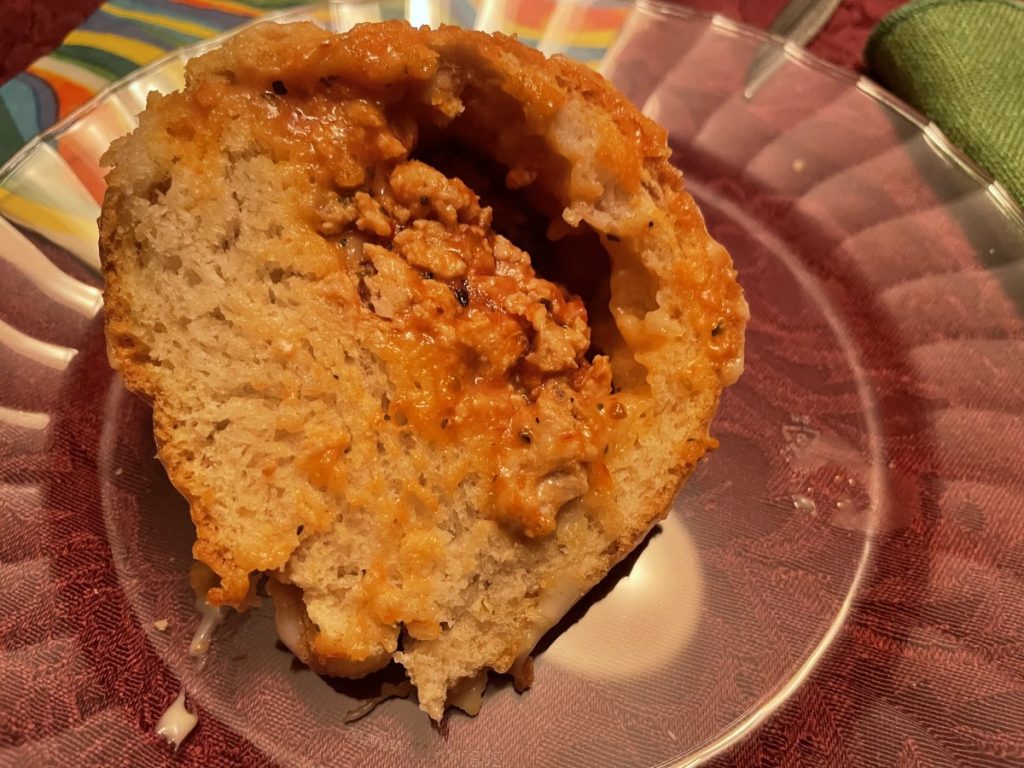 These rich rolls are a traditional at Easter. At least they are in my house. The dough is rich and slightly sweet. The frosting on top adds to their sweetness.
Hot cross buns can be served at breakfast, brunch or even as a dinner roll. I have served them with coffee, after dinner. So I guess they can be a dessert, too. If you have leftover hot cross buns, you can use them to make bread pudding. I do!
Because the dough is rich, they are slow to rise. If they aren't jumping out of the pan after an hour or so, don't worry. They do rise quite a lot in the oven.
After they cool a bit- pipe on the icing in the crisscross pattern that gives these rolls their name.
Hot Cross Buns
2/3 c. sugar
1 t. salt
2 packages active dry yeast
About 5 cups bread flour
1 ½ c. milk
½ c. butter
2 eggs
1 c. raisins
Icing
¾ c. powdered sugar
1 T. milk
In bowl combine sugar, salt, yeast and about 1 ½ c. flour. Heat together milk and butter until very warm. Beat milk mixture into to flour mixture and beat 2 minutes with electric mixer. Beat in 1 egg and 1 cup flour and beat 2 more minutes until batter thickens. Stir in raisins and enough additional flour to make a soft dough. Turn dough onto a floured surface and knead until smooth, about 10 minutes. Place dough in greased bowl, turning to grease top, cover with a towel and allow to rise in a draft free place until doubled in bulk, about 1 hour.
Place dough on floured surface and divide into 15 equal pieces. Cover with towel and lest rest 15 minutes. Meanwhile grease a 9×13 inch pan. Form dough into smooth balls and place in prepared pan. Cover and let rise until doubled, about an hour. Preheat oven to 350 degrees. Beat remaining egg. Cut a cross in each bun and brush with the egg. Bake for 25 minutes or until buns are golden. Remove buns to wire rack to cool 15 minutes. Make frosting, place in decorating bag and pipe onto buns. Makes 15.
These slightly sweet bunny breads are a great addition to your Easter table. They can be used for breakfast or brunch. They could also be served with dinner, minus the candies!! The dough itself has plenty of cinnamon flavor and a slightly dense texture.
They are moist enough to eat just the way they are, or spread with butter. My favorite parts are the feet- which are a little crunchy. The recipe makes 6 bunnies. I chose to decorate mine with melted white chocolate and candies, but they are also pretty when left un-decorated. This would be a fun decorating activity for kids, too.
Cinnamon "Bunny" Breads
6-6½ c. flour
¾ c. sugar
2 pkts. Active dry yeast
1 T. cinnamon
1 t. salt
1 c. milk
½ c. water
¼ c. butter – half a stick
5 eggs – save one for brushing the breads
White chocolate and tiny candies for decorating
In mixing bowl place 2 cups of the flour with the other dry ingredients. Heat milk, water and butter together until very warm. Butter does have to melt completely. Place milk mixture in bowl with flour mixture and beat for 3 minutes. Add another cup of flour and beat another 2 minutes. Beat in 4 eggs and gradually add enough flour to make a soft dough. Place dough on a floured surface. Knead until smooth. Return dough to bowl and cover, allowing to rise until doubled, about an hour. Grease two large baking sheets, or cover in parchment or use a silicone liner. You will put 3 bunnies on each sheet. Place dough on floured surface. Divide into 6 pieces. Each piece will be a bunny. To form a bunny, take about a third of one of the pieces of dough. Shape into a round and place on a greased baking sheet. This is the body. Use about ¼ cup of the dough to form the head. Flatten the head a little on one edge and tuck the flattened part under the body. Pinch off a tiny piece for the nose and place on the head. Divide the rest of the piece of dough into 6 pieces. Use 4 pieces to form the feet. Shape into balls and tuck one edge under the body, like you did with the head. Use the last two pieces for the ears. Roll each into a tube, shape a little to look like ears, and stick one edge under the head. Repeat with the rest of the dough pieces. You'll end up with 6 bunnies. Cover with plastic wrap, then a towel, and allow to rise in a warm place until doubled, 30-60 minutes. Preheat oven to 350 degrees. Combine remaining egg with a tablespoon of water and beat to combine. Remove the plastic wrap from the bunnies. Brush the bunnies with the egg mixture, covering completely. Bake for 20-25 minutes, or until golden brown and bread sounds hollow when tapped lightly. I switched the baking sheets in the oven after 10 minutes, so the bunnies bake evenly. Cool on rack. Once cool, decorate with melted chocolate, piped on to make whiskers. You can also use the melted chocolate to affix candies. Makes 6 bunnies.
ready to bake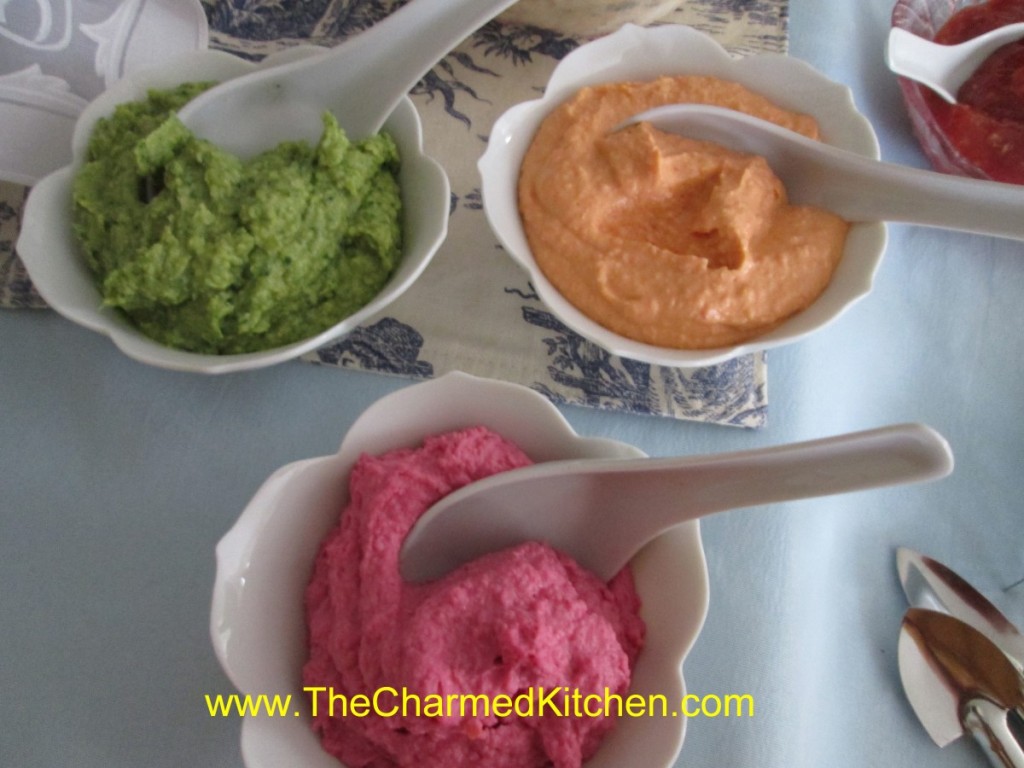 Hummus is always a favorite at parties around here. I've made classic hummus and have made variations with roasted peppers, black olives and garlic scapes.
I always remember the time my dear friend, Amy, wanted her hummus to be really colorful. It was for her Easter dinner. I believe that was the same year she dyed the egg whites for the deviled eggs. Amy really knew how to get the details right.
She and I had talked about how best to make tasty, colorful hummus. She decided to make spinach hummus and beet hummus in addition to her classic hummus. She wanted something that tasted good, but looked like Spring. She ended up with a beautiful array for Easter dinner that year. Tasty, too.
Here are the directions for making them.
Hummus
1 can garbanzo beans, drained, or about 2 cups cooked garbanzos
1/4 c. olive oil
2 T. lemon juice
2 T. tahini (sesame seed paste)
2 cloves garlic
salt and hot pepper sauce to taste
Combine all ingredients in a blender or food processor until smooth. Adjust seasonings. Chill. Serve with pita bread, crackers or fresh vegetables. Also nice spread in a pita bread with sliced tomatoes, cucumbers and lettuce. Freezes well.
Green Hummus (Spinach)
Make the original hummus recipe from above but add 2 c. fresh spinach and ½ c. chopped cilantro.
Pink Hummus (Beet)
Make the original hummus recipe from above but add 2-3 small cooked beets.
Note: You might want a little more salt in either of these recipes or a bit more lemon juice.
Miss you, Amy.
It isn't hard to do, but there are rules.
Because beans are a low acid food, they must be pressure canned. They also are precooked a little before they are canned. They don't overcook when you do that. It just helps them to cook evenly and to get proper heat penetration.
Salt is optional, so you can leave it out, if you like.
Make sure you pick over the beans and toss any that are discolored.
They expand a lot when cooking. I started out with 2 pounds of dry garbanzo beans and ended up with 8 pints!!! Always use a bigger pot than you think you will need.
So here are the directions.
Canning Dry Beans- Chickpeas, kidney, black beans etc.
Rinse beans and place in a large pot. Cover with plenty of cold water and bring to a boil. Boil two minutes. Let stand 1 hour. Drain beans and return to pot. Cover with cold water- at least two inches over the beans. Bring to a simmer and simmer 30 minutes. Meanwhile, wash jars and get the pressure canner ready. Follow your manufacturer's recommendations for how much water to place in your canner. Some say 2 or 3 inches of water. Mine says to add three quarts of water. I also add a little vinegar to my water to reduce mineral build up inside my canner. Not a safety issue, more cosmetic. A few tablespoons is plenty.
Ladle beans and water into canning jars, leaving 1 inch of headspace. Add non-iodized salt, if you like. 1/2 teaspoon per pint and 1 teaspoon per quart. Beans will still expand, so make sure the water covers them. Tighten lids to fingertip tight. Place jars in canner, on a rack, where water should just be simmering. Secure lid and turn up the heat. Once a steady stream of heat comes out of the vent, start timing it. Steam must vent for ten minutes. Place weighted or dial gauge over the vent and watch while canner comes up to pressure. Once canner reaches 10 pounds pressure, start timing. You will gradually be able to turn the heat down, but do it slowly, so you don't go below 10 pounds pressure. Pints are processed for 75 minutes, quarts for 90 minutes.
Once the time is up- turn off the heat and allow the canner to go down to zero pounds pressure. Don't rush this step by trying to cool the canner. The cooling down time is part of the process. Remove the gauge carefully at this point. Wait another 10 minutes before removing the lid of the canner. Remove lid, facing away from you- there is still plenty of hot steam in the canner. Remove jars to a counter covered with a towel or cooling rack. Allow jars to cool before checking seals.
Sources NCHFP, Ball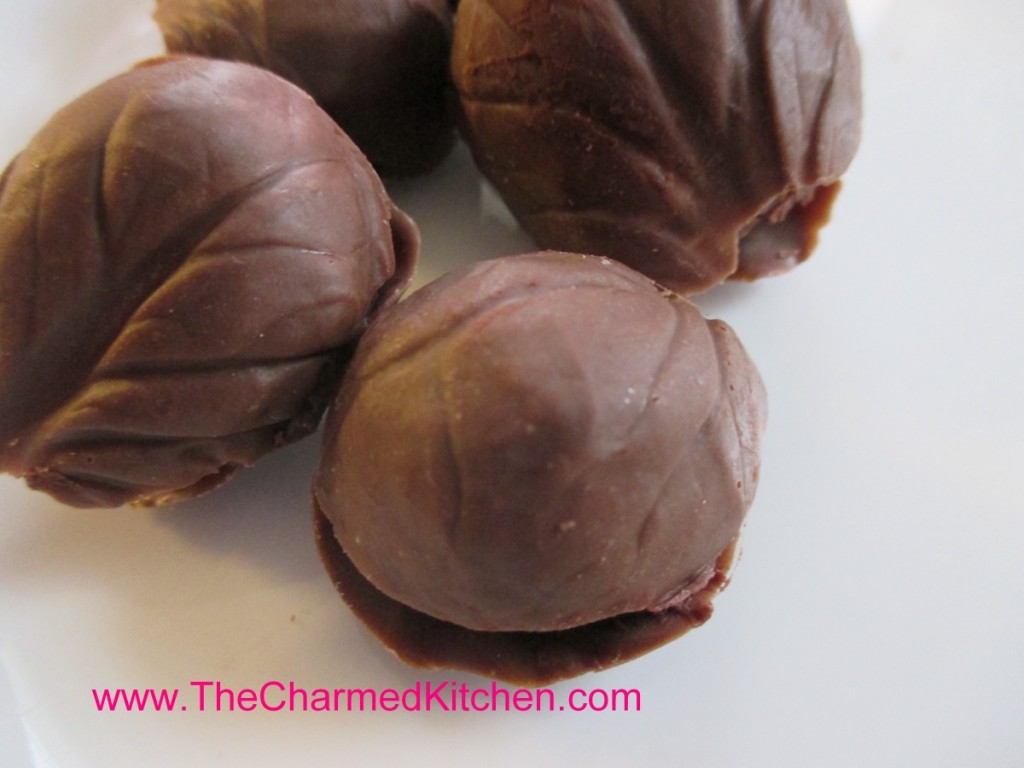 Before you think these have any Brussels sprouts in them- they don't. These truffles are all chocolate. The center is a chocolate truffle. The "leaves" are made by  painting Brussels sprouts leaves with melted chocolate. Once the chocolate  hardens, the leaves are peeled off. What remains looks like a Brussels sprout!!
This might be one way to get someone to eat Brussels Sprouts. Also a fun food to serve on April 1st.
I made my truffle recipe and put it in the fridge to firm up. The recipe follows.
Then I took some of the larger outer leaves off Brussels sprouts. I trimmed the bottoms off to make peeling of the leaves easier. You'll need two leaves for each truffle so be sure to have plenty. I had about 60.
You'll also need a few ounces of chocolate, for coating the leaves. Use whatever chocolate you like. The better quality of chocolate you use, the better the truffles. I wiped the leaves clean, and then melted several ounces of chocolate. I used a pastry brush to brush the insides of the Brussels sprout leaves with the melted chocolate. Once the chocolate had hardened, I gently peeled off the leaves and discarded them. Since the leaves were different sizes, I rolled out portions of the truffles that would fit the size of the leaves I was using. I pressed the truffle mixture in one leaf and then placed another leaf, of similar size, over the filling.
Normally I would roll the truffles in cocoa powder- but in this case, I didn't. I wanted the truffles to stick to the leaves and leaving them plain seemed like the best way to do that. The end result was very cute. Store in fridge until ready to serve.
Chocolate Truffles
1/3 c. whipping cream
6 T. butter, cut into small pieces
2 c. chocolate chips- or 12 oz. bittersweet chocolate, grated or chopped coarsely
Unsweetened cocoa
Heat cream to boiling in small saucepan. Stir in butter and cook until melted. Remove from heat and stir in chocolate until melted. Place in shallow bowl and chill until firm, at least a couple of hours. Roll mixture into 1-inch balls and roll in cocoa. Sometimes the mixture is quite firm and hard to roll into perfectly smooth balls. You can roll them out as smooth as you can, roll in cocoa and then roll again to smooth out. You might want to give them another roll in the cocoa after that. Makes about 30.
Note: For using as Brussels sprouts I skipped the rolling in cocoa part.  
This Easter bread wreath, with eggs baked on top, is a fun bread to make for the holiday. It is a tradition in many families.
I hadn't made one in a long time, and when I went to find my recipe, I couldn't locate it. I decided to make a new recipe.
I wanted it to have a lot of flavor- something that would be fun served at a breakfast, brunch or with dinner, but not too sweet. I added spices and raisins, but I could see using other dried fruits.
I left it plain on top – but you could easily add a powdered sugar glaze. No, I did not hard cook the eggs first. They cook while the bread is baking. Saves a step, for sure.
I tested the bread out with friends. Almost half was eaten before dinner, so I am confident to say, that this recipe is a winner. The texture of the bread is really nice and the dough is richly spiced.
I added mace, but if you don't have any mace, add a little more nutmeg or allspice. Mace is a spice I would encourage you to try sometime. So here is the recipe. Hope you like it as much as we did.
Cinnamon Raisin Easter Wreath Bread
4½ -5 c. flour
1 pkt. yeast
½ c. brown sugar
2 t. cinnamon
1 t. salt
½ t. allspice
½ t. nutmeg
½ t. mace
1 c. warm water
½ c. butter, melted
2 eggs
½ c. raisins
5-6 uncooked eggs, dyed if you like
Combine 2 cups flour, yeast, sugar, seasonings and salt in large bowl. Heat together water and butter until warm and add to flour mixture. Beat 2-3 minutes. Beat eggs and reserve 1 tablespoon of the eggs for brushing the top of the bread later. Add remaining eggs and another cup of flour to the bowl. Beat 4 minutes. Add the raisins and enough of the remaining flour to make a soft dough. Knead on a floured surface until smooth and elastic, but still soft. Place in oiled bowl turning to oil top. Note: I actually used my stand mixer, and just left the dough in the bowl to knead, and then covered it to rise. I was able to leave the dough a little sticky this way, using less flour. Cover and let rise until doubled, about 45 minutes. While dough is rising, prepare a pan. Grease a large baking sheet- or use a silicone baking mat. Grease a one cup oven-proof custard cup and place it upside down on the middle of the baking sheet. This will keep a "hole" in the middle of your wreath. If you don't have a custard cup, you can use a metal one-cup measure instead. Punch dough down and divide in three pieces. Roll each piece into a 20-inch long rope. Braid the ropes together. Wrap the braid around the custard cup on the baking sheet and pinch ends together to keep the braid from coming apart. Cover and allow to rise until doubled (50-60 minutes). Just before baking, combine reserved egg with a little water and brush the wreath with the egg wash. Place 5 or 6 eggs on the top of the braid- being careful not to press down too hard. Bake in preheated 350-degree oven for 25 minutes. Cover bread with foil and bake 10-15 minutes longer, or until bread sounds hollow when tapped lightly. Here is the only tricky part. You have to remove the wreath, but not drop the glass custard cup in the middle. You can let the bread cool a few minutes before moving. I use a silicone baking sheet so I slide the whole thing off the baking sheet and onto a cooling rack. I use two large spatulas to lift the wreath up and leave the custard cup behind. If it doesn't come right out, use a knife to loosen. Lift the wreath up enough to slide the custard cup out. Let cool before serving- store leftovers in fridge, because of the eggs on top. Makes 1.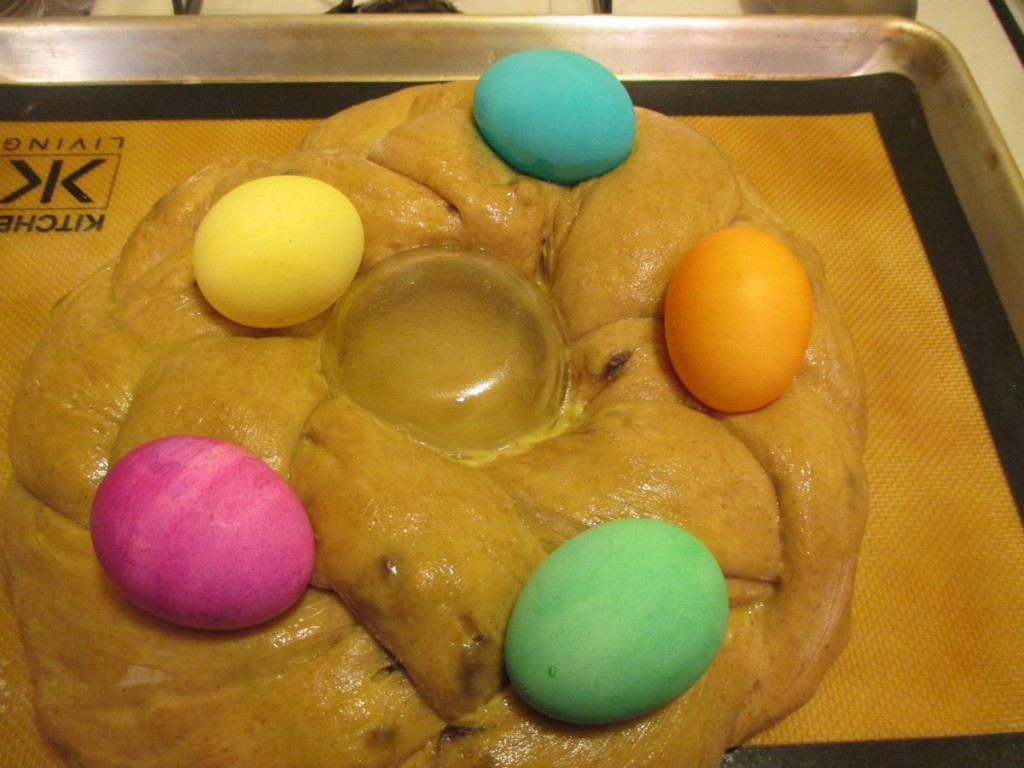 Trifle is one of those desserts that can be whatever you want it to be. The basics of a traditional trifle are sponge cake, layered with some sort of pudding or custard and fruit. The cake is sometimes soaked in sherry or some other alcohol. Trifles are often topped with whipped cream.
This trifle combines angel food cake with blueberry pie filling and lemon curd. I love the combination of flavors.
Once you have all the ingredients, the trifle is simple to assemble. Pick a nice, glass bowl, so you can see the layers in the trifle. It is best to put your trifle together a bit in advance, so the cake can soak up some of the moisture from the berries and the lemon curd. It also helps the trifle to stay together. You can actually slice the trifle to serve it.
So here is the recipe. I made the pie filling and the lemon curd, but you can use store bought, to save time.
Blueberry Lemon Trifle
1 angel food cake, sliced thin
2 c. blueberry pie filling- homemade or store bought- recipe follows
2 c. lemon curd- recipe follows
1 c. whipping cream
1/4 c. powdered sugar
Place a layer of cake slices in the bottom of the bowl. Spread half of the blueberry mixture on top of the cake. Place another layer of cake slices on top of the blueberry layer and press down a little to even it out. Cut cake pieces to fit as best you can. Add half of the lemon curd and top with more cake. Repeat the process one more time. Don't worry if something isn't perfect in the layers- that is kind of the charm of a trifle. Just be sure to get all the ingredients in the bowl. Cover and chill the trifle. When ready to serve beat the whipping cream and powdered sugar together until stiff peaks form and spread over the trifle. You can do this part ahead of time, if you prefer, Just keep trifle, covered, in the fridge, until ready to serve. Serves 6-8.
Blueberry Pie Filling
3 1/2 c. blueberries
3/4 c. sugar, or to taste
1/4 c. Clear Gel* or cornstarch
1 c. water
1 T. lemon juice
In saucepan, bring blueberries and sugar to a boil, stirring often. Combine clear gel with water and lemon juice and add to the blueberry mixture. Return to the boil and cook until thickened and bubbly. Makes 4 cups. You won't need the whole batch for the trifle.
*Clear gel is a modified cornstarch. It is used in commercial pie fillings and in homemade pie fillings, as well. Unlike regular cornstarch, Clear Gel retains it's thickness, even if you reheat it. You can find it online or in some specialty food stores.
Lemon Curd
1/2 c. lemon juice
zest from one good sized lemon- you should have 2-3 teaspoons
1/2 c. sugar
3 eggs
6 T. unsalted butter- cut into little cubes
In medium saucepan combine all ingredients. Whisk the mixture until the eggs are well blended. Cook over medium low heat, whisking often, until the mixture thickens. This will take 5-7 minutes. Whisk more often as mixtures warms and starts to thicken. Better to heat over lower heat and take longer than over too high a heat. You don't want the eggs to scramble. Once the mixture is thickened , transfer to a bowl or jar. Cover the surface with a piece of plastic wrap to keep the surface from developing a skin- like any pudding will do. Chill until ready to use. Makes about 2 cups. Will keep in fridge a week or two.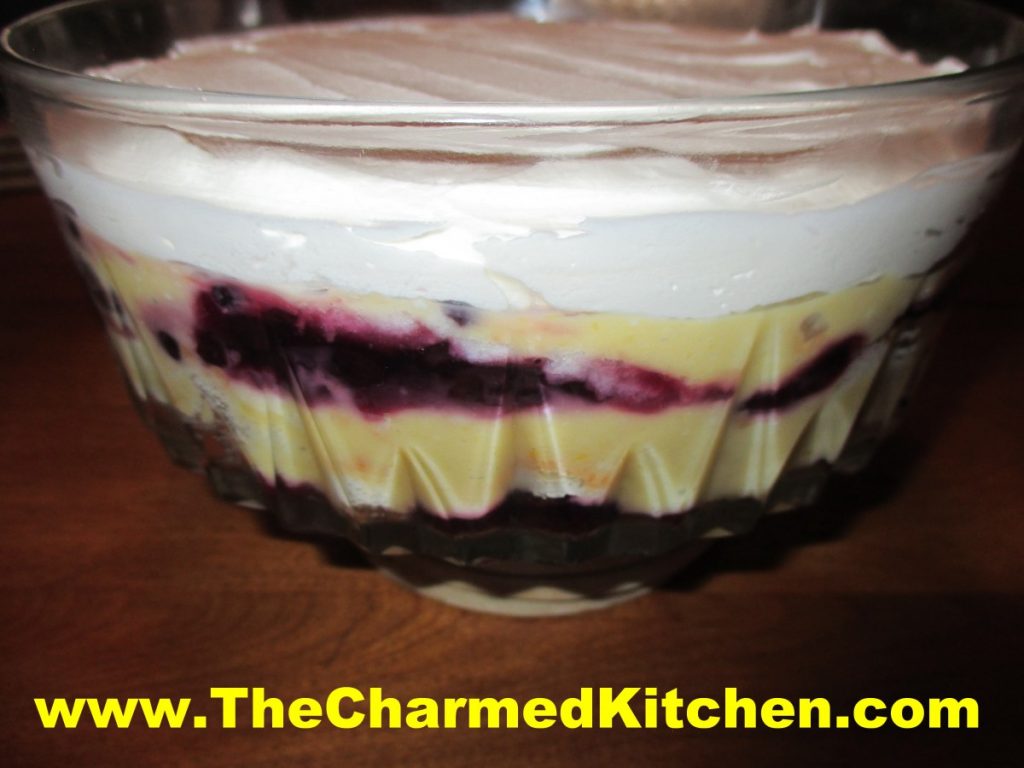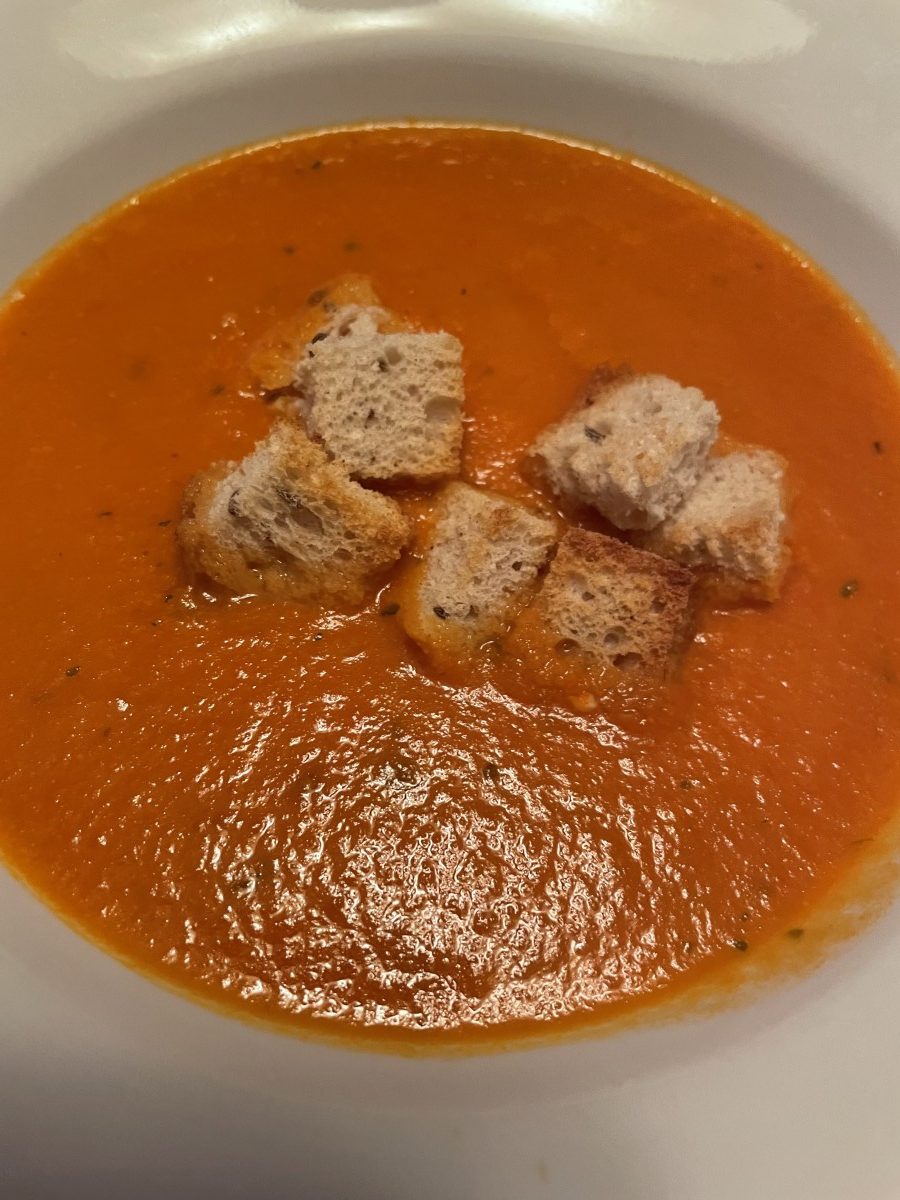 This is a fast and easy soup to make and full of flavor. I can tomatoes in the summer, so that is what I used. You can use store bought. If you wanted to use fresh tomatoes, you would need about 2 pounds. I just love the flavor of my home canned tomatoes so much. Next best thing to fresh.
After the soup was finished, it occurred to me that it was vegan. I hadn't planned it that way, it was just how it worked out. I used an immersion blender to puree the soup. If you don't have one, you can puree it in a blender. You just have to be careful when blending anything that is hot. It will splash up. To avoid getting burned, remove the center piece from the blender lid and cover with a towel before you turn it on.
I simmered the soup uncovered, because I wanted it to cook down a bit to be thick once processed. It only took about 15 minutes. You can cook it longer, if you want a thicker soup. I served it with toasted rye bread croutons, but it would be fine just as it is.
Zesty Tomato Soup
3 T. oil
1 medium onion, chopped
1 rib celery, chopped
1 sweet pepper, seeded and chopped
1 qt. canned tomatoes, or 1 (28 oz.) can whole tomatoes
Cayenne pepper to taste
2 T. fresh parsley or 2 t. dried
1 c. almond milk- or whatever milk you prefer
Salt and pepper to taste
In medium saucepan heat oil and cook onion until it starts to brown a little. Add the celery and pepper and cook about 5 more minutes. Add tomatoes and simmer, uncovered, until vegetables are soft, about 15 minutes. Use an immersion blender to puree the soup and add remaining ingredients. Adjust seasonings. Serve as is, or with croutons. Serves 3-4.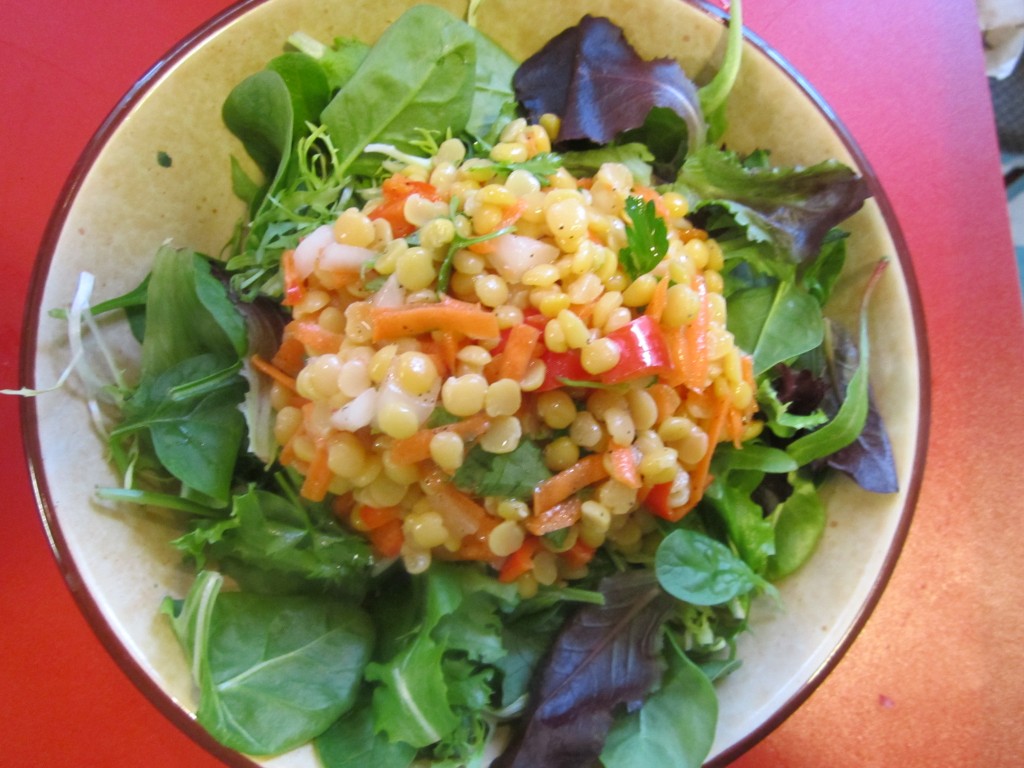 Today's recipe is a tasty vegetarian salad that is as satisfying as it is pretty.  The color is bright, just perfect after several days of rainy weather. If it doesn't feel like Spring outside, it can feel like Spring inside.
When I say split peas, what comes to mind? Split pea soup? GREEN split pea soup? Years ago my dear friend, Dale Gallis, turned me on to yellow split peas. I started making soup from them, but also use them in salads.
The yellow split peas are combined with carrots, sweet onion, sweet peppers and fresh herbs, then tossed with a simple combination of apple cider vinegar and olive oil. You can serve it right away, or let the flavors blend in the fridge for a bit. I served my salad over a mix of Spring greens.
Yellow (or green) split peas cook to al dente in about 20 minutes, so they are a quick option, too. Much shorter cooking times than other legumes.
Sunny Spring Salad
1- 1 1/2 c. raw yellow split peas
salt
1 carrot, peeled and shredded
1/2 c. chopped sweet onion
1/2 c. chopped sweet pepper
1/2 c. chopped parsley
1/2 c. snipped chives
1/4 c. olive oil
1/4 c. cider vinegar
salt and pepper to taste
6 c. mixed Spring greens
Rinse peas and place in a saucepan. Cover with water and add a little salt. Bring to a boil and simmer until peas are tender, about 20 minutes. Drain and rinse under cold water. Combine peas with carrots, peppers and onion and toss well. Add parsley, chives, oil, vinegar and salt and pepper to taste. Chill until ready to use. Serve on greens. Serves 3-4.