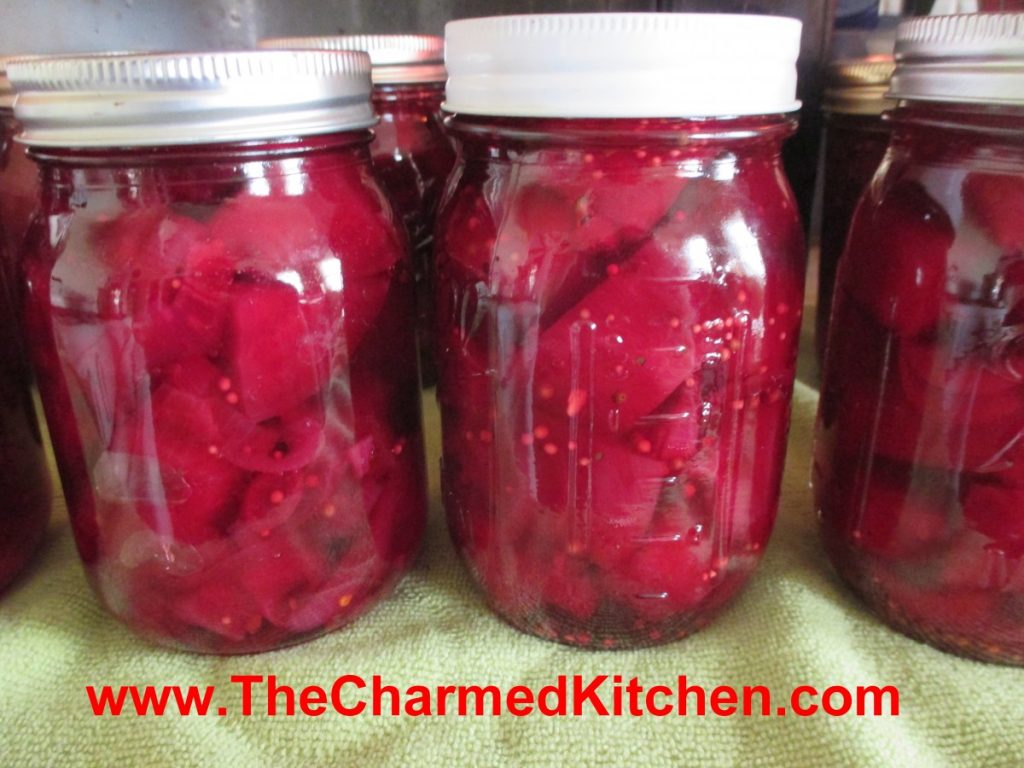 Beets are just one of those foods. People seem to love them, or hate them. I am a beet lover. I enjoy them in all sorts of dishes. The nice thing about making a batch of pickled beets is being able to open up a jar whenever you want.
This recipe is a pretty classic way to preserve beets. The brine is a sweet and sour mixture with pickling spice, salt and red pepper flakes for added flavor. You could play around with the seasonings a little. Maybe adding more heat.
Pickled beets are great served as a side dish with all sorts of foods. I like them served with cheeses, crackers and other pickled foods as an appetizer. If you don't want to can them- you can store them in the fridge for up to a couple of months.
Spicy Pickled Beets
4 lbs. beets, smaller sizes preferred
3 c. thin sliced onions
2 c. sugar
2 T. Pickling spice
1 T. canning salt
2 t. red pepper flakes
2½ c. cider vinegar- 5% acidity
1½ c. water
Wash and trim beets, leaving a couple inches of stem attached. Cook in boiling water until tender. Cool beets down so you can handle them. Peel beets and cut into 1½- 2-inch diameter pieces, if beets are large. Leave whole if beets are small. Set aside. Combine the rest of the ingredients in a pot and bring to a boil. Reduce to simmer and simmer 5 more minutes. Add beets and cook a few minutes, until beets are warmed through. Ladle hot beets into clean pint jars, leaving ½ inch headspace. Ladle in hot liquid, leaving ½-inch headspace. Remove air bubbles, wipe off rim, screw on lid to finger-tip tightness. Repeat with remaining beets and liquid. You should fill about 5 pint jars. Process in a boiling water bath for 30 minutes. Turn off the heat and leave jars in water bath 5 minutes before removing to counter to cool. Yield: 5 pints.
Adapted from The Ball Blue Book
I got these beautiful beets a couple of days ago. Very fresh and the leaves are even dark red. I had been thinking of how I wanted to cook them. Decided to roast them and then go from there. To roast beets just wash them and trim off the greens- leaving about an inch of the stems to reduce bleeding. Place beets in a roasting pan and drizzle with a little oil. Cover pan and place in a 350 degree oven for about 45 minutes. Smaller beets will be cooked in less time- about 35 minutes. Really large beets could take up to an hour. I always check by poking one of the beets with a fork. Let the beets cool a little and then remove the peels. I use a knife to do this. They come off quite easily.
Now I just had to decide how to use them. I decided to use three of the small ones to make a salad for myself and a friend. Here is the recipe.
Roasted Beet Salad
1 small head Bibb lettuce, washed and sliced into thin slices
2 c. beet greens, washed and sliced thin
1/4 c. olive oil
3 T. red wine vinegar
2 t. sugar, optional
3 small roasted beets
1/2 c. crumbled feta cheese
1/4 c. hulled pumpkin seeds, toasted
1/4 c. dried cranberries
sliced cooked steak, optional
coarse sea salt- I used pink salt
Combine lettuce and beet greens in a mixing bowl. Combine olive oil with vinegar and sugar, if using. Add salt and pepper to taste and toss over the greens. Slice beets. Divide greens on 2 salad plates. Arrange half of the beets on each salad and top with the rest of the ingredients. Sprinkle with a few grains of the sea salt and serve. Makes 2 luncheon salads.
I enjoy the sweetness of both beets and carrots. This simple and tasty dish combines the earthy flavors of both vegetables in a simple, raw salad. It's a great side dish and nice to make on a day when it is too hot to cook.
 Beet and Carrot Salad
1 large- or 2 medium- beets
2 large carrots
4 T. olive oil
4 T. cider vinegar
2 T. honey, or to taste
1 t. fresh dill weed or about 1/2 t. dried
dash of hot sauce
salt and pepper to taste
Peel beets and shred or grate them using a hand grater or food processor. Place in a mixing bowl and set aside. Peel and shred the carrots and add to the beets. Combine remaining ingredients and pour over the beet mixture. Stir to coat and chill until ready to serve. Makes about 3 cups.