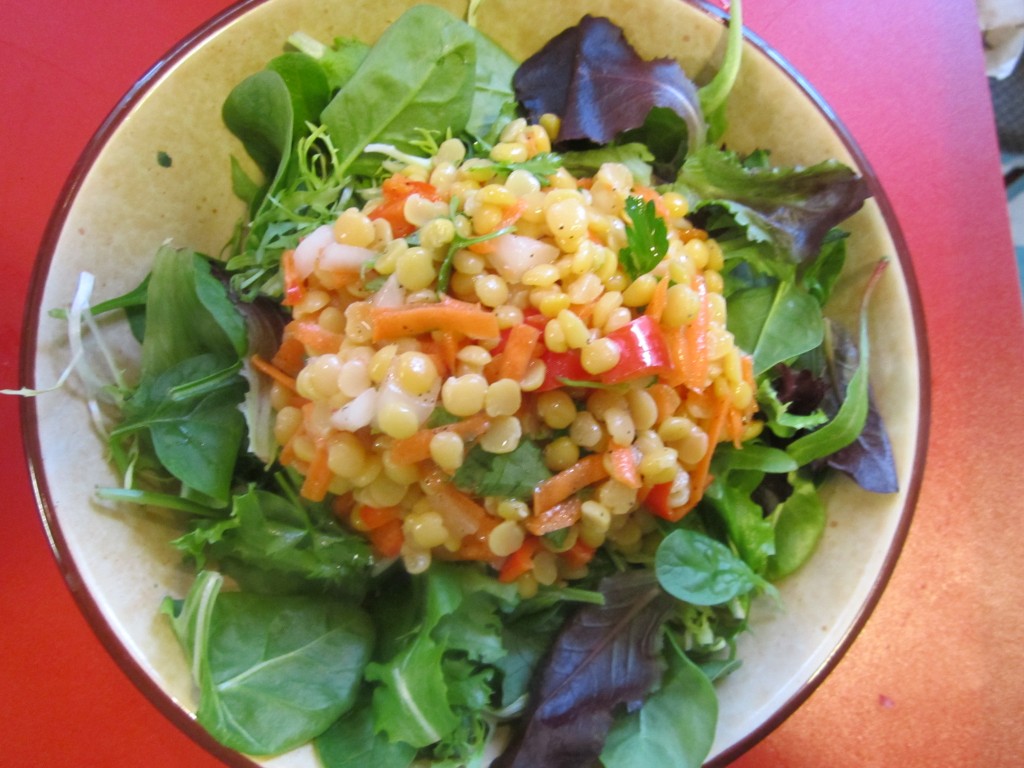 Today's recipe is a tasty vegetarian salad that is as satisfying as it is pretty.  The color is bright, just perfect after several days of rainy weather. If it doesn't feel like Spring outside, it can feel like Spring inside.
When I say split peas, what comes to mind? Split pea soup? GREEN split pea soup? Years ago my dear friend, Dale Gallis, turned me on to yellow split peas. I started making soup from them, but also use them in salads.
The yellow split peas are combined with carrots, sweet onion, sweet peppers and fresh herbs, then tossed with a simple combination of apple cider vinegar and olive oil. You can serve it right away, or let the flavors blend in the fridge for a bit. I served my salad over a mix of Spring greens.
Yellow (or green) split peas cook to al dente in about 20 minutes, so they are a quick option, too. Much shorter cooking times than other legumes.
Sunny Spring Salad
1- 1 1/2 c. raw yellow split peas
salt
1 carrot, peeled and shredded
1/2 c. chopped sweet onion
1/2 c. chopped sweet pepper
1/2 c. chopped parsley
1/2 c. snipped chives
1/4 c. olive oil
1/4 c. cider vinegar
salt and pepper to taste
6 c. mixed Spring greens
Rinse peas and place in a saucepan. Cover with water and add a little salt. Bring to a boil and simmer until peas are tender, about 20 minutes. Drain and rinse under cold water. Combine peas with carrots, peppers and onion and toss well. Add parsley, chives, oil, vinegar and salt and pepper to taste. Chill until ready to use. Serve on greens. Serves 3-4.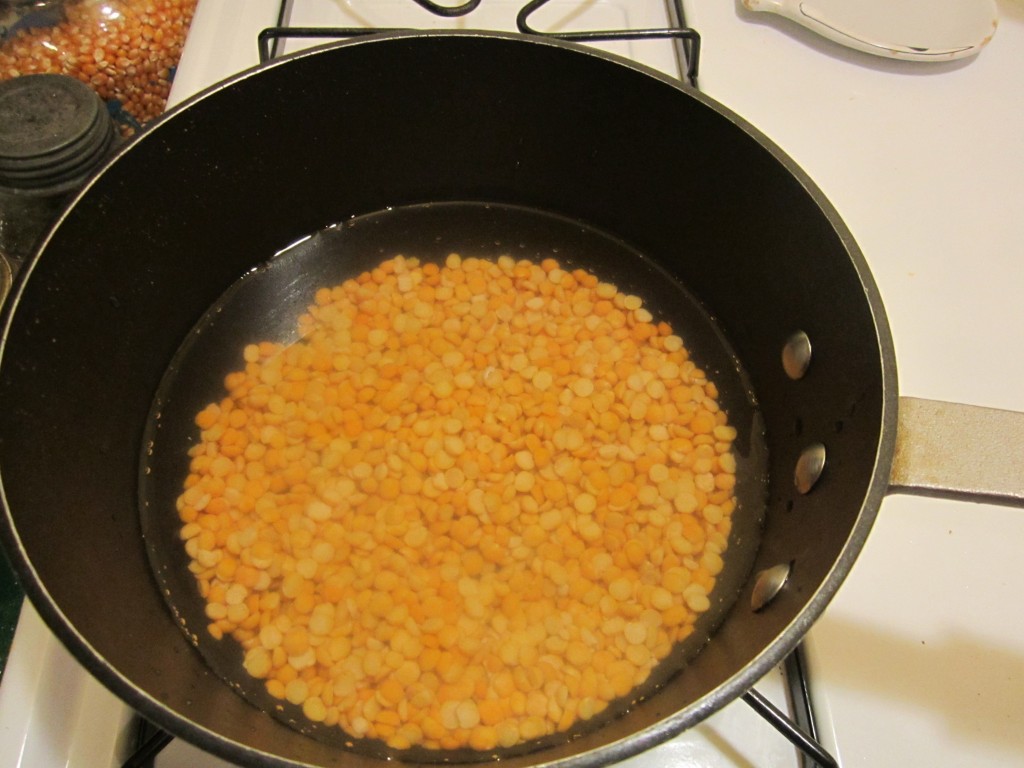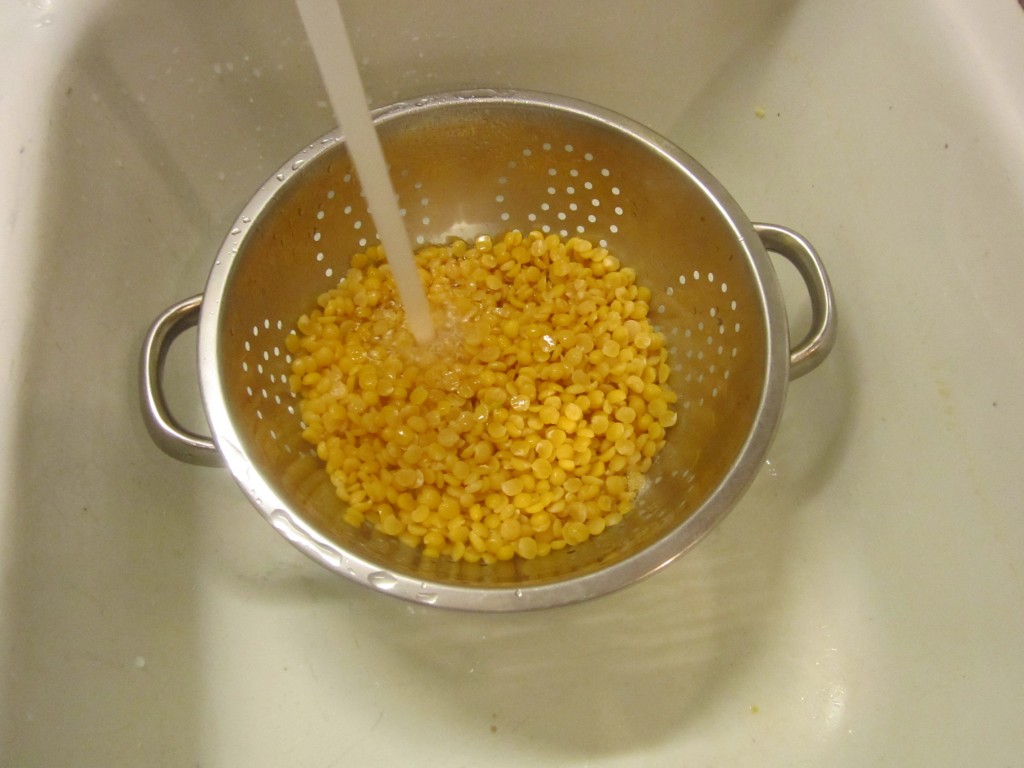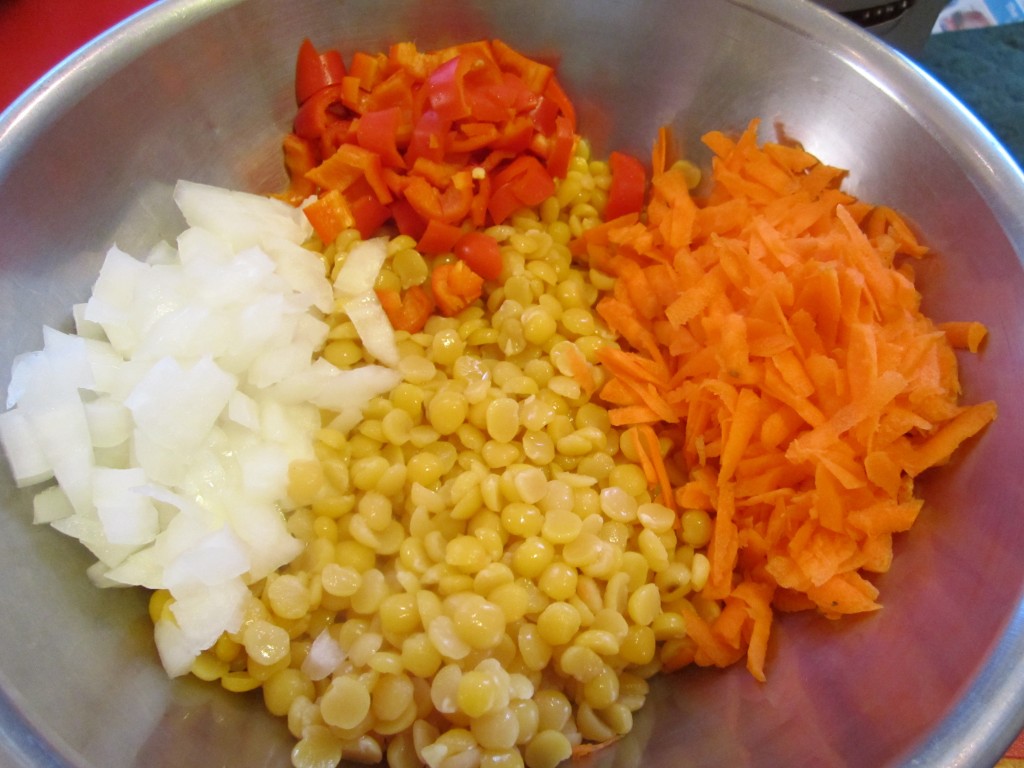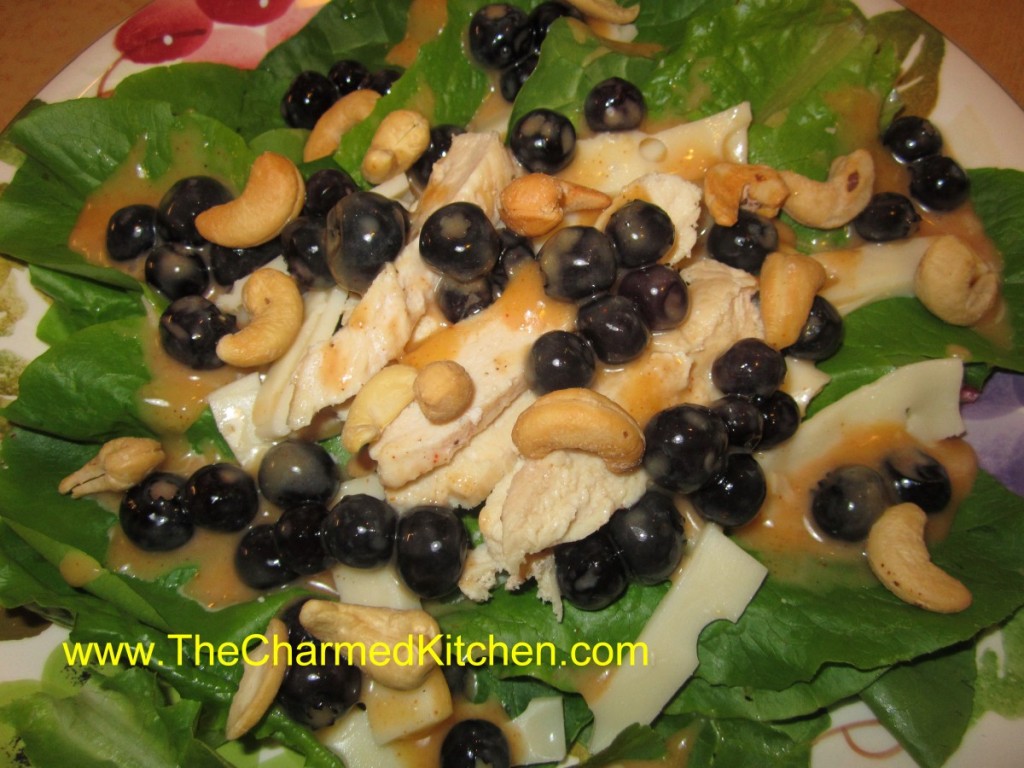 This is one of those salads that is good any time of the year. A local produce market had the most beautiful blueberries this week. I decided to enjoy some of them in this salad. The dressing is a honey French type dressing. It really makes the whole salad work. You can add the berries to the dressing, or serve them on top of the salad. I topped it with cashews, but you could add croutons, if you prefer.
Blueberry Chef Salad
Dressing:
1/3 c. honey
1/4 c. white wine vinegar or cider vinegar
1 t. paprika
1 t. dry mustard
1/4 t. salt
1/2 c. olive oil
3 cups blueberries
Salad:
6 c. torn salad greens
12 oz. cooked chicken, turkey, ham etc, cut into strips
1 c. cubed cheese
1/2 c. cashews
In blender, combine first five ingredients and start running machine on high. Add oil in a slow stream until mixture becomes thickened. Pour into bowl and stir in berries and chill, several hours if you can. When ready to serve, arrange greens on one large platter or on smaller salad plates. Arrange meat and cheese on platter or plates. Spoon over the dressing and cashews then serve. Serves 4-6.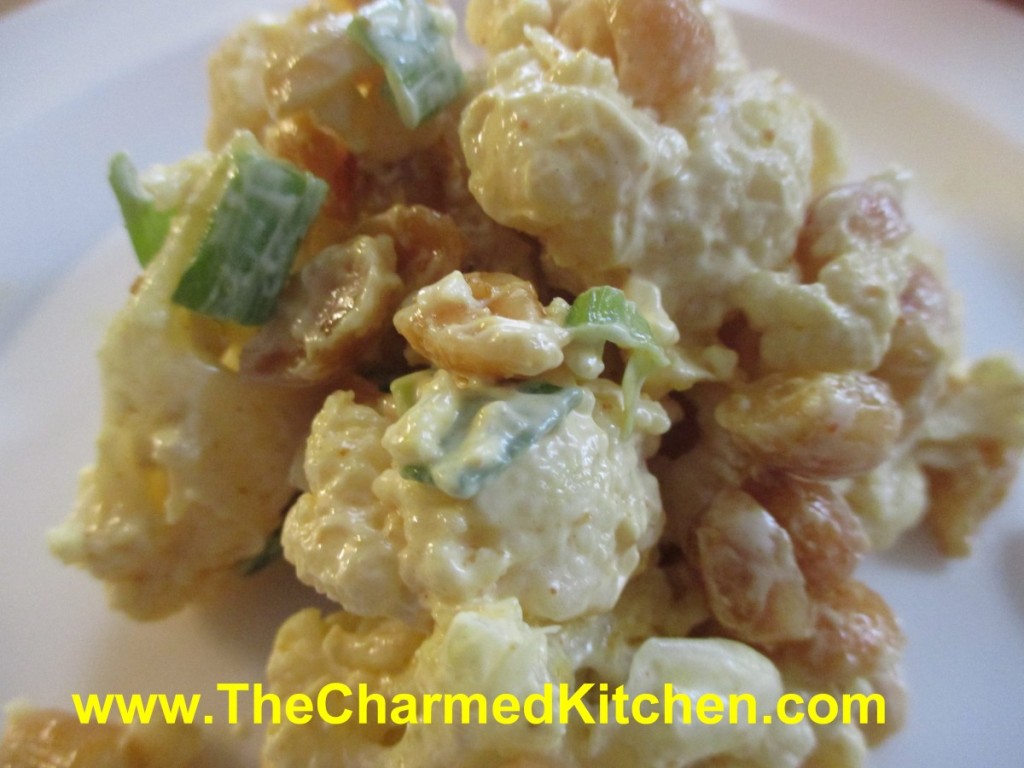 Long before cauliflower became trendy, I was a fan. I love it steamed, served with a little butter and salt or pan fried and mixed with garlic and a bit of Parmesan cheese. I have enjoyed cauliflower in any number of salads as well.
I picked up a huge cauliflower from a local produce market. I decided to turn it into a salad. I was not disappointed.
Here is the recipe I made with a head of cauliflower.
I used curry powder- I make my own- but you can use a store bought one. The recipe for curry powder is at the end of the recipe. I also added some green onions and peanuts for crunch. It came out quite nice.
I have used curry powder in hot cauliflower dishes before, but the salad was a pleasant change of pace.
Curry Cauliflower Salad
1 head cauliflower, cooked
½ c. chopped green onions
¾ c. mayo – or less or more depending in the size of the head of cauliflower
1 T. curry powder- or to taste
1 t. hot sauce, or to taste
Salt and pepper to taste
1 c. peanuts
First break the cauliflower into florets. Cook the cauliflower any way you like. I steamed mine for about 5 minutes. You could roast it, or sauté it in a little oil. You want it tender, but still a little crisp. Don't cook it to mush. I would also advise against boiling it, as it gets too wet. Once the cauliflower is cooked, let it cool down before proceeding. Combine the cauliflower with the green onions, the mayo and seasonings. It was hard to be exact because your head of cauliflower might be bigger or smaller than mine. I could have said 5 cups of cooked cauliflower- but would that really help? Then you'd have leftover cooked cauliflower. Or perhaps not enough. So add a little more mayo, if needed, and adjust the seasonings to suit your taste and the amount of cauliflower you have. Chill and toss the peanuts in closer to serving time. If you add the peanuts at the end, they stay crunchier.
Curry Powder
2 t. ground cumin
2 t. ground coriander
2 t. ground turmeric
1 t. nutmeg
1 t. salt
½ t. cinnamon
¼ t. cayenne pepper
¼ t. ground black pepper
Combine all ingredients and store in a cool, dry place.
It's always kind of sad to say goodbye to fresh tomato season. There should be another month until frost hits our area and I am trying to eat as many fresh tomatoes as I can between now and then. I have been getting heirloom tomatoes from my friend Carl at Blue Pike Farm.  I needed a salad for a dinner with friends and decided to make this simple but tasty tomato salad. That's the thing about fresh tomatoes. You really don't need to do much with them. Heck, I'm happy with some fresh slices and a sprinkle of salt. For this salad I started with slices of fresh tomatoes. I had a bottle of this amazing olive oil so I added a drizzle of it to the tomatoes along with a drizzle of balsamic vinegar, too. I also added a few basil leaves and some freshly ground sea salt. I wanted a crunch element and decided to add toasted pumpkin seeds. You can buy them already toasted or just toast them yourself.* I sprinkled them over the tomato salad and it added just the texture I was looking for.
*To toast pumpkin seeds place a layer of pumpkin seeds in a dry skillet and cook them, over medium heat, until they start to brown a little. Toss or stir often. Be careful not to burn them. The seeds will jump a little in the pan. That's normal. Once seeds have toasted remove them from the heat and let them cool down.
Continuing with my cooking with lemonade assignment I came up with a simple salad dressing. It's only 4 ingredients and while I used it on this corn salad it would also be great tossed on a green salad or maybe a potato salad. I am always looking for new salad ideas. This is one I will be making again soon.
Corn Salad with Lemonade Mustard Dressing
6 c. cooked corn, off the cob
1 sweet pepper, seeded and chopped
1 small sweet onion, diced
½ c. chopped fresh parsley
1 recipe lemonade mustard dressing- recipe follows
Combine all ingredients in a bowl. Cover and chill at least an hour before serving. Serves 8.
Lemonade Mustard Dressing
½ c. oil
1/3 c. lemonade concentrate, thawed
2 T. whole grain mustard
1 t. hot pepper sauce, or to taste
1 t. salt, or to taste
Place all ingredients in a jar and shake to combine. Serve as a salad dressing on mixed greens or with assorted veggies.
I enjoy the sweetness of both beets and carrots. This simple and tasty dish combines the earthy flavors of both vegetables in a simple, raw salad. It's a great side dish and nice to make on a day when it is too hot to cook.
 Beet and Carrot Salad
1 large- or 2 medium- beets
2 large carrots
4 T. olive oil
4 T. cider vinegar
2 T. honey, or to taste
1 t. fresh dill weed or about 1/2 t. dried
dash of hot sauce
salt and pepper to taste
Peel beets and shred or grate them using a hand grater or food processor. Place in a mixing bowl and set aside. Peel and shred the carrots and add to the beets. Combine remaining ingredients and pour over the beet mixture. Stir to coat and chill until ready to serve. Makes about 3 cups.
Feeling nostalgic today. I was looking for a cool salad for  dinner. I had a couple of cucumbers and an open container of sour cream. Seemed like the best solution. Later we will have it with grilled quesadillas.  The coolness of the salad will go well with the rest of the meal.It made me think of childhood summers. It was one of the first dishes I can remember helping my Mother make. She let me slice the cucumbers and mix the dressing. It seemed we often had it on the weekends when my Father was grilling.I can't make this salad without thinking of the wonderful smells wafting into the kitchen from that grill. I'd pop the salad into the fridge and then run out to check on what my dad was doing. Sometimes he needed a platter to bring the food in on, or maybe just a cold drink. I would watch in fascination at his skill in cooking over the hot coals. Nothing tastes as good at something off the grill. It's funny how certain foods bring on certain memories.
Cucumbers and Sour Cream
2-3 medium cukes, sliced
1 c. sour cream or strained yogurt
¼ c. sugar
¼ c. vinegar
2 green onions, chopped
1 –2 T. chopped fresh dill or 1-2 t. dried
Combine all ingredients and chill at least 10 minutes. Serves 4-6.
I've been on a salad kick lately. Maybe the high temps have something to do with that. I was talking to my friend, Mari, last night and we were talking about favorite salads. We both agreed that we love bean salad. As a kid I remember my Mom's three bean salad. I find myself making this dish with more than three types of beans. Everyone seems to have their favorite combination. I start with green beans and then check out my pantry for what other beans to add. Here is the one I made this time.
Multi- Bean Salad
1 lb. cooked green beans, sliced
1 can lima beans, rinsed and drained
1 can dark red kidney beans, rinsed and drained
1 can garbanzo beans, rinsed and drained
1 medium sweet onion, chopped
1/2 c. chopped fresh parsley
1 c. apple cider vinegar
1/4 c. sugar
1/4 c. oil
 2 T. Tuscan seasoning- or whatever herb blend you like
1 T. hot sauce, or to taste
Salt and pepper to taste
Combine beans with onions and parsley in a medium bowl. Combine remaining ingredients in a small bowl and pour over the bean mixture. Stir well and chill a couple of hours before serving. Serves 8.
I was looking for a salad idea the other day and found the answer in my freezer. I had a bag of lima beans and some corn from last year. I also had a ham bone. Not what you might think of for a salad but I needed it to work. I started by putting the ham bone in a pot with some water and let it simmer for an hour or so- to get some of the flavor out. I added the lima beans and corn and cooked them until tender- about 10 minutes. I figured this would add flavor to them. I drained off the veggies, let them cool, and combined them with a sweet pepper and ham I'd cut off the bone. I still needed a dressing and since I had an open container of sour cream I used that. Here is the recipe I ended up with. It ended up tasting really good. Went well with steaks and tuna off the grill.
Smoky Succotash Salad
1 lb. lima beans, cooked and cooled
4 c. corn off the cob, cooked and cooled
1 sweet pepper, seeded and chopped
1-2 c. cooked ham, diced
Dressing:
2/3 c. sour cream
3 T. apple cider vinegar
2 T. sugar
1 t. grated ginger
1 t. hot sauce, or to taste
salt and pepper to taste
Combine veggies with the ham in medium bowl. In small bowl stir together dressing ingredients until smooth and toss with the veggie mixture. Chill until ready to serve. Serves 6.
I love a good salad. I also like to make dishes that can travel well when I am visiting with friends. After a conversation with a friend the other day about her having to travel for a family event and bring food along I was inspired to come up with this recipe. Similar to a cole slaw this salad has an equal share of carrots and an herb-infused dressing that gives it a great flavor.  It can be made a couple of days ahead, if needed, and is better if you make it the night before.
Carrot and Cabbage Salad
1 lb. carrots, peeled and shredded
1 lb. shredded cabbage- you can use the cole slaw mixes sold in stores
Dressing:
2/3  c. apple cider vinegar or herb flavored vinegar
1/2 c. oil
1/4 c. sugar, or to taste
1 T. salad and vegetable seasoning-recipe follows- or 1 T. dried herbs of your choice
Salt and pepper to taste
Combine veggies in a bowl. Combine dressing ingredients in a jar with a tight-fitting lid and shake well to combine. Adjust seasonings. Pour dressing over the veggies and stir to mix well. Cover and chill for several hours or overnight. Serves 10-12.
Salad and Vegetable Seasoning
½ c. dried parsley
¼ c. dried minced onion
1 T. dried thyme
1-T. celery seeds
2 t. dried oregano
1 t. dried marjoram
1-t. dill seeds
Combine all ingredients and store in a cool, dry, dark place. Makes about a cup. Use in salad dressings or on cooked veggies and in soups and stews.